Abstract
The measurement of the political success of organized interests continues to be among the thornier tasks faced by political scientists. The methodological challenges include determining the preferences of key actors and the extent to which these are satisfied by the policy outcome. We examine how interest group success has been measured in the literature and develop an alternative, spatial approach to measuring lobbying success. We present and compare different spatial measures of success using simulations and new data from the INTEREURO project. We demonstrate that the choice of measurement has implications for the findings generated by studies of interest group success. Assessments of success differ according to whether or not they consider a reversion point. However, different modes of incorporating the reversion point lead to largely similar findings.
Access options
Buy single article
Instant access to the full article PDF.
US$ 39.95
Tax calculation will be finalised during checkout.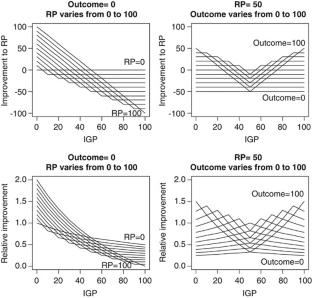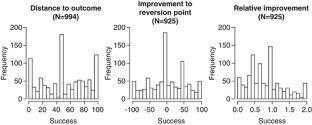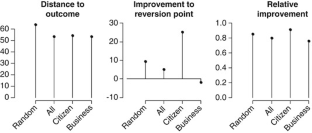 Notes
1.

The term 'organized interests' is used to denote any politically active organization, including associations with individuals as members as well as associations with organizations as members or institutions such as corporations, universities or hospitals (Lowery and Gray, 1995). For a systematic discussion of the nomenclature and conceptual issues in this area, see Jordan et al (2004).

2.

In line with this literature, by 'outcome' we mean the policies that result from the decision-making process. Thus, we do not take into account the effects on society that may result from the implementation of these policies.

3.

The actual influence of a policy actor in the political process cannot be directly measured. Instead, it has to be inferred by matching an actor's success to her resources and strategies, or through counterfactual analysis comparing actual outcomes to what would have happened in the absence of that actor's behavior, where these inferences have to be covered by a theoretical account of how influence is exercised.

4.

In the EU context, we take this to be at or near the moment in time when the Commission begins its consultations with stakeholders ahead of making a formal legislative proposal. This necessarily excludes the agenda-setting phase.

5.

Incorporating the reversion point may be less important for studies of member state success in EU decision making, as for them the reversion point may be something highly undesirable. The reason is that inability to find any agreement may cause long-term damage to inter-state cooperation (Thomson, 2011, p. 169).

6.

This is actually the case for 16 of the 112 issues identified in the framework of the INTEREURO project.

7.

In total, 70 successful interviews were conducted with Commission officials, revealing 112 policy issues.

8.

Of the 112 issues under analysis, eight have yet to be concluded (7 per cent). For the proposals relating to three of these eight issues, Commission officials have confirmed that ultimately they will be withdrawn, and that it is therefore appropriate to take the reversion point as the final outcome. We apply no value to the outcome of the remaining five issues, although failure seems likely. Overall, the sample contains 18 cases in which the outcome equals the reversion point.

9.

One of these coders is one of the authors, the other a departmental colleague of another author.

10.

In calculating this and the relative-improvement measures, we lose about 10 per cent of the observations because of missing values for the outcome or the reversion point.

11.

The measures are somewhat sensitive to changes in operationalization. When the relative-improvement measure is calculated as a fraction, the correlation with the same measure based on a difference is only 0.54 (P<0.01). The squared measure and the measure relying on absolute differences are highly correlated at r=0.97 (P<0.01).

12.

Some authors recommend that positions (Junge and König, 2007) or gains/losses (Golub, 2012) be weighted by the salience each actor assigns to them. In the INTEREURO project, we decided not to collect data on the salience of an issue to each non-state actor, for two reasons. First, while it is plausible that experts can give an estimate of the revealed position of an actor, asking these experts to provide estimates of the salience of an issue to an actor is less convincing. Second, we expect variation in salience to be limited, as all actors that are mentioned in the interviews with the Commission officials are likely to have a major stake in the policy.

13.

We make this distinction on the basis that it is both intuitive and highly prominent in the literature (see, for example, Baumgartner et al, 2009). Jointly, these two categories encompass more than 80 per cent of the organized interests identified by the Commission officials.
References
Baron, D.P. (2006) Competitive lobbying and supermajorities in a majority-rule institution. Scandinavian Journal of Economics 108 (4): 607–642.

Baumgartner, F.R. and Leech, B.L. (1998) Basic Interests: The Importance of Groups in Politics and Political Science. Princeton, NJ: Princeton University Press.

Baumgartner, F.R., Berry, J.M., Hojnacki, M., Kimball, D.C. and Leech, B.L. (2009) Lobbying and Policy Change: Who Wins, Who Loses, and Why. Chicago, IL: University of Chicago Press.

Benoit, K. (2005) How qualitative research really counts. Qualitative Methods Newsletter 3 (1): 9–12.

Bernhagen, P. (2012) Who gets what in British politics – and how? Analyzing media reports on lobbying around government policy, 2001–2007. Political Studies 60 (3): 557–577.

Beyers, J. et al (2014a) The INTEREURO project: Logic and structure. Interest Groups & Advocacy 3 (2): 126–140.

Beyers, J., Dür, A., Marshall, D. and Wonka, A. (2014b) Policy-centred sampling in interest group research: Lessons from the INTEREURO project. Interest Groups & Advocacy 3 (2): 160–173.

Beyers, J., Braun, C., De Bruycker, I. and Marshall, D. (2014c) Let's talk! On the practice and method of interviewing policy experts. Interest Groups & Advocacy 3 (2): 174–187.

Bouwen, P. (2009) The European commission. In: D. Coen and J. Richardson (eds.) Lobbying the European Union. Oxford: Oxford University Press, pp. 19–38.

Bueno de Mesquita, B. and Stokman, F.N. (eds.) (1994) European Community Decision Making: Models, Applications and Comparisons. New Haven, CT: Yale University Press.

Crombez, C. (2002) Information, lobbying and the legislative process in the European Union. European Union Politics 3 (1): 7–32.

Dahl, R.A. (1957) The concept of power. Behavioral Science 2 (3): 201–215.

Dowding, K. (1996) Power. Buckingham, UK: Open University Press.

Dür, A. (2008a) Interest groups in the European Union: How powerful are they? West European Politics 31 (6): 1212–1230.

Dür, A. (2008b) Measuring interest group influence in the EU: A note on methodology. European Union Politics 9 (4): 559–576.

Edgell, J.M. and Thomson, K.J. (1999) The influence of UK NGOs on the common agricultural policy. Journal of Common Market Studies 37 (1): 121–131.

Golub, J. (2012) How the European Union does not work: National bargaining success in the Council of Ministers. Journal of European Public Policy 19 (9): 1294–1315.

Heinz, J.P., Laumann, E.O., Nelson, R.L. and Salisbury, R.H. (1993) The Hollow Core: Private Interests in National Policy Making. Cambridge, MA: Harvard University Press.

Hinich, M.J. and Enelow, J.M. (1984) The Spatial Theory of Voting: An Introduction. Cambridge, UK: Cambridge University Press.

Jordan, G., Halpin, D. and Maloney, W. (2004) Defining interests: Disambiguation and the need for new distinctions. British Journal of Politics and International Relations 6 (2): 195–218.

Junge, D. and König, T. (2007) What's wrong with EU spatial analysis? The accuracy and robustness of empirical applications to the interpretation of the legislative process and the specification of preferences. Journal of Theoretical Politics 19 (4): 465–487.

Klüver, H. (2013) Lobbying in the European Union: Interest Groups, Lobbying Coalitions, and Policy Change. Oxford: Oxford University Press.

König, T., Lindburg, B., Lechner, S. and Pohlmeier, W. (2007) Bicameral conflict resolution in the European Union: An empirical analysis of conciliation committee bargains. British Journal of Political Science 37 (2): 281–312.

König, T. and Bräuninger, T. (1998) The formation of policy networks. Journal of Theoretical Politics 10 (4): 445–471.

Loomis, B.A. and Cigler, A.J. (1995) Introduction: The changing nature of interest group politics. In: A.J. Cigler and B.A. Loomis (eds.) Interest Group Politics. Washington DC: CQ Press, pp. 1–31.

Lowery, D. and Gray, V. (1995) The population ecology of Gucci Gulch, or the natural regulation of interest group numbers in the American states. American Journal of Political Science 39 (1): 1–29.

Lowery, D. (2013) Lobbying influence: Meaning, measurement and missing. Interest Groups & Advocacy 2 (1): 1–26.

MacCallum, R.C., Zhang, S., Preacher, K.J. and Rucker, D.D. (2002) On the practice of dichotomization of quantitative variables. Psychological Methods 7 (1): 19–40.

Mahoney, C. (2007) Lobbying success in the United States and the European Union. Journal of Public Policy 27 (1): 35–56.

McKay, A. (2012) Buying policy? The effects of lobbyists' resources on their policy success. Political Research Quarterly 65 (4): 908–923.

Rabinowitz, G. and Macdonald, S.E. (1989) A directional theory of issue voting. American Political Science Review 83 (1): 93–121.

Thomson, R. (2011) Resolving Controversy in the European Union. Cambridge, UK: Cambridge University Press.

Thomson, R., Stokman, F.N., Achen, C.H. and König, T. (2006) The European Union decides. Cambridge, UK: Cambridge University Press.

Thomson, R. et al (2012) A new dataset on decision-making in the European Union before and after the 2004 and 2007 enlargements (DEUII). Journal of European Public Policy 19 (4): 604–622.

Verschuren, P. and Arts, B. (2004) Quantifying influence in complex decision making by means of paired comparisons. Quality & Quantity 38 (5): 495–516.

Victor, J. (2012) Gridlock lobbying: Breaking, creating, and maintaining legislative stalemate. In: A.J. Cigler and B. Loomis (eds.) Interest Group Politics, 8th edn. Washington DC: CQ Press.

Ward, H. (2004) Pressure politics: A game-theoretical investigation of lobbying and the measurement of power. Journal of Theoretical Politics 16 (1): 31–52.

Weber, M. (1978[1922]) Economy and Society: An Outline of Interpretative Sociology. Berkeley, CA: University of California Press.

Whiteley, P.F. and Wingard, S.J. (1987) Pressure for the Poor: The Poverty Lobby and Policy Making. London: Methuen.
About this article
Cite this article
Bernhagen, P., Dür, A. & Marshall, D. Measuring lobbying success spatially. Int Groups Adv 3, 202–218 (2014). https://doi.org/10.1057/iga.2014.13
Keywords
interest groups

INTEREURO

European Union

interest group influence

lobbying success

spatial analysis