Abstract
The literature on territorial lobbying in the European Union (EU) has paid much attention to the interaction between regional representations in Brussels and the member-state central governments, and the relations of these representations with the European institutions. Surprisingly, far less systematic research has been conducted on the policies that regional representations prioritize when they lobby in Brussels. In this article, we focus on the policy portfolios of these organizations and analyze variation concerning the domains and issues these regional representations prioritize. Empirically, we demonstrate that the size and the nature of a policy portfolio is not primarily affected by the capabilities of a regional representation, but rather results from structural ties of regional lobbyists with other public and private interests. This claim is corroborated by data collected through a telephone survey with 127 officials from regional offices and trans-regional associations.
This is a preview of subscription content,
to check access.
Access this article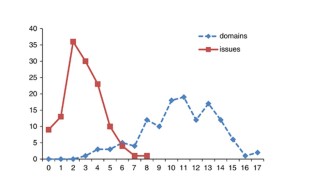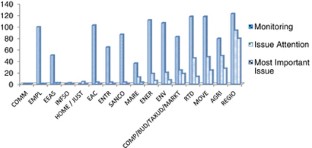 Similar content being viewed by others
Notes
Note that we deliberately do not speak about an organizational policy agenda, as we seek to differentiate attention at the organizational level (portfolio) from the more aggregate policy agenda that is situated at the level of specific institutional venues (for instance the governmental agenda) or political systems (such as the EU political agenda).

Sometimes legislative proposals might be difficult to classify as regulatory or distributive. In these cases we coded them as mixed and analyzed them separately. Not a single variable turned out to be significant, which is in line with our other findings.

Owing to the fact that we promised anonymity to our respondents, we are not able to present very concrete cases including names of offices and/or the companies.
References
Baumgartner, F.R. and Leech, B.L. (2001) Interest niches and policy bandwagons: Patterns of interest group involvement in national politics. Journal of Politics 63 (4): 1191–213.

Berkhout, J. and Lowery, D. (2007) Counting organized interests in the EU: A comparison of data sources. Journal of European Public Policy 15 (3): 489–513.

Borras, S. (1993) The 'four motors for Europe' and its promotion of R&D linkages. Regional and Federal Studies 3 (3): 163–176.

Börzel, T.A. (2010) Why you don't always get what you want: EU enlargement and civil society in central and Eastern Europe. Acta Politica 45 (1–2): 1–10.

Braun, C. (2012) The captive or the broker? Explaining public agency-interest group interactions. Governance 25 (2): 291–314.

Broscheid, A. and Coen, D. (2007) Lobbying activity and fora creation in the EU: Empirically exploring the nature of the policy good. Journal of European Public Policy 14 (3): 346–365.

Browne, W.P. (1990) Organized interests and their issue niches: A search for pluralism in a policy domain. The Journal of Politics 52 (2): 477–509.

Cammisa, A.M. (1995) Governments as Interest Groups. Londen: Praeger.

Coen, D. and Richardson, J. (2009) Lobbying in the European Union. Oxford: Oxford University Press.

Criekemans, D. (2010) Regional sub-state diplomacy from a comparative perspective: Quebec, Scotland, Bavaria, Catalonia, Wallonia and Flanders. The Hague Journal of Diplomacy 5 (1): 37–64.

Donas, T. and Beyers, J. (2013a) How regions assemble in Brussels: The organizational form of territorial representation in the European Union. Publius 43 (4): 527–550.

Donas, T. and Beyers, J. (2013b) Trans-regional networks in Brussels. Analyzing the information exchanges among regional offices. Paper Presented at the CES 20th International Conference of Europeanists. Amsterdam, 25–27 June.

Fraussen, B. (2013) The visible hand of the state. On the organizational development of interest groups. Public Administration, doi:10.1111/padm.12056.

Gray, V. and Lowery, D. (1996) A niche theory of interest representation. The Journal of Politics 58 (1): 91–111.

Green-Cowles, M. (2003) Non-state actors and false dichotomies: Reviewing IR/IPE approaches to European integration. Journal of European Public Policy 10 (1): 102–120.

Greenwood, J. (2003) Interest Representation in the European Union. London: Palgrave Macmillan.

Greenwood, J. (2011) Actors of the common interest? The Brussels offices of the regions. Journal of European Integration 33 (4): 437–451.

Haider, D.D. (1974) When Governments Come to Washington. London, Collier: Macmillan Publishers.

Halpin, D.R. and Binderkrantz, A. (2009) Explaining breadth of policy engagement: Patterns of interest group mobilization in public policy. Journal of European Public Policy 18 (2): 201–219.

Halpin, D.R. and Jordan, G. (2011) The Scale of Interest Organization in Democratic Politics: Data and Research Methods. Basingstoke, UK: Palgrave Macmillan.

Halpin, D.R. and Thomas, H.F. (2011) Evaluating the breadth of policy engagement by organized interests. Public Administration 90 (3): 582–599.

Halpin, D. and Nownes, A. (2013) Interest Group 'Policy Agendas': What Are They? And How Might We Study Them? Working Paper, www.darrenhalpin.com, accessed 13 December 2013.

Heaney, M.T. (2004) Outside the issue niche. The multidimensionality of interest group identity. American Politics Research 32 (6): 611–651.

Heaney, M.T. and Lorenz, J.M. (2013) Coalition portfolios and interest group influence over the policy process. Interest Groups & Advocacy 2 (3): 251–277.

Hooghe, L. (1995) Subnational mobilisation in the European Union. West European Politics 18 (3): 175–198.

Hooghe, L. and Marks, G. (1996) Europe with the regions: Channels of regional representation in the European Union. Publius 26 (1): 73–91.

Hooghe, L., Marks, G. and Schakel, A.H. (2010) The Rise of Regional Authority: A Comparative Study of 42 Democracies. London: Routledge.

Huyssuenne, M. and Jans, T. (2008) Brussels as the capital of a Europe of the regions? Brussels Studies 16: 1–11, http://www.brusselsstudies.be.

Jeffrey, C. (1997) The Regional Dimension of the European Union. London: Frank Cass.

Krackhardt, D. and Stern, R.N. (1988) Informal networks and organizational crises: An experimental simulation. Social Psychology Quarterly 51 (2): 123–140.

Lowi, T. (1972) Four systems of policy, politics, and choice. Public Administration Review 32 (4): 298–310.

Marbach, J. and Leckrone, J. (2002) Intergovernmental lobbying for the passage of TEA-21. Publius 32 (1): 45–64.

Marks, G., Nielsen, F., Ray, L. and Salk, J.E. (1996) Competencies, cracks, and conflicts – Regional mobilization in the European Union. Comparative Political Studies 29 (2): 164–192.

Marks, G., Haesly, R. and Mbaye, H. (2002) What do subnational offices think they are doing in Brussels? Regional and Federal Studies 12 (3): 1–23.

Moe, T.M. (1980) The Organization of Interests. Incentives and the Internal Dynamics of Political Interest Groups. London: The University of Chicago Press.

Moore, C. (2006) Schloss Neuwahnstein? Why the Länder continue to strengthen their representations in Brussels. German Politics 15 (2): 192–205.

Nielsen, F. and Salk, J. (1998) The ecology of collective action and regional representation in the EU. European Sociological Review 14 (3): 231–254.

Pfeffer, J. and Salancik, G. (1978) The External Control of Organizations. A Resource Dependence Perspective. Stanford, CA: Stanford Business Classics.

Rowe, C. (2011) Regional Representations in the EU: Between Diplomacy and Interest Mediation. New York: Palgrave Macmillan.

Salisbury, R.H. (1983) Interest representation: The dominance of institutions. American Political Science Review 78 (1): 64–76.

Schlozman, K.L. and Tierney, J.T. (1986) Organized Interest and American Democracy. New York: Harper & Row Publishers.

Schmitter, P.C. and Streeck, W. (1999 [1982]) The Organization of Business Interest. Studying Associative Action of Business in Advanced Industrial Societies. Cologne, Germany: Max Planck Institute for the Study of Societies. Discussion paper 99/1.

Simon, H.A. (1985) Human nature in politics: The dialogue of psychology with political science. American Political Science Review 79 (2): 293–304.

Sodupe, K. (1999) The European Union and inter-regional co-operation. Regional and Federal Studies 9 (1): 58–81.

Soule, S.A. and King, B.G. (2008) Competition and resource partitioning in three social movement industries. American Journal of Sociology 113 (6): 1568–1610.

Strolovitch, D.Z. (2007) Affirmative Advocacy. Race, Class, and Gender in Interest Group Politics. London: Chicago University Press.

Swenden, W., Brans, M. and De Winter, L. (2006) The politics of Belgium: Institutions and policy under bipolar and centrifugal federalism. West European Politics 29 (5): 863–873.

Tatham, M. (2008) Going solo: Direct regional representation in the European Union. Regional and Federal Studies 18 (5): 493–515.

Walker, E.T. and McCarthy, J.D. (2010) Legitimacy, strategy, and resources in the survival of community-based organizations. Social Problems 57 (3): 315–340.

Weynand, S. (1996) Inter-regional associations and the European integration process. Regional and Federal Studies 6 (2): 166–182.
Additional information
This article was submitted on 21st June 2013 and the review process was substantially completed before Jan Beyers was persuaded to succeed me as one of the editorial team. Grant Jordan
About this article
Cite this article
Donas, T., Fraussen, B. & Beyers, J. It's not all about the money: Explaining varying policy portfolios of regional representations in Brussels. Int Groups Adv 3, 79–98 (2014). https://doi.org/10.1057/iga.2013.15
Published:

Issue Date:

DOI: https://doi.org/10.1057/iga.2013.15
Keywords