Abstract
After several decades of academic research in the field of automated nurse rostering, few results find their way to practice. Often, the configuration of a software system for automated rostering presents a task considered too time-consuming and difficult. The present article introduces a methodology for automating part of the costly and unintuitive configuration process by automatically determining the relative importance of soft constraints based on historical data. Naturally, this automated approach can only be reliable in the absence of transient effects and drastic changes. The approach is evaluated on retrospective and prospective case studies, and is validated by health-care practitioners partaking in an experimental study. The results show that, given relevant historical data, the presented approach simplifies the transition from manual to automated rostering, thus bringing academic research on nurse rostering closer to its practical application.
This is a preview of subscription content, log in to check access.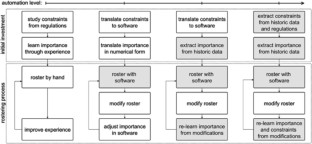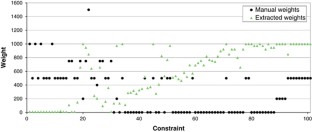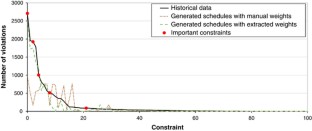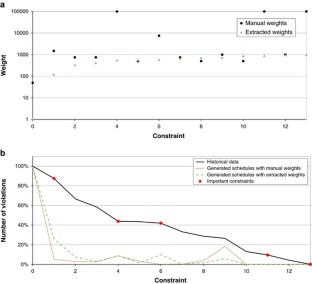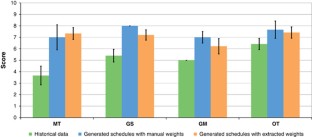 References
Abdennadher S and Schlenker H (1999) INTERDIP – an interactive constraint based nurse scheduler. In Proceedings of the First International Conference and Exhibition on The Practical Application of Constraint Technologies and Logic Programming, London, UK.

Aickelin U and Dowsland KA (2004) An indirect genetic algorithm for a nurse-scheduling problem. Computers & Operations Research 31 (5), 761–778.

Ásgeirsson EI (2014) Bridging the gap between self schedules and feasible schedules in staff scheduling. Annals of Operations Research 218 (1), 51–69.

Ballestero E (2007) Compromise programming: a utility-based linear-quadratic composite metric from the trade-off between achievement and balanced (non-corner) solutions. European Journal of Operational Research 182 (3), 1369–1382.

Berrada I, Ferland JA and Michelon P (1996) A multi-objective approach to nurse scheduling with both hard and soft constraints. Socio-Economic Planning Sciences 30 (3), 183–193.

Burke EK, De Causmaecker P, Vanden Berghe G and Van Landeghem H (nov 2004) The state of the art of nurse rostering. Journal of Scheduling 7 (6), 441–499.

Burke EK, Curtois T, Post G, Qu R and Veltman B (2008) A hybrid heuristic ordering and variable neighbourhood search for the nurse rostering problem. European Journal of Operational Research 188 (2), 330–341.

Burke EK, Li J and Qu R (2012) Pareto-based optimization for multi-objective nurse scheduling. Annals of Operations Research 196 (1), 91–109.

Chankong V and Haimes YY (2008) Multiobjective Decision Making: Theory and Methodology. Dover Publications, Mineola, New York.

Charon I and Hudry O (2001) The noising methods: a generalization of some metaheuristics. European Journal of Operational Research 135 (1), 86–101.

Coello CAC, Lamont GB and Van Veldhuisen DA (2007) Evolutionary Algorithms for Solving Multi-Objective Problems, Genetic and evolutionary computation, Springer Science & Business Media, New York.

Drake RG (2014a) The nurse rostering problem: from operational research to organizational reality? Journal of Advanced Nursing 70 (4), 800–810.

Drake RG (2014b) The 'robust' roster: exploring the nurse rostering process. Journal of Advanced Nursing 70 (9), 2095–2106.

Eiben AE and Van Hemert JI (1999) SAW-ing EAs: adapting the fitness function for solving constrained problems. In New Ideas in Optimization (Corne D, Dorigo M, Glover F, Dasgupta D, Moscato P, Poli R and Price KV, Eds), pp 389–402, McGraw-Hill Ltd., Maidenhead, UK.

Ernst A, Jiang H, Krishnamoorthy M and Sier D (2004) Staff scheduling and rostering: a review of applications, methods and models. European Journal of Operational Research 153 (1), 3–27.

Eveborn P and Rönnqvist M (2004) Scheduler–a system for staff planning. Annals of Operations Research 128 (1–4), 21–45.

Hulshof PJH, Kortbeek N, Boucherie RJ, Hans EW and Bakker PJM (2012) Taxonomic classification of planning decisions in health care: a structured review of the state of the art in OR/MS. Health Systems 1 (2), 129–175.

Kelemci Ö and Uyar S (2007) Application of a genetic algorithm to a real world nurse rostering problem instance. In Proceedings of 9th International Conference on Enterprise Information Systems, pp 474–477, Funchal, Madeira, Portugal.

Kellogg DL and Walczak S (2007) Nurse scheduling: from academia to implementation or not? Interfaces 37 (4), 355–369.

Kudyba S and Perry T (2015) A data mining approach for estimating patient demand. Health Systems 4 (1), 5–11.

Marmion M-E, Dhaenens C, Jourdan L, Liefooghe A and Verel S (2011) NILS: a neutrality-based iterated local search and its application to flowshop scheduling. In Evolutionary Computation in Combinatorial Optimization, Lecture Notes in Computer Science (Merz P and Hao J-K, Eds), Vol 6622, pp 191–202, Springer Berlin Heidelberg.

Mirrazavi SK and Beringer H (2007) A web-based workforce management system for Sainsburys supermarkets Ltd. Annals of Operations Research 155 (1), 437–457.

Parr D and Thompson JM (2007) Solving the multi-objective nurse scheduling problem with a weighted cost function. Annals of Operations Research 155 (1), 279–288.

Petrovic S and Vanden Berghe G (2012) A comparison of two approaches to nurse rostering problems. Annals of Operations Research 194 (1), 365–384.

Silvestro R and Silvestro C (2000) An evaluation of nurse rostering practices in the national health service. Journal of Advanced Nursing 32 (3), 525–535.

Smet P, Bilgin B, De Causmaecker P and Vanden Berghe G (2014) Modelling and evaluation issues in nurse rostering. Annals of Operations Research 218 (1), 303–326.

Smet P, De Causmaecker P, Bilgin B and Vanden Berghe G (2013) Nurse rostering: a complex example of personnel scheduling with perspectives. In Automated Scheduling and Planning, Studies in Computational Intelligence (Uyar AS, Ozcan E and Urquhart N, Eds), pp 129–153 vol 505, Springer Berlin Heidelberg.

Tai BC and Machin D (2013) Regression Methods for Medical Research. Wiley, Hoboken, New Jersey.

Tourangeau AE, McGillis Hall L, Doran DM and Petch T (2006) Measurement of nurse job satisfaction using the McCloskey/Mueller satisfaction scale. Nursing Research 55 (2), 128–136.
Acknowledgements
The authors would like to thank Tobania and the hospital staff for their cooperation. This research was carried out within the IWT 110257 project.
About this article
Cite this article
Mihaylov, M., Smet, P., Van Den Noortgate, W. et al. Facilitating the transition from manual to automated nurse rostering. Health Syst 5, 120–131 (2016). https://doi.org/10.1057/hs.2015.12
Received:

Revised:

Accepted:

Published:

Issue Date:
Keywords
nurse rostering

weighted sum objective function

automated weight extraction