Abstract
This paper updates data on the EP's composition in light of the latest electoral results. It points to the somewhat contradictory dynamics currently affecting the parliamentary space, and emphasizes the EP's relative stabilization, the emergence of a transnational parliamentary elite and the relative heterogeneity of current processes at work within the institution. In doing so it illustrates the EP's position at the intersection of national political fields. Although the assembly and the MEPs' backgrounds are more stable than previously, this stability affects representatives differently. Our analysis consists in investigating variations according to political group and nationality, two particularly structuring factors in parliamentary space.
Access options
Buy single article
Instant access to the full article PDF.
USD 39.95
Price excludes VAT (USA)
Tax calculation will be finalised during checkout.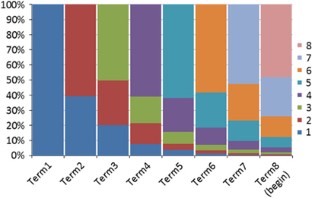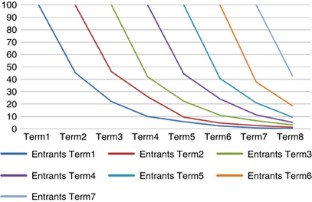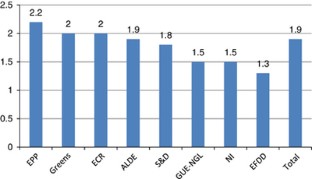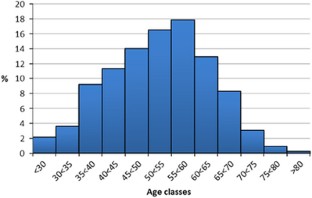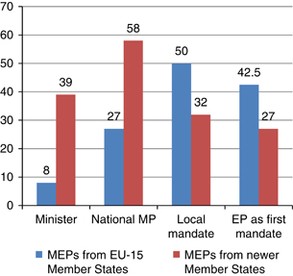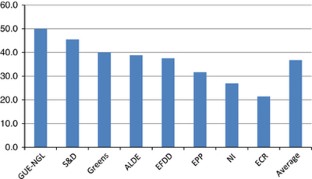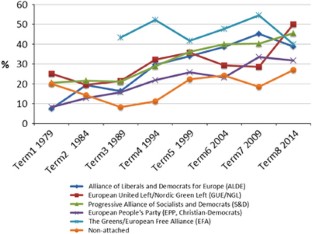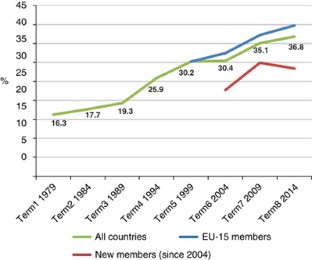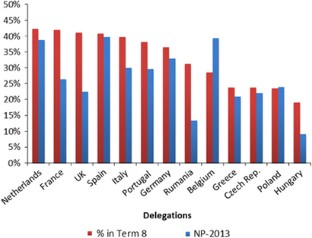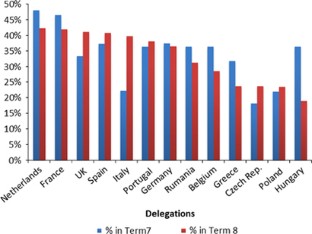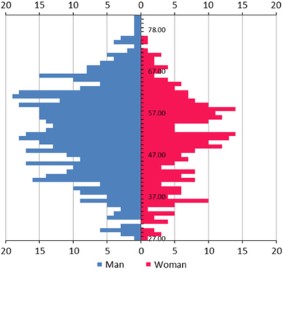 Notes
This article received support from the Excellence Initiative of the University of Strasbourg, funded by the French government's Future Investments program.

Data on the first and sixth terms were entered by Willy Beauvallet and Sébastien Michon. Data on the seventh term was entered by Willy Beauvallet, Victor Lepaux and Sébastien Michon, and subsequently complemented by Gomatee Lahsen thanks to funding by the Strasbourg School of European Studies (University of Strasbourg Project of Excellence). Data on the eighth term was entered by Victor Lepaux and Céline Monicolle, and later complemented by Sébastien Michon.

Reelection rates vary particularly widely according to nationality: between 0 per cent for Greek and Italian MEPs and over 60 per cent for Germans and Luxembourgers. French MEPs are somewhere in the middle on this, with a reelection rate slightly above 40 per cent (like Poland and Slovenia).
References
Beauvallet, W. (2007) Profession: eurodéputé. Les élus français au Parlement européen et l'institutionnalisation d'une nouvelle figure politique et élective (1979–2004). PhD dissertation in political science, Université Robert Schuman of Strasbourg.

Beauvallet, W. and Michon, S. (2010) Professionalization and socialization of the members of the European parliament. French Politics 8 (2): 145–165.

Beauvallet, W. and Michon, S. (2012) Des eurodéputés 'experts'? Sociologie d'une illusion bien fondée. Cultures & Conflits (85–86): 123–138.

Beauvallet, W. and Michon, S. (2013) Women in Europe. Recruitment, practices and social institutionalization of the European political field. In: B. Crum and J.E. Fossum (eds.) Practices of Inter-Parliamentary Coordination in International Politics: The European Union and Beyond. Colchester, UK: ECPR Press, pp. 175–192.

Behr, V. and Michon, S. (2013) The representativeness of French cabinet members, a smokescreen? French Politics 11 (4): 332–355.

Belot, C. and Pina, C. (2009) Des campagnes européennes non disputées et sous contraintes. Revue politique et parlementaire (1052): 62–72.

Best, H. and Cotta, M. (eds.) (2000) Parliamentary Representatives in Europe, 1848–2000: Legislative Recruitment and Careers in Eleven European Countries. Oxford, UK: Oxford University Press.

Brack, N. and Costa, O. (2013) The challenges of territorial representation at supranational level: The case of French MEPs. French Politics 11 (1): 1–23.

Corbett, R., Jacobs, F. and Shackleton, M. (2011) The European Parliament, 8th edn. Brussels, Belgium: John Harper Publishing.

Costa, O. and Kerrouche, E. (2007) Qui sont les députés français? Enquête sur des élites inconnues. Paris: Presses de Sciences Po.

Costello, R. and Thomson, R. (2013) The distribution of power among EU institutions: Who wins under codecision and why? Journal of European Public Policy 20 (7): 1025–1039.

Dompnier, N. (2011) Les élections en Europe. Grenoble, France: Presses universitaires de Grenoble.

Farrell, H. and Héritier, A. (2004) Interorganizational cooperation and intraorganizational power: Early agreements under codecision and their impact on the parliament and the council. Comparative Political Studies 37 (10): 1184–1212.

François, A. and Grossman, E. (2011) Who are the deputies of the fifth republic? Some figures. French Politics 9 (4): 364–380.

Gaxie, D. and Godmer, L. (2007) Cultural capital and political selection: Educational backgrounds of parliamentarians. In: M. Cotta and H. Best (eds.) Democratic Representation in Europe: Diversity, Change and Convergence. Oxford, UK: Oxford University Press, pp. 106–135.

Georgakakis, G. and Rowell, J. (2013) The Field of Eurocracy. Mapping EU Actors and Professionals. London: Palgrave Macmillan.

Häge, F. (2011) Politicising council decision making: The effect of European parliament empowerment. West European Politics 34 (1): 18–47.

Hix, S. and Lord, C. (1997) Political Parties in the European Union. London: Palgrave Macmillan.

Hix, S. and Høyland, B. (2013) Empowerment of the European parliament. Annual Political Science Review 16 (1): 171–89.

Kauppi, N. (2005) Democracy, Social Resources and Political Power in the European Union. Manchester, UK: Manchester University Press.

Keading, M. (2005) The world of committee reports: Rapporteurship assignment in the European parliament. Journal of Legislative Studies 11 (1): 82–104.

Lefebvre, R. and Marrel, G. (2012) Logiques partisanes, territorialisation et capital politique européen. La constitution en France des listes socialistes aux élections européennes de 2009. Cultures & Conflits 85/86: 139–162.

Lord, C. (2013) The democratic legitimacy of codecision. Journal of European Public Policy 20 (7): 1056–1073.

Marrel, G. and Payre, R. (2006) Des carriers au Parlement: longévité des eurodéputés et institutionnalisation de l'arène parlementaire. Politique européenne 18 (1): 69–104.

Mather, J. (2001) The European parliament. A model of representative democracy? West European Politics 24 (1): 181–201.

Meserve, S., Pemstein, D. and Bernhard, W. (2009) Political ambition and legislative behavior in the European parliament. Journal of Politics 71 (17): 105–1032.

Michon, S. (2014) Les équipes parlementaires des eurodéputés. Entreprises politiques et rites d'institution. Windhoff, Luxembourg: Larcier.

Navarro, J. (2009) Les Députés européens et leur rôle. Brussels, Belgium: Éditions de l'Université de Bruxelles.

Norris, P. and Franklin, M. (1997) Social representation. European Journal of Political Research 32 (2): 185–210.

Rasmussen, A. (2012) Twenty years of co-decision since Maastricht: Inter- and intrainstitutional implications. European Integration 34 (7): 735–751.

Rouban, L. (2011) Sociologie politique des députés de la Ve République, 1958–2007. Cahiers du CEVIPOF 55. Paris: CEVIPOF.

Rozenberg, O. (2009) Les élections européennes et le Parlement européen. Entre influence et indifférence. Politique Européenne 28 (2): 7–36.

Rozenberg, O. (2014) La place des acteurs politiques. In: R. Dehousse (ed.) L'Union européenne. Paris: La Documentation française, pp. 35-–50.

Scarrow, S.E. (1997) Political career paths and the European parliament. Legislative Studies Quarterly 22 (2): 253–262.

Thomson, R. and Hosli, M. (2006) Who has power in the EU? The commission, council and parliament in legislative decision-making. Journal of Common Market Studies 44 (2): 391–417.

Turner, V. (1990) Le phénomène rituel. Structure et contre-structure. Paris: Presses universitaires de France.

Vauchez, A. (2014) Démocratiser l'Europe. Paris: Seuil-La République des idées.

Verzichelli, L. and Edinger, M. (2005) A critical juncture? The 2004 European elections and the making of a supranational elite. The Journal of Legislative Studies 11 (2): 254–274.

Westlake, M. (1994) Britain's Emerging Euro-Elite? The British in the Directly Elected European Parliament, 1979–1992. Aldershot: Dartmouth.

Whitaker, R. (2014) Tenure, turnover and careers in the European parliament: MEPs as policy-seekers. Journal of European Public Policy 21 (10): 1509–1527.

Yoshinaka, A., McElroy, G. and Bowler, S. (2010) The appointment of rapporteurs in the European parliament. Legislative Studies Quaterly 25 (4): 457–486.
Additional information
Translated from French by Jean-Yves Bart
About this article
Cite this article
Beauvallet-Haddad, W., Michon, S., Lepaux, V. et al. The changing composition of the European parliament: MEPs from 1979 to 2014. Fr Polit 14, 101–125 (2016). https://doi.org/10.1057/fp.2015.21
Published:

Issue Date:

DOI: https://doi.org/10.1057/fp.2015.21
Keywords
European elections

members of european parliament

political professionalization

political recruitment

women