Abstract
The Front National (FN) has made an impressive come back into France's electoral politics since 2012. Adopting a supply-side approach, this article places the electoral rejuvenation of the FN in the context of the global crisis and looks at how the party has adapted programmatically to socio-economic demands emerging from this context. On the basis of manifesto data analysis, we find that despite having recently broadened its economic programme, the FN maintains a niche status in the party system. Our findings show, however, that the party has significantly shifted its economic platform, moving from a predominantly right-wing to a left-wing location since the mid-1980s. This move is characterized by an increase in egalitarian and nationalist economic policies, espousing also a populist framework. The reconfiguration of the FN suggests that the party may have moved to a pivotal position in recent years by converging around the economic preferences of the median voter. We discuss the role of internal and external factors in explaining the economic policy shift by the FN, and consider possible implications of our findings for understanding current populist radical right electoral dynamics in Europe.
Access options
Buy single article
Instant access to the full article PDF.
US$ 39.95
Tax calculation will be finalised during checkout.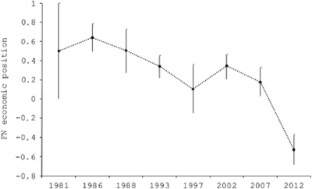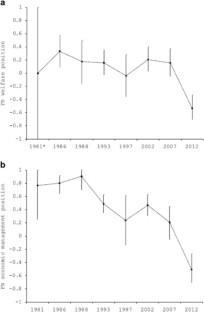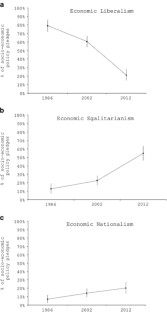 Notes
1.

Owing to the length of the 1993 FN manifesto, we use the paragraph rather than the quasi-sentence as a unit for counting policy statements, a procedure consistent with previous CMP coding of party documents in France (Brouard et al, 2012, p. 260).

2.

A total of 25 economic policy statements were removed from the analysis. These were cases where no clear left–right direction could be attributed – fiscal conventions.

3.

The FN position is calculated as the difference between right-wing and left-wing economic policies divided by their sum in each manifesto (R−L)/(R+L), which in this case is equivalent to computing the arithmetic mean. A negative score indicates therefore a leftist position, while a positive score indicates a rightist position on the economic dimension.

4.

Let us note here that Otjes et al (2012) distinguish an additional fourth cluster of economic policies directed at the 'deserving poor', that is, poor members of society who 'truly' deserve welfare support because they are unable to provide for themselves. This cluster concerns only a minority of the FN's policies and is therefore not included in this analysis.

5.

Benoit and Laver (2007, p. 100) define their economic policy ratio scale for the CMP data: Left econ.=PER (403+404+406+412+413+504+506+701); Right econ.=PER (401+402+407+414+505).

6.

FN policy estimates from the pledge-based directional analysis are validated externally through the use of CMP data. Correlation between the two measures of economic positions is 0.8 at p<0.01 (N=8 elections since 1981).

7.

As stated by Marine Le Pen: 'I am standing on my own two legs. On the one hand, unemployment, public debt and purchasing power. On the other hand, immigration and insecurity' (TF1, 6 March 2012).

8.

Mean position in the 1984 EP elections was 0.57 within a bootstrapped 95 per cent CI [0.41–0.72] (N=79 socio-economic policy pledges, source: Front National (1984)).

9.

In 2014, only 51 per cent of the French said EU membership was a 'good thing' compared with 67 per cent in 2004.

10.

The FN pledged for an increase in low wages, a control over commodity and food prices, as well as an increase in small pensions and in the minimum allowance for the elderly, and a return to 60 as retirement age. It advocated 'progressiveness and social justice' through higher taxes on the wealthiest, more progressive income tax bands, an increase in VAT for luxury goods, an increase in corporate taxes including a special tax on company relocations and the automatic adjustment of wages for inflation. The manifesto called also for the public control of banking and claimed that public services should be 'available to all', opposing the centre-right RGPP policy not to replace one in two civil servants going into retirement.

11.

Marine Le Pen antagonized all the 'powerful, representatives of the dominant "globalist" (mondialiste) ideology: i.e. politicians, the European Commission, financial markets, CAC 40 companies, the "super wealthy", the "loutish businessmen" or large retail companies'.

12.

In 2012, harsh criticism of benefit fraud was put to the forefront of the FN agenda of budgetary rigour and reduction in government spending. The FN claimed that a more efficient fight against social security 'cheaters' and those undeserving assistance would provide an additional €25 billion in revenue to the French state. The party called also for the suppression of all social benefits to social fraud recidivists and all offenders sentenced to one year imprisonment or more.

13.

Recently, Philippot's influence was evidenced by the disciplinary suspension of Jean-Marie Le Pen from the FN in May 2015, following the personal rift between him and his daughter.

14.

During the presidential campaign, Marine Le Pen developed a nearly catch-all narrative of France des oubliés, which targeted a large pool of voters across a variety socio-economic sectors affected by the crisis – that is, 'workers, farmers, students, pensioners, shopkeepers, civil servants or employees'.
References
Achterberg, P., Houtman, D. and Derks, A. (2011) Two of a kind? An empirical investigation of anti-welfarism and economic egalitarianism. Public Opinion Quarterly 75 (4): 748–760.

Adams, J., Clark, M., Ezrow, L. and Glasgow, G. (2006) Are niche parties fundamentally different from mainstream parties? The causes and the electoral consequences of Western European parties' policy shifts, 1976–1998. American Journal of Political Science 50 (3): 513–529.

Akkerman, T. (2015) Immigration policy and electoral competition in Western Europe. A fine-grained analysis of party positions over the past two decades. Party Politics 21 (1): 54–67.

Arzheimer, K. (2009) Contextual factors and the extreme right vote in Western Europe, 1980–2002. American Journal of Political Science 53 (2): 259–275.

Benoit, K. and Laver, M. (2007) Estimating party policy positions: Comparing expert surveys and hand coded content analysis. Electoral Studies 26 (1): 90–107.

Benoit, K., Laver, M. and Mikhalov, S. (2009) Treating words as data with error: Estimating uncertainty in the comparative manifesto measures'. American Journal of Political Science 53 (2): 49–513.

Benoit, K. and Laver, M. (2012) The dimensionality of political space: Epistemological and methodological considerations. European Union Politics 13 (2): 194–218.

Betz, H.-G. (1994) Radical Right-Wing Populism in Western Europe. Basingstoke, UK: Palgrave Macmillan.

Betz, H.-G. (1996) Review: The radical right in Western Europe. Political Science Quarterly 111 (4): 716–717.

Betz, H.-G. (2002) Against globalization: Xenophobia, identity politics and exclusionary populism in Western Europe. In: L. Panitch and C. Leys (eds.) Fighting Identities: Race, Religion and Ethno-Nationalism. London: Merlin, pp. 193–210.

Betz, H.-G. and Meret, S. (2013) Right-wing populist parties and the working class vote: What have you done for us lately? In: J. Rydgren (ed.) Class Politics and the Radical Right. London: Routledge, pp. 107–121.

Bornschier, S. (2005) « Unis contre la mondialisation? Une analyse de la convergence programmatique des partis populistes de droite européens ». Revue internationale de politique comparée 12 (4): 415–432.

Bornschier, S. (2010) The new cultural divide and the two-dimensional political space in Western Europe. West European Politics 33 (3): 419–444.

Brouard, S., Grossman, E. and Guinaudeau, I. (2012) La compétition partisane française au prisme des priorités électorales. Revue française de science politique 62 (2): 255–276.

Budge, I., Klingemann, H.-D., Volkens, A. and Bara, J. (2001) Mapping Policy Preferences. Estimates for Parties, Electors and Governments 1945–1998. Oxford: Oxford University Press.

Crépon, S., Mayer, N. and Dézé, A. (eds.) (forthcoming) Front National : un parti en transition ? Paris, France: Presses de Sciences-Po.

Crittenden, K.S. and Hill, R.J. (1971) Coding reliability and validity of interview data. American Sociological Review 36 (6): 1073–1080.

De Koster, W., Achterberg, P. and Van der Waal, J. (2013) The new right and the welfare state: On the electoral relevance of welfare chauvinism and welfare populism in The Netherlands. International Political Science Review 34 (1): 3–20.

De Lange, S.L. (2007) A new winning formula? The programmatic appeal of the radical right. Party Politics 13 (4): 411–435.

Evans, J. and Ivaldi, G. (2013) The 2012 French Presidential Elections. The Inevitable Alternation. Basingstoke: Palgrave Macmillan, French Politics, Society and Culture Series.

Front National (1984) Droite et démocratie économique: doctrine économique et sociale du Front National. 2nd end. (first published in 1978), Paris, National Hebdo.

Front National (1993) 300 Mesures pour la renaissance de la France: Front national Programme du gouvernement. Paris, Editions Nationales.

Gougou, F. and Mayer, N. (2013) The Class Basis of Extreme Right Voting in France: Generational Replacement and the Rise of New Cultural Issues (1984–2007). In: J. Rydgren (ed.) Class Politics and the Radical Right. London: Routledge, pp. 156–172.

Gómez-Reino, M. and Llamazares, I. (2013) The populist radical right and European integration: A comparative analysis of party – Voter links. West European Politics 36 (4): 789–816.

Harmel, R. and Janda, K. (1994) An integrated theory of party goals and party change. Journal of Theoretical Politics 6 (3): 259–287.

Heyer, E., Cochard, M., Ducoudré, B. and Péléraux, H. (2013) France: moins d'austérité, plus de croissance. Perspectives 2013–2014 pour l'économie française. Revue de l'OFCE (130): 97–153.

Hobolt, S. and Tilley, J. (2013) Blaming Europe? Responsibility without Accountability in the European Union. Oxford: Oxford University Press.

Hooghe, L. et al (2010) Reliability and validity of measuring party positions: The Chapel Hill expert surveys of 2002 and 2006. European Journal of Political Research 49 (5): 687–703.

Ignazi, P. (2003) Extreme Right Parties in Western Europe. Oxford: Oxford University Press.

Igounet, V. (2014) Le Front national de 1972 à nos jours. Le parti, les hommes, les idées. Paris, France: Seuil.

Ivaldi, G. (2015) A new course for the French radical-right? The Front National and de-demonization. In: T. Akkerman, S. de Lange and M. Rooduijn (eds.) Up to the Mainstream? Radical Right-Wing Populist Parties in the New Millennium. Routledge (forthcoming).

Ivarsflaten, E. (2005) The vulnerable populist right parties: No economic realignment fuelling their economic success. European Journal of Political Research 44 (3): 465–492.

Kim, H. and Fording, R.C. (1998) Voter ideology in Western democracies, 1946–1989. European Journal of Political Research 33 (1): 73–97.

Kitschelt, H. (1994) The Transformation of European Social Democracy. Cambridge, UK: Cambridge University Press.

Kitschelt, H. and McGann, A.J. (1995) The Radical Right in Western Europe. A Comparative Analysis. Ann Arbor, MI: University of Michigan Press.

König, T., Marbach, M. and Osnabrügge, M. (2013) Estimating party positions across countries and time – A dynamic latent variable model for manifesto data. Political Analysis 21 (4): 468–491.

Kriesi, H., Grande, E., Lachat, R., Dolezal, M., Bornschier, S. and Frey, T. (2006) Globalization and the transformation of the national political space: Six European countries compared. European Journal of Political Research 45 (6): 921–956.

Lefkofridi, Z., Wagner, M. and Willmann, J. (2014) Left-authoritarians and policy representation in Western Europe: Electoral choice across ideological dimensions. West European Politics 37 (1): 65–90.

Lowe, W., Benoit, K., Mikhaylov, S. and Laver, M. (2011) Scaling policy preferences from coded political texts. Legislative Studies Quarterly 36 (1): 123–155.

Marks, G. (ed.) (2007) Special symposium: Comparing measures of party positioning: Expert, manifesto, and survey data. Special issue. Electoral Studies 26 (1): 1–141.

Mayer, N. (2002) Ces Français qui votent Le Pen. Paris, France: Flammarion.

Mayer, N. (2007) Comment Nicolas Sarkozy a rétréci l'électorat Le Pen. Revue française de Science Politique 57 (3/4): 429–445.

Mayer, N. (2013) From Jean-Marie to Marine Le Pen: Electoral change on the far right. Parliamentary Affairs 66 (1): 160–178.

McDonald, M.D. and Mendes, S.M. (2001) The policy space of party manifestos. In: M. Laver (ed.) Estimating the Policy Position of Political Actors. London: Routledge, pp. 90–114.

McGann, A.J. and Kitschelt, H. (2005) The radical right in the Alps. Evolution of support for the Swiss SVP and Austrian FPO. Party Politics 11 (2): 147–171.

Meguid, B.M. (2005) Competition between unequals: The role of mainstream party strategy in niche party success. American Political Science Review 99 (3): 347–359.

Meguid, B.M. (2008) Party Competition between Unequals: Strategies and Electoral Fortunes in Western Europe. Cambridge, UK: Cambridge University Press.

Meyer, T.M. and Miller, B. (2015) The niche party concept and its measurement. Party Politics 21 (2): 259–271.

Meyer, T.M. and Wagner, M. (2013) Mainstream or niche? Vote-seeking incentives and the programmatic strategies of political parties. Comparative Political Studies 46 (1): 1246–1272.

Mudde, C. (2007) Populist Radical Right Parties in Europe. Cambridge, UK: Cambridge University Press.

Olivera, J. (2014) Preferences for redistribution after the economic crisis. ECINEQ, May, n°334 (http://www.ecineq.org/milano/WP/ECINEQ2014-334.pdf, accessed 6 September 2015.

Otjes, S., Lucardie, P. and Voerman, G. (2012) Continuity and change in the social-economic agenda of the PVV. European Sociological Association's Research Network on Political Sociology (RN32). Mid-term Conference, University of Milan, 30 November–1 December.

Pellikaan, H., Van der Meer, T. and De Lange, S. (2003) The road from a depoliticized to a centrifugal democracy. Acta Politica 38 (1): 23–50.

Perrineau, P. (1995) «La dynamique du vote Le Pen: le poids du 'gaucho-lepénisme'». In: P. Perrineau and C. Ysmal (eds.) Le vote de crise. Paris, France: Presses de Sciences-Po, pp. 243–261.

Rovny, J. (2013) Where do radical right parties stand? Position blurring in multi-dimensional competition. European Political Science Review 5 (1): 1–26.

Rydgren, J. (2005) Is extreme right-wing populism contagious? Explaining the emergence of a new party family. European Journal of Political Research 44 (3): 413–437.

Shields, J. (2013) Marine Le Pen and the 'new' FN: A change of style or of substance? Parliamentary Affairs 66 (1): 179–196.

Singer, M.M. (2013) The global economic crisis and domestic political agendas. Electoral Studies 32 (3): 404–410.

Stockemer, D. and Amengay, A. (2015) The voters of the FN under Jean Marie Le Pen and Marine Le Pen: Continuity or change? French Politics 13 (4): 370–390.

Tiberj, V. (2013) Values and the votes from Mitterrand to Hollande: The rise of the two-axis politics. Parliamentary Affairs 66 (1): 69–86.

Van der Brug, W. and Van Spanje, J. (2009) Immigration, Europe and the 'new' socio-cultural dimension. European Journal of Political Research 48 (3): 309–334.

Van Kessel, S. (2013) A matter of supply and demand: The electoral performance of populist parties in three European countries. Government and Opposition 48 (2): 175–199.

Wagner, M. (2012a) Defining and measuring niche parties. Party Politics 18 (6): 845–864.

Wagner, M. (2012b) When do parties emphasise extreme positions? How strategic incentives for policy differentiation influence issue importance. European Journal of Political Research 51 (1): 64–88.

Zaslove, A. (2008) Exclusion, community, and a populist political economy: The radical right as an anti-globalization movement. Comparative European Politics 6 (2): 169–189.
Acknowledgements
The author is very grateful to Daniel Stockemer at the University of Ottawa and to Sarah de Lange at the University of Amsterdam for their constructive comments on earlier versions of this article. He also wishes to thank the two anonymous referees for their comments and suggestions. All errors or misinterpretations are of course the author's sole responsibility.
Appendices
Appendix A
Appendix B
Appendix C
Appendix D
About this article
Cite this article
Ivaldi, G. Towards the median economic crisis voter? The new leftist economic agenda of the Front National in France. Fr Polit 13, 346–369 (2015). https://doi.org/10.1057/fp.2015.17
Keywords
Front National

economic policy

party position

global crisis

median voter

radical right