Abstract
As the number of messages and social relationships embedded in social networking sites (SNS) increases, the amount of social information demanding a reaction from individuals increases as well. We observe that, as a consequence, SNS users feel they are giving too much social support to other SNS users. Drawing on social support theory (SST), we call this negative association with SNS usage 'social overload' and develop a latent variable to measure it. We then identify the theoretical antecedents and consequences of social overload and evaluate the social overload model empirically using interviews with 12 and a survey of 571 Facebook users. The results show that extent of usage, number of friends, subjective social support norms, and type of relationship (online-only vs offline friends) are factors that directly contribute to social overload while age has only an indirect effect. The psychological and behavioral consequences of social overload include feelings of SNS exhaustion by users, low levels of user satisfaction, and a high intention to reduce or even stop using SNS. The resulting theoretical implications for SST and SNS acceptance research are discussed and practical implications for organizations, SNS providers, and SNS users are drawn.
This is a preview of subscription content, log in to check access.
We're sorry, something doesn't seem to be working properly.
Please try refreshing the page. If that doesn't work, please contact support so we can address the problem.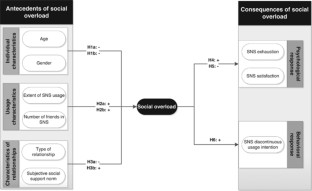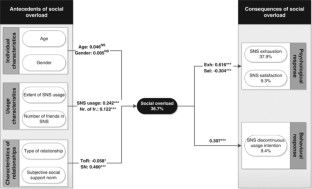 Notes
1.

We scanned the Senior Scholars' Basket of Journals with its eight journals (MISQ, ISR, JMIS, JAIS, EJIS, ISJ, JSIS, and JIT) for the period 2002–2013 using stress-, social support-, and SNS-related search terms. For the identified articles, we performed forward and backward search as proposed by Webster and Watson (2002).

2.

Techno-complexity would be the correct answer for this item.

3.

χ2/df represents the minimum discrepancy divided by the degrees of freedom. GFI indicates the relative amount of variance and covariance that is explained by the model, whereas the AGFI adjusts GFI for the degrees of freedom. NFI and CFI indicate the percentage enhancement in fit over the baseline model. The RMSEA is a standardized estimation that is used to represent closeness of fit. SRMR represents the standardized difference between observed and predicted covariance. The IFI is used to address the issue of parsimony and sample size. The TLI adjusts NFI for the degrees of freedom and penalizes for model complexity.
References
Agarwal R and Prasad J (1999) Are individual differences germane to the acceptance of new information technologies? Decision Sciences 30 (2), 361–391.

Agarwal R, Animesh A and Prasad K (2009) Social interactions and the 'digital divide': explaining variations in internet use. Information Systems Research 20 (2), 277–294.

Ajzen I (1991) The theory of planned behavior. Organizational Behavior and Human Decision Processes 50 (2), 179–211.

Amichai-Hamburger Y (2013) Youth internet and wellbeing. Computers in Human Behavior 29 (1), 1–2.

Amichai-Hamburger Y, Kingsbury M and Schneider BH (2013) Friendship: an old concept with a new meaning? Computers in Human Behavior 29 (1), 33–39.

Animesh A, Pinsonneault A, Yang S-B and Oh W (2011) An odyssey into virtual worlds: exploring the impacts of technological and spatial environments. MIS Quarterly 35 (3), 789–810.

Au N, Ngai EWT and Cheng T (2008) Extending the understanding of end user information systems satisfaction formation: an equitable needs fulfillment model approach. MIS Quarterly 32 (1), 43–66.

Ayyagari R, Grover V and Purvis R (2011) Technostress: technological antecedents and implications. MIS Quarterly 35 (4), 831–858.

Bagozzi RP (1979) The role of measurement in theory construction and hypothesis testing: toward a holistic model. In Conceptual and Theoretical Developments in Marketing (Ferrell OC, Brown SW and Lamb CW, Eds), pp 15–32, American Marketing Assoc, Chicago, IL.

Barley SR, Meyerson DE and Grodal S (2011) E-mail as a source and symbol of stress. Organization Science 22 (4), 887–906.

Barrera M (1986) Distinctions between social support concepts, measures, and models. American Journal of Community Psychology 14 (4), 413–445.

Barrera Jr. M (1981) Social support in the adjustment of pregnant adolescents: assessment issues. In Social Networks and Social Support (Gottlieb BH, Ed), pp 69–96, Sage Publications, Beverly Hills, CA.

Baum A and Koman S (1976) Differential response to anticipated crowding: psychological effects of social and spatial density. Journal of Personality and Social Psychology 34 (3), 526–536.

Baum A, Calesnick LE, Davis G and Gatchel R (1982) Individual differences in coping with crowding: stimulus screening and social overload. Journal of Personality and Social Psychology 43 (4), 821–830.

Belle D (1987) Gender differences in the social moderators of stress. In Gender and Stress (Barnett R, Biener L and Baruch G, Eds), pp 257–277, Free Press, New York.

Bentler P and Bonett DG (1980) Significance tests and goodness of fit in the analysis of covariance structures. Psychological Bulletin 88 (3), 588–606.

Bhattacherjee A (2001) Understanding information systems continuance: an expectation-confirmation model. MIS Quarterly 25 (3), 351–370.

Bliese PD and Britt TW (2001) Social support, group consensus and stressor-strain relationships: social context matters. Journal of Organizational Behavior 22 (4), 425–436.

Bovey WH and Hede A (2001) Resistance to organizational change: the role of defense mechanisms. Journal of Managerial Psychology 16 (7), 534–548.

Brandtzaeg PB (2012) Social networking sites: their users and social implications – a longitudinal study. Journal of Computer-Mediated Communication 17 (4), 467–488.

Burton-Jones A and Hubona GS (2005) Individual differences and usage behavior. ACM SIGMIS Database 36 (2), 58–77.

Campell DT and Fiske DW (1959) Convergent and discriminant validation by the multitrait-multimethod matrix. Psychological Bulletin 56 (2), 81–105.

Caplan G (1974) Support Systems and Community Mental Health: Lectures on Concept Development. Behavioral Publications, New York.

Carmines EG and Zeller RA (2008) Reliability and Validity Assessment. Sage Publ, Newbury Park, CA.

Cassel J (1976) The contribution of the social environment to host resistance. American Journal of Epidemiology 104 (2), 107–123.

Cenfetelli RT and Schwarz A (2011) Identifying and testing the inhibitors of technology usage intentions. Information Systems Research 22 (4), 808–823.

Chhokar JS, Brodbeck FC and House RJ (2007) Culture and Leadership Across the World: The GLOBE Book of in-Depth Studies of 25 Societies. Lawrence Erlbaum Associates, Mahwah, NJ.

Chin WW (1998) The partial least squares approach to structural equation modeling. In Modern Methods for Business Research (Marcoulides GA, Ed), pp 295–336, Erlbaum, Mahwah, NJ.

Chin WW, Gopal A and Salisbury W (1997) Advancing the theory of adaptation structuration: the development of a scale to measure faithfulness of appropriation. Information Systems Research 8 (4), 342–367.

Choudrie J and Dwivedi YK (2005) Investigating the research approaches for examining technology adoption issues. Journal of Research Practice 1 (1).

Cobb S (1976) Social support as a moderator of life stress. Psychosomatic Medicine 38 (5), 300–314.

Cohen S, Underwood L and Gottlieb BH (2000) Social Support Measurement and Intervention: A Guide for Health and Social Scientists. Oxford University Press, Oxford, New York.

Cooper CL, Dewe P and O'Driscoll MP (2001) Organizational Stress: A Review and Critique of Theory, Research, and Applications. Sage, Thousand Oaks, CA.

Culnan MJ, McHugh PJ and Zubillaga JI (2010) How large U.S. companies can use Twitter and other social media to gain business value. MIS Quarterly Executive 9 (4), 243–259.

Dwivedi YK, Williams MD and Venkatesh V (2008) Guest editorial: a profile of adoption of information & communication technologies (ICT) research in the household context. Information Systems Frontiers 10 (4), 385–390.

Eckhardt A, Laumer S and Weitzel T (2009) Who influences whom? analyzing workplace referents' social influence on IT adoption and non-adoption. Journal of Information Technology 24 (1), 11–24.

Ellison NB, Steinfield C and Lampe C (2007) The benefits of Facebook 'friends': social capital and college students' use of online social network sites. Journal of Computer-Mediated Communication 12 (4), 1143–1168.

Ellison NB, Steinfield C and Lampe C (2011) Connection strategies: social capital implications of Facebook-enabled communication practices. New Media & Society 13 (6), 873–892.

Evans G and Lepore S (1993) Household crowding and social support: a quasiexperimental analysis. Journal of Personality and Social Psychology 65 (2), 308–316.

Evans G, Rhee E, Forbes C, Allen KM and Lepore S (2000) The meaning and efficacy of social withdrawal as a strategy for coping with chronic residential crowding. Journal of Environmental Psychology 20 (4), 335–342.

Fielding N and Schreier M (2001) Introduction: on the compatibility between qualitative and quantitative research methods. Forum: Qualitative Social Research. [WWW document] http://www.qualitative-research.net/index.php/fqs/article/view/965/2107 (accessed 3 May 2011).

Flanagan JC (1954) The critical incident technique. Psychological Bulletin 51 (4), 327–359.

Fornell C and Larcker DF (1981) Evaluating structural equation models with unobservable variables and measurement error. Journal of Marketing Research 18 (1), 39–50.

Gallaugher J and Ransbotham S (2010) Social media and customer dialog management at starbucks. MIS Quarterly Executive 9 (4), 197–212.

Gartner. (2011) Gartner survey highlights consumer fatigue with social media. [WWW document] http://www.joneser.com/it/page.jsp?id=1766814 (accessed 7 September 2011).

Gibbs JL (2006) Self-presentation in online personals: the role of anticipated future interaction, self-disclosure, and perceived success in internet dating. Communication Research 33 (2), 152–177.

Goldsmith DJ, McDermott VM and Alexander SC (2000) Helpful, supportive and sensitive: measuring the evaluation of enacted social support in personal relationships. Journal of Social and Personal Relationships 17 (3), 369–391.

Gouldner AW (1960) The norm of reciprocity: a preliminary statement. American Sociological Review 25 (2), 161.

Hair JF (1995) Multivariate Data Analysis with Readings. Prentice Hall, Englewood Cliffs, NJ.

Hair JF, Black WC, Babin BJ and Anderson RE (2009) Multivariate Data Analysis. Pearson Education, Upper Saddle River, NJ.

Hampton K, Goulet LS, Rainie L and Purcell K (2011) Social networking sites and our lives. Pew Internet & American Life Project. [WWW document] http://www.pewinternet.org/2011/06/16/social-networking-sites-and-our-lives/ (accessed 17 February 2014).

Ho VT, Ang S and Straub DW (2003) When subordinates become IT contractors: persistent managerial expectations in it outsourcing. Information Systems Research 14 (1), 66–86.

Hoffman DL and Fodor M (2010) Can you measure the ROI of your social media marketing? MIT Sloan Management Review 52 (1), 41–49.

Hu L and Bentler P (1999) Cutoff criteria for fit indexes in covariance structure analysis: conventional criteria versus new alternatives. Structural Equation Modeling 6 (1), 1–55.

Hudiburg RA (1989) Psychology of computer use: VII. measuring technostress: computer-related stress. Psychological Reports 64 (3), 767–772.

Hulland JS (1999) Use of partial least squares (PLS) in strategic management research: a review of four recent studies. Strategic Management Journal 20 (2), 195–204.

Jöreskog KG and Sörbom D (1989) LISREL-7: User's Reference Guide. Scientific Software, Mooresville.

Kim H-W and Kankanhalli A (2009) Investigating user resistance to information systems implementation: a status quo bias perspective. MIS Quarterly 33 (3), 567–582.

Kim SS (2009) The integrative framework of technology use: an extension and test. MIS Quarterly 33 (3), 513–537.

Koch H, Gonzalez E and Leidner D (2012) Bridging the work/social divide: the emotional response to organizational social networking sites. European Journal of Information Systems 21 (6), 699–717.

Kohlbachter F (2005) The use of qualitative content analysis in case study research. Qualitative Social Research 7 (1), 1–23.

Koroleva K, Krasnova H, Veltri N and Günther O (2011) It's all about networking! empirical investigation of social capital formation on social network sites. Proceedings of the International Conference on Information Systems.

Krasnova H, Spiekermann S, Koroleva K and Hildebrand T (2010) Online social networks: why we disclose. Journal of Information Technology 25 (2), 109–125.

Krasnova H, Veltri NF and Günther O (2012) Self-disclosure and privacy calculus on social networking sites: the role of culture. Business & Information Systems Engineering 4 (3), 127–135.

Krasnova H, Wenninger H, Widjaja T and Buxmann P (2013) Envy on Facebook: A hidden threat to users' life satisfaction? Proceedings of the 11th International Conference on Wirtschaftsinformatik.

Landis JR and Koch GG (1977) The measurement of observer agreement for categorical data. Biometrics 33 (1), 159–174.

Langer EJ and Saegert S (1977) Crowding and cognitive control. Journal of Personality and Social Psychology 35 (3), 175–182.

Laumer S, Eckhardt A and Weitzel T (2010) Electronic human resources management in an e-business environment. Journal of Electronic Commerce Research 11 (4), 240–250.

Leidner D, Koch H and Gonzalez E (2010) Assimilating generation Y IT new hires into U.S.A.A's workforce: the role of an enterprise 2.0 system. MIS Quarterly Executive 9 (4), 229–242.

Liang H, Saraf N, Hu Q and Xue Y (2007) Assimilation of enterprise systems: the effect of institutional pressures and the mediating role of top management. MIS Quarterly 31 (1), 59–87.

Maier C, Laumer S, Eckhardt A and Weitzel T (2012a) Online social networks as a source and symbol of stress: an empirical analysis. Proceedings of the 33rd International Conference on Information Systems (ICIS), Orlando, FL.

Maier C, Laumer S, Eckhardt A and Weitzel T (2012b) Using user personality to explain the intention-behavior gap and changes in beliefs: a longitudinal analysis. Proceedings of the 33rd International Conference on Information Systems.

Maier C, Laumer S, Eckhardt A and Weitzel T (2012c) When social networking turns to social overload: explaining the stress, emotional exhaustion, and quitting behavior from social network sites' users. Proceedings of the 20th European Conference on Information System.

Maier C, Laumer S, Eckhardt A and Weitzel T (2013) Analyzing the impact of HRIS implementations on HR personnel's job satisfaction and turnover intention. Journal of Strategic Information Systems 22 (3), 193–207.

Majchrzak A, Cherbakov L and Ives B (2009) Harnessing the power of the crowds with corporate social networking tools: how IBM does it. MIS Quarterly Executive 8 (2), 103–108.

Manago AM, Taylor T and Greenfield PM (2012) Me and my 400 friends: the anatomy of college students' Facebook networks, their communication patterns, and well-being. Developmental Psychology 48 (2), 369–380.

McAndrew FT and Jeong HS (2012) Who does what on Facebook? age, sex, and relationship status as predictors of Facebook use. Computers in Human Behavior 28 (6), 2359–2365.

Moore K and McElroy JC (2012) The influence of personality on Facebook usage, wall postings, and regret. Computers in Human Behavior 28 (1), 267–274.

Nahm AY, Rao SS, Solís-Galván LE and Ragu-Nathan TS (2002) The Q-sort method: assessing reliability and construct validity of questionnaire items at a pre-testing stage. Journal of Applied Statistics 1 (1), 114–125.

Nasar JL and Julian DA (1995) The psychological sense of community in the neighborhood. Journal of the American Planning Association 61 (2), 178–184.

Nunnally JC and Bernstein IH (1994) Psychometric Theory. McGraw-Hill, New York.

Podsakoff PM, MacKenzie SB, Lee J-Y and Podsakoff NP (2003) Common method biases in behavioral research: a critical review and recommended remedies. Journal of Applied Psychology 83 (5), 879–903.

Preacher KJ and Hayes AF (2004) SPSS and SAS procedures for estimating indirect effects in simple mediation models. Behavior Research Methods, Instruments, & Computers 36 (4), 717–731.

Procidano ME and Heller K (1983) Measures of perceived social support from friends and from family: three validation studies. American Journal of Community Psychology 11 (1), 1–24.

Ragu-Nathan TS, Tarafdar M, Ragu-Nathan BS and Qiang T (2008) The consequences of technostress for end users in organizations: conceptual development and empirical validation. Information Systems Research 1 (4), 417–433.

Ringle CM, Wende S and Will A (2005) SmartPLS. University of Hamburg, Hamburg.

Ross C, Orr ES, Sisic M, Arseneault JM, Simmering MG and Orr RR (2009) Personality and motivations associated with Facebook use. Computers in Human Behavior 25 (2), 578–586.

Salisbury W, Chin WW, Gopal A and Newsted PR (2002) Research report: better theory through measurement – developing a scale to capture consensus on appropriation. Information Systems Research 13 (1), 91–103.

Seidman G, Shrout PE and Bolger N (2006) Why is enacted social support associated with increased distress? using simulation to test two possible sources of spuriousness. Personality and Social Psychology Bulletin 32 (1), 52–65.

Sherman LE and Greenfield PM (2013) Forging friendship, soliciting support: a mixed-method examination of message boards for pregnant teens and teen mothers. Computers in Human Behavior 29 (1), 75–85.

Sipior JC, Ward BT and Connolly R (2010) The digital divide and t-government in the United States: using the technology acceptance model to understand usage. European Journal of Information Systems 20 (3), 308–328.

Subrahmanyam K, Reich SM, Waechter N and Espinoza G (2008) Online and offline social networks: use of social networking sites by emerging adults. Journal of Applied Developmental Psychology 29 (6), 420–433.

Tarafdar M, Tu Q and Ragu-Nathan TS (2010) Impact of technostress on end-user satisfaction and performance. Journal of Management Information Systems 27 (3), 303–334.

Thoits P (1995) Stress, coping, and social support processes: where are we? what next? Journal of Health and Social Behavior 35, 53–79.

Tow W, Dell P and Venable J (2010) Understanding information disclosure behaviour in Australian Facebook users. Journal of Information Technology 25 (2), 126–136.

Turel O and Serenko A (2012) The benefits and dangers of enjoyment with social networking websites. European Journal of Information Systems 21 (5), 512–528.

Turel O, Serenko A and Giles P (2011) Integrating technology addiction and use: an empirical investigation of online auction users. MIS Quarterly 35 (4), 1043–1061.

Turner RJ and Marino F (1994) Social support and social structure: a descriptive epidemiology. Journal of Health and Social Behavior 35 (3), 193–212.

Uehara ES (1995) Reciprocity reconsidered: Gouldner's 'moral norm of reciprocity' and social support. Journal of Social and Personal Relationships 12 (4), 483–502.

Webster J and Watson RT (2002) Analyzing the past to prepare for the future: Writing a literature review. MIS quarterly 26 (2), xiii–xxiii.

Weitzel T, Eckhardt A and Laumer S (2009) A framework for recruiting IT talent: lessons from Siemens. MIS Quarterly Executive 8 (4), 175–189.

Wellman B and Wortley S (1990) Different strokes from different folks: community ties and social support. American Journal of Sociology 96 (3), 558.

Wiesenfeld E (1987) Residential density, locus of control, and crowding perception in popular housing projects. Journal of Environmental Psychology 7 (2), 143–158.

Williams LJ, Edwards J and Vandenberg R (2003) Recent advances in causal modeling methods for organizational and management research. Journal of Management 29 (6), 903–936.

Williams MD, Dwivedi YK, Lal B and Schwarz A (2009) Contemporary trends and issues in IT adoption and diffusion research. Journal of Information Technology 24 (1), 1–10.

Wilson G and Baldassare M (1996) Overall 'sense of community' in a Suburban region: the effects of localism, privacy, and urbanization. Environment and Behavior 28 (1), 27–43.

Wilson RE, Gosling SD and Graham LT (2012) A review of Facebook research in the social sciences. Perspective on Psychological Science 7 (3), 203–220.

Yin RK (2009) Case Study Research: Design and Methods. Sage, Los Angeles, CA.
Acknowledgements
This paper is dedicated to Ernst Maier, father of Christian Maier, who passed away on the day we submitted the revised version.
Additional information
Correction
This paper has been amended owing to the omission of information relating to the presentation of an earlier version.
An earlier version of this paper was presented at the European Conference on Information Systems (ECIS), Barcelona, in June 2012 (Maier et al, 2012c).
Appendix
Appendix
About this article
Cite this article
Maier, C., Laumer, S., Eckhardt, A. et al. Giving too much social support: social overload on social networking sites. Eur J Inf Syst 24, 447–464 (2015). https://doi.org/10.1057/ejis.2014.3
Received:

Revised:

Accepted:

Published:

Issue Date:
Keywords
IT continuance

dark side of IT

negative consequence of IT usage

technostress

satisfaction

social media