Abstract
Electronic markets are ruled by price and reputation, and, at least in the case of Online Sourcing Markets (OSM), also by preference for providers the buyer already contracted with. OSM are online markets for software development. Adding Fukuyama's notion of a low trust culture, an argument is advanced why buyers in OSM may give absolute preference to providers with whom they had previous contracts, presenting a special case of neoclassical contracting. Examining all the transactions in one calendar year at a leading OSM supports this proposition. All it took to be given the tender was to be the only bidding provider with at least one successful previous contract with the buyer, rendering pricing and ratings immaterial to bid choice. Only when none of the bidding providers had previous successful projects with the buyer did pricing and rating affect bid choice. The proposition is also consistent with the buyers' comments about their providers. Implications are discussed about how a low trust culture affects OSM behavior.
Access options
Buy single article
Instant access to the full article PDF.
USD 39.95
Price excludes VAT (USA)
Tax calculation will be finalised during checkout.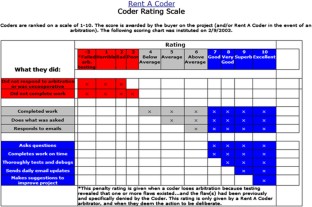 References
Alaghehband FK, Rivard S, Wu S and Goyette S (2011) An assessment of the use of transaction cost theory in information technology outsourcing. Journal of Strategic Information Systems 20 (2), 125–138.

Ba S and Pavlou PA (2002) Evidence of the effect of trust building technology in electronic markets: price premiums and buyer behavior. MIS Quarterly 26 (3), 243–268.

Bahli B and Rivard S (2003) The information technology outsourcing risk: a transaction cost and agency theory-based perspective. Journal of Information Technology 18 (3), 211–221.

Beulen E, Ribbers P and Roos J (2006) Managing it Outsourcing: Governance in Global Partnerships. Routledge, Taylor & Francis Group, London and New York.

Blau PM (1964) Exchange and Power in Social Life. Wiley, New York.

Bolton P and Dewatripomt M (2005) Contract Theory. The MIT Press, Cambridge, MA.

Carmel E and Tjia P (2005) Offshoring Information Technology Sourcing and Outsourcing to a Global Workforce. Cambridge University Press, Cambridge, UK.

Choi DH, Kim CM, Kim S-I and Kim SH (2006) Customer loyalty and disloyalty in internet retail stores: its antecedents and its effect on customer price sensitivity. International Journal of Management 23 (4), 925–944.

Cote JA and Buckley R (1988) Measurement error and theory testing in consumer research: an illustration of the importance of construct validation. Journal of Consumer Research 14 (3), 579–582.

Dans E (2002) Existing business models for auctions and their adaptation to electronic markets. Journal of Electronic Commerce Research 3 (2), 23–31.

Dellarocas C (2003) The digitization of word-of-mouth: promise and challenges of online feedback mechanisms. Management Science 49 (10), 1407–1424.

Dibbern J, Winkler J and Heinzl A (2008) Explaining variations in client extra costs between software projects offshored to India. MIS Quarterly 32 (2), 333–366.

Emam KE, Brown A, AbdelMalik P, Neisa A, Walker M, Bottomley J and Roffey T (2010) A method for managing re-identification risk from small geographic areas in Canada. BMC Medical Informatics and Decision Making 10 (18), 1–13.

Ethiraj SK, Kale P, Krishnan MS and Singh JV (2005) Where do capabilities come from and how do they matter? A study in the software services industry. Strategic Management Journal 26 (1), 25–45.

Fukuyama F (1995) Trust: The Social Virtues & the Creation of Prosperity. The Free Press, New York.

Ganesan S (1994) Determinants of long-term orientation in buyer-seller relationships. Journal of Marketing 58 (1), 1–19.

Gefen D and Carmel E (2008) Is the world really flat? A look at offshoring in an online programming marketplace. MIS Quarterly 32 (2), 367–384.

Gefen D, Karahanna E and Straub DW (2003) Trust and tam in online shopping: an integrated model. MIS Quarterly 27 (1), 51–90.

Gefen D and Pavlou PA (2011) The boundaries of trust and risk: the quadratic moderating role of institutional structures. Information Systems Research Articles in Advance, 23 (3), 1–20.

Gefen D, Wyss S and Lichtenstein Y (2008) Business familiarity as risk mitigation in software development outsourcing contracts. MIS Quarterly 32 (3), 531–551.

Goo J, Kishore R, Nam K, Rao HR and Song Y (2007) An investigation of factors that influence the duration of it outsourcing relationships. Decision Support Systems 42 (4), 2107–2125.

Gulati R (1995) Does familiarity breed trust? The implications of repeated ties for contractual choice in alliances. Academy of Management Journal 38 (1), 85–112.

Jacoby J (1975) A brand loyalty concept: comments on a comment. Journal of Marketing Research 12 (4), 484–488.

Kalnins A and Mayer KJ (2004) Relationships and hybrid contracts: an analysis of contract choice in information technology. Journal of Law Economics and Organization 20 (1), 207–229.

King G and Zeng L (2001) Logistic regression in rare events data. Political Analysis 9 (2), 137–163.

Krishnamurthi L and Papatla P (2003) Accounting for heterogeneity and dynamics in the loyalty-price sensitivity relationship. Journal of Retailing 79 (2), 121–135.

Krishnamurthi L and Raj SP (1991) An empirical analysis of the relationship between brand loyalty and consumer price elasticity. Marketing Science 10 (2), 172–183.

Lacity MC, Khan S, Yan A and Willcocks LP (2010) A review of the IT outsourcing empirical literature and future research directions. Journal of Information Technology 25 (4), 395–433.

Lacity MC, Willcocks LP and Khan S (2011) Beyond transaction cost economics: towards an endogenous theory of information technology outsourcing. Journal of Strategic Information Systems 20 (2), 139–157.

Liu Y, Chawla N, Harper M, Shriberg E and Stolcke A (2006) A study in machine learning for imbalanced data for sentence boundary detection in speech. Computer Speech and Language 20 (4), 468–494.

Mayer RC, Davis JH and Schoorman FD (1995) An integrative model of organizational trust. Academy of Management Review 20 (3), 709–734.

McKnight DH and Chervany NL (2002) What trust means in e-commerce customer relationships: an interdisciplinary conceptual typology. International Journal of Electronic Commerce 6 (2), 35–53.

McKnight DH, Kacmar CJ and Choudhury V (2004) Dispositional trust and distrust distinctions in predicting high- and low-risk internet expert advice site perceptions. E-Service Journal 3 (2), 35–58.

Pavlou P and Gefen D (2004) Building effective online marketplaces with institution-based trust. Information Systems Research 15 (1), 37–59.

Pavlou PA and Dimoka A (2006) The nature and role of feedback text comments in online marketplaces: implications for trust building, price premiums, and seller differentiation. Information Systems Research 17 (4), 392–414.

Pavlou PA and Gefen D (2005) Psychological contract violation in online marketplaces: antecedents, consequences, and moderating role. Information Systems Research 16 (4), 372–399.

Rai A, Maruping LM and Venkatesh V (2009) Offshore information systems project success: the role of social embeddedness and cultural characteristics. MIS Quarterly 33 (3), 617–641.

Reichheld FF and Schefter P (2000) E-loyalty: your secret weapon on the web. Harvard Business Review 78 (4), 105–113.

Roberts JH (2005) Defensive marketing: how a strong incumbent can protect its position. Harvard Business Review 83 (11), 150–157.

Rottman JW and Lacity MC (2004) Twenty practices for offshore sourcing. MISQe 3 (3), 117–129.

Ruiz-Gazen A and Villa N (2007) Storms prediction: logistic regression vs random forest for unbalanced data. Case Studies in Business, Industry and Government Statistics 1 (2), 91–101.

Sabherwal R (1999) The role of trust in outsourced is development projects. Communications of the ACM 42 (2), 80–86.

Snir EM and Hitt LM (2003) Costly bidding in online markets for it services. Management Science 49 (11), 1504.

Snir EM and Hitt LM (2004) Vendor screening in information technology contracting with a pilot project. Journal of Organizational Computing and Electronic Commerce 14 (1), 61–88.

Starr MK and Rubinson JR (1978) A loyalty group segmentation model for brand purchasing simulation. Journal of Marketing Research 15 (August), 378–383.

Strobl C (2008) Statistical Issues in Machine Learning Towards Reliable Split Selection and Variable Importance Measures. Cuvillier Verlag, Göttingen, Germany.

The Economist (2011) The magic of diasporas. The Economist, 19-25 November 2011, London, UK, p. 13.

Wernerfelt B (1986) A special case of dynamic pricing policy. Management Science 32 (12), 1562–1566.

Wernerfelt B (1991) Brand loyalty and market equilibrium. Management Science 10 (3), 229–245.

Williamson OE (1985) The Economic Institutions of Capitalism. The Free Press, New York, NY.

Wu J, Arturo E and Gaytán A (2012) The role of online seller reviews and product price on buyers' willingness-to-pay: a risk perspective. European Journal of Information Systems, advanced online publication, 3 July, doi: 10.1057/ejis.2012.33.
About this article
Cite this article
Gefen, D., Carmel, E. Why the first provider takes it all: the consequences of a low trust culture on pricing and ratings in online sourcing markets. Eur J Inf Syst 22, 604–618 (2013). https://doi.org/10.1057/ejis.2012.49
Received:

Revised:

Accepted:

Published:

Issue Date:

DOI: https://doi.org/10.1057/ejis.2012.49
Keywords
reputation

brand loyalty

online software markets

transaction costs economics

business familiarity

low trust cultures