Abstract
This article introduces a Special Section addressing technology diffusion as a result of south–south trade in capital goods; taking forward, and updating, arguments from the appropriate technology literature in the 1970s and 1980s. We review capital goods utilised in three sectors of considerable development significance in low- and middle-income economies (agricultural mechanisation in Tanzania, furniture in Kenya and apparel in Uganda). In each sector, southern-origin equipment is distinctive by comparison with northern-origin capital goods. At observed capacity utilisation rates, southern-origin capital goods are economically efficient, accessible and profitable to users, and demonstrably appropriate to operating conditions in these three economies. As a consequence, not only are Chinese-origin capital goods diffusing rapidly in these three economies, but so too are they diffusing in other developing economies. Chinese-origin capital goods now account for almost one-third of all capital goods imports in Africa, Latin America and South-East Asia, and Indian equipment is also widely utilised in many low- and middle-income economies. This suggests a wider significance of our findings and calls for policymakers to harness the opportunities provided by market-driven south–south trade in capital goods.
Abstract
Cet article introduit une section speciale considérant la diffusion des technologies comme étant un résultat du commerce Sud-Sud dans les biens d'équipement ; en prenant en considération des arguments du mouvement des technologies appropriées dans les années 70 et 80 et en les mettant à jour. Nous analysons les biens d'équipement utilisés dans plusieurs secteurs de l'importance considérable du développement dans les pays à faibles revenus et à revenus intermédiaires. La spécificité relative des biens d'équipement originaires du Sud comparé à ceux originaires du Nord est analysée dans trois économies de l'Afrique de l'Est. Nous montrons que les biens d'équipement originaires du Sud sont économiquement efficaces et qu'ils peuvent être vus comme appropriés gràce à leur adaptation avec les dotations factorielles et des considérations plus générales dans ces économies importées. Les biens d'équipement originaires de Chine justifient désormais presque un tiers de tous les biens d'équipement importés en Afrique, Amérique Latine et Asie du Sud-Est et le matériel indien est également largement utilisé dans beaucoup de pays à faibles revenus et à revenus intermédiaires. Ces appels des politiques afin d'exploiter les opportunités offertes par un marché a conduit à un commerce Sud-Sud en biens d'équipements.
Access options
Buy single article
Instant access to the full article PDF.
US$ 39.95
Tax calculation will be finalised during checkout.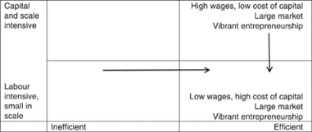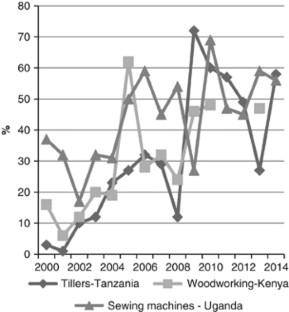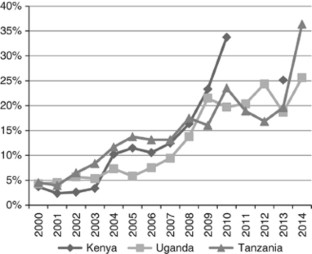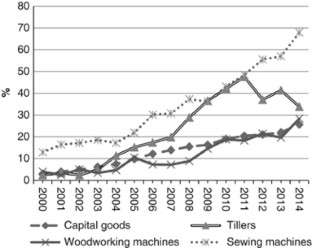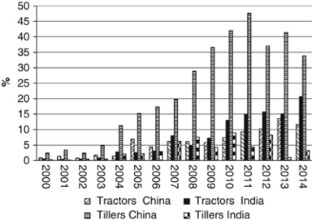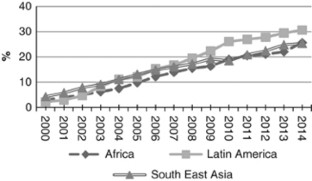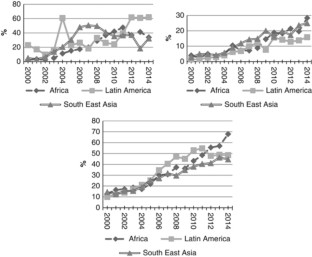 Notes
1.

Following established practice, we use the term 'technique' to reflect a specific application of principles embodied in a wider set of technological attributes (Stewart, 1979).

2.

Nowadays we also use the term manufacture to describe the mechanisation of production that Marx referred to as machinofacture.

3.

This is not to say that technological change is confined to improvements in machinery – embodied technology; they also are from changes to organisational (disembodied) technology. However, in this article we are focusing on physical rather than organisational or financial capital.

4.

5.

As is well known, although widely used, R&D is a poor proxy for innovative capabilities. Among its weaknesses is that it ignores incremental inputs to changing process and product that are not recorded as formal R&D. The relative contribution of these informal and unrecorded incremental changes is almost certainly greater for technologies appropriate to the operating conditions of low-income southern markets than for those aimed at high-income northern markets.

6.

Biggs and Justice (2015) refer to the idea of 'good enough quality', arguing that engineering specifications of quality are of much less relevance in technology diffusion than the trade-off between quality and price.
References
Agyei-Holmes, A. (2014) Tilling the soil in Tanzania: What do emerging economies have to offer? PhD thesis. The Open University, UK.

Agyei-Holmes, A. (2016) Tilling the soil in Tanzania: What do emerging economies have to offer? European Journal of Development Research 28 (3): 379–396.

Ahluwalia, M.S. (1974) The scope for policy intervention. In: H. Chenery, M.S. Ahluwalia, C.L.G. Bell, J.H. Duloy and R. Jolly (eds.) Redistribution with Growth. Washington DC: The World Bank.

Atta-Ankomah, R. (2015) China's presence in developing countries' technology basket: The case of furniture manufacturing in Kenya. PhD thesis. The Open University, UK.

Atta-Ankomah, R. (2016) Chinese technologies and pro-poor industrialisation in Sub-Saharan Africa: The case of furniture manufacturing in Kenya. European Journal of Development Research 28 (3): 397–413.

Biggs, S., Justice, S., Gurung, C., Tripathi, J. and Sah, G. (2002) The changing power tiller innovation system in Nepal: An actor-oriented analysis. Paper Prepared for a workshop on Agricultural and Rural Mechanization; 2 November 2002, Bangladesh Agricultural University, Mymensingh, Bangladesh.

Biggs, S. and Justice, S. (2015) Rural and Agricultural Mechanization: A History of the Spread of Small Engines in Selected Asian Countries. Washington DC: International Food Policy Research Unit. IFPRI Discussion Paper 01443.

Botchie, B. (2015) Comparative analysis of Asian drivers and Western capital goods: A case of the cotton-garments and textiles value Chain in Uganda, PhD Dissertation, The Open University, Milton Keynes.

Brautigam, D. (2009) The Dragon's Gift: The Real Story of China in Africa. Oxford: Oxford University Press.

Cabral, L. (2016) Brazil's tropical solutions for Africa: Tractors, matracas and the politics of 'Appropriate Technology'. European Journal of Development Research 28 (3): 414–430.

de Haan, A. (2015) Inclusive growth: Beyond safety nets? European Journal of Development Research 27: 606–622.

Dosi, G. (1982) Technological paradigms and technological trajectories. Research Policy 11 (3): 147–162.

Eckhaus, R.S. (1987) Appropriate technology: The movement has only a few clothes on. Issues in Science and Technology 4: 62–71.

Fellner, W. (1961) Two propositions in the theory of induced innovation. Economic Journal 71 (282): 305–308.

Gallagher, K. and Porzecanski, R. (2010) The Dragon in the Room: China and the Future of Latin American Industrialization. Stanford, CA: Stanford university press.

Hamel, G. and Prahalad, C.K. (1994) Competing for the Future. Cambridge: Harvard Business School Press.

James, J. and Stewart, F. (1981) New products: A discussion of the welfare effects of the introduction of new products in developing countries. Oxford Economic Papers 33 (1): 81–107.

Jenkins, R. and Dussel Peters, E. (eds.) (2009) China and Latin America: Economic Relations in the Twenty-First Century. Bonn, Germany: DIE.

Jequier, N. (1976) Appropriate Technology: Problems and Promises. Paris, France: OECD.

Kaplinsky, R. (1990) The Economies of Small: Appropriate Technology in a Changing World. London: Intermediate Technology Press.

Kaplinsky, R. et al. (2009) Below the radar: What does innovation in emerging economies have to offer other low-income economies? International Journal of Technology Management and Sustainable Development 8 (3): 177–197.

Kaplinsky, R. (2011a) Innovation for pro-poor growth: From redistribution with growth to redistribution through growth. Paper presented at conference: 'From structural adjustment to human development: Impact on poverty and inequality'; 17–18 November 2011, Sussex, UK: Institute of Development Studies.

Kaplinsky, R. (2011b) Schumacher meets Schumpeter: Appropriate technology below the radar. Research Policy 40 (2): 193–203.

Kaplinsky, R. and Morris, M. (2008) Do the Asian drivers undermine export-oriented industrialisation in SSA? World Development 36 (2): 254–273.

Lancaster, K.J. (1966) Change and innovation in the technology of consumption. American Economic Review 56 (1/2): 14–23.

Maddison, A. (1983) A comparison of levels of GDP per capita in developed and developing countries, 1700–1980. Journal of Economic History 43 (1): 27–41.

Marx, K. (1876) Capital: A Critique of Political Economy, Vol. 1. London: Lawrence and Wishart, (Reprinted 1970).

Morris, M. and Einhorn, G. (2008) Globalisation, welfare and competitiveness: The impacts of Chinese imports on the South African clothing and textile industry. Competition and Change 12 (4): 355–376.

Munemo, J. (2013) Examining imports of capital goods from China as a channel for technology transfer and growth in Sub-Saharan Africa. Journal of African Business 14 (2): 106–116.

Nelson, R.R. and Winter, S. (1982) An Evolutionary Theory of Economic Change. Cambridge, MA: The Belknap Press of Harvard University Press.

Piore, M.J. and Sabel, C. (1984) The Second Industrial Divide: Possibilities for Prosperity. New York: Basic Books.

Prahalad, C.K. and Hart, S.L. (2002) The fortune at the bottom of the pyramid. Strategy and Business 26: 1–14.

Prahalad, C.K. (2005) The Fortune at the Bottom of the Pyramid: Eradicating Poverty Through Profits. Upper Saddle River, NJ: Pearson Education/Wharton School Publishing.

Rodrik, D. (2015) Premature Deindustrialisation IAS Working Paper Series No. 107, January, https://www.sss.ias.edu/files/papers/econpaper107.pdf, accessed 2 January 2016.

Rosenberg, N. (1982) Inside the Black Box: Technology and Economics. Cambridge: Cambridge University Press.

Ruttan, V.W. (2001) Technology, Growth and Development: An Induced Innovation Perspective. New York: Oxford University Press.

Schumacher, F. (1973) Small is Beautiful. London: Blond and Briggs.

Singer, H. et al. (1970) The Sussex Manifesto: Science and Technology for Developing Countries During the Second Development Decade, IDS Reprints No. 101. Brighton, UK: Institute of Development Studies.

Stewart, F. (1979) Technology and Underdevelopment, 2nd edn. London: Palgrave Macmillan.
Acknowledgements
The authors are grateful for the helpful comments provided by two anonymous referees.
About this article
Cite this article
Hanlin, R., Kaplinsky, R. South–South Trade in Capital Goods – The Market-Driven Diffusion of Appropriate Technology. Eur J Dev Res 28, 361–378 (2016). https://doi.org/10.1057/ejdr.2016.18
Keywords
inclusive development

induced innovation

appropriate technology

south–south trade

capital goods