Abstract
Using a panel data set on 103 developing countries, this paper empirically analyses the impact of the European aid flows on quality of governance in aid recipient countries. The analysis employs aggregated Official Development Assistance data as well as disaggregated project-level data. The results show that, while bilateral aid from the largest European donors does not show any impact, multilateral financial assistance from the EU Institutions leads to an improvement in governance indicators. These findings thus suggest that European development assistance can contribute to promoting good governance if aid is allocated at the EU supranational level rather than at the national level of the member states.
Abstract
Cette étude, en utilisant les données de 103 pays en voie de développement, analyse empiriquement l'impact de l'aide européenne au développement sur la qualité de la gouvernance des pays bénéficiaires. L'étude se base sur des données agrégées de l'aide publique au développement (APD) ainsi que sur des données désagrégées recueillies au niveau des projets. L'étude montre que les projets bilatéraux des plus grands bailleurs européens n'ont aucun impact, tandis que les projets d'aide multilatérale des institutions européennes ménent à une amélioration des indicateurs de bonne gouvernance. Ces résultats suggérent alors que l'aide européenne au développement peut contribuer à la promotion de la bonne gouvernance si elle est attribuée au niveau supranational de l'UE plutôt qu'au niveau national des Etats-membres.
Access options
Buy single article
Instant access to the full article PDF.
US$ 39.95
Tax calculation will be finalised during checkout.
Subscribe to journal
Immediate online access to all issues from 2019. Subscription will auto renew annually.
US$ 79
Tax calculation will be finalised during checkout.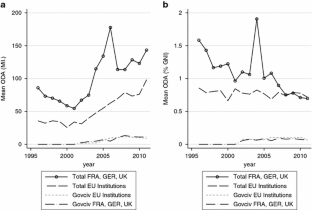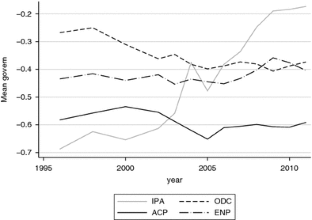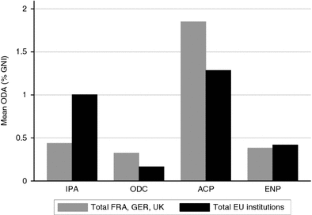 Notes
1.

The figures stem from the EU AID Explorer Website, an official Web tool for aid information operated by the European Commission. euaidexplorer.jrc.ec.europa.eu

2.

See also Booth (2011) for an overall discussion about the role of governance in designing development policy in recent years.

3.

Similarly, Wright and Winters (2010) argue that donors generally do not provide assistance only guided by the recipient-country needs but also for their strategic reasons. However, they also point out that there are differences even within bilateral donors with some countries behaving less strategically, and, especially, over time with some recent evidence suggesting that donors respond to local governance characteristics.

4.

To capture bilateral aid flows, the analysis was also carried out using the sum of aid disbursements from all current EU DAC member states. The corresponding estimation results do not differ qualitatively from those reported below and are available upon request. In particular, the effectiveness of bilateral aid was not affected by the inclusion of further EU national donors.

5.

Molenaers and Nijs (2011) theoretically argue that these instruments might not be properly designed to deliver promised outcomes.

6.

An alternative data source that offers similar measurements of governance is the International Country Risk Guide (ICRG) database. Provided by a private company – Political Risk Service Group – the ICRG indicators are based only on expert assessments and lack transparency in their construction. Moreover, they are among the primary sources used in building the WGI measurements. For example, the ICRG indicators 'corruption', 'bureaucratic quality' and 'law and order' are included in the WGI measurements of 'control of corruption', 'regulatory quality' and 'rule of law', respectively.

7.

See the Appendix to the OECD (2013) report for a detailed list of sub-categories and their respective description.

8.

Potential EU candidates also include Kosovo, and the other official EU candidate is Turkey, which is excluded from the sample as being an OECD country since 1961. Moreover, the IPA comprises more components than the above mentioned assistance. Yet, while only official EU candidates are eligible for all IPA measures, potential candidates are only eligible to benefit from financial assistance for transition and institution building and European cross-border cooperation. For more information on IPA, see European Council (2006).

9.

System-GMM is basically the augmented version of the Arelano and Bond (1991) 'difference GMM' estimator, which, in our case, would only estimate the second equation using the lagged levels of the regressors as instruments for the first-differenced regressors. By introducing an additional set of 'internal instruments', system-GMM leads to more efficient estimators compared with 'difference GMM' approach.

10.

If there are three observation periods in the sample, system GMM generates two instruments for each endogenous variable: one lagged value in levels to instrument the first-difference, and one lagged first-difference variable to instrument the level of the corresponding variable (for example, ΔGovernance i3 is instrumented by Governance i1, and Governance i3 is instrumented by ΔGovernance i2.) However, as the time dimension of the sample increases, the number of instruments rises exponentially resulting in an over-fitting of endogenous variables and thus imprecise estimation of the moment conditions. As a consequence, this instrument proliferation can cause biased estimators and specification tests (Roodman, 2009b).

11.

I use the two-step robust estimator that applies the Windmeijers (2005) finite-sample correction for the two-step covariance matrix.

12.

Burundi, Guinea-Bissau, Mauritania account for the largest observations of multirat_aid in the sample and belong to the group of the ACP countries.

13.
References
Acht, M., Mahmoud, T.O. and Thiele, R. (2015) Corrupt governments do not receive more state-to-state aid: Governance and the delivery of foreign aid through non-state actors. Journal of Development Economics 114(May): 20–33.

Arellano, M. and Bond, S. (1991) Some tests of specification for panel data: Monte Carlo evidence and an application to employment equations. Review of Economic Studies 58(2): 277–297.

Arellano, M. and Bover, O. (1995) Another look at the instrumental variable estimation of error-components models. Journal of Econometrics 68(1): 29–51.

Arndt, C. and Oman, C. (2006) Uses and Abuses of Governance Indicators. OECD Development Center Study. Paris: OECD.

Aronow, M.P., Carnegie, A. and Marinov, N. (2014) Foreign aid, human rights and democracy promotion: Evidence from a natural experiment. Unpublished Manuscript.

Blundell, R. and Bond, S. (1998) Initial conditions and moment restrictions in dynamic panel data models. Journal of Econometrics 87: 115–143.

Booth, D. (2011) Aid, institutions and governance: What have we learned? Development Policy Review 29(S1): 5–26.

Brazys, S. (2015) Aid and governance: Negative returns? European Journal of Development Research 28(2): 294–313.

Bräutigam, D. and Knack, S. (2004) Foreign aid, institutions, and governance in Sub-Saharan Africa. Economic Development and Cultural Change 52(2): 255–285.

Busse, M. and Gröning, S. (2009) Does foreign aid improve governance? Economics Letters 104(2): 76–78.

Charron, N. (2011) Exploring the impact of foreign aid on corruption: Has the 'anti-corruption movement' been effective? The Developing Economies 49(1): 66–88.

Djankov, S., Montalvo, J. and Reynal-Querol, M. (2009) Aid with multiple personalities. Journal of Comparative Economics 37(2): 217–229.

Dreher, A. (2006) Does globalization affect growth? Evidence from a new index of globalization. Applied Economics 38(10): 1091–1100.

European Commission (2006) Council Regulation (EC) No. 1085/2006. Establishing an Instrument for Pre-Accession Assistance (IPA). Official Journal of the European Union.

Hansen, L. (1982) Large sample properties of generalized method of moments estimators. Econometrica 50(4): 1029–1054.

Hansen, H. and Tarp, F. (2001) Aid and growth regressions. Journal of Development Economics 64(2): 547–570.

Hout, W. (2013) Normative power vs. political interest: EU aid selectivity beyond the European consensus on development, 2008–13. Paper presented at the European International Studies Associations 8th Pan-European Conference on International Relations, Warsaw, 18–21 September.

Kaufmann, D., Kraay, A. and Mastruzzi, M. (2007a) Growth and governance: A reply. Journal of Politics 69(2): 555–562.

Kaufmann, D., Kraay, A. and Mastruzzi, M. (2007b) The Worldwide Governance Indicators Project: Answering the Critics. Washington DC: The World Bank. World Bank Policy Research Working Paper 4149.

Kaufmann, D., Kraay, A. and Mastruzzi, M. (2010a) The Worldwide Governance Indicators: Methodology and Analytical Issues. Washington DC: The World Bank. Policy Research Working Paper Series 5430.

Kaufmann, D., Kraay, A. and Mastruzzi, M. (2010b) Response to: The worldwide governance indicators: Six, one, or none. Unpublished Manuscript.

Kersting, E. and Kilby, C. (2014) Aid and democracy redux. European Economic Review 67(April): 125–143.

Knack, S. (2001) Aid dependence and the quality of governance: Cross-country empirical tests. Southern Economic Journal 68(2): 310–329.

Knack, S. (2006) Measuring Corruption in Eastern Europe and Central Asia: A Critique of the Cross-Country Indicators. Washington DC: The World Bank. World Bank Policy Research Department Working Paper 3968.

Knack, S. and Langbein, L. (2010) The Worldwide Governance Indicators: Six, one, or none? Journal of Development Studies 46: 350–370.

Kurtz, M.J. and Schrank, A. (2007) Growth and governance: Models, measures, and mechanisms. Journal of Politics 69(2): 538–554.

Molenaers, N. and Nijs, L. (2011) Why the European Commission fails to adhere to the principles of good donorship: The case of the governance incentive tranche. European Journal of Development Research 23(3): 409–425.

OECD (2013) Converged Statistical Reporting Directives for the Creditor Reporting System (CRS) and the annual DAC questionnaire. DCD/DAC(2013)15/FINAL. Organisation for Economic Co-operation and Development.

OECD (2014) Query Wizard for International Development Statistics. Organisation for Economic Co-operation and Development. Paris: OECD.

Öhler, H., Nunnenkamp, P. and Dreher, A. (2012) Does conditionality work? A test for an innovative US aid scheme. European Economic Review 56(1): 138–153.

Okada, K. and Samreth, S. (2012) The effect of foreign aid on corruption: A quantile regression approach. Economics Letters 115(2): 240–243.

Roodman, D. (2009a) How to do xtabond2: An introduction to difference and system GMM in Stata. Stata Journal 9(1): 86–136.

Roodman, D. (2009b) Practitioners' corner. A note on the theme of too many instruments. Oxford Bulletin of Economics and Statistics 71(1): 135–158.

Sachs, J. (2006) The End of Poverty: Economic Possibilities for our Time. New York: Penguin Books.

Schneider, C.J. and Tobin, J.L. (2013) Interest coalitions and multilateral aid allocation in the European Union. International Studies Quarterly 57(1): 103–114.

Teorell, J. et al (2013) The Quality of Government Basic Dataset Version 15 May. University of Gothenburg: The Quality of Government Institute.

Thomas, M.A. (2010) What do the the Worldwide Governance Indicators measure? European Journal of Development Research 22(1): 31–54.

Tierney, M.J. et al (2011) More dollars than sense: Refining our knowledge of development finance using aid data. World Development 39: 1891–1906.

Windmeijer, F. (2005) A finite sample correction for the variance of linear efficient two-step GMM estimators. Journal of Econometrics 126(11): 25–51.

World Bank (2014a) World Governance Indicators. Washington: World Bank.

World Bank (2014b) World Development Indicators. Washington: World Bank.

Wright, J. and Winters, M. (2010) The politics of effective foreign aid. Annual Review of Political Science 13(1): 61–80.

Zanger, C.S. (2000) Good governance and European aid: The impact of political conditionality. European Union Politics 1(3): 293–317.
Acknowledgements
The research was made possible by support from an EU FP7 ANTICORRP project (Grant agreement no: 290529) at the Hertie School of Governance.
About this article
Cite this article
Dadasov, R. European Aid and Governance: Does the Source Matter?. Eur J Dev Res 29, 269–288 (2017). https://doi.org/10.1057/ejdr.2016.16
Keywords
European development assistance

EU institutions

bilateral and multilateral foreign aid

good governance

dynamic panel estimations