Abstract
We study the effects of smallholder market participation on intra-household time allocation in Ethiopia. We followed 156 households for 2 consecutive days and recorded the time allocated to dairying, domestic chores, schooling, wage work and leisure. Propensity score matching was used to determine the average effect of household market participation on intra-household time allocation. Results show that market participant households spend significantly more time on dairying and non-dairying activities than non-participant households. There are also substantial gender differences in intra-household time allocation. Although men take up only a small part of the dairy activities, milk income shifts from women to men in participant households. Given that in participant households women spent substantially more time on domestic and dairying activities, it is important that time-saving technologies are introduced to reduce their workload in the household. Women's participation in the formal milk market should also be strengthened to ensure their access to the milk income.
Abstract
Nous étudions les effets de la participation des petits exploitants aux marchés sur l'allocation du temps au sein des ménages en Ethiopie. Nous avons suivi 156 ménages pendant deux jours consécutifs et avons enregistré le temps alloué à la production laitière, les tâches ménagères, la scolarité, le travail salarié, et les loisirs. Le score de propension a été utilisé pour déterminer l'effet moyen de la participation des ménages aux marchés sur leur répartition du temps. Les résultats montrent que les ménages qui participent aux marchés passent beaucoup plus de temps sur les activités laitières et non laitières que les ménages qui n'y participent pas. Il y a aussi des différences importantes entre les sexes dans la répartition du temps au sein des ménages. Bien que les hommes ne jouent un rôle que minime dans la production laitière, les revenus de la vente de lait passent des femmes aux hommes dans les ménages participants. Étant donné que dans les ménages participants, les femmes passent beaucoup plus de temps sur les activités domestiques et sur la production laitière, il est important que les technologies permettant de gagner du temps soient introduites pour réduire leur charge de travail au sein du ménage. La participation des femmes dans le marché formel du lait devrait également être renforcée pour assurer leur accès aux revenus de la production laitière.
This is a preview of subscription content, log in to check access.
Access options
Buy single article
Instant access to the full article PDF.
US$ 39.95
Price includes VAT for USA
Subscribe to journal
Immediate online access to all issues from 2019. Subscription will auto renew annually.
US$ 122
This is the net price. Taxes to be calculated in checkout.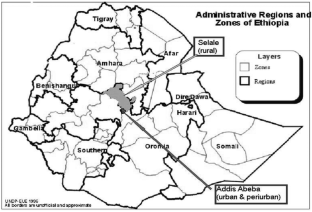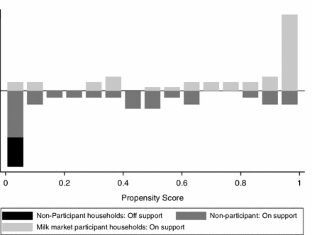 References
Abbas, J. (1997) Gender asymmetries in intrahousehold resource allocation in Sub-Saharan Africa: Some policy implications for land and labour productivity. In: L. Haddad, J. Hoddinott and H. Alderman (eds.) Intra-Household Resource Allocation in Developing. Baltimore and London: The Johns Hopkins University Press, pp. 249–262.

Agarwal, B. (1997) "Bargaining" and gender relations: Within and beyond the household. Feminist Economics 3(1): 1–51.

Austin, P.C. (2011) An introduction to propensity score methods for reducing the effects of confounding in observational studies. Multivariate Behavioral Research 46(3): 399–424.

Caliendo, M. and Kopeinig, S. (2005) Some Practical Guidance for the Implementation of Propensity Score Matching: Discussion Paper Series 1588, The Institute for the Study of Labour (IZA), Bon, Germany.

Chagwiza, C. (2014) Enagaging Cooperative Farmers in Agricultural Intensification: Case Studies on Honey, Dairy and Linseed Value Chains in Ethiopia. sfer.asso.fr. The Netherlands: Radboud University Nijmegen.

Chiappori, P. (1992) Collective labour supply and welfare. Journal of Political Economy 100(3): 437–467.

Coles, C. and Mitchell, J. (2011) Gender and Agricultural Value Chains and Practice and their Policy Implications; A review of current knowledge and practice and their policy implications Working Paper No. 11–05. Agricultural Development Economics Division, FAO, Rome, Italy.

De Hoop, T.J. (2012) How Context Matters for Development Effectiveness: A Study into Social Norms and Heterogeneous Impacts. The Netherlands: Radboud University Nijmegen.

Endeley, J. (2001) Conceptualising women's empowerment in societies in Cameroon: How does money fit in? Gender & Development 9(1): 34–41.

Fafchamps, M. (2001) Intra-household access to land and sources of inefficiency: A case study of Ghana. In: J. P. P. A. de Janvry and G. de Anda (eds.) Access to Land, Rural Poverty, and Public Action. Oxford: Oxford University Press.

Fairhead, J. and Leach, M. (2005) The centrality of the social in African farming. IDS (Institute of Developmente Studies) Bulletin 36(2): 86–90.

Feleke, G. (2003) Milk and Dairy Products, Post-harvest Losses and Food Safety in Sub-Saharan Africa and the Near East. A Review of the Small Scale Dairy Sector – Ethiopia. FAO Prevention of Food Losses Programme. FAO, Rome, Italy.

Fontana, M. and Wood, A. (2000) Modeling the effects of trade on women at work and at home. World Develepmet 28(7): 1171–1190.

Fukuda, D., Nepal, K.P. and Yai, T. (2005) Microeconomic models of intra-household activity time allocation. Journal of the Eastern Asia Society for Transportation Studies 6: 1637–1650.

Goyal, A. (2007) Women making choices: Masked but aware? Indian Journal of Gender Studies 14(3): 409–437.

Haddad, L., Hoddinott, J. and Alderman, H. (eds.) (1997) Intrahousehold resource allocation in developing countries: Models, methods, and policy. Culture & Agriculture. Baltimore and London: The Johns Hopkins University Press.

Harun, M.E. (2014) Women's workload and their role in agricultural production in Ambo district, Ethiopia. Journal of Development and Agricultural Economics 6(8): 356–362.

Heinrich, C., Maffioli, A. and Vázquez, G. (2010) A Primer for Applying Propensity- Score Matching, Impact-Evaluation Guidelines Technical Notes (No. IDB-TN-161). Washington DC.

Jaleta, M., Gebremedhin, B. and Hoekstra, D. (2009) Smallholder commercialization: Processes, determinants and impact. Discussion Paper No. 18. Improving Productivity and Market Success (IPMS) of Ethiopian Farmers Project, ILRI (International Livestock Research Institute), Nairobi, Kenya. 55 pp.

Kaaria, S. and Ashby, J. (2001) An Approach to Technological Innovation that Benefits Rural Women: The Resource-to-Consumption System. CGIAR Systemwide Program on Participatory Research and Gender Analysis Working Document No. 13. Cali, Colombia.

Kabeer, N. (1999) Resources, agency, achievements: Reflections on the measurement of women's empowerment. Development and Change 30(3): 435–464.

Lenjiso, B.M. (2013) Is money a magic bullet for empowerment? The impact of market-oriented dairying on the socio-economic position of women farmers in selale area, Oromia national regional state, Ethiopia. In: M. Prah (ed.) Insights into Gender Equity, Equality and Power Relations in Sub-Saharan Africa. Addi Ababa, Ethiopia: OSSREA and Fountain Publishers, pp. 157–171.

Mahelet, G.F. (2007) Factors Affecting Commercialization of Smallholder Farmers in Ethiopia: The case of North Omo Zone, SNNP region. Paper presented at the Fifth International Conference on the Ethiopian Economy, Addis Ababa, 7–9 June, (May).

McPeak, J.G. and Doss, C.R. (2005) Are household production decisions cooperative? Evidence on pastoral migration and milk sales from northern Kenya. American Journal of Agricultural Economics 88(3): 525–541.

MoFED (2010) Growth and Transformation Plan, 2010/11-2014/15, Volume I. Addis Ababa, Ethiopia: Ministry of Finance and Economic Development, FDRE.

Njuki, J., Kaaria, S., Chamunorwa, A. and Chiuri, W. (2011) Linking smallholder farmers to markets, gender and intra-household dynamics: Does the choice of commodity matter? European Journal of Development Research 23(3): 426–443.

Ogato, G., Boon, E. and Subramani, J. (2009) Gender roles in crop production and management practices: A case study of three rural communities in Ambo district, Ethiopia. Journal of Human Ecology 27(1): 1–20.

Pingali, P.L. (1997) From subsistence to commercial production systems: The transformation of Asian agriculture. American Journal of Agricultural Economics 79(2): 628.

Quisumbing, A. and Maluccio, J. (2000) Intrahousehold allocation and gender relations: New empirical evidence from four developing countries. Food Consumption and Nutrition Division (FCND) Discussion paper No. 84, Internation Food Policy research Institute (IFRI), Washington DC.

Sahan, E. and Fischer-Mackey, J. (2011) Making markets empower the poor. Programme perspectives on using markets to empower women and men living in poverty, Oxfam Discussion Paper, Oxford: Oxfam.

Schwartz, L., Herz, D. and Frazis, H. (2002) Measuring intrahousehold allocation of time: Response to Anne E. Winkler. Monthly Labour Review 2: 53–59.

Seebens, H. (2010) Intra-Household Bargaining, Gender Roles in Agriculture and How to Promote Welfare Enhancing Changes. ESA Working Paper No. 11-10, Rome, FAO.

Skoufias, E. (1994) Market wages, family composition and the time allocation of children in agricultural households. The Journal of Development Studies 30(2): 335–360.

Solomon, A., Workalemahu, A., Jabbar, M., Ahmed, M.M. and Hurissa, B. (2003) Livestock marketing in Ethiopia: A review of structure, performance and development initiatives. Socio-economics and PolicyResearch Working Paper 52. ILRI (International Livestock Research Institute), Nairobi, Kenya.

Staal, S.J., Pratt, A.N. and Jabbar, M. (2008) Dairy Development for the Resource Poor Part 2: Kenya and Ethiopia Dairy Development Case Studies, Pro-Poor Livestock Policy Initiative (PPLPI) http://www.fao.org/ag/pplpi.html. Development, (44).

Tangka, F., Ouma, E.A., Staal, S.J. and Shapiro, B. (1999) Women and the sustainable development of market-oriented dairying: Evidence from the highlands of East Africa. Paper presented at the International Sustainable Development Research Conference held at University of Leeds, 25–26 March,Leeds, UK.

Timmer, C.P. (1997) Farmers and markets: The political economy of new paradigms. American Journal of Agricultural Economics 79(2): 621.

World Bank (2008) Agriculture for Development: Overview. World Development Report 2008. Washington DC.
Acknowledgements
We gratefully acknowledge the financial support for this study from the Netherlands Organization for International Cooperation in Higher Education (Nuffic) and the International Foundation for Science (IFS). We also gratefully thank participants of this research (individuals and organizations) for their time and invaluable informations
About this article
Cite this article
Lenjiso, B., Smits, J. & Ruben, R. Smallholder Milk Market Participation and Intra-household Time Allocation in Ethiopia. Eur J Dev Res 28, 808–825 (2016). https://doi.org/10.1057/ejdr.2015.54
Keywords
Ethiopia

intra-household

milk market

smallholder

time allocation