Abstract
This article contributes to nascent scholarship on the relations between multi-stakeholder service delivery and state legitimacy in development settings. On the basis of qualitative analysis of two multi-stakeholder projects (MSPs) for water provision in Ethiopia, we find that the specific process of interaction between state institutions and non-state actors (both citizens and organizations) affects state legitimacy as a function of joint service delivery more profoundly than the outputs of this process. We explore this process of interaction by looking at division of roles, communication, decision making and accountability. However, placing our empirical findings in the context of Ethiopia's broader political economy questions the effect of local MSPs on aggregated notions of legitimacy.
Abstract
Cet article contribue à la recherche émergente sur les liens entre la prestation de services par de multiples intervenants et la légitimité de l'Etat dans le cadre d'activités de développement. A travers une analyse qualitative de deux projets multi-acteurs d'approvisionnement en eau en Ethiopie, nous constatons que le processus particulier d'interaction entre les institutions publiques et les acteurs non étatiques (tant les citoyens que les organisations) affecte plus profondément la légitimité de l'Etat dans sa fonction de prestation conjointe de services que ne le font les résultats de ce processus. Nous nous intéressons à ce processus d'interaction en examinant la répartition des rôles, la communication, la prise de décision et la responsabilité. Toutefois, si nous situons nos résultats empiriques dans le contexte plus large de la politique économique de l'Ethiopie, nous soulevons la question de l'effet des projets locaux multipartenaires sur l'ensemble des notions de légitimité.
This is a preview of subscription content, log in to check access.
Access options
Buy single article
Instant access to the full article PDF.
US$ 39.95
Tax calculation will be finalised during checkout.
Subscribe to journal
Immediate online access to all issues from 2019. Subscription will auto renew annually.
US$ 79
Tax calculation will be finalised during checkout.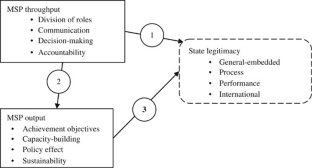 Notes
1.

In the section 'Multi-stakeholder projects', we define MSPs as projects with the explicit objective of bringing together public, private and civil society actors who have an interest in a problem and engaging them in a process of dialog and collective action to address this problem.

2.

3.

This framework was developed by the 'Multi-Stakeholder Processes, Service Delivery and State Institutions' consortium of the Peace, Security and Development Network (www.psdnetwork.nl).

4.

There is thus considerable overlap between different categories of legitimacy: general-embedded legitimacy determines to what extent state institutions can reap process and performance legitimacy from MSPs, and accumulated process and performance legitimacy stemming from MSPs might eventually affect general-embedded legitimacy.

5.

See Annex 3 of the country report for an account of the case selection.

6.

ORDA is seen as one of Ethiopia's many GONGOs (Government-Operated Non-Governmental Organization) (Vaughan and Tronvoll, 2003, p. 66). Indeed, we found ORDA's relations with the local state institutions involved in the Achefer MSP to be exceptionally good. However, citizens were often not aware of this and clearly differentiated between state and ORDA representatives. When it comes to assessing legitimacy, we maintain our premise that legitimacy is based on perceptions, that is, that woreda and kebele institutions are associated with the state and ORDA is not.

7.

On the federal level, the Fogera MSP involved the Ministry of Finance and Economic Development. On a regional level, both MSPs included the Bureau of Finance and Economic Development; the Water Resources Development Bureau; the Bureau of Health; and the Women's Affairs Bureau. On the zonal level, the Fogera MSP incorporated the Zonal Administration; the Finance and Economic Development Department; the Water Resources Development Department; the Health Department; and the Women's Affairs Department. On the woreda level, the MSPs involved the Woreda Administration; the Office of Finance and Economic Development; the Water Resources Development Office; the Health Office; the Women's Affairs Office; the Education Office; and the Agriculture and Rural Development Office. On the kebele level, the MSPs included the Kebele Administration; Development Agents; Health Extension Workers; the Information, Education and Communication officer; and schools.

8.

A complete overview of MSP actors and levels can be found on pp. 30–31 of the country report.

9.

For a comprehensive discussion of the water, sanitation and hygiene committees and coffee ceremonies, see Sections 4.2 (specifically pp. 42, 44) and 4.2.1 (p. 42) of the country report, respectively.
References
Abate, F.M. (2007) Beyond the Public Realm: Local Governance Network and Service Development in the Amhara and Tigray Regions, Ethiopia. Maastricht, the Netherlands: Shaker Publishing.

Addis Ababa Chamber of Commerce and Sectoral Association (AACCSA) (2009) Review of the Legal and Institutional Framework for Market Competition in Ethiopia. Addis Ababa, Ethiopia: AACCSA.

Arsano, Y., Mekonnen, E. and O'Meally, S. (2010) Governance and Drivers of Change in Ethiopia's Water Supply Sector. London: Overseas Development Institute (ODI).

Aspen, H. (2002) Models of democracy – Perceptions of power. Government and peasantry in Ethiopia. In: B. Zewde and S. Pausewang (eds.) Ethiopia – The Challenge of Democracy from Below. Uppsala, Sweden: Nordic Africa Institute (NAI), pp. 61–71.

Ayenew, M. (2002) Decentralization in Ethiopia: Two case-studies on devolution of power and responsibilities to local authorities. In: B. Zewde and S. Pausewang (eds.) Ethiopia – The Challenge of Democracy from Below. Uppsala, Sweden: NAI, pp. 130–149.

Bellina, S., Darbon, D., Eriksen, S.S. and Sending, O.J. (2009) The Legitimacy of the State in Fragile Situations. Stockholm, Sweden: Norwegian Agency for Development Cooperation.

Boaz, M. and Jennings, K. (2005) Insecurity and development: The rhetoric of the 'failed state'. The European Journal of Development Research 17 (3): 385–395.

Boege, V., Brown, M. and Clements, K. (2009) Hybrid political orders, not fragile states. Peace Review 21 (1): 13–21.

Bonzi, R. (2006) NGOs in conflict prevention: Experiences from the water sector in Ethiopia. Development in Practice 16 (2): 201–208.

Brinkerhoff, D.W. (2005) Rebuilding governance in failed states and post-conflict societies: Core concepts and cross-cutting themes. Public Administration and Development 25 (1): 3–14.

Brinkerhoff, D.W. (2011) State fragility and governance: Conflict mitigation and subnational perspectives. Development Policy Review 29 (2): 131–153.

Chabal, P. and Daloz, J. (1999) Africa Works: Disorder as Political Instrument. Oxford: James Currey.

Chanie, P. (2007) Clientelism and Ethiopia's post-1991 decentralisation. Journal of Modern African Studies 45 (3): 355–384.

Connolly, E. (2007) Engagement with Civil Society in Ethiopia: Perspectives of Ethiopian CSOs. Working Paper from Research Project on Engagement with Civil Society for Poverty Reduction. Dublin, Ireland: City University.

Crandall, C.S. and Beasley, R.K. (2001) A perceptual theory of legitimacy politics, prejudice, social institutions, and moral value. In: J.T. Jost and B. Major (eds.) The Psychology of Legitimacy: Emerging Perspectives on Ideology, Justice, and Intergroup Relations. Cambridge, UK: Cambridge University Press, pp. 77–102.

Development Assistance Group (DAG) Ethiopia (2008) Annual Report.

Di John, J. (2009) The concept, causes and consequences of failed states: A critical review of the literature and agenda for research with specific reference to sub-saharan Africa. European Journal of Development Research 22 (1): 10–30.

Dorussen, H. (2005) Governance, development and state building. The European Journal of Development Research 17 (3): 411–422.

Englebert, P. (2002) State Legitimacy and Development in Africa. Boulder, CO: Lynne Rienner Publishers.

Fantini, E. (2007) State formation and capacity in Ethiopia. Between the legacy of a centralised past and the promises of a federalist present. Paper presented at the Standing Group on International Relations 6th Pan-European International Relations Conference; 12–15 September, Turin, Italy.

Fritz, V. and Menochal, A.R. (2007) Understanding State-Building from a Political Economy Perspective. London: ODI.

Gilley, B. (2006) The meaning and measure of state legitimacy: Results for 72 countries. European Journal of Political Research 45 (3): 499–525.

Hamann, R. and Boulogne, F. (2008) Partnerships and cross-sector collaboration. In: R. Hamann, S. Woolman and C. Sprague (eds.) The Business of Sustainable Development in Africa: Human Rights, Partnerships, Alternative Business Models. Pretoria, South Africa: Unisa Press, pp. 54–83.

Hemmati, M. (2002) Multi-Stakeholder Processes for Governance and Sustainability: Beyond Deadlock and Conflict. London: Earthscan.

Hilhorst, D. and Serrano, M.M. (2010) The humanitarian arena in Angola, 1975–2008. Disasters 34 (2): 83–201.

Human Rights Watch (HRW) (2010) Development without Freedom: How Aid Underwrites Repression in Ethiopia. New York: HRW.

International Crisis Group (ICG) (2009) Ethiopia: Ethnic Federalism and Its Discontents. Africa Report no. 153. Brussels.

Jalata, A. and Schaffer, H. (2010) The Ethiopian state: Authoritarianism, violence and clandestine genocide. Journal of Pan African Studies 3 (6): 160–189.

Jost, J.T. and Major, B. (2001) (eds.)Emerging perspectives on the psychology of legitimacy. In: The Psychology of Legitimacy: Emerging Perspectives on Ideology, Justice, and Intergroup Relations. Cambridge, UK: Cambridge University Press, pp. 3–30.

Mcloughlin, C. (2012) Topic Guide on Fragile States. Birmingham, UK: Governance and Social Development Resource Centre.

Mengisteab, K. (2007) Identity politics, democratisation and state building in Ethiopia's federal arrangement. African Journal on Conflict Resolution 7 (2): 63–92.

Menkhaus, K. (2007) Governance without government in Somalia: Spoilers, state building, and the politics of coping. International Security 31 (3): 74–106.

Migdal, J.S. (2001) State in Society: Studying How States and Societies Form and Constitute One Another. Cambridge: Cambridge University Press.

Ministry of Water Resources of the Federal Democratic Republic of Ethiopia (2002) Water Sector Development Program Main Report Volume I, www.mowr.gov.et.

Mogues, T. et al (2009) The Governance of Service Delivery for the Poor and Women: A Study of Rural Water Supply in Ethiopia. Washington DC: International Food Policy Research Institute.

Moreyra, A. and Wegerich, K. (2006) Highlighting the 'multiple' in MSPs: The case of Cerro Chapelco, Patagonia, Argentina. International Journal of Water Resources Development 22 (4): 629–642.

Multipart (2008) Multi-stakeholder partnership in post-conflict reconstruction: The role of EU. Theoretical and methodological framework and guidance for the project, http://www.multipart.eu, accessed 11 February 2009.

Noor, M., Douma, N., Van der Haar, G., Hilhorst, D., Van der Molen, I. and Stel, N. (2010) Multi-stakeholder processes, service delivery and state institutions. Theoretical Framework and Methodologies Paper for the Peace, Security and Development Network, http://www.kpsrl.org/knowledge-base/knowledge-base-item/t/theoretical-framework-methodologies.

OECD (2008) Service delivery in fragile situations: Key concepts, findings and lessons. Journal of Development 9 (3): 3–54.

OECD (2010) Conflict and Fragility. Do No Harm: International Support for State-Building. Paris, France: OECD.

Papagianni, K. (2008) Participation and state legitimation. In: C.T. Call and V. Wyeth (eds.) Building States to Build Peace. Boulder, CO: Lyenne Rienner, pp. 49–72.

Population Censuses Commission (PCC) (2010) The 2007 Population and Housing Census of Ethiopia: Results for Country Level Statistical Report, http://www.csa.gov.et/newcsaweb/images/documents/pdf_files/regional/Oromya1.pdf.

Pierre, J. and Peters, G.B. (2000) Governance, Politics and the State. New York: St. Martin's Press.

Rahmato, D. (2002) Civil society organizations in Ethiopia. In: B. Zewde and S. Pausewang (eds.) Ethiopia – The Challenge of Democracy from Below. Uppsala: NAI, pp. 103–120.

Sanín, F.G. (2010) Evaluating state performance: A critical view of state failure and fragility indexes. European Journal of Development Research 23 (1): 30–42.

United Nations Development Program (UNDP) (2010) Human Development Report 2010. New York: UNDP.

Stel, N., Hilhorst, D. and De Boer, D. (2012) Multi-Stakeholder Processes, Service Delivery and State Institutions. Service Provision and the Legitimacy of State Institutions in Situations of Conflict and Fragility. Experiences from Burundi, DR Congo, Nepal and the Palestinian Territories.

Tyler, T.R. (2001) A psychological perspective on the legitimacy of institutions and authorities. In: J.T. Jost and B. Major (eds.) The Psychology of Legitimacy: Emerging Perspectives on Ideology, Justice, and Intergroup Relations. Cambridge, UK: Cambridge University Press, pp. 416–537.

Vaughan, S. and Tronvoll, K. (2003) The Culture of Power in Contemporary Ethiopian Political Life. Stockholm, Sweden: Swedish International Development Association.

Vermeulen, S., Woodhill, J., Proctor, F. and Delnoy, R. (2008) Chain-Wide Learning for Inclusive Agrifood Market Development. A Guide to Multi-Stakeholder Processes for Linking Small-Scale Producers to Modern Markets. London: International Institute for Environment and Development.

Warner, J. (2007) (ed.) Multi-Stakeholder Platforms for Integrated Water Management. Hampshire, UK: Ashgate.

World Bank (2011) World Development Report 2011: Conflict, Security and Development. Washington DC: World Bank.

Water and Sanitation Program (WSP) Africa (2010) Mainstreaming the Community Development Fund Financing Mechanism Evaluation Report. Johannesburg, South Africa: WSP Africa.
Acknowledgements
The authors would like to thank all respondents for generously sharing their time and vision. They also thank the Peace, Security and Development Network for enabling the research project underlying this article. The authors are grateful to Professor Meine Pieter van Dijk for commenting on previous versions of the article; to Dr Jeroen van Wijk for his advice throughout the research project; and to Mina Noor for her contribution to the fieldwork.
About this article
Cite this article
Stel, N., Abate, F. Between Control and Cooperation: Multi-Stakeholder Service Provision and the Legitimacy of State Institutions in Ethiopia's Amhara National Regional State. Eur J Dev Res 26, 743–760 (2014). https://doi.org/10.1057/ejdr.2013.60
Keywords
Ethiopia

state legitimacy

multi-stakeholder projects

drinking water