Abstract
Agricultural extension and food security transfers have constituted the bulk of public spending in agriculture in Ethiopia. This article assesses who exactly is benefiting from this public spending, by undertaking a benefit incidence analysis of these programmes in agricultural areas. A mixed picture of these programmes emerges: extension provision generally has an incidence benefitting low-wealth households. However, comparison between average and marginal benefit incidence suggests that additional expansion of the programme would be less pro-poor than the programme is as a whole. The benefit incidence of food/cash for works programmes is, interestingly, more progressive than free food/cash transfers, possibly reflecting varying effectiveness of different targeting mechanisms underlying these two. The gender incidence of extension is strongly skewed, reflecting a bias towards men.
Abstract
La vulgarisation agricole et les transferts de fonds pour la sécurité alimentaire constituent la plus grande partie des dépenses publiques dans l'agriculture en Ethiopie. Cet article cherche à déterminer les bénéficiaires précis de cette dépense publique, en procédant à une analyse de l'incidence des avantages de ces programmes dans les zones agricoles. Un bilan contrasté se dégage : les mesures de vulgarisation bénéficient généralement aux ménages à faible revenu. Néanmoins, une comparaison de l'incidence marginale et moyenne des bénéfices suggère qu'une nouvelle expansion du programme serait moins favorable aux pauvres que le programme ne l'est dans son ensemble. Chose intéressante, l'incidence des avantages des programmes « travail contre nourriture/argent » est plus progressive que les transferts de nourriture et d'argent, indiquant peut-être une efficacité variable des mécanismes de ciblage qui sous-tendent ces deux types de programmes. L'incidence par sexe de la vulgarisation est fortement asymétrique, ce qui reflète un déséquilibre en faveur des hommes au détriment des femmes.
This is a preview of subscription content, log in to check access.
Access options
Buy single article
Instant access to the full article PDF.
US$ 39.95
Price includes VAT for USA
Subscribe to journal
Immediate online access to all issues from 2019. Subscription will auto renew annually.
US$ 122
This is the net price. Taxes to be calculated in checkout.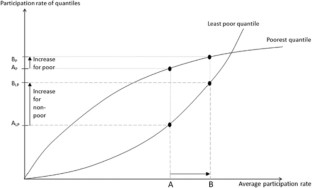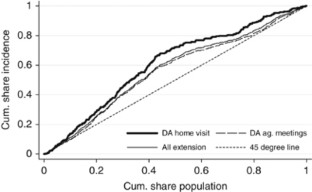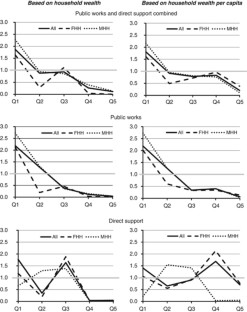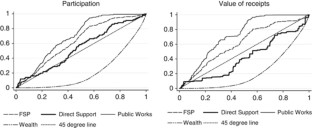 Notes
1.

The key findings of these studies are that primary education services are generally regressive in Ethiopia. This trend is mostly driven by the incidence within rural areas. Both wealth and gender incidence become less pro-poor as one considers higher levels of education (for example, secondary and primary education). An analogous trend manifests itself in the health sector as is seen in education: the benefit incidence of health care becomes less pro-poor (or more in favour of the wealthier households) as one considers higher-level facilities, such as hospitals vis-à-vis health posts.

2.

3.

For the public cost of services, van de Walle (1994) relies on unit-cost estimates from other studies; however, these unit costs are based on public spending data from the same year as the survey data used to obtain information on access to and use of public services.

4.

In the case of some district-service combinations, no expenditure data were available, in which case the average of the survey's sample rural districts in the corresponding region was used.

5.

On the one hand, for example, Jalan and Ravallion (1999a; 2002), Ainsworth, et al (2005), and Bigman et al (2000) and Mukherjee and Benson (2003) use measures of assets per capita as a proxy for household wealth. On the other hand, however, some studies also consider total household assets, non-normalised for household size, in analysis – for example, Liverpool-Tasie and Winter-Nelson (2010) and Andersson et al (2011).

6.

The gender-specific results of the marginal incidence analysis, presented in Table 5, should be interpreted as effects for women across the wealth groups resulting from an additional expansion of agricultural extension services just among women, and the equivalent interpretation for men in the last rows of the table. In this sense, they are the exact marginal analogue of the gender-specific average incidence results reported in the same table.
References
Abay, F., Waters-Bayer, A. and Bjørnstad, Å. (2008) Farmers seed management and innovation in varietal selection: Implications for barley breeding in Tigray, Northern Ethiopia. Ambio 37 (4): 312–320.

Abate, T. (2012) The local politics of Ethiopia's Green Revolution in South Wollo. African Studies Review 55 (3): 81–102.

Ainsworth, M., Beegle, K. and Koda, G. (2005) The impact of adult mortality and parental deaths on primary schooling in north-western Tanzania. Journal of Development Studies 41 (3): 412–439.

Ajwad, M.I. and Wodon, Q. (2007) Do local governments maximize access rates to public services across areas? A test based on marginal benefit incidence analysis. Quarterly Review of Economics and Finance 47 (2): 242–260.

Alene, A.D. and Hassan, R.M. (2005) The efficiency of traditional and hybrid maize production in eastern Ethiopia: An extended efficiency decomposition approach. Journal of African Economies 15 (1): 91–116.

Alene, A.D and Hassan, R.M. (2008) Efficiency of food production under old and new technology: The case of farmers within and outside the Extension Package Programme in Ethiopia. Journal of Developing Areas 41 (2): 233–249.

Andersson, C., Mekonnen, A. and Stage, J. (2011) Impacts of the productive safety net programme in Ethiopia on livestock and tree holdings of rural households. Journal of Development Economics 94 (1): 119–126.

Benin, S., Mogues, T. and Fan, S. (2012) Agricultural growth and poverty reduction impacts of public investments: Assessment of concepts and techniques. In: T. Mogues and S. Benin (eds.) Public Expenditures for Agricultural and Rural Development in Africa. London: Routledge/Taylor & Francis.

Bigman, D., Dercon, S., Guillaume, D. and Lambotte, M. (2000) Community targeting for poverty reduction in Burkina Faso. World Bank Economic Review 14 (1): 167–193.

Brandolini, A., Magri, S. and Smeeding, T.M. (2010) Asset-based measurement of poverty. Journal of Policy Analysis and Management 29 (2): 267–284.

Brown, T. and Teshome, A. (2007) Implementing Policies for Chronic Poverty in Ethiopia. Chronic Poverty Research Centre Working paper.

Carter, M.R. and Barrett, C. (2006) The economics of poverty traps and persistent poverty: An asset-based approach. Journal of Development Studies 42 (2): 178–199.

Castro-Leal, F. (1999) The impact of public health spending on poverty and inequality in South Africa. Informal Discussion Paper Series 19333. World Bank. Washington DC.

Castro-Leal, F., Dayton, J., Demery, L. and Mehra, K. (1999) Public social spending in Africa: Do the poor benefit? World Bank Research Observer 14 (1): 49–72.

Castro-Leal, F., Dayton, J., Demery, L. and Mehra, K. (2000) Public spending on health care in Africa: Do the poor benefit? Bulletin of the World Health Organisation 78 (1): 66–74.

Davis, K. et al (2010) In-depth assessment of the public agricultural extension system of Ethiopia and recommendations for improvement. Discussion Paper No. 1041, International Food Policy Research Institute, Washington DC.

Demery, L. (2003) Analysing the incidence of public spending. In: F. Bourguignon and L.A. Pereira da Silva. (eds.) The Impact of Economic Policies on Poverty and Income Distribution: Evaluation of Techniques and Tools. New York: Oxford University Press.

Devereux, S., Sabates-Wheeler, R., Tefera, M., Brown, T. and Teshome, A. (2008) Ethiopia's Productive Safety Net Programme (PSNP): 2008 Assessment Report. Brighton, UK: Institute of Development Studies.

Glick, P. and Razakamanantsoa, M. (2002) The Distribution of Social Services in Madagascar, 1993–99. Cornell University Food and Nutrition Policy Programme Working Paper No. 128.

Glick, P. and Razakamanantsoa, M. (2006) The distribution of education and health services in Madagascar over the 1990s: Increasing progressivity in an era of low growth. Journal of African Economies 15 (3): 399–433.

Glick, P., Saha, R. and Younger, S.D. (2004) Integrating Gender into Benefit Incidence and Demand Analysis. Cornell University, Ithaca, NY: Cornell Food and Nutrition Policy Programme Working Paper No. 167.

IFPRI-WB (International Food Policy Research Institute-World Bank). (2010) Gender and Governance in Rural Services: Insights from India, Ghana and Ethiopia. Washington DC: World Bank.

Muñoz, S. and Cho, S.S.-W. (2003) Social Impact of a Tax Reform: The Case of Ethiopia. International Monetary Fund, Washington DC: IMF Working Paper WP/03/232.

Jalan, J. and Ravallion, M. (1999a) Are the poor less well insured? Evidence of vulnerability to income risk in rural China. Journal of Development Economics 58 (1): 61–81.

Jalan, J. and Ravallion, M. (2002) Geographic poverty traps? A micro model of consumption growth in rural China. Journal of Applied Econometrics 17 (4): 329–346.

Jalan, J. and Ravallion, M. (2003) Estimating the benefit incidence of an antipoverty Programme by propensity-score matching. Journal of Business and Economic Statistics 21 (1): 19–30.

Lanjouw, P. and Ravallion, M. (1999) Benefit incidence, public spending reforms, and the timing of programme capture. World Bank Economic Review 13 (2): 257–273.

Lanjouw, P., Pradhan, M., Saadah, F., Sayed, H. and Sparrow, R. (2001) Poverty, Education and Health in Indonesia: Who Benefits from Public Spending?. World Bank, Washington DC: Policy Research Working Paper No. 2739.

Liverpool-Tasie, S.O. and Winter-Nelson, A. (2010) Asset versus consumption poverty and poverty dynamics in rural Ethiopia. Agricultural Economics 42 (2): 221–233.

MoARD. (2004) Productive Safety Net Programme – Programme Implementation Manual. Addis Abeba, Ethiopia: Ministry of Agriculture and Rural Development.

MoARD. (2009a) DAs and FTC Data at National Level. Addis Abeba, Ethiopia: Ministry of Agriculture and Rural Development.

MoARD. (2009b) Food Security Programme 2010–2015. Addis Abeba, Ethiopia: Ministry of Agriculture and Rural Development.

Mogues, T. et al (2009) Agricultural extension through a gender and governance lens. International Food Policy Research Institute, Washington DC: ESSP2 Discussion Paper No. 7.

MoFED (Ministry of Finance and Economic Development). (2010) Growth and transformation plan 2010/11 – 2014/15. November 2010, Addis Abeba.

Mukherjee, S. and Benson, T. (2003) The determinants of poverty in Malawi, 1998. World Development 31 (2): 339–358.

Nigussa, F. and Mberengwa, I. (2009) Challenges of productive safety Net Programme implementation at local level: The case of Kuyu Wereda, North Shewa Zone, Oromia region, Ethiopia. Journal of Sustainable Development in Africa 11 (1): 248–267.

Pritchett, L., Sumarto, S. and Suryahadi, A. (2002) Targeted Programmes in an Economic Crisis: Empirical Findings from the Experience of Indonesia. SMERU Working Paper, Jakarta.

Segers, K., Dessein, J., Haile, M. and Deckers, J. (2008) Developers and farmers intertwining interventions: The case of rainwater harvesting and food-for-work in Degua Temben, Tigray, Ethiopia. International Journal of Agricultural Sustainability 6 (3): 173–182.

Spielman, D.J., Alemu, D. and Kelemework, D. (2010) Policies to promote cereal intensification in Ethiopia: The search for appropriate public and private roles. Food Policy 35 (3): 185–194.

Sumarto, S., Suryahadi, A. and Pritchett, L. (2003) Safety nets or safety ropes? Dynamic benefit incidence of two crisis programmes in Indonesia. World Development 31 (7): 1257–1277.

van de Walle, D. (1994) The distribution of subsidies through public health services in Indonesia, 1978–87. World Bank Economic Review 8 (2): 279–309.

Wegener, A., Yaron, G. and Alemu, B. (2007) Wereda/City Government Baseline and Benchmarking Survey (WCBS II 2007) Phase I Survey Manual. Ethiopia: Institutional and Governance Review.

Woldehanna, T. and Jones, N. (2006) How pro-poor is Ethiopia's education expansion? A benefit incident analysis of education since 1995/96. Young Lives Project. Ethiopian Development Research Institute, Addis Abeba, Ethiopia: Working Paper No. 23.

World Bank. (2004) Ethiopia public expenditure review: The emerging challenge. Vol. 1: Public Spending in the Social Sectors. World Bank, Washington DC: Report No. 29338-ET.

World Bank. (2005) Education in Ethiopia: Strengthening the Foundation for Sustainable Progress. Country Study. Washington DC: World Bank.

World Bank. (2009) Productive Safety Net APL III Project in Support of the Third Phase of the Productive Safety Net Programme. Report No. 48633-ET.

Younger, S.D. (2003) Benefits on the margin: Observations on marginal benefit incidence. World Bank Economic Review 17 (1): 89–106.
Acknowledgements
The authors are grateful to the Ethiopia country offices of IrishAid and the World Bank for financial support that made this study possible. Josee Randriamamonjy and Carly Petracco provided useful research assistance to an early stage of this article. The work has also benefited from comments by participants of seminars at which it was presented, including a seminar at the Ethiopian Development Research Institute and another at IrishAid. Further, written comments by an anonymous reviewer for IrishAid, by Laketch Mikael (Senior Rural Development Specialist, World Bank), and by two anonymous referees have been very helpful in improving the article. Any errors are that of the author.
About this article
Cite this article
Mogues, T. The Reach of Rural Services in Ethiopia: An Asset and Gender-Based Public Expenditure Benefit Incidence Analysis. Eur J Dev Res 25, 230–251 (2013). https://doi.org/10.1057/ejdr.2013.2
Keywords
agricultural extension

food security

safety-nets transfers

rural services

public spending

gender