Abstract
Linking smallholder farmers to markets and making markets work for the poor is increasingly becoming an important part of the global research and development agenda. Organizations have used various strategies to link farmers to markets. These approaches have mainly been evaluated for their potential to increase participation in markets and household incomes. The evaluations have assumed a unitary household where income and resources are pooled and allocated according to a joint utility function. In most households, however, income is rarely pooled and neither are resources jointly allocated. This article uses data from Malawi and Uganda to analyze what influences income distribution between men and women, focusing on the type of commodity, type of market and approaches used. The results indicate that commodities generating lower average revenues are more likely to be controlled by women, whereas men control commodities that are high revenue generators, often sold in formal markets.
Relier les petits agriculteurs aux marchés et faire en sorte que ces derniers servent les pauvres sont des objectifs qui prennent une importance grandissante dans les programmes mondiaux de recherche et de développement. Les organisations ont mobilisé diverses stratégies pour relier les agriculteurs aux marchés. Ces approches ont surtout été évaluées pour leur capacité potentielle à accroître la participation aux marchés et les revenus des ménages. Les estimations sont basées sur l'hypothèse du ménage unitaire dont les revenus et ressources sont regroupés et répartis selon une fonction d'utilité commune. Dans la plupart des ménages, cependant, les revenus sont rarement mis en commun et les ressources ne proviennent pas non plus d'une seule source. Cet article s'appuie sur des données concernant le Malawi et l'Ouganda pour analyser ce qui influence la répartition des revenus entre hommes et femmes, en portant une attention particulière aux types de marchandises, de marchés et d'approches utilisés. Les résultats indiquent que les produits qui génèrent le moins de revenus sont généralement l'affaire des femmes alors que les hommes se chargent des denrées qui génèrent le plus de revenus, et qui sont souvent vendues sur les marchés formels.
Access options
Buy single article
Instant access to the full article PDF.
US$ 39.95
Tax calculation will be finalised during checkout.
Subscribe to journal
Immediate online access to all issues from 2019. Subscription will auto renew annually.
US$ 79
Tax calculation will be finalised during checkout.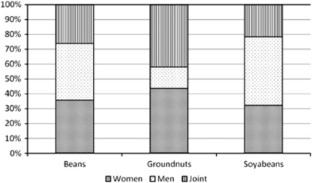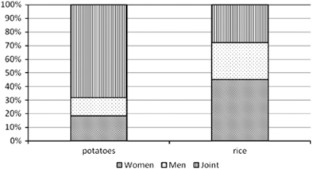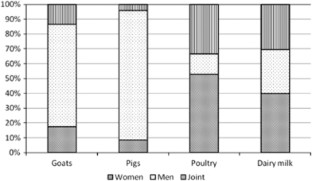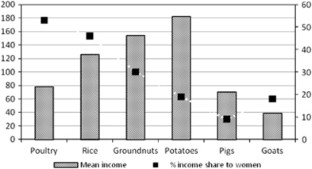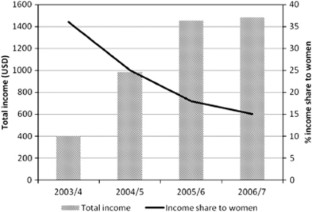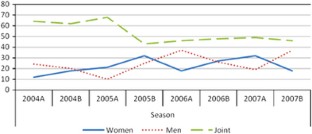 References
Azad, N. (1996) Engendered Mobilization –The Key to Livelihood Security: IFAD's Experience in South Asia. Rome: IFAD.

Babu, S.C., Subrahmanyam, P., Chiyembekeza, A.J. and Ng'ong'ola, D. (1994) Impact of aflatoxin contamination on groundnut exports in Malawi. African Crop Science Journal 2: 215–220.

Bruce, I. and Dwyer, D. (1988) A Home Divided: Women and Income in the Third World. Stanford, CA: Stanford University Press.

Chiappori, P., Haddad, L., Hoddinott, J. and Kanbur, R. (1993) Unitary versus Collective Models of the Household: Time to Shift the Burden of Proof. Washington DC: World Bank.

Chiyembekeza, A.J., Subrahmanyam, P., Kisyombe, C.T. and Nyirenda, N.E. (1998) Groundnut: A Package of Recommendations for Production in Malawi. Ministry of Agriculture and Irrigation Report, Lilongwe, Malawi.

Delgado, C., Rosegrant, M., Steinfeld, H., Ehui, S. and Courbois, C. (1999) Livestock to 2020: The Next Food Revolution. Food, Agriculture, and the Environment Discussion Paper 28. Washington, DC: International Food Policy Research Institute.

Dieye, P.N., Duteurtre, G., Sissokho, M., Sall, M. and Dia, D. (2005) Linking local production to urban demand: The emergence of small-scale milk processing units in Southern Senegal. Livestock Research for Rural Development 17, http://www.lrrd.org/lrrd17/4/diey17040.htm, accessed 5 June 2010.

Dorward, A., Poole, N., Morrison, J.A., Kydd, J. and Urey, I. (2003) Markets, institutions and technology: Missing links in livelihoods analysis. Development Policy Review 21 (3): 319–332.

Dzilankhulani, A.M., Tchale, H. and Boughton, D. (1998) Small-Scale Seed Programs and Adoption of Groundnut Technology: The Case of CG 7 Groundnut Variety in Malawi. Lilongwe, Malawi: International Crops Research Institute for the Semi-Arid Tropics.

East Africa Dairy Development. (2009) East Africa Dairy Development Project. Baseline Report No 6. Gender, Dairy Production and Marketing. Nairobi Kenya: EADD/ILRI.

Falkingham, J. and Baschieri, A. (2009) Gender and poverty: How misleading is the unitary model of household resources? In: N. Yeates and C. Holden (eds.) The Global Social Policy Reader. Bristol, UK: The Policy Press.

Ferguson, A. (1994) Gendered science: A critique of agricultural development. American Anthropology 96: 540–552.

Ferguson, A. and Sprecher, S. (1990) Component Breeding: A Strategy for Bean Improvement Where Bean is Grown in Mixtures, In: Proceedings of the First SADCC Regional Bean Research Workshop; 4–7 October 1989, Mbabane, Swaziland, pp. 81–95.

Fisher, M., Reimer, J. and Carr, E. (2010) Who Should be Interviewed in Surveys of Household Income? IFPRI Discussion Paper 949. Washington DC: International Food Policy Research Institute (IFPRI).

Freidmann, J. (1992) Empowerment: The Politics of Alternative Development. Cambridge, MA: Blackwell Publishers.

Gabre-Madhin, E.Z., Alemu, D. and Dejene, S. (2007) From farmer to market and market to farmer: Characterizing smallholder commercialization food crops in Ethiopia. Paper presented at the Symposium on 'Commercialization of Smallholder Agriculture in Ethiopia', Addis Ababa, Ethiopia.

Haddad, L., Hoddinott, J. and Alderman, H. (1994) Intrahousehold Resource Allocation: An Overview. Policy Research Working Paper 1255.

Hoddinott, J. and Haddad, L. (1995) Does female income share Influence household expenditure? Evidence from Ivory Coast. Oxford Bulletin of Economics and Statistics 57 (1): 77–96.

Immink, M. and Alarcon, J. (1993) Household income, food availability, and commercial crop production by smallholder farmers in the western highlands of Guatemala. Economic Development and Cultural Change 41: 319–342.

Kaaria, S.K. and Ashby, J.A. (2001) An Approach to Technological Innovation that Benefits Rural Women: The Resource-to-Consumption System. Working Document No. 13. PRGA Program, Cali, Colombia.

Kanji, S. (2004) The route matters: Poverty and inequality among lone-mother households in Russia. Feminist Economics 10 (2): 207–225.

Katz, E. (1995) Gender and trade within the household: Observations from rural Guatemala. World Development 23 (2): 327–342.

Kennedy, E. (1994) Health and nutrition effects of commercialization of agriculture. In: J. von Braun and E. Kennedy (eds.) Agricultural Commercialization, Economic Development, and Nutrition. Baltimore, MD: The Johns Hopkins University Press.

Kennedy, E. and Cogill, B. (1987) Income and Nutritional Effects of the Commercialization of Agriculture in Southwestern Kenya. Research Report 63. Washington DC: International Food Policy Research Institute.

Lundberg, S. and Pollak, R. (1996) Bargaining and distribution in marriage. Journal of Economic Perspectives 10 (4): 39–58.

Minten, B. and Barrett, C. 2008 Agricultural technology, productivity, and poverty in Madagascar. World Development 36 (5): 797–822.

Moore, H. (1992) Households and gender relations: The modeling of the economy. In: S. Ortiz and S. Lees (eds.) Understanding Economic Process. New York: University Press of America.

Nori, M. (2008) Evolving pastoral markets: A case from NE Somalia. Journal of Agriculture and Environment for International Development 102: 1–2.

OECD. (2004) Accelerating Pro-Poor Growth through Support for Private Sector Development, DAC. Network on Poverty Reduction, Organization for Economic Co-operation and Development.

Pender, J. and Alemu, D. (2007) Determinants of Smallholder Commercialization of Food Crops: Theory and Evidence from Ethiopia. IFPRI Discussion Papers 745. Washington DC: International Food Policy Research Institute (IFPRI).

Penders, C., Staatz, J. and Tefft, J. (2000) Agricultural Development and Child Nutrition: What Do We Know? Policy Synthesis. No 52. Michigan State University.

Saigenji, Y. and Zeller, M. (2009) Effect of contract farming on productivity and income of small holders: The case of tea production in north-western Vietnam. Contributed Paper prepared for presentation at the International Association of Agricultural Economists Conference; 16–22 August, Beijing, China.

Senauer, B., Sahn, D. and Alderman, H. (1986) The effects of the value of time on food consumption patterns in developing countries: Evidence from Sri Lanka. American Journal of Agricultural Economics 68: 920–927.

von Braun, J. (1988) Effects of technological change in agriculture on food consumption and nutrition: Rice in a West African setting. World Development 16 (9): 1083–1098.

von Braun, J., Hotchkiss, D. and Immink, M. (1989) Nontraditional Export Crops in Guatemala: Effects on Production, Consumption, and Nutrition. Washington DC: International Food Policy Research Institute (IFPRI).

Warning, M. and Key, N. (2002) The social performance and distributional consequences of contract farming: An equilibrium analysis of the Arachide de Bouche program in Senegal. World Development 30 (2): 255–263.

Waters-Bayer, A. (1985) Dairying by settled Fulani women in Central Nigeria and some implications for dairy development. ODI Pastoral Development Network Paper 20c, Overseas Development Institute, London.

Waters-Bayer, A. (1986) Modernizing milk production in Nigeria: Who benefits? Ceres 113 (19): 34–39.

Waters-Bayer, A. (1988) Dairying by Settled Fulani Agropastoralists: The Role of Women and Implications for Dairy Development. Kiel, Germany: Vauk Wissenschaftsverlag.

Winter, P., Simmons, P. and Patrick, I. (2005) Evaluation of a hybrid seed contract between smallholders and a multinational company in East Java, Indonesia. Journal of Development Studies 41: 62–89.

Zeyu, X. (2007) A Survey on Intra-Household Models and Evidence. MPRA Paper 3763. Germany: University Library of Munich.
About this article
Cite this article
Njuki, J., Kaaria, S., Chamunorwa, A. et al. Linking Smallholder Farmers to Markets, Gender and Intra-Household Dynamics: Does the Choice of Commodity Matter?. Eur J Dev Res 23, 426–443 (2011). https://doi.org/10.1057/ejdr.2011.8
Keywords
markets

gender

intra-household allocation

income

expenditure