Abstract
There is a growing consensus that the new framework which will replace the Millennium Development Goals after 2015 should have equity at its heart and should ensure that 'No One is Left Behind'. If this consensus is to be converted to commitments and then action, disaggregated data on development outcomes will have an important role to play in monitoring and target setting. This article focuses on further operationalizing a post-2015 monitoring system aimed to ensure that no social and economic group is left behind by development progress. It examines the level of disaggregation that is possible with current data sources and introduces newly disaggregated data to monitor progress in core dimensions such as health, nutrition, and access to water and sanitation for different social and economic groups. Using examples from this data, we clarify the kind of equitable progress that is desirable after 2015, and show how monitoring and target setting might proceed. This includes setting up 'stepping stone' equity targets for interim years between 2015 and 2030 to ensure that governments with short political and policy time horizons have a clear incentive to work on reducing inequalities promptly.
Access options
Buy single article
Instant access to the full article PDF.
USD 39.95
Price excludes VAT (USA)
Tax calculation will be finalised during checkout.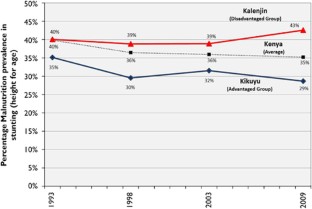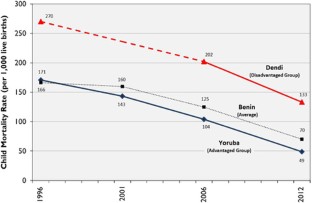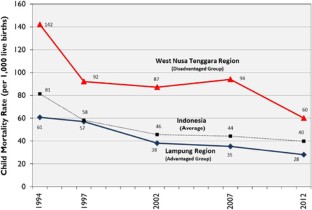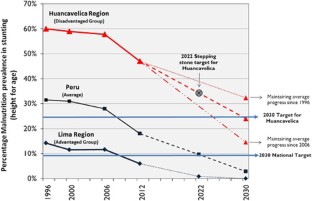 Notes
More than two standard deviations away from the median of the standard distribution released by World Health Organization in 2006 (WHO, 2006).

This is a significant compromise because in many parts of many developing countries flush toilets are not widely used, but other facilities offer an adequate alternative under the 'ladder' or continuum of inadequate to good water and sanitation facilities defined by the UNICEF/WHO Joint Monitoring Programme.

4. This could be partially remedied in future by including data from other sources. Time constraints prevented these being included in the first release of GRID.
References
Basu, Kaushik (2013) 'Shared Prosperity and the Mitigation of Poverty: In practice and in precept', Policy Research Working Paper 6700, The World Bank: Washington.

Bredenkamp, Caryn, Leander R Buisman and Ellen Van de Poel (2014) 'Persistent Inequality in Child Undernutrition: Evidence from 80 countries, from 1990 to today', International Journal of Epidemiology 43 (4): 1328–1335.

Chandy, Laurence, Natasha Ledlie and Veronika Penciakova (2013) The Final Countdown: Prospects for ending extreme poverty by 2030 (Interactive). Washington DC: Brookings Institute.

Filmer, Deon and Lant Pritchett (1999) 'The Effect of Household Wealth on Educational Attainment: Evidence from 35 countries', Population and Development Review 25 (1): 85–120.

Filmer, Deon and Lant Pritchett (2001) 'Estimating Wealth Effects without Expenditure Data – or Tears: With an application to educational enrollments in states of India', Demography 38 (1): 115–132.

Horner, Lisa and Grace Kite (2013) Getting to Zero: How we can be the generation that ends poverty. London: Save The Children.

Howe, L., James R. Hargreaves, Sabine Gabrysch and Sharon Huttly (2009) 'Is the Wealth Index a Proxy for Consumption Expenditure? A Systematic Review', Journal of Epidemiology and Community Health 63 (11): 871–877.

ICF International (2012) Demographic and Health Surveys (various) [Datasets]. Calverton, MD: ICF International [Distributor].

Kabeer, Naila (2010) Can the MDGs Provide a Pathway to Social Justice? The challenges of intersecting inequalities. New York/Brighton: UN MDG Achievement Fund and Institute of Development Studies.

Karver, Kenny and Andy Sumner (2012) 'MDG 2.0: What Goals, Targets and Timeframes?', Working Paper 297, Centre for Global Development: Washington. http://www.cgdev.org/sites/default/files/Kenny_Karver_MDGs-FINAL.pdf.

Klasen, Stephan and Simon Lange (2012) 'Getting Progress Right: Measuring Progress Towards the MDGs Against Historical Trends', Courant Research Centre Discussion Paper No. 87, February: Gottingen.

Lakner, Christoph and Branko Milanovic (2013) 'Global Income Distribution: From the fall of the Berlin Wall to the great recession', Policy Research Working Paper 6719, The World Bank: Washington.

Minujin, Alberto and Enrique Delamonica (2003) 'Mind the Gap! Widening Child Mortality Disparities', Journal of Human Development and Capabilities 4 (3): 397–418.

Ostry, Jonathan, Andrew Berg and Charalambos Tsangarides (2014) 'Redistribution, Inequality, and Growth', IMF Staff Discussion Note. SDN/14/02: Washington.

Palma, José Gabriel (2011) 'Homogeneous Middles vs Heterogeneous Tails, and the end of the "Inverted-U": The share of the rich is what it's all about', Cambridge Working Papers in Economics 1111, University of Cambridge Department of Economics: Cambridge (later published in Development and Change, 42, 1, 87–153).

Piketty, Thomas (2014) Capital in the Twenty-First Century. Cambridge: Belknap Press of Harvard University Press.

Roche, José Manuel, Lisa Wise Dimitri Gugushvili and Luisa Hanna (2015) The Lottery of Birth: Giving all children an equal chance to survive, Save the Children: London, http://www.savethechildren.org.uk/sites/default/files/images/The_Lottery_of_Birth2.pdf.

Rutstein, Shea Oscar and Guillermo Rojas (2006) Guide to DHS Statistics, available http://legacy.measuredhs.com/help/datasets/, accessed 1 July 2014.

Samman, Emma and José Manuel Roche (2014) A Data Revolution to Match the Ambition of 'Leaving no one Behind', in Maitreyee, No. 24, Available at http://www.odi.org/publications/8836-group-inequality-intersectionality, accessed 19 January 2015.

Save The Children (2014) Framework for the Future: Ending poverty in a generation. London: Save The Children.

Scott, Kinnon and Deon Filmer (2008) 'Assessing Asset Indices', Policy Research Working Paper 4605, Washington DC: The World Bank.

Stewart, Frances (ed.) (2008) Horizontal Inequalities and Conflict: Understanding group violence in multiethnic societies. London: Palgrave Macmillan.

Stewart, Frances (2011) 'Approaches towards Inequality and Inequality: Concepts, measures and policies', Innocenti Working Paper No. 2013-10, UNICEF Office of Research: Florence.

UN (2000) United Nations General Assembly Resolution 'United Nations Millennium Declaration' A/55/L.2, UN: New York.

UN (2013) A New Global Partnership: Eradicate poverty and transform economies through sustainable development. New York: United Nations.

UNDG (2013) A Million Voices: The world we want. New York: UNDG.

UNESCO (2015) World Inequality Database on Education, http://www.education-inequalities.org/, accessed 12 February 2014.

UNICEF-WHO-The World Bank (2013) Joint Child Malnutrition Estimates. New York: UNICEF, Geneva: WHO, Washington: The World Bank.

Wagstaff, Adam, Caryn Bredenkamp and Leander R. Buisman (2014) 'Progress Towards the Health MDGs: Are the poor being left behind?', Policy Research Paper 6894, The World Bank: Washington.

Watkins, K. (2014) 'Leaving No One Behind: An agenda for equity', View Point, The Lancet, Early Online Publication, 9 May.

WHO (2006) WHO Child Growth Standards: Length/height-for-age, weight-for-age, weight-for-length, weight-for-height and body mass index-for-age: methods and development, available http://www.who.int/childgrowth/publications/technical_report_pub/en/index.html.

WHO (2015) Health Equity Monitor: Compendium of Indicator Definitions, http://who.int/gho/health_equity/outcomes/health_equity_compendium.pdf?ua=1, accessed June 2015.

WHO and UNICEF (2014) Process on Drinking-Water and Sanitation, New York: Unicef; Geneva: WHO.

World Bank (2013) World Development Indicators 2013. World Bank: Washington.
Acknowledgements
The authors benefited from discussion and comments on earlier drafts from Isabelle Cardinal, Alex Cobham, Lara Brearley, Andrew Hall, Richard Horton, Alexis Le Nestour, David McNair, Richard Morgan, Helen Morton, Emma Samman, Faiza Shaheen, France Stewart, Elizabeth Stuart, Kevin Watkins, and Francis West. Thanks to participants to Save the Children's Public Policy Advisory Group and also to participants at a round table held in Save the Children UK. Special thanks go to Alex Cobham who had the original idea for this area of research and led the research team at Save the Children during the initial stages, and to Tom Pullum for technical advice on the algorithm to compute child mortality with DHS. The authors are grateful to Christian Oldiges and Chenyue Zhao for research assistance at various stages. All errors remain our own.
This article is based on background research undertaken to inform Save the Children's advocacy on the post-2015 agenda at the UN General Assembly in 2014. The views expressed are those of the authors and do not necessarily reflect those of Save the Children.
Additional information
This is background research undertaken to inform Save the Children's advocacy position to influence discussions during the UNGA's meetings held in September 2014. The views expressed in this paper are those of the author and do not necessarily reflect those of Save the Children.
Introduces new disaggregated data to monitor progress in health, nutrition and access to water and sanitation for different groups of children and proposes 'stepping stone' targets from 2015 to 2030
About this article
Cite this article
Kite, G., Manuel Roche, J. & Wise, L. Leaving No One Behind under the Post-2015 Framework: Incentivizing equitable progress through data disaggregation and interim targets. Development 57, 376–387 (2014). https://doi.org/10.1057/dev.2015.2
Published:

Issue Date:

DOI: https://doi.org/10.1057/dev.2015.2
Keywords
inequality

equity

group-based inequality

post-2015

sustainable development goals