Abstract
Does greater ethnic inclusion into the executive have a positive effect on a country's economic development? We posit that by allowing for greater diversity in a state's decision-making process, ethnic populations find their preferences represented and thus are more likely to support enacted policies; at the same time the quality of the policy increases as a greater variety of perspectives are introduced. Utilizing the new AMAR (All-Minorities at Risk) data to capture ethnic diversity, this article offers a preliminary description, suggesting that higher levels of inclusion positively correlate with indicators of economic growth.
Access options
Buy single article
Instant access to the full article PDF.
USD 39.95
Price excludes VAT (USA)
Tax calculation will be finalised during checkout.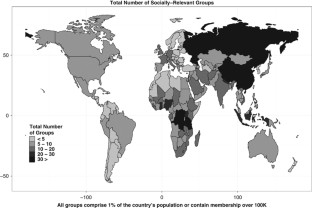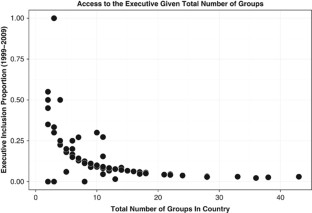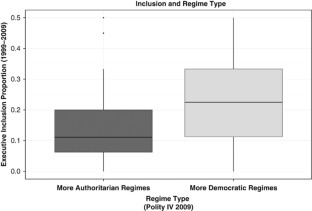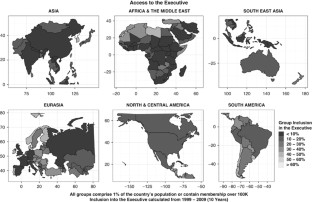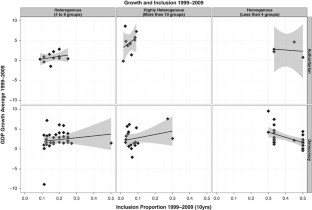 Notes
For an overview of this literature and critique of the methods used see Posner (2004).

For example, the Assamese in India are coded as a junior partner in EPR; however, the democratic access data utilized in the Birnir and Waguespack (2011) study does not list Assamese as having a seat in the executive cabinet of the central government though they do control a state-level government. Likewise, we recoded certain ethnic groups marked as 'irrelevant' by EPR as having access for all instances where irrelevance stemmed from ethnic homogeneity or the lack of ethnic challengers in the country, according to EPR's measures. For example, the Danes in Denmark are considered irrelevant in EPR 2010, since they are purportedly the only ethnic group in the country; however, when paired with AMAR, Muslims, another socially relevant group in the country, emerges.

The AMAR data lists several subgroups to the aggregate category of indigenous in Chile that individually may be important to different types of analysis. With respect to national level statistics, such as economic growth, we use the aggregate categories from the sample frame as those likely have the greatest national relevance (Birnir et al., 2014).

One contributing factor might be the fact that some of the ethnic groups in Western Europe are recent East European immigrant.

To be clear the correlations shown here are not all statistically significant or even close to significance. Future analysis, using appropriate methods and including controls is needed to verify the descriptive trends suggested here.
References
Birnir, Johanna (2007) Ethnicity and Electoral Politics. New York: Cambridge University Press.

Birnir, Johanna and Nil Satana (2013) 'Religion and Coalition Politics', Comparative Political Studies 46 (3): 3–30.

Birnir, Johanna and David Waguespack (2011) 'Ethnic Inclusion and Economic Growth', Party Politics 17 (2): 243–260.

Birnir, Johanna K., Jonathan Wilkenfeld, James D. Fearon, David D. Laitin, Ted Gurr, Dawn Brancati, Stephen M. Saidman, Amy Pate and Agatha Hultquist (forthcoming) 'Socially Relevant Ethnic Groups, Ethnic Structure and AMAR', Journal of Peace Research.

Bluedorn, John C. (2001) 'Can Democracy Help? Growth and Ethnic Divisions', Economic Letters 70 (1): 121–126.

Brancati, Dawn (2006) 'Decentralization: Fueling the fire or dampening the flames of ethnic conflict and secessionism', International Organization 60 (3): 651–685.

Brancati, Dawn (2009) Peace by Design: Managing intrastate conflict through decentralization. Oxford: Oxford University Press.

Chandra, Kanchan and Steven Wilkinson (2008) 'Measuring the Effect of Ethnicity', Comparative Political Studies 41 (4–5): 515–563.

Cederman, Lars-Erik, Andreas Wimmer and Brian Min (2010) 'Why Do Ethnic Groups Rebel?: New data and analysis', World Politics 62 (1): 87–119.

Collier, Paul (2000) 'Ethnicity, Politics and Economic Performance', Economics and Politics 12 (3): 225–245.

Fearon, James (2003) 'Ethnic and Cultural Diversity by Country', Journal of Economic Growth 2 (8): 195–222.

Fearon, James D. (2006) 'Ethnic Mobilization and Ethnic Violence', in Barry R. Weingast and Donald Wittman (eds.) Oxford Handbook of Political Economy. pp 852–868, Oxford: Oxford University Press.

Fearon, James and David Laitin (1996) 'Explaining Interethnic Cooperation', American Political Science Review 90 (4): 715–735.

Fearon, James and David Laitin (2002) 'NSF proposal. Research project on ethnicity, insurgency and civil war', Stanford: CA, http://www.stanford.edu/group/ethnic.

Fearon, James and David Laitin (2003) 'Ethnicity, Insurgency, and Civil War', American Political Science Review 97 (1): 75–90.

Hug, Simon (2003) 'Selection Bias in Comparative Research: The case of incomplete data sets', Political Analysis 11 (3): 255–274.

Hug, Simon (2013) 'The Use and Misuse of the "Minorities at Risk" Project', Annual Review of Political Science 16: 191–208.

Marshall, Monty G., Keith Jaggers and Ted Robert Gurr (2013) Polity IV Project: Dataset users' manual. Arlington: Polity IV Project.

Öberg, Magnus (2002) 'Minorities Not "At Risk": A control group for use with minorities at risk data', Uppsala: Department of Peace and Conflict Research, http://www.pcr.uu.se/about/staff/oberg_m/#Publications.

Posner, Daniel (2004) 'Measuring Ethnic Fractionalization in Africa', American Journal of Political Science 48 (4): 849–863.

Posner, Daniel (2005) Institutions and Ethnic Politics in Africa. New York: Cambridge University Press.

Wimmer, Andreas, Lars-Erik Cederman and Brian Min (2009) 'Ethnic Politics and Armed Conflict. A configurational analysis of a new global dataset', American Sociological Review 74 (2): 316–337.

Wright, Joseph (2008) 'Do Authoritarian Political Institutions Constrain? How Legislatures Affect Economic Growth and Investment', American Journal of Political Science 52 (2): 322–343.
Additional information
Explores the role greater ethnic inclusion may have on a country's economic development, using a new approach to creating a comprehensive list of ethnic groups worldwide 64 Shared Societies and Peace: The ends and means
About this article
Cite this article
Birnir, J., Dunford, E. A Voice in the Process: A cross-national look at ethnic inclusion and economic growth in the world. Development 57, 55–63 (2014). https://doi.org/10.1057/dev.2014.39
Published:

Issue Date:

DOI: https://doi.org/10.1057/dev.2014.39
Keywords
ethnic diversity

inclusion

political access

economic growth

development