Abstract
Successful corporate brand management lies on sounded brand engagement and strategic alignment initiatives. This is true in general, but when facing mergers and acquisitions it becomes vital how well companies manage their brands through alignment of their strategic visions, organizational cultures, and stakeholders supportive behaviors. To illustrate this, the author uses the BBVA Case study, which provided some key learning points in corporate brand management. The starting point is the need for integration of the vision, the organizational culture, the brand values and the desired brand positioning, alignment of employees and identification from relevant stakeholders depend on the quality of the listening process adopted by the company and it's commitment to respond to stakeholders's demands and expectations in the overall strategic business objectives of the company. The cross multi-functional management of the brand and reputation through the central and local corporate reputation committees allowed removing internal barriers and silos between the different areas, departments, business units in order to deliver brand experiences, aligned with stakeholders demands and expectations. An important aspect of getting buy-in throughout the organization was demonstrating the financial payoff to the new brand strategy and initiatives. Integrating the measures for, and key indicators of, employee engagement, customer loyalty and brand reputation for all stakeholders into the company's balanced scorecard and use these metrics to help the company in promoting a continuous process of improvement. An impressive ROI and customer satisfaction was associated with changes and internal transformation plans.
This is a preview of subscription content, log in to check access.
Access options
Buy single article
Instant access to the full article PDF.
US$ 39.95
Price includes VAT for USA
Subscribe to journal
Immediate online access to all issues from 2019. Subscription will auto renew annually.
US$ 247
This is the net price. Taxes to be calculated in checkout.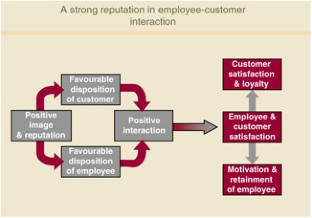 Notes
1.

ASEP market research 2000.

2.

BBVA, Financial Information and Business Areas, 2000.

3.

BBVA set up in 2006 a multifunctional committee, where more than 12 different business and corporate areas are represented, to centrally manage the corporate reputation of the Group.
References
Alloza, A. (2001) 'La gestión estratégica de la marca'. Informe Anual del Estado de la Publicidad y el Corporate en España y Latinoamérica, Justo Villafañe, Pirámide.

Alloza, A. (2003) 'Una marca en el corazón de la organización'. Informe Anual del Estado de la Publicidad y el Corporate en España y Latinoamérica, Justo Villafañe, Pirámide.

Alloza, A., Conley, S., Prado, F., Farfán, J. and Espantaleón, R. (2004) 'Creating the BBVA experience: Beyond traditional brand management', Corporate Reputation Review, 7 (1), 66–81 (16): Henry Stewart Publications.

Ambler and Barrow (1996) 'The employer brand', Journal of Brand Management, 4, 187.

Appiah-Adu, K., Fyall, A. and Singh, S. (2001) 'Marketing effectiveness and business performance in the financial services industry', Journal of Services Marketing, 15 (1), 18–34.

Balmer, J. (2001) 'Corporate identity, corporate branding and corporate marketing: Seeing through the fog', European Journal of Marketing, 35 (3 and 4), 248–484.

Barret, R. (1998) Liberating the Corporate Soul building a visionary organization, Butterworth-Heinemann, Oxford: Oxford University Press.

Bendapudi, N. and Bendapudi, V. (2005) 'Living the brand', Harvard Business Review, 83 (5), 124–132.

Bennis, W. and Nannus, B. (1985,1997) The Strategies for Taking Charge, New York: Harper and Row.

Chernatony, L. (2002) 'Would a brand smell any sweeter by a corporate name?' Corporate Reputation Review, 5 (2 and 3), 157–179.

Davies, G. (2004) Corporate Reputation and Competitiveness, Routledge, UK.

Drucker, P. (1946) 'The concept of the corporation', John Day Co; New edition (20 November, 1972).

Drucker, P. (1985) The Practice of Management, New York: Harper Business Book.

Drucker, P. (1999) Management Challenges for the 21st Century, New York: Harper Business Book.

EIG (2002) The Vivaldi Brand Leadership Study, Chapter 4 (Section 4.2.1). Enterprise IG, www.thebrandunion.com.

Fombrun, Ch. and Van Riel, C. (2004) Fame and Fortune: How Successful Companies Build Winning Reputations, New Jersey: Financial Times Prentice Hall.

Hatch, M., Mogens, L. and Schultz, M. (2000) The Expressive Organization, USA, Oxford University Press.

Hatch, M. and Shultz, M. (2001) 'Are the strategic stars aligned for your corporate brand', Harvard Business Review, February, 128–135.

Heaton, C. and Guzzo, R. (2000) 'Making every employee a brand manager', Mercer Management Journal by Merger Management Consulting, Inc.

Ind, N. (2001) Living the Brand, Kogan Page, London UK.

Irons, K. (1997) The World of Superservice: Creating Profit Through a Passion for Customer Service, Reading, MA: Addison-Wesley.

Kapferer, J.N. (1997) Strategic Brand Management, Kogan Page, London.

Kotter, J. and Heskett, J. (1992) Corporate Culture and Performance, The Free Press, New York.

Mael, F.A. and Tetrick, L.E. (1992) 'Identifying organizational identification', Educational and Psychological Measurement, 52 (4), 813–825.

MCA/MORI (1999) 'The Brand Ambassador Benchmark – Reviewed by Mitchell A. (1999) Customer satisfaction is earned by loyal staff', Marketing Week, 10 June, 38–39.

Olins, W. (1995) The New Guide to Identity, Gower Aldershot, UK.

Pine II, J. and Gilmore, J. (1997) The Experience Economy, Boston, MA: Harvard Business School Press.

Smidts, A., Pruyn, H. and Van Riel, C. (2001) 'The impact of employee communication and perceived external prestige on organizational identification', Journal Academy of Management, 49, 1051.

Van Riel, C.B.M., Berens, G. and Dijkstra, M. (2005) 'The influence of employee communication on strategic business alignment', RSM Erasmus University, Erasmus Research Institute of Management (ERIM).

Villafañe, J. (2004) La Buena Reputación, Pirámide.

Willmott, M. (2001) Citizen Brands, John Wiley & Sons, Chichester.

Wyatt, W. (2002) Weathering the Storm: A Study of Employees Attitudes and Opinions, Work USA 2002. Watson Wyatt, www.watsonwyatt.com.
About this article
Cite this article
Alloza, A. Brand Engagement and Brand Experience at BBVA, the Transformation of a 150 Years Old Company. Corp Reputation Rev 11, 371–379 (2008). https://doi.org/10.1057/crr.2008.31
Keywords
brand engagement

brand experience

corporate culture

employee alignment

identity

reputation