Abstract
Product counterfeiting, as an emerging problem, has seen limited scholarly attention. Although there has been an increase in the scholarly work in this area, much more remains to be done. This article is an attempt to address one considerable gap in the product counterfeiting literature – the application of criminological theory. At this time, no research on product counterfeiting has attempted to apply a theoretical perspective to understand the product counterfeiting phenomenon. This article involves a systematic attempt to view product counterfeiting through a routine activities theory lens. More specifically, this is an exercise in applying the theoretical construct of 'guardianship' to the study of product counterfeiting. Implications for prevention and policy are discussed.
This is a preview of subscription content, log in to check access.
Access options
Buy single article
Instant access to the full article PDF.
US$ 39.95
Price includes VAT for USA
Subscribe to journal
Immediate online access to all issues from 2019. Subscription will auto renew annually.
US$ 209
This is the net price. Taxes to be calculated in checkout.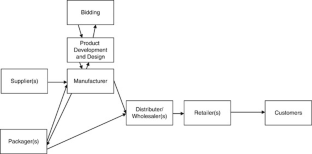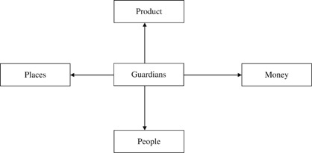 Notes
1.

Here, it is important to emphasize the social psychology of guardianship. The idea behind the guardianship concept is that the offender perceives that someone is watching and, therefore, might do something in response to the criminal activity. It is this perception of heightened risk of detection and response that deters the would-be offender not the intervention on the part of the guardian or others. The work of Reynald (2009; 2010) and others discussed above indicates that the most important stages of guardianship in action are the available and monitoring stages. A full review and explanation of this relationship is beyond the scope of the current article. We also do not include CCTV in our discussion here as our focus is on the human dimension of guardianship at this time. CCTV might be included as a technology that could enhance guardianship capacity, but a discussion of CCTV specifically is beyond the reach of this article.
References
Bloch, P.H., Bush, R.F. and Campbell, L. (1993) Consumer 'accomplices' in product counterfeiting: A demand side investigation. Journal of Consumer Marketing 10 (4): 27–36.

Brantingham, P.L. and Brantingham, P.J. (1993) Nodes, paths, and edges: Considerations on the complexity of crime and the physical environment. Journal of Environmental Psychology 13 (1): 3–28.

Clarke, R.V. and Newman, G.R. (2010) Designing Out Crime From Products and Systems, Crime Prevention Studies, Vol. 18. Boulder, CO: Lynne Rienner Publishers.

Chaudhry, P. and Zimmerman, A. (2009) The Economics of Counterfeit Trade: Governments, Pirates, and Intellectual Property Rights. Heidelberg, Germany: Springer-Verlag.

Cohen, L.E. and Felson, M. (1979) Social change and crime rate trends: A routine activity approach. American Sociological Review 44 (4): 588–608.

Eck, J.E. (1994) Drug Markets and Drug Places. Unpublished PhD Dissertation, University of Maryland, College Park, MD.

Eck, J.E. and Weisburd, D. (eds.) (1994) Crime and Place, Vol. 4, Crime Prevention Studies. Monsey, NY: Criminal Justice Press.

Ekblom, P. (2005) Designing products against crime. In: N. Tilley (ed.) Handbook of Crime Prevention and Community Safety. Cullompton, UK: Willan Publishing.

Felson, M. (1986) Routine activities, social controls, rational decisions, and criminal outcomes. In: D. Cornish and R.V. Clarke (eds.) The Reasoning Criminal. New York: Springer-Verlag, pp. 119–128.

Felson, M. (1995) Those who discourage crime. In: J.E. Eck and D. Weisburd (eds.) Crime and Place, Vol. 4, Crime Prevention Studies. Monsey, NY: Criminal Justice Press, pp. 53–66.

Felson, M. and Boba, R. (2010) Crime and Everyday Life, 4th edn. Thousand Oaks, CA: Sage.

Garofalo, J. and Clark, D. (1992) Guardianship and residential burglary. Justice Quarterly 9 (3): 443–463.

Gentry, J.W., Putrevu, S., Shultz, C.J. and Commuri, S. (2001) How now Ralph Lauren? The separation of brand and product in a counterfeit culture. Advances in Consumer Research 28 (1): 258–265.

Harvey, M.G. and Ronkainen, I.A. (1985) International counterfeiters: Marketing success without the cost and the risk. Journal of World Business 20 (3): 37–45.

Heinonen, J.A. and Wilson, J.M. (2012) Product Counterfeiting: Evidence-Based Lessons for the State of Michigan. A-CAPP Paper Series. East Lansing, MI: Michigan State University.

Heinonen, J.A., Holt, T. and Wilson, J. (2012) Product counterfeits in the online environment: An empirical assessment of victimization and reporting characteristics. International Criminal Justice Review 24 (1): 353–371.

Hollis, M.E., Felson, M. and Welsh, B.C. (2013) The capable guardian in routine activities theory: A theoretical and conceptual reappraisal. Crime Prevention and Community Safety 15 (1): 65–79.

Hollis-Peel, M.E. and Welsh, B.C. (2014) What makes a guardian capable? A test of guardianship in action. Security Journal 27 (3): 320–337.

Hollis-Peel, M.E., Reynald, D.M., van Bavel, M., Elffers, H. and Welsh, B.C. (2011) Guardianship for crime prevention: A critical review of the literature. Crime, Law, and Social Change 56 (1): 53–70.

Hollis-Peel, M.E., Reynald, D.M. and Welsh, B.C. (2012) Guardianship and crime: An international comparative study of guardianship in action. Crime, Law, and Social Change 58 (1): 1–14.

Kelepouris, T., Pramatari, K. and Doukidis, G. (2007) RFID-enabled traceability in the food supply chain. Industrial Management and Data Systems 107 (2): 183–200.

Kennedy, L.W. and McGarrell, E.F. (eds.) (2011) Crime and Terrorism Risk: Studies in Criminology and Criminal Justice. New York: Routledge.

Kumar, S., Dieveney, E. and Dieveney, A. (2009) Reflective practice: Reverse logistic process control measures for the pharmaceutical industry supply chain. International Journal of Productivity and Performance Management 58 (2): 188–204.

Lum, C. and Kennedy, L.W. (2011) Evidence Based Counterterrorism Policy. New York: Springer.

Marucheck, A., Greis, N., Mena, C. and Cai, L. (2011) Product safety and security in the global supply chain: Issues, challenges, and research opportunities. Journal of Operations Management 29 (8): 707–720.

Miethe, T.D. and Meier, R.F. (1994) Crime and Its Social Context: Toward an Integrated Theory of Offenders, Victims, and Situations. Albany, NY: State University of New York Press.

Miethe, T.D., Stafford, M.C. and Sloane, D. (1990) Lifestyle changes and risks of criminal victimization. Journal of Quantitative Criminology 6 (4): 357–376.

Niederman, F., Mathieu, R.G., Morley, R. and Kwon, I-K. (2007) Examining RFID applications in supply chain management. Communications of the ACM 50 (7): 93–101.

OECD (2007) The Economic Impact of Counterfeiting and Piracy. Paris: Organization for Economic Cooperation and Development.

Pease, K. (2001) Cracking Crime Through Design. London: Design Council.

Reynald, D.M. (2009) Guardianship in action: Developing a new tool for measurement. Crime Prevention and Community Safety 1 (1): 1–20.

Reynald, D.M. (2010) Guardians on guardianship: Factors affecting the willingness to supervise, the ability to detect potential offenders, and the willingness to intervene. Journal of Research in Crime and Delinquency 47 (3): 358–390.

Sampson, R., Eck, J.E. and Dunham, J. (2010) Super controllers and crime prevention: A routine activity explanation of crime prevention success and failure. Security Journal 23 (1): 37–51.

Slocum, J.T. (2010) Counterfeit Goods: How Did We Get Here and Where Will We Go Next? White paper, http://www.consulegis.ch/fileadmin/downloads/thomas_marx_ 0910/consulegis_tma_jenny_slocum_summary.pdf, accessed 18 September 2013.

Spink, J. and Heinonen, J. (2012) Product Counterfeiting in Michigan and the Expectations and Priorities for State and Local Law Enforcement: Assessing the Awareness of and Response to the Problem. Anti-Counterfeiting and Product Protection Program Backgrounder Series. East Lansing, MI: Michigan State University.

Staake, T., Thiesse, F. and Fleisch, E. (2009) The emergence of counterfeit trade: A literature review. European Journal of Marketing 43 (3–4): 320–349.

Stahura, J.M. and Sloan, J.J. (1988) Urban stratification of places, routine activities and suburban crime rates. Social Forces 66 (4): 1102–1118.

U.S. General Accountability Office (USGAO) (2010) Intellectual Property: Observations on Efforts to Quantify the Economic Effects of Counterfeit and Pirated Goods. Washington DC: US General Accountability Office.

Van Brunschot, E. and Kennedy, L. W. (2008) Risk Balance and Security. Thousand Oaks, CA: Sage Publications.
About this article
Cite this article
Hollis, M., Wilson, J. Who are the guardians in product counterfeiting? A theoretical application of routine activities theory. Crime Prev Community Saf 16, 169–188 (2014). https://doi.org/10.1057/cpcs.2014.6
Keywords
product counterfeiting

routine activities

guardianship

crime prevention

opportunity