Abstract
Guardianship or the absence of capable guardianship is a central element in routine activities theory, and has been the subject of research for more than 30 years. The original conceptualization of guardianship has been interpreted and expanded upon in many ways during this period of time. This article charts the evolution of research on the guardianship component of routine activities theory and provides a theoretical and conceptual reappraisal of guardianship. Aiding future empirical research is a central aim of this endeavor. A refined definition of guardianship is presented that is consistent with its original conceptualization and new theoretical advancements. Implications for theory and research are discussed.
This is a preview of subscription content, log in to check access.
Access options
Buy single article
Instant access to the full article PDF.
US$ 39.95
Price includes VAT for USA
Subscribe to journal
Immediate online access to all issues from 2019. Subscription will auto renew annually.
US$ 209
This is the net price. Taxes to be calculated in checkout.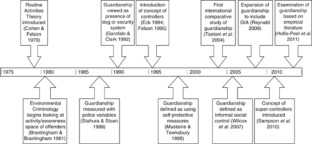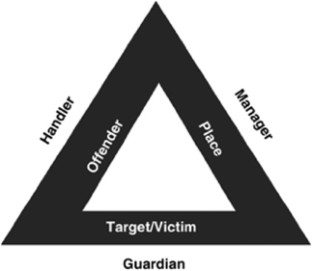 References
Bennett, R. (1991) Routine activities: A cross-national assessment of a criminological perspective. Social Forces 70 (1): 147–163.

Brantingham, P.J. and Brantingham, P.L. (1982) Mobility, notoriety, and crime: A study of crime patterns in urban nodal points. Journal of Environmental Systems 11 (1): 89–99.

Brantingham, P.L. and Brantingham, P.J. (1981) Environmental Criminology. Thousand Oaks, CA: Sage.

Brantingham, P.L. and Brantingham, P.J. (1993) Nodes, paths and edges: Considerations on the complexity of crime and the physical environment. Journal of Environmental Psychology 13 (1): 3–28.

Cohen, L.E. and Felson, M. (1979) Social change and crime rate trends: A routine activity approach. American Sociological Review 44 (4): 588–608.

Coupe, T. and Blake, L. (2006) Daylight and darkness targeting strategies and the risks of being seen at residential burglaries. Criminology 44 (2): 431–464.

Eck, J.E. (1994) Drug markets and drug places. Unpublished PhD dissertation, University of Maryland, College Park, MD.

Eck, J.E. (2003) Police problems: The complexity of problem theory, research and evaluation. In: J. Knutsson (ed.) Problem-Oriented Policing: From Innovation to Mainstream. Monsey, NY: Criminal Justice Press, pp. 79–113.

Eck, J.E. and Weisburd, D. (eds.) (1994) Crime and Place. Vol. 4, Crime Prevention Studies. Monsey, NY: Criminal Justice Press.

Ekblom, P. (2011) Deconstructing CPTED … and reconstructing it for practice, knowledge, management and research. European Journal on Criminal Policy and Research 17 (1): 7–28.

Felson, M. (1986) Routine activities, social controls, rational decisions, and criminal outcomes. In: D. Cornish and R.V. Clarke (eds.) The Reasoning Criminal. New York: Springer-Verlag, pp. 119–128.

Felson, M. (1995) Those who discourage crime. In: J.E. Eck and D. Weisburd (eds.) Crime and Place. Vol. 4, Crime Prevention Studies. Monsey, NY: Criminal Justice Press, pp. 53–66.

Felson, M. (2006) Crime and Nature. Thousand Oaks, CA: Sage, p. 80.

Felson, M. and Boba, R. (2010) Crime and Everyday Life, 4th edn. Thousand Oaks, CA: Sage, pp. 28–30, 37.

Garofalo, J. and Clark, D. (1992) Guardianship and residential burglary. Justice Quarterly 9 (3): 443–463.

Hollis-Peel, M.E., Reynald, D.M., van Bavel, M., Elffers, H. and Welsh, B.C. (2011) Guardianship for crime prevention: A critical review of the literature. Crime, Law and Social Change 56 (1): 53–70.

Jeffery, C.R. (1977) Crime Prevention Through Environmental Design, 2nd edn. Beverly Hills, CA: Sage.

Miethe, T.D. and Meier, R.F. (1994) Crime and Its Social Context: Toward an Integrated Theory of Offenders, Victims and Situations. Albany, NY: State University of New York Press.

Miethe, T.D., Stafford, M.C. and Sloane, D. (1990) Lifestyle changes and risks of criminal victimization. Journal of Quantitative Criminology 6 (4): 357–376.

Mustaine, E.E. and Tewksbury, R. (1998) Predicting risks of larceny theft victimization: A routine activity analysis using refined lifestyle measures. Criminology 36 (4): 829–858.

Newman, O. (1972) Defensible Space: Crime Prevention through Urban Design. New York: Palgrave Macmillan.

Rengert, G. and Wasilchick, J. (1985) Suburban Burglar: A Tale of Two Suburbs. Springfield, IL: Charles Thomas.

Reynald, D.M. (2009) Guardianship in action: Developing a new tool for measurement. Crime Prevention and Community Safety 11 (1): 1–20.

Reynald, D.M. (2010) Guardians on guardianship: Factors affecting the willingness to supervise, the ability to detect potential offenders, and the willingness to intervene. Journal of Research in Crime and Delinquency 47 (3): 358–390.

Reynald, D.M. (2011) Factors associated with the guardianship of places: Assessing the relative importance of the spatio-physical and sociodemographic contexts in generating opportunities for capable guardianship. Journal of Research in Crime and Delinquency 48 (1): 110–142.

Sampson, R., Eck, J.E. and Dunham, J. (2010) Super controllers and crime prevention: A routine activity explanation of crime prevention success and failure. Security Journal 23 (1): 37–51.

Stahura, J.M. and Sloan, J.J. (1988) Urban stratification of places, routine activities and suburban crime rates. Social Forces 66 (4): 1102–1118.

Tewksbury, R. and Mustaine, E.E. (2003) College students' lifestyles and self-protective behaviors: Further considerations of the guardianship concept in routine activity theory. Criminal Justice and Behavior 30 (3): 302–327.

Tilley, N. (2009) Crime Prevention. Cullompton, UK: Willan.

Tillyer, M.S. and Eck, J.E. (2010) Getting a handle on crime: A further extension of routine activities theory. Security Journal 24 (2): 179–193.

Tseloni, A., Wittebrood, K., Farrell, G. and Pease, K. (2004) Burglary victimization in England and Wales, the United States, and the Netherlands: A cross-national comparative test of routine activities and lifestyle theories. British Journal of Criminology 44 (1): 61–91.

Wilcox, P., Madensen, T.D. and Tillyer, M.S. (2007) Guardianship in context: Implications for burglary victimization, risk and prevention. Criminology 45 (4): 771–803.
Acknowledgements
We are grateful to the editor and the anonymous reviewers for helpful comments.
About this article
Cite this article
Hollis, M., Felson, M. & Welsh, B. The capable guardian in routine activities theory: A theoretical and conceptual reappraisal. Crime Prev Community Saf 15, 65–79 (2013). https://doi.org/10.1057/cpcs.2012.14
Keywords
routine activities theory

guardianship

defensible space

environmental criminology

social control