Abstract
Our main objective in this article is to disentangle the diverse components of peripheral parties' 'issue packages' and to show the different ways in which a peripheral party can present its nationalist credentials according to the strategic needs imposed by each particular context. Against one stream of literature that sees peripheral parties as single-issue or niche parties, we use manifesto data to demonstrate that peripheral parties do not limit their issue appeal to just one dimension of competition. On the contrary, as strategic and vote-maximising parties, they have a highly diversified issue portfolio. We also argue that the centre-periphery dimension has a complex issue structure that allows peripheral parties to offer attractive moderate images without renouncing their nationalist identity. For our analysis, we use the Regional Manifestos Project data on peripheral parties' manifestos in Spain and the United Kingdom (Convergence and Union, Catalonian Republican Left, Basque Nationalist Party, EH-Bildu, Galician Nationalist Block, Scottish National Party and Plaid Cymru) in their respective last regional elections (2011–2012).
This is a preview of subscription content, log in to check access.
Access options
Buy single article
Instant access to the full article PDF.
US$ 39.95
Price includes VAT for USA
Subscribe to journal
Immediate online access to all issues from 2019. Subscription will auto renew annually.
US$ 167
This is the net price. Taxes to be calculated in checkout.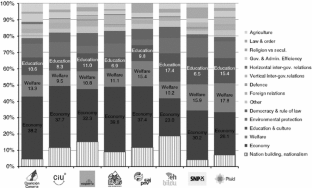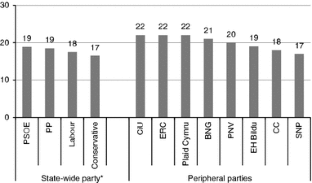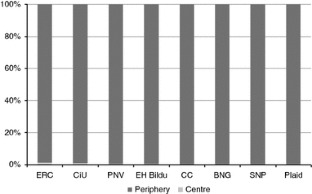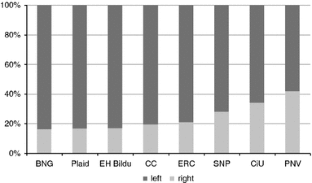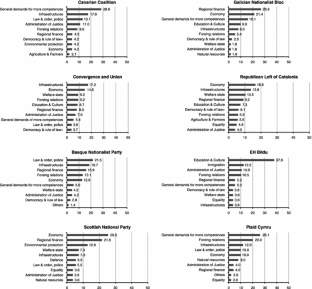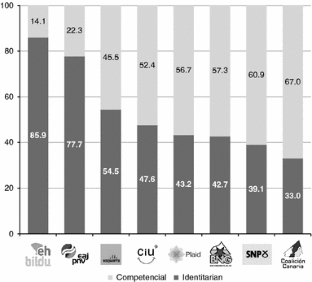 Notes
1.

As Gunther and Diamond (2001, p. 27) put it, the programmatic party 'has much more of a distinct, consistent, and coherent programmatic or ideological agenda than does the ideal-type catch-all party, and it clearly incorporates those ideological or programmatic appeals in its electoral campaigns and its legislative and government agenda.'

2.

Manifesto Research on Political Representation, previously known as the Comparative Manifestos Project.

3.

For a more detailed explanation of how this methodology works, including the definition of the categories, please visit the RMP project's website: www.regionalmanifestosproject.com.

4.

Outright demands for independence or calls for a referendum on independence belong to our identitarian (nation-building) dimension. The reason is that calls for independence go beyond the competence bargaining of a decentralized state. Independence is defended as a national right to self-determination. Preferences for independence are captured by code 22_601. According to this, our parties would be ordered from the most to the least independentist in 2011–12: ERC (6.2), CiU (4.8), PNV (2), SNP (1.8), BNG (1.5), EH-Bildu (0.2) and PC (0).
References
Adams, J., Clarke, M., Ezrow, L. and Glasgow, G. (2006) Are Niche Parties Fundamentally Different from Mainstream Parties? The Causes and Electoral Consequences of Western European Parties' Policy Shifts, 1976–1998. American Journal of Political Science 50(3): 513–29.

Alonso, S. (2012) Challenging the State: Devolution and the Battle for Partisan Credibility. A Comparison of Belgium, Italy, Spain and the UK. Oxford: Oxford University Press.

Alonso, S., Volkens, A., Gómez, B. and Cabeza, L. (2012) The Content Analysis of Manifestos in Multilevel Settings. Exemplified for Spanish Regional Manifestos. WZB Discussion Papers, SP IV 2012-201.

Alonso, S., Cabezay, L. and Gómez, B. (2013) Measuring Centre-Periphery Preferences: The Regional Manifestos Project. Regional and Federal Studies. DOI: 10.1080/13597566.2012.754351.

Artés, J. (2013) Do Spanish Politicians Keep their Promises? Party Politics 19(1): 143–158.

Beramendi, J.G and Núñez-Seixas, X.M. (1996) O nacionalismo galego. Santiago de Compostela: A Nosa Terra.

Budge, I., Klingemann, H., Volkens, A. and Tanenbaum, E. (2001) Mapping policy preferences : estimates for parties, electors, and governments, 1945-1998. Oxford ; New York: Oxford University Press.

Curtice, J., McCrone, D., McEwen, N., Marsh, M. and Ormston, R. (2009) Revolution or Evolution?: The 2007 Scottish Elections. Edinburgh: Edinburgh University Press.

Dandoy, R. and Sandri, G. (2007) Regionalism and party programs. Comparative analysis of the content of the manifestos of regionalist parties in Europe. Paper presented at the Conference of the Società Italiana di Scienza Politica (SISP); 20–22 September, Catania: University of Catania.

Dandoy, R. and Sandri, G. (2008) I programmi elettorali dei partiti regionalisti europei: un'analisi comparata. Quaderni dell'osservatorio elettorale 59(1): 63–94.

De la Calle, L. (2005) Cuando la proximidad deja de ser importante: modelos espaciales y voto en la política vasca (1994–2001). Revista Española de Ciencia Política 12: 21–52.

De la Calle, L. and Orriols, L. (2010) Explaining the electoral effects of public investments: The case of the expansion of the underground in Madrid, 1995–2007. European Journal of Political Research 49(3): 393–417.

De Winter, L. and Türsan, H. (1998) Regionalist Parties in Western Europe. London; New York: Routledge.

De Winter, L., Gómez-Reino, M. and Lynch, P. (eds.) (2006) Autonomist Parties in Europe: Identity Politics and the Revival of the Territorial Cleavage. Barcelona, Spain: ICPS.

Downs, A. (1957) An Economic Theory of Democracy. New York: Harper & Row.

Elias, A. (2009) From protest to power: Mapping the ideological evolution of Plaid Cymru and the Bloque Nacionalista Gallego. Regional and Federal Studies 19(4): 533–557.

Elias, A. and Tronconi, F. (2011) From protest to power: Autonomist parties in government. Party Politics 17(4): 504–540.

Fernández-Albertos, J. (2002) Votar en dos dimensiones: El peso del nacionalismo y la ideología en el comportamiento electoral vasco, 1993–2001. Revista Española de Ciencia Política 6: 153–181e.

Gómez, B. and Cabeza, L. (2013) Basque regional elections 2012: The return of nationalism under the influence of the economic crisis. Regional & Federal Studies 23(4): 495–505.

Gómez-Reino, M. (2008) A niche or an expanding universe for ethnoregionalist parties in Europe? Party demands in contemporary European politics. Proceedings of the Conference on European Identities: Nationalism, Regionalism and Religion; 17–18 October, London: University of Notre Dame.

Gómez-Reino, M., De Winter, L. and Lynch, P. (2006) Conclusion: the Future Study of Autonomist and Regionalist Parties. In: L. De Winter, M. Gómez-Reino and P. Lynch (eds.) Autonomist Parties in Europe: Identity Politics and the Revival of the Territorial Cleavage. Barcelona: ICPS245–269.

Gunther, R. and Diamond, L. (eds.) (2001) Types and functions of parties. In: Political Parties and Democracy. Baltimore: The John Hopkins University Press. pp 3–39.

Heller, W. (2002) Regional parties and national politics in Europe. Spain's Estado de las Autonomías, 1993 to 2000. Comparative Political Studies 35(6): 657–685.

Hepburn, E. (2009a) SNP thinking in an international context. In: G. Hassan (ed.) The Modern SNP: From Protest to Power. Edinburgh, UK: Edinburgh University Press.

Hepburn, E. (2009b) Introduction: Re-conceptualizing sub-state mobilization. Regional and Federal Studies 19(4–5): 477–499.

Hofferbert, R., Klingemann, H.-D. and Volkens, A. (1995) Election programmes, government statements and political action – Political parties and their programmes. In: J. Thesing and W. Hofmeister (eds.) Political Parties in Democracy: Role and Functions of Political Parties in the Political System of the Federal Republic of Germany. Sankt Augustin, Germany: Konrad Adenauer Stiftung, pp 321–331.

Jeffery, C. (2009) Devolution in the United Kingdom: Problems of a Piecemeal Approach to Constitutional Change. Publius: The Journal of Federalism 39(2): 289–313.

Laver, M. and Budge, I. (1992) Party Policy and Coalition Government. New York: St. Martin's Press.

Lynch, P. (2009) From social democracy back to no ideology? The Scottish national party and ideological change in a multi-level electoral setting. Regional & Federal Studies 19(4–5): 619–639.

Massetti, E. (2009) Explaining regionalist party positioning in the multi-dimensional ideological space: A framework for analysis. Regional and Federal Studies 19(4–5): 501–531.

Massetti, E. (2010) Political strategy and ideological adaptation in regionalist parties in Western Europe: A comparative study of the Northern league, Plaid Cymru, the South Tyrolese people's party and the Scottish national party. Doctoral thesis, Brighton: University of Sussex.

McEwen, N. and Lecours, A. (2008) Voice or recognition? Comparing strategies for accommodating territorial minorities in multinational states. Commonwealth & Comparative Politics 46(2): 220–243.

Meguid, B. (2008) Party Competition between Unequals. Cambridge: Cambridge University Press.

Meyer, T. and Miller, B. (2013) The niche party concept and its measurement. Party Politics 21(2): 259–271.

Müller-Rommel, F. and Pridham, G. (eds) (1991) Small Parties in Western Europe. London: Sage.

Naurin, E. (2009) Promising Democracy: Parties, Citizens and Election Promises. Gotheborg: University of Gotheborg.

Newman, S. (1994) Ethnoregional parties: A comparative perspective. Regional Politics & Policy 4(2): 28–66.

Ordeshook, P.C. and Shvetsova, O. (1997) Federalism and constitutional design. Journal of Democracy 8(1): 27–42.

Pogorelis, R., Maddens, B., Swenden, W. and Fabre, E. (2005) Issue salience in regional and national party manifestos in the UK. West European Politics 28(5): 992–1014.

Pomper, G. M. (1968) Elections in America. Control and Influence in Democratic Politics. New York: Dodd, Mead & Company.

Rasmussen, J. (1991) They Also Serve: Small Parties in the British Political System. In F. Muller-Rommel and G. Pridham (eds.) Small Parties in Western Europe: Comparative and National Perspectives. London: Sage.

Rokkan, S. and Urwin, D. (1983) Economy, Territory, Identity. London and Beverly Hills: Sage.

Seiler, D.L. (2005) Défendre la périphérie. In: P. Dewit (ed.) Les partis régionalistes en Europe. Des acteurs en développement?. Brussels, Belgium: L'Université de Bruxelles.

Smith, G. (1991) In search of small parties: problems of definition, classification and significance. In: F. Müller-Rommel and G. Pridham (ed.) Small parties in Western Europe London: Sage23–40.

Thomson, R., Royed, T., Naurin, E., Artés, J., Ferguson, M., Kostadinova, P. and Moury, C. (2012) The Program-to-policy Linkage: A Comparative Study of Election Pledges and Government Policies in Ten Countries. Paper presented at the 2012 Annual Meeting of the American Political Science Association, New Orleans, August 30–September 2, 2012.

Tronconi, F. (2006) Ethnic identity and party competition. An analysis of the electoral performance of ethnoregionalist parties in western Europe. World Political Science Review 2(2): 137–163.
Acknowledgements
The work reported in this article has been funded in part by the Ministry of Economy and Competitiveness (Spain) through the National Plans of Research, Development and Technological Innovation (PN I+D+i) under the project Regional Manifestos Project (CSO2012-34704).
About this article
Cite this article
Alonso, S., Cabeza, L. & Gómez, B. Disentangling peripheral parties' issue packages in subnational elections. Comp Eur Polit 15, 240–263 (2017). https://doi.org/10.1057/cep.2015.15
Keywords
peripheral parties

issue packages

salience and position

subnational elections