Abstract
The political mainstream in the Netherlands and Sweden has been challenged by a growing support for the populist radical right and a public opinion that is increasingly dissatisfied with the pursued immigration/integration policies. Conventional narratives suggest that parties respond to these cues by making drastic shifts to their manifesto positions, either in a restrictive/assimilationist or liberal/multicultural direction, as a way of pre-empting any electoral losses or dismissing the niche position. While the Dutch parties have been more likely than their Swedish counterparts to make such changes, they have not always been connected to the above stimuli. The article argues instead that such positional volatility is amplified by the (in)stability of the societal fault lines, and the relative fit between these cleavages and parties' choice of issue framing (economic or socio-cultural). While providing some support for supply-and-demand explanations, the article's focus on dimensional stability and issue fit calls attention to the variability in conflict mobilisation and the role of mainstream parties as active agents in shaping debates on immigration and integration.
Access options
Buy single article
Instant access to the full article PDF.
USD 39.95
Price excludes VAT (USA)
Tax calculation will be finalised during checkout.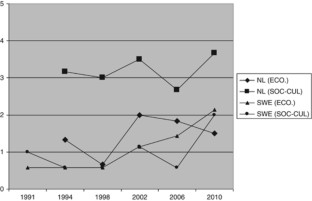 Notes
The 2010 version, however, contains questions relating to both immigration and integration (Bakker et al, 2012).

Manifestos were gathered from http://www.rug.nl/dnpp/index; http://snd.gu.se/en/vivill and from individual party websites. The 2003 election (NL) is omitted as CDA and PvdA ran the same manifestos as in 2002. The four centre-right parties in Sweden issued a single coalition manifesto in 2006 and 2010 but also published individual manifestos or party programmes. The former are used for FP, CP and KD (2006–2010), whereas the latter were used for M (2006–2010).

'Mainstream party' is defined as one likely to be a 'dominant force[s] in the formation of government' (Ackland and Gibson, 2013, p. 235), or act as a 'junior' partner in this process (either in a formal coalition or as an informal supporter in parliament). They also need to correspond Caramani's (2004) categories (1–10) and not be classified as radical/extremist/far-left/right in the literature (Mudde, 2007). This gave six (NL) and seven (SWE) parties: CDA (Christen-Democratisch Appèl), VVD (Volkspartij voor Vrijheid en Democratie), D'66 (Politieke Partij Democraten 66), PvdA (Partij van de Arbeid), SP (Socialistische Partij) and GL (Groen-Links), M (Moderaterna), FP (Folkpartiet), KD (Kristdemokraterna), CP (Centerpartiet), SAP (Sveriges socialdemokratiska arbetareparti), MP (Miljöpartiet) and V (Vänsterpartiet).

(1) Immigration (in general)+(2) Labour Migration+(3) Asylum Seekers and Refugees+(4) Family Reunification+(5) Unaccompanied Minors+(6) Student Migration+(7) Integration.

'Immigration', 'Labour', 'Asylum', 'Refugee', 'Family', 'Unaccompanied', 'Minor', 'Student', 'Illegal', 'Undocumented', 'Clandestine' and 'Integration'.

'Immigration (in general) and 'Student Migration' were scored: (−1) if the statement considered the category to have a predominantly positive effect on society and (+1) if negative.

This particular scoring system may appear counter-intuitive but is adopted so as to be consistent with De Lange's measurement scheme.

For example, references made to the effects on labour market and employment agreements, the 'knowledge economy' and/or [country's] position in the global economy.

For example, references made to 'rights' (to family life and of children), and/or to state-individual relations (for example, access to education, issues of detention or deportation).

Included references to, for example, allow applicants to work and/or eligibility to welfare benefits, (global) human rights/nationalist concerns, 'real'/'bogus' claims, role of national/supra-national levels in the decision-making process, labour market access, discrimination legislation, support for ethnic entrepreneurs, conflicting values, multiculturalism/assimilation and language acquisition.

If the manifesto discussed the category in relation to its economic/socio-cultural implications a score of (1) was given, regardless of the number of times mentioned. If not mentioned, a score of (0) was given. The total category score was then divided by number of parties, and each individual category were added together to provide the total score for that year.

The following formula was used: average change (No PRR in parliament): [total number of changes/parties × number of election cycles]; average change (PRR in parliament): [total number of changes/parties × number of election cycles].
References
Ackland, R. and Gibson, R. (2013) Hyperlinks and networked communication: A comparative study of political parties online. International Journal of Social Research Methodology 16 (3): 231–244.

Adams, J. and Merrill, S.III. (1999) Modeling party strategies and policy representation in multiparty elections: Why are strategies so extreme? American Journal of Political Science 43 (3): 765–791.

Adams, J., Clark, M., Ezrow, L. and Glasgow, G. (2004) Understanding change and stability in party ideologies: Do parties respond to public opinion or to past election results? British Journal of Political Science 34 (4): 589–610.

Adams, J. and Somer-Topcu, Z. (2009) Policy adjustments by parties in response to rival parties' policy shifts: Spatial theory and the dynamics of party competition in twenty-five post-war democracies. British Journal of Political Science 39 (4): 825–846.

Bakker, R. et al (2012) Measuring party positions in Europe: The Chapel Hill expert survey trend file, 1999–2010. Party Politics, published online 29 November 2012, pp. 1–15.

Bale, T. (2003) Cinderella and her ugly sister: The mainstream and extreme right in Europe's bipolarising party system. West European Politics 26 (3): 67–90.

Bale, T. (2008) Turning round the telescope. Centre-right parties and immigration and integration policy in Europe. Journal of European Public Policy 15 (3): 315–330.

Bevelander, P. (2004) Immigration Patterns, Economic Integration and Residential Segregation: Sweden in the Late 20th Century. Malmö, Sweden: Malmö Högskola.

Brandorf, M., Esaiasson, P. and Håkansson, N. (1995) Svenska valfrågor. Partiernas valdebatt 1902–1994. Statsvetenskaplig tidskrift 98 (4): 1–36.

Bruff, I. (2003) The Netherlands, and the challenge of Lijst Pim Fortuyn and the third way. Politics 23 (3): 156–163.

Breugelmans, S.M. and van de Vijver, F. (2004) Antecedents and components of majority attitudes toward multiculturalism in the Netherlands. Applied Psychology 53 (3): 400–422.

Bruquetas-Callejo, M., Garcés-Mascareñas, B., Penninx, R. and Scholten, P. (2007) Policymaking related to Immigration and Integration. The Dutch Case. Amsterdam, The Netherlands: University of Amsterdam. IMISCOE Working Paper vol. 15.

Caramani, D. (2004) The Nationalisation of Politics: The Formation of National Electorates and Party Systems in Western Europe. Cambridge: Cambridge University Press.

Cox, G. and McCubbins, M.D. (2005) Setting the Agenda: Responsible Party Government in the U.S. House of Representatives. New York: Cambridge University Press.

Dahlström, C. (2004) Rhetoric, practice and the dynamics of institutional change: Immigrant policy in Sweden, 1964–2000. Scandinavian Political Studies 27 (3): 287–310.

Dahlström, C. and Esaiasson, P. (2011) The immigration issue and anti-immigrant party success in Sweden 1970–2006: A deviant case analysis. Party Politics 18 (5): 1–22.

De Lange, S. (2007) A new winning formula? The programmatic appeal of the radical right. Party Politics 13 (4): 411–435.

Franzmann, S. and Kaiser, A. (2006) Locating political parties in policy space: A reanalysis of party manifesto data. Party Politics 12 (2): 163–188.

Geddes, A. (2003) The Politics of Migration and Immigration in Europe. London: Sage.

Green, J. and Hobolt, S.B. (2008) Owning the issue agenda: Party strategies and vote choices in British elections. Electoral Studies 27 (3): 460–474.

Green-Pedersen, C. (2007) The conflict of conflicts in comparative perspective: Euthanasia as a political issue in Denmark, Belgium and the Netherlands. Comparative Politics 39 (3): 273–291.

Green-Pedersen, C. and Krogstrup, J. (2008) Immigration as a political issue in Denmark and Sweden. European Journal of Political Research 47 (5): 610–634.

Hinnfors, J., Spehar, A. and Bucken-Knapp, G. (2011) The missing factor: Why social democracy can lead to restrictive immigration policy. Journal of European Public Policy 19 (4): 1–19.

Hooghe, L., Marks, G. and Wilson, C. (2002) Does left/right structure party positions on European integration? Comparative Political Studies 35 (8): 962–989.

Jones, E. (1999) Is 'competitive' corporatism an adequate response to globalisation? Evidence from the low countries. West European Politics 22 (3): 159–181.

Kitschelt, H. and McGann, A. (1995) The Radical Right in Western Europe. A Comparative Analysis. Ann Arbor, MI: University of Michigan Press.

Klingemann, H.-D. (1987) Electoral programmes in West Germany 1949–1980: Explorations in the nature of political controversy. In: I. Budge, D. Robertson and D. Heard (eds.) Ideology, Strategy, and Party Change: Spatial Analyses of Post-war Election Programmes in 19 Democracies. New York: Cambridge University Press, pp. 294–323.

Kriesi, H., Grande, E., Lachat, R., Dolezal, M., Bornshier, S. and Frey, T. (2006) Globalization and the transformation of the national political space: Six European countries compared. European Journal of Political Research 45 (6): 921–956.

Lahav, G. and Courtenmanche, M. (2011) The ideological effects of framing threat on immigration and civil liberties. Political Behavior 34 (3): 477–505.

Lindvall, J. and Sebring, J. (2005) Policy reform and the decline of corporatism in Sweden. West European Politics 28 (5): 1057–1074.

Mair, P. (2008) Electoral volatility and the Dutch party system: A comparative perspective. Acta Politica 43 (2/3): 235–253.

Meckstroth, T.W. (1975) 'Most different systems' and 'most similar systems': A study in the logic of comparative inquiry. Comparative Political Studies 8 (2): 132–157.

Meguid, B. (2005) Competition between unequals: The role of mainstream party strategy in niche party success. American Political Science Review 90 (3): 347–359.

Minkenberg, M. (2001) The radical right in public office: Agenda-setting and policy effects. West European Politics 24 (4): 1–21.

Mudde, C. (2007) Populist Radical Right Parties in Europe. Cambridge: Cambridge University Press.

Norris, P. (2005) Radical Right: Voters and Parties in the Electoral Market. Cambridge: Cambridge University Press.

Norris, P. (2011) Democratic Deficit: Critical Citizens Revisited. Cambridge: Cambridge University Press.

Odmalm, P. (2012) Party competition and positions on immigration: Strategic advantages and spatial locations. Comparative European Politics 10 (1): 1–22.

Patton, M.Q. (2002) Qualitative Research and Evaluation Methods. Thousand Oaks, CA: Sage.

Pellikaan, H., van der Meer, T. and de Lange, S. (2003) The road from a depoliticized to a centrifugal democracy. Acta Politica 38 (1): 23–49.

Richardson, J. (1982) (ed.) Policy Styles in Western Europe. London: George Allen and Unwin.

Rabinowitz, G. and MacDonald, S. (1989) A directional theory of issue voting. American Political Science Review 83 (1): 93–121.

Roggeband, C. and Vliegenthart, R. (2007) Divergent framing: The public debate on migration in the Dutch parliament and media, 1995–2004. West European Politics 30 (3): 524–548.

Rohrschneider, R. (1993) Impact of social movements on European party systems. Annals of the American Academy of Political and Social Science 528: 157–170.

Rydgren, J. (2002) Radical right populism in Sweden: Still a failure, but for how long? Scandinavian Political Studies 25 (1): 27–56.

Sani, G. and Sartori, G. (1983) Polarization, fragmentation and competition in western democracies. In: H. Daalder and P. Mair (eds.) Western European Party Systems: Continuity and Change. London: Sage, pp. 307–340.

Sadiraj, V., Tuinstra, J. and van Winden, F. (2010) Identification of voters with interest groups improves the electoral chances of the challenger. Mathematical Social Sciences 60 (3): 210–216.

Scheffer, P. (2011) The open society and its believers. In: M. McTernan (ed.) Exploring the Cultural Challenges to Social Democracy: Anti-migration Populism, Identity and Community in an Age of Insecurity. London: The Policy Network, pp. 61–70.

Soininen, M. (1999) The 'Swedish model' as an institutional framework for immigrant membership rights. Journal of Ethnic and Migration Studies 25 (4): 685–702.

Spång, M. (2008) Swedish Immigration Policy and Democratic Legitimacy. Malmö, Sweden: Current Themes in IMER Research.

Ström, K. (1990) A behavioural theory of competitive political parties. American Journal of Political Science 34 (2): 565–598.

Sundberg, J. (1999) The enduring Scandinavian party system. Scandinavian Political Studies 22 (3): 221–241.

Todosijević, B., Aarts, K. and van der Kaap, H. (2009) Dutch Parliamentary Election Studies Data Source Book, 1971–2006. The Hague: Data Archiving and Networked Services.

Walgrave, S., Dumont, P. and Varone, F. (2006) Policy with or without parties? A comparative analysis of policy priorities and policy change in Belgium 1991–2000. Journal of European Public Policy 13 (7): 1039–1052.

Van der Brug, W. (2004) Issue ownership and party choice. Electoral Studies 23 (2): 209–233.

Van der Brug, W. and van Spanje, J. (2009) Immigration, Europe, and the 'new' cultural dimension. European Journal of Political Research 48 (3): 309–334.

Van Wessel, M. (2010) Citizens and their understandings and evaluations of representation: Introducing an interpretive approach to the study of citizen attitudes towards politics. Representation 46 (4): 439–457.

Van Spanje, J. (2010) Contagious parties: Anti-immigration parties and their impact on other parties. Party Politics 16 (5): 563–586.

Vink, M. and Meijerink, F. (2003) Asylum applications and recognition rates in EU member states 1982–2001: A quantitative analysis. Journal of Refugee Studies 16 (3): 297–315.

Walgrave, S. and Nuytemans, M. (2009) Friction and party manifesto change in 25 countries, 1945–98. American Journal of Political Science 53 (1): 190–206.
Acknowledgements
Research support under the Economic and Social Research Council's First Grant Scheme (RES-061-25–0195) is gratefully acknowledged. The authors would also like to thank the anonymous referees, Dirk Jacobs, Elizabeth Bomberg and Ailsa Henderson for additional input and comments during the revision stages of the article.
About this article
Cite this article
Odmalm, P., Super, B. If the issue fits, stay put: Cleavage stability, issue compatibility and drastic changes on the immigration 'issue'. Comp Eur Polit 12, 663–679 (2014). https://doi.org/10.1057/cep.2014.24
Published:

Issue Date:

DOI: https://doi.org/10.1057/cep.2014.24
Keywords
immigration

populist radical right

mainstream parties

manifestos

Sweden

The Netherlands