Abstract
The literature on party competition suggests that traditional conflict lines have either become obsolete or been replaced by new, less stable, ones. This development points to how political conflict has changed but also to how certain policy positions can be problematic to explain when these are linked to parties' location on 'Old' and 'New' conflict dimensions. A particularly difficult issue has been party position(s) on immigration. Solely focusing on parties' spatial location – on either conflict dimension – is insufficient for understanding the position that parties adopt. The article argues that a more fruitful approach is to simultaneously consider the degree of ownership – the strategic advantage – that parties have on particular conflict dimensions and parties' spatial location therein. Comparing parties in Britain and Sweden, the article explores the extent to which this framework explains party positioning in two institutionally different contexts.
This is a preview of subscription content, log in to check access.
Access options
Buy single article
Instant access to the full article PDF.
US$ 39.95
Tax calculation will be finalised during checkout.
Subscribe to journal
Immediate online access to all issues from 2019. Subscription will auto renew annually.
US$ 167
Tax calculation will be finalised during checkout.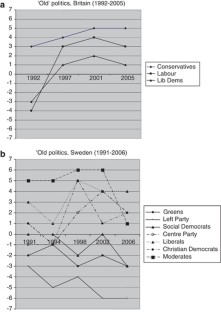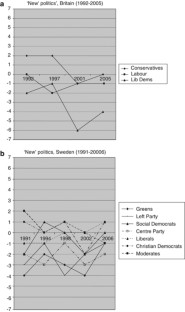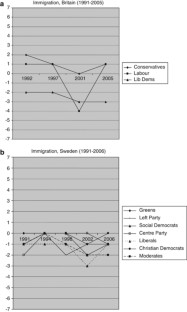 Notes
1.

Spatial theory contains a number of 'ifs' and if one or more of these assumptions are violated, the expected convergence results tend to disappear (Grofman, 2004).

2.

Other, equally important, measurement techniques include 'mass surveys of party voters, elite surveys of party politicians, dimensional analysis of the roll call voters of party legislators' (Benoit and Laver, 2007, p. 90). It should also be noted that determining party position from manifestos is notoriously difficult (Bartolini and Mair, 1990; Franzmann and Kaiser, 2006; Dinas and Gemenis, 2010). However, the article's main aim is to analyse the determinants behind adopted positions on immigration since these prove to be problematic for previous studies that link ideological position to that of immigration. Although the use of, especially, the CMP data are 'comforting but insufficient' (King, 1990, p. 1), the inclusion highlights the often overlooked complexities of reading party position on immigration from parties' ideological position.

3.

The article's approach differs from that of the CMP and the ESG (Benoit and Laver, 2007; see also Laver and Hunt, 1992). While the CMP data directly reflect the stated party position and generates a rich time-series set (Budge and Pennings, 2007), it also contains significant methodological 'noise' since it conflates economic and social policy positions into one, unified left-right dimension, thus exaggerating the ideological move that parties make (Benoit and Laver, 2007). The ESG data try to avoid the 'mathematically constrained nature of the saliency-based CMP left-right measure' (ibid, p. 103) by asking country experts to classify parties on four substantive dimensions – economic, social, loci of decision-making and environmental policy – plus a 'direct measure of party positions on a general left-right scale' (ibid, p. 91). Although the ESG allows for more flexibility in its measurements, the survey is limited by its current lack of comparative time points. Furthermore, the survey's key finding suggests that 'the substantive meaning of left-right is not constant' (ibid, p. 103) and appears to be highly context dependent. This raises further questions as to what type of comparative conclusions can actually be drawn about parties left-right position if the concept is not able to 'travel' between cases.

4.

Note: for the question on national identity, the Swedish manifestos tend to frame it as a cultural understanding of the issue, that is, is it seen as important to preserve national identity (+1) or not (−1) whereas the British manifestos relate to devolution (−1) versus national unity (+1).

5.

(1) Immigration (in general) + (2) Labour immigration + (3) Asylum seekers and refugees + (4) Family reunification + (5) Unaccompanied minors + (6) Student migration + (7) Retirement migration.

6.

Although 'Law and order' does not form part of the 7-point scale used for the 'New' politics dimension it nevertheless fits with the scale's libertarian/authoritarian element.

7.

The calculations show a general directional fit with the CMP and ESG data. That is, the British and Swedish parties are placed in the same ideological space as the two comparative benchmarks. Furthermore, none of the parties fall into the 'CMP says "Right", ESG says "Left"- category'. However, this article does, by and large, allocate parties a higher score. When party positions are compared, this article's ranking corresponds to the ESG with one exception; the Liberals are here placed further to right of the Christian Democrats. The ranking of the British parties is, however, identical to both data sets. This would indicate that the calculations done here give a reasonably accurate view of the location of the Swedish and British parties. One reason for the differing figures is that this article defines the 'Old' Left-Right in strictly economic terms. For the CMP, it is 'a general scale dealing with social-economic policy positions' (Benoit and Laver, 2007, p. 100) and since party position is the sum of right-wing categories minus left-wing categories, then, if the proportion of both categories goes down, a party will tend to move towards the middle. An additional issue with the CMP data is that it conflates what this article calls 'Old' and 'New' politics dimensions. Consequently, if a party devotes a significant proportion of its' manifesto to positive mentions of 'Free enterprise' but spends a lesser proportion on 'Environmental protection', it skews party position even though the latter may be just as important as the presence of the former. This means that what the CMP is telling us is how salient certain issues are for parties rather than their policy positions as such.
References
Adams, J., Clark, M., Ezrow, L. and Glasgow, G. (2004) Understanding change and stability in party ideologies: Do parties respond to public opinion or to past election results? British Journal of Political Science 34 (4): 589–610.

Adams, J. and Merrill, S. (1999) Modelling party strategies and policy representation in multiparty elections: Why are strategies so extreme? American Journal of Politics Science 43 (3): 765–791.

Bakker, R., Edwards, E. and de Vries, C. (2006) Fickle Parties of Changing Dimensions? Testing the Comparability of the Party Manifesto Data Across Time and Space. Paper presented at the MPSA Conference, Chicago.

Bartolini, S. and Mair, P. (1990) Policy competition, spatial distance and electoral instability. West European Politics 13 (4): 1–16.

Benoit, K. and Laver, M. (2007) Estimating party policy positions: Comparing expert surveys and hand-coded content analysis. Electoral Studies 26 (1): 90–107.

Benoit, K., Laver, M. and Mikhaylov, S. (2008) Treating words as data with error: Uncertainty in text statements of policy positions. American Journal of Political Science 53 (2): 495–513.

Breunig, C. and Luedtke, A. (2008) What motivates the gatekeepers? Explaining governing party preferences on immigration. Governance 21 (1): 123–146.

Budge, I. (1994) A new spatial theory of party competition: Uncertainty, ideology and policy equilibria viewed comparatively and temporally. British Journal of Political Science 24 (4): 443–467.

Budge, I. (2001) Validating the manifesto research group approach. Theoretical assumptions and empirical confirmations. In: M. Laver (ed.) Estimating the Policy Positions of Political Actors. London: Routledge.

Budge, I. and Farlie, D.J. (1983) Explaining and Predicting Elections. Issue Effects and Party Strategies in Twenty-three Democracies. London: George Allen and Unwin.

Budge, I. et al (2001) Mapping Policy Preferences. Estimates for Parties, Electors, and Governments 1945–1998. Oxford, UK: Oxford University Press.

Budge, I. and Pennings, P. (2007) Do they work? Validating computerised word frequency estimates against policy series. Electoral Studies 26 (1): 121–1219.

Clark, M. (2009) Valence and electoral outcomes in Western Europe, 1976–1998. Electoral Studies: 28 (1): 111–122.

Dalton, R. (2002) Political cleavages, issues and electoral change. In: L. LeDuc, R.G. Niemi and P. Norris (eds.) Comparing Democracies 2: New Challenges in the Study of Elections and Voting. London: Sage, pp. 189–209.

De Lange, S.L. (2007) A new winning formula? The programmatic appeal of the radical right. Party Politics 13 (4): 411–435.

Dinas, E. and Gemenis, K. (2010) Measuring parties' ideological positions with manifesto data: A critical evaluation of the competing methods. Party Politics 16 (4): 427–450.

Downs, A. (1957) An Economic Theory of Democracy. New York: Harper.

Dummett, A. (2005) United Kingdom. In: R. Baubock, E. Ersboll, K. Groendijk and H. Waldrauch (eds.) Acquisition and Loss of Nationality, Volume 2: Comparative Analyses. Amsterdam, the Netherlands: University of Amsterdam Press, pp. 551–580.

Franzmann, S. and Kaiser, A. (2006) Locating political parties in policy space: A reanalysis of party manifesto data. Party Politics 12 (2): 163–188.

Freeman, G. (1997) Immigration as a source of political discontent and frustration in Westerns democracies. Studies in Comparative International Development 32 (3): 42–64.

Golder, M. (2003) Explaining variation in the success of extreme right parties in Western Europe. Comparative Political Studies 36 (4): 432–466.

Green, J. (2007) When voters and parties agree: Valence issues and party competition. Political Studies 55 (3): 629–655.

Green, J. and Hobolt, S.B. (2008) Owning the issue agenda: Party strategies and vote choices in British elections. Electoral Studies 27 (3): 460–476.

Green-Pedersen, C. (2007) The growing importance of issue competition: The changing nature of party competition in Western Europe. Political Studies 55 (3): 607–628.

Green-Pedersen, C. and Krogstrup, J. (2008) Immigration as a political issue in Denmark and Sweden. European Journal of Political Research 47 (5): 610–634.

Grofman, B. (2004) Downs and two-party convergence. Annual Review of Political Science 7 (25): 25–46.

Hobolt, S., Klemmensen, R. and Pickup, M. (2008) The Dynamics of Issue Diversity in Party Rhetoric. OCSID Working Paper OCSID_03, http://ocsid.politics.ox.ac.uk/publications/index.asp.

Hobolt, S.B. and Klemmemsen, R. (2005) Responsive government? Public opinion and government policy preferences in Britain and Denmark. Political Studies 53 (2): 379–402.

Holmberg, S., Gilljam, M. and Oscarsson, H. (1991) Svensk Valundersökning, Statsvetenskapliga institutionen, Göteborgs universitet.

Holmberg, S., Gilljam, M. and Oscarsson, H. (1994) Svensk Valundersökning, Statsvetenskapliga institutionen, Göteborgs universitet.

Holmberg, S., Gilljam, M. and Oscarsson, H. (1998) Svensk Valundersökning, Statsvetenskapliga institutionen, Göteborgs universitet.

Holmberg, S., Gilljam, M. and Oscarsson, H. (2002) Svensk Valundersökning, Statsvetenskapliga institutionen, Göteborgs universitet.

Holmberg, S., Gilljam, M. and Oscarsson, H. (2006) Svensk Valundersökning, Statsvetenskapliga institutionen, Göteborgs universitet.

Hooghe, L., Marks, G. and Wilson, C. (2002) Does left/right structure party positions on European integration? Comparative Political Studies 35 (8): 965–989.

Inglehart, I. (1971) The silent revolution in post-industrial societies. American Political Science Review 65: 991–1017.

Inglehart, R. (1977) The Silent Revolution: Changing Values and Political Styles among Western Publics. Princeton, NJ: Princeton University Press.

Inglehart, R. (1987) Value change in industrial societies. American Political Science Review 81 (4): 1290–1303.

Inglehart, R. (1990) Culture Shift in Advanced Industrial Society. Princeton, NJ: Princeton University Press.

Inglehart, R. (1997) Modernization and Postmodernization: Cultural, Economic, and Political Change in 43 Societies. Princeton, NJ: Princeton University Press.

Ipsos-Mori (2009) Best party on key issues, http://www.ipsos-mori.com/researchpublications/researcharchive.aspx?keyword=Best+Party+on+key+issues.

Jennings, W. (2009) The public thermostat, political responsiveness and error-correction: Border control and asylum in Britain, 1994–2007, Brirish Journal of Political Science 39 (4): 847–870.

Jennings, W. and Green, J. (2009) Macro-competence: A Measurement of Mood in Issue Competence and a Test of Its Effects on Party Support. Paper prepared for the European Consortium for Political Research Conference; 9–12 September 2009, Potsdam, Germany.

Jones, B. and Baumgartner, F. (2005) The Politics of Attention: How Government Prioritizes Attention. Chicago, IL: University of Chicago Press.

King, G. (1990) On political methodology. Political Analysis 2: 1–29.

Kitschelt, H. (2004) Diversification and Reconfiguration of Party Systems in Postindustrial Democracies. Bonn, Germany: Friedrich Ebert Stiftung.

Kitschelt, H. and McGann, A.J. (1995) The Radical Right in Western Europe. A Comparative Analysis. Ann Arbor, MI: University of Michigan Press.

Klingemann, H.-D. (1987) Electoral programmes in West Germany 1949–1980: Explorations in the nature of political controversy. In: I. Budge, D. Robertson and D. Heard (eds.) Ideology, Strategy, and Party Change: Spatial Analyses of Post-War Election Programmes in 19 Democracies. New York: Cambridge University Press, pp. 294–323.

Klingemann, H.-D., Volkens, A., Bara, J., Budge, I. and Macdonald, M. (2006) Mapping Policy Preference II: Estimates for Parties, Electors and Governments in Eastern Europe, the European Union and the OECD, 1990–2000. Oxford, UK: Oxford University Press.

Kriesi, H., Grande, E., Lachat, R., Dolezal, M., Bornschier, S. and Frey, T. (2006) Globalisation and the transformation of the national political space: Six European countries compared, European Journal of Political Research 45 (6): 921–956.

Lahav, G. (1997) Ideological and party constraints on immigration attitudes in Europe. Journal of Common Market Studies 35 (3): 307–406.

Laver, M. and Hunt, B. (1992) Party and Policy Competation. London: Routledge.

Pelizzo, R. (2003) Party positions or party direction? An analysis of party manifesto data. West European Politics 26 (2): 67–89.

Pellikaan, H., an der Meer, T. and de Lange, S.L. (2003) The road from a depoliticized to a centrifugal democracy. Acta Politica 38 (1): 23–49.

Petrocik, J. (1996) Issue ownership in presidential elections with a 1980 case study. American Journal of Political Science 40 (3): 825–850.

Rabinowitz, G. and Macdonald, S.E. (1989) A directional theory of issue voting. The American Political Science Review 83 (1): 93–121.

Riker, W. (1996) The Strategy of Rhetoric: Campaigning for the American Constitution. New Haven, CT: Yale University Press.

Rydgren, J. (2005) Movements of Exclusion: Radical Right-wing Populism in the Western World. New York: Nova Science.

Schattschneider, E. (1960) The Semi-sovereign People: A Realist's View of Democracy in America. New York: Holt, Rinehart and Winston.

Somerville, W. (2007) Immigration under New Labour. Bristol: The Policy Press.

Spencer, S. (2007) Immigration. In: A. Seldon (ed.) Blair's Britain 1997–2007. Cambridge: Cambridge University Press, pp. 341–360

Stokes, D.E. (1963) Spatial models of party competition. American Political Science Review 57: 368–377.

Van der Brug, W. (2004) Issue ownership and party choice. Electoral Studies 23 (2): 209–233.

Walgrave, S. and Nuytemans, M. (2009) Friction and party manifesto change in 25 countries. American Journal of Political Science 53 (1): 190–206.
Acknowledgements
Research support under the Economic and Social Research Council's First Grant Scheme (Grant reference: RES-061-25-0195) is gratefully acknowledged. The author would also like to thank Mark Aspinwall, Wilfried Swenden, Martin Schain, Tariq Modood, Paul Statham and the two anonymous referees for their extensive comments which greatly improved the article's focus and analysis.
About this article
Cite this article
Odmalm, P. Party competition and positions on immigration: Strategic advantages and spatial locations. Comp Eur Polit 10, 1–22 (2012). https://doi.org/10.1057/cep.2010.20
Keywords
issue ownership

party competition

immigration

comparative manifestos