Abstract
Recent research has shown the rise of domestic contention over European integration. This paper examines the extent to which preferences over European integration influence domestic party support in 19 European Union (EU) member states in West and East-Central Europe (ECE). The analysis finds broad evidence of EU issue voting across the countries included in the analysis, but the effect of the EU issue on party preferences is stronger in ECE. These results are consistent with the view that the same underlying causal dynamics explain party and voter behavior in both West and ECE, but the post-communist legacy shapes the political and economic contexts in the ECE states, resulting in predictable differences between the two regions.
This is a preview of subscription content, log in to check access.
Access options
Buy single article
Instant access to the full article PDF.
US$ 39.95
Price includes VAT for USA
Subscribe to journal
Immediate online access to all issues from 2019. Subscription will auto renew annually.
US$ 167
This is the net price. Taxes to be calculated in checkout.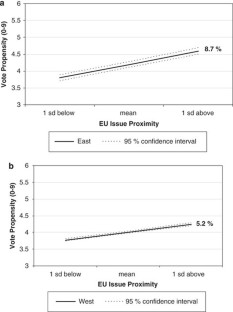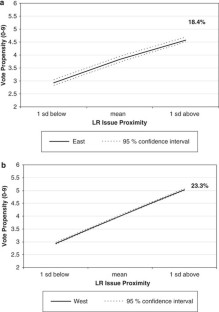 Notes
1.

The countries that are not included are Belgium, Cyprus, Lithuania, Luxembourg, Malta and Sweden.

2.

3.

Note that the use of a 'stacked' data matrix procedure is by no means new. MacDonald et al (1991), for example, use this procedure to estimate the effect of directional vs proximity models of voting on party evaluation in much the same way as we do here.

4.

Estimating the models separately on the cases from ECE and West Europe produced substantively identical results to those presented in Table 1, and EU Issue Proximity was positive and significant in both subsamples (though the coefficient was slightly stronger in the ECE countries).

5.

Note that the overall explanatory power (that is, R2) of the regression model is somewhat weak. Two points are important to consider in this respect. First, the objective of this study is to explore the impact of EU attitudes on the vote rather than maximizing the explained variance in vote choice. Second, the weak explanatory power of the model is not unexpected as we estimate a model using solely individual-level predictors and only one country-level predictor (East vs West). A stacked data set allows for the inclusion of party- and country-level predictors to account for the variation at these levels (van der Eijk et al, 2006), but this is not the objective of this analysis.

6.

The conditional coefficients are calculated based on the following formula (see Brambor et al, 2006): while the conditional standard errors are given by

7.

The only two countries that held national level elections simultaneously with the EP elections – Lithuania and Luxembourg – were not included in our analysis due to lack of available survey data. Several countries held regional or local elections contemporaneously in all or parts of the country.
References
Brambor, T., Clark, W. and Golder, M. (2006) Understanding interaction models: Improving empirical analysis. Political Analysis 14: 63–82.

Carey, S. (2002) Undivided loyalties: Is national identity an obstacle to European integration? European Union Politics 3: 387–413.

Carrubba, C.J. (2001) The electoral connection in European Union politics. Journal of Politics 63: 141–158.

Cichowski, R.A. (2000) Western dreams, eastern realities: Support for the European Union in Central and Eastern Europe. Comparative Political Studies 33: 1243–1278.

De Vries, C.E. (2007) Sleeping giant: Fact or fairytale? How European integration affects national elections. European Union Politics 8: 363–385.

De Vries, C.E. (2009) The impact of EU referenda on national electoral politics: Evidence from the Dutch case. West European Politics 32: 142–171.

Down, I. and Wilson, C.J. (2008) From 'permissive consensus' to 'constraining dissensus': A polarizing union? Acta Politica 43: 26–49.

Edwards, E.E. (2007) United we stand? Intra-party dissent in the EU on issues of European integration. Paper presented at the Annual Meeting of the Midwest Political Science Association; 12–15 April 2007, Chicago.

Elgün, Ö. and Tillman, E.R. (2007) Exposure to European Union policies and support for membership in the candidate countries. Political Research Quarterly 60: 391–400.

Gabel, M. (1998) Interests and Integration: Market Liberalization, Public Opinion, and European Union. Ann Arbor, MI: University of Michigan Press.

Gabel, M. (2000) European integration, voters, and national politics. West European Politics 23: 52–72.

Hooghe, L. and Marks, G. (2005) Calculation, community, and cues. European Union Politics 6: 419–443.

Lewis-Beck, M.S. and Stegmaier, M. (2007) Economic models of voting. In: R.J. Dalton and H.-D. Klingemann (eds.) Oxford Handbook of Political Behaviour. New York: Oxford University Press, pp. 518–537.

MacDonald, S.E., Listhaug, O. and Rabinowitz, G. (1991) Issues and party support in multiparty systems. American Political Science Review 84: 1107–1131.

Marks, G., Hooghe, L., Nelson, M. and Edwards, E. (2006) Party competition and European integration in the East and West: Different structure, same causality. Comparative Political Studies 39: 155–175.

Marks, G. and Wilson, C.J. (2000) The past in the present: A cleavage theory of party response to European integration. British Journal of Political Science 30: 433–459.

Mattila, M. and Raunio, T. (2006) Cautious voters–supportive parties: Opinion congruence between voters and parties on the EU dimension. European Union Politics 7: 427–449.

McLaren, L. (2002) Public support for the European Union: Cost/benefit analysis or perceived cultural threat? Journal of Politics 64: 551–566.

Oppenhuis, E. (1995) Voting Behaviour in Europe: A Comparative Analysis of Electoral Participation and Party Choice. Amsterdam: Het Spinhuis.

Rohrschneider, R. and Whitefield, S. (2006) Political parties, public opinion, and European integration in post-communist countries: The state of the art. European Union Politics 7: 141–160.

Rohrschneider, R. and Whitefield, S. (2007) Representation in new democracies: Party stances on European integration in post-communist Eastern Europe. Journal of Politics 69: 1133–1146.

Schoen, H. (2008) Turkey's bid for EU membership, contrasting views of public opinion, and vote choice. Evidence from the 2005 German federal election. Electoral Studies 27: 344–355.

Steenbergen, M.R., Edwards, E.E. and de Vries, C.E. (2007) Who's cueing whom? Mass–elite linkages and the future of European integration. European Union Politics 8: 13–35.

Tillie, J. (1995) Party Utility and Voting Behavior. Amsterdam: Het Spinhuis.

Tillman, E.R. (2004) The European Union at the ballot box? European integration and voting behavior in the new member states. Comparative Political Studies 37: 590–610.

Tworzecki, H. (2003) Learning to Choose: Electoral Politics in East-Central Europe. Stanford, CA: Stanford University Press.

Tucker, J.A. (2006) Regional Economic Voting. Cambridge: Cambridge University Press.

Tucker, J.A., Pacek, A.C. and Berinsky, A.J. (2002) Transitional winners and losers: Attitudes toward EU membership in post-communist countries. American Journal of Political Science 46: 557–571.

van der Brug, W., Franklin, M.N. and Toka, G. (2008) One electorate or many? Differences in party preference formation between new and established European democracies. Electoral Studies 27: 589–600.

van der Brug, W., van der Eijk, C. and Franklin, M.N. (2007) The Economy and the Vote: Economic Conditions and Elections in Fifteen Countries. Cambridge: Cambridge University Press.

van der Eijk, C. and Franklin, M.N. (2004) Potential for contestation on European matters at national elections in Europe. In: G. Marks and M.R. Steenbergen (eds.) European Integration and Political Conflict. Cambridge: Cambridge University Press, pp. 33–50.

van der Eijk, C. and Franklin, M.N. (2007) The sleeping giant: The potential for political mobilization of disaffection with European integration. In: W. van der Brug and C. van der Eijk (eds.) European Elections and Domestic Politics: Lessons from the Past and Scenarios for the Future. Notre Dame: University of Notre Dame Press, pp. 189–208.

van der Eijk, C., Franklin, M.N. and van der Brug, W. (1999) Policy preferences and party choice. In: H. Schmitt and J. Thomassen (eds.) Political Representation and Legitimacy in the European Union. Oxford: Oxford University Press, pp. 163–187.

van der Eijk, C. and Niemöller, B. (1983) Electoral Change in the Netherlands. The Hague: CT Press.

van der Eijk, C., van der Brug, W., Kroh, M. and Franklin, M.N. (2006) Rethinking the dependent variable in voting behavior: On the measurement and analysis of electoral utilities. Electoral Studies 25: 424–447.
Acknowledgements
Catherine E. de Vries acknowledges the Netherlands Organisation for Scientific Research (NWO) for providing financial support for this research (VENI GRANT 451-08-001). Earlier versions of this paper were presented at the 2007 Meeting of the MPSA in Chicago and the 2007 ECPR General in Pisa. The authors would like to thank all participants for their input. Remaining errors are the sole responsibility of the authors.
About this article
Cite this article
de Vries, C., Tillman, E. European Union issue voting in East and West Europe: The role of political context. Comp Eur Polit 9, 1–17 (2011). https://doi.org/10.1057/cep.2009.7
Keywords
elections, voting behavior, European integration, East-Central Europe, West Europe