Abstract
Political scientists often talk about 'ideological dimensions' that aggregate related policy issues into a single latent construct. Applying factor analysis and Mokken Scale Analysis to opinion data generated from a Voting Advice Application deployed in England in the run-up to the European parliamentary elections, I show how individual issues may be aggregated into two principal dimensions: an economic dimension that separates Left and Right in terms of the economy and a cultural communitarian–cosmopolitan dimension. I also identify a third (libertarian–authoritarian) dimension, but this appears to aggregate very few issues. By positioning party supporters on a two-dimensional map defined by the two principal dimensions, I show that United Kingdom Independence Party supporters are situated very near the 'communitarian' pole of the cultural communitarian–cosmopolitan dimension. Finally, I show that overall, the communitarian–cosmopolitan dimension forms a rather more coherent scale than the Left–Right dimension and this tendency is even more marked among younger voters and voters with little interest in politics. Overall, this would appear to show that the notion of (economic) Left and Right is losing its salience in English politics.
Access options
Buy single article
Instant access to the full article PDF.
US$ 39.95
Tax calculation will be finalised during checkout.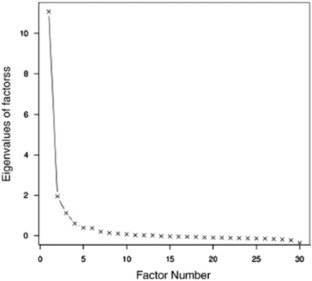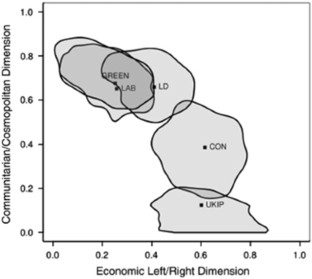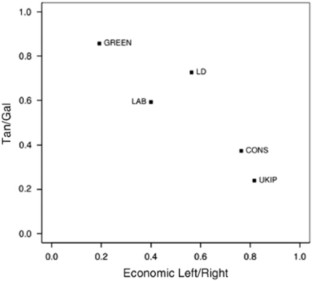 Notes
1.

Only responses from England were included as Scottish, Welsh and Northern Irish voters were presented with a slightly different set of questions.

2.

For cleaning I removed: (i) all cases in which the time taken to complete the 30 issue statements of the VAA was less than 120 seconds; (ii) all cases in which the time taken to respond to any one issue statement was less than 2 seconds; (iii) all cases in which the time taken to respond to three or more issue statements was less than 3 seconds; (iv) all cases in which the respondent answered 10 successive issue statements in the same way; (v) all cases in which the user completed the questionnaire by smart phone (this is because it may not have been intuitively obvious about how to register 'no opinion' by smart phone). I then (vi) sorted the data by an anonymized code that corresponded to the IP address, before removing all consecutive items with the same IP address unless it was obvious from date of birth or gender that they were different users. Finally I (vii) removed all those who self-identified with a citizenship other than UK citizenship and (viii) all those that claimed a date of birth before 1920 (on the grounds that they were probably fictitious entries).

3.

Polychoric correlations are the correlations between two theorised normally distributed continuous latent variables, estimated from two observed ordinal variables.

4.

Eigenvalues are measures of variance in the observed variables that is accounted for by one latent factor. If the variance (that is, the eigenvalue) is low, the corresponding latent factor is likely to be insignificant and can be discarded.

5.

EFA is carried out using the 'psych' package in R, specifically the function fa.poly, while CFA is performed by using the lavaan package, specifically the function cfa for ordered variables.

6.

The R package used for MSA is 'Mokken'. Monotonicity is tested using the check.monotonicity function, while the H values are generated from the coefH function.

7.

The precise formulations of the relevant supplementary questions are: 'Which party do you feel closest to?', 'in the European elections, which party do you intend to vote for?' and 'if there were a national election tomorrow, which party would you vote for?'.

8.

Density maps are generated in such a way that each contour line encloses areas in which the density of users is greater than outside. The 50 per cent contour line is identified using the Two-Dimensional Kernel Density Estimation function in the R-package MASS (Venables and Ripley, 2002).

9.
References
Aldrich, J., Dorobantu, S. and Fernandez, M. (2010) The Use of the Left-Right Scale in Individual's Voting Decisions. Paper presented at the APSA 2010 Annual Meeting, Washington DC.

Bakker, R. et al (2015) Measuring party positions in Europe: The Chapel Hill expert survey trend file, 1999–2010. Party Politics 21 (1): 143–152.

Bartolini, S. and Mair, P. (1990) Identity, Competition, and Electoral Availability: The Stability of European Electorates, 1885–1985. Cambridge, UK: Cambridge University Press.

Benoit, K. and Laver, M. (2007) Estimating party policy positions: Comparing expert surveys and hand-coded content analysis. Electoral Studies 26 (1): 90–107.

Brown, T.A. (2012) Confirmatory Factor Analysis for Applied Research. New York: Guilford Press.

Browne, M.W. and Cudeck, R. (1992) Alternative ways of assessing model fit. Sociological Methods & Research 21 (2): 230–258.

Budge, I., Klingemann, H.D., Volkens, A., Bara, J. and Tanenbaum, E. (2001) Mapping Policy Preferences, Estimates for Parties, Governments and Electors 1945–1998. Oxford: Oxford University Press.

Castles, F.G. and Mair, P. (1984) Left-right political scales: Some 'expert' judgements. European Journal of Political Research 12 (1): 73–88.

Downs, A. (1957) An Economic Theory of Democracy. New York: Harper.

Ford, R. and Goodwin, M.J. (2014) Revolt on the Right: Explaining Support for the Radical Right in Britain. Abingdon and New York: Routledge.

Gerbing, D.W. and Anderson, J.C. (1988) An updated paradigm for scale development incorporating unidimensionality and its assessment. Journal of Marketing Research 25 (2): 186–192.

Goodhart, D. (2014) How to close the door on an accidental mass migration. Financial Times 24 October.

Hu, L.T. and Bentler, P.M. (1999) Cutoff criteria for fit indexes in covariance structure analysis: Conventional criteria versus new alternatives. Structural Equation Modeling: A Multidisciplinary Journal 6 (1): 1–55.

Huber, J. and Inglehart, R. (1995) Expert interpretations of party space and party locations in 42 societies. Party Politics 1 (1): 73–111.

Inglehart, R. (1977) The Silent Revolution, Vol. 8. Princeton, NJ: Princeton University Press.

Inglehart, R. (1990) Culture Shift in Advanced Industrial Society. Princeton, NJ: Princeton University Press.

Kitschelt, H. (1994) The Transformation of European Social Democracy. Cambridge, UK: Cambridge University Press.

Kitschelt, H. (1995) Formation of party cleavages in post-communist democracies: Theoretical propositions. Party Politics 1 (4): 447–472.

Kriesi, H., Grande, E., Lachat, R., Dolezal, M., Bornschier, S. and Frey, T. (2006) Globalization and the transformation of the national political space: Six European countries compared. European Journal of Political Research 45 (6): 921–956.

Lipset, S.M. (1959) Some social requisites of democracy: Economic development and political legitimacy. American Political Science Review 53 (1): 69–105.

Lipset, S.M. and Rokkan, S. (eds.) (1967) Cleavage structures, party systems, and voter alignments: An introduction. In: Party Systems and Voter Alignments: Cross-national Perspectives Vol. 7. New York: Free Press, pp. 1–64.

MacIver, R.M. (1947) The Web of Government. New York: Palgrave Macmillan.

Marks, G., Hooghe, L., Nelson, M. and Edwards, E. (2006) Party competition and European integration in the east and west different structure, same causality. Comparative Political Studies 39 (2): 155–175.

Meek, J. (2014) In Farageland. London Review of Books 36 (19): 5–10.

Mokken, R.J. (1971) A Theory and Procedure of Scale Analysis: With Applications in Political Research, Vol. 1. Berlin, Germany: Walter de Gruyter.

Sani, G. and Sartori, G. (1983) Polarization, fragmentation and competition in Western democracies. In: H. Daalder and P. Mair (eds.) Western European Party Systems: Continuity and Change. Beverly Hills, CA: Sage, pp. 307–340.

Sijtsma, K. and Molenaar, I.W. (2002) Introduction to Nonparametric Item Response Theory. Thousand Oaks, CA: Sage.

Van der Ark, L.A. (2007) Mokken Scale Analysis in R. Journal of Statistical Software 20 (11): 1–19.

Van der Ark, L.A. (2012) New developments in Mokken scale analysis in R. Journal of Statistical Software 48 (5): 1–27.

Venables, W.N. and Ripley, B.D. (2002) Modern Applied Statistics with S, 4th edn. New York: Springer.

Wheatley, J. (2012) Using VAAs to explore the dimensionality of the policy space: Experiments from Brazil, Peru, Scotland and Cyprus. International Journal of Electronic Governance 5 (3): 318–348.

Wheatley, J. (2015) Identifying latent policy dimensions from public opinion data: An inductive approach. Journal of Elections, Public Opinion and Parties 25 (2): 215–233.

Wheatley, J., Carman, C., Mendez, F. and Mitchell, J. (2014) The dimensionality of the Scottish political space: Results from an experiment on the 2011 Holyrood elections. Party Politics 20 (6): 864–878.
About this article
Cite this article
Wheatley, J. Restructuring the policy space in England: The end of the Left–Right paradigm?. Br Polit 10, 268–285 (2015). https://doi.org/10.1057/bp.2015.35
Keywords
ideological dimensions

Left

Right

communitarian

cosmopolitan

Voting Advice Applications (VAAs)