Abstract
The environment was David Cameron's signature issue underpinning his modernization agenda. In opposition the 'Vote Blue, Go Green' strategy had a positive impact on the party's image: the environment operated as a valence issue in a period of raised public concern, particularly about climate change, and Cameron's high-profile support contributed to the cross-party consensus that delivered radical change in climate policy. Although the Coalition government has implemented important environmental measures, the Conservatives have not enhanced their green credentials in government and Cameron has failed to provide strong leadership on the issue. Since 2010, climate change has to some extent been transformed into a positional issue. Conservative MPs, urged on by the right-wing press, have adopted an increasingly partisan approach to climate change, and opinion polls reveal clear partisan divisions on climate change amongst public opinion. As a positional issue climate change has become challenging for the Conservatives, showing them to be internally divided, rebellious and inclined to support producer interests. This article makes a contribution to our understanding of Conservative modernization, while also challenging the dominant assumption in the scholarly literature that the environment, particularly climate change, is a valence issue.
Access options
Buy single article
Instant access to the full article PDF.
USD 39.95
Price excludes VAT (USA)
Tax calculation will be finalised during checkout.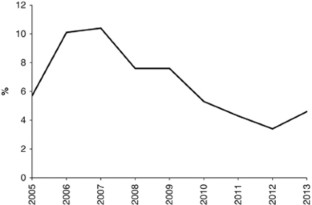 Notes
A search of prime ministerial speeches on Gov.UK revealed a short speech on climate change to the 2012 Clean Energy Ministerial Summit, and a short address to the UN Climate Summit, 23 September 2014, and no speech on any wider environmental issues.

Although others pointed to his incompetence in handling the floods during the winter of 2013–2014 as a key factor in his demise (Lean, 2014).
References
Adam, D. (2008) Many tory MPs still sceptical on climate change. The Guardian 16 July.

Bale, T. (2008) A bit less bunny-hugging and a bit more bunny-boiling? Qualifying conservative party change under David Cameron. British Politics 3 (3): 270–299.

Bale, T. (2010) The Conservative Party from Thatcher to Cameron. Cambridge: Polity.

Bale, T. and Webb, P. (2010) The conservative party. In: N. Allen and J. Bartle (eds.) Britain at The Polls 2010. London: Sage, pp. 37–62.

BBC News (2011) Government performs u-turn on forest sell off. http://news.bbc.co.uk/democracylive/hi/house_of_commons/newsid_9400000/9400420.stm.

Browne, A. (2006) Tories go for oak in an attempt to soften their image. The Times 15 September.

Caldecott, B. and Dick, G. (2010) David Cameron's environmentalism will succeed where labour's failed. Telegraph 10 March.

Cameron, D. (2007) Improving our environment: A social responsibility. In: T. Carty (ed.) A Greener Shade of Blue: Reflections on New Conservative Approaches to the Environment. London: Green Alliance, pp. 9–15.

Carrington, D. (2015) Tories forced into u-turn on fast-track fracking after accepting Labour plans. The Guardian 26 January.

Carrington, D. and Doward, J. (2012) Badger cull 'mindless' say scientists. The Observer 13 October.

Carter, N. (2006) Party politicisation of the environment in Britain. Party Politics 12 (6): 747–767.

Carter, N. (2008) Combating climate change in the UK: Challenges and obstacles. Political Quarterly 79 (2): 194–205.

Carter, N. (2009) Vote blue, go green? Cameron's conservatives and the environment. Political Quarterly 80 (2): 233–242.

Carter, N. and Jacobs, M. (2014) Explaining radical policy change: The case of climate change and energy policy under the British labour government 2006–10. Public Administration 92 (1): 125–141.

Chorley, M. (2012) Whatever happened to Cameron, the idealistic young eco-warrior? Independent on Sunday 13 May.

Clarke, H. et al (2011) Yes we can! Valence politics and electoral choice in America, 2008. Electoral Studies 30 (2): 450–461.

Clements, B. (2012) Research note: Exploring public opinion on the issue of climate change in Britain. British Politics 7 (2): 183–202.

Clements, B. (2014) Political parties supporters' attitudes towards and involvement with green issues in Britain. Politics 34 (4): 362–377.

ComRes (2010) Candidates survey, February, http://comres.co.uk/wp-content/themes/comres/poll/RenewablesUK_Candidates_results_Mar10.pdf.

ComRes (2015) The climate coalition 'show the love' campaign – Public opinion on climate change, 30 January–2 February, http://comres.co.uk/wp-content/uploads/2015/02/Climate_Change_Coalition_Public_Opinion_on_Climate_Change.pdf.

Conservative Party (2010) Invitation to Join the Government of Britain: Conservative Manifesto 2010. London: Conservative Party.

DEFRA (2014) Pilot badger culls in Somerset and Gloucestershire. Report by the independent expert panel, 3 April, https://www.gov.uk/government/publications/pilot-badger-culls-in-somerset-and-gloucestershire-report-by-the-independent-expert-panel.

Dommett, K. (2015) The theory and practice of party modernisation: The conservative party under David Cameron 2005–2015. British Politics 10 (2): 249–266.

Dunlap, R. (1995) Public opinion and environmental policy. In: J. Lester (ed.) Environmental Politics and Policy. Durham, NC: Duke University Press, pp. 63–114.

Graham, G. and Dominiczak, P. (2014) David Cameron criticised after failing to attend key HS2 vote. The Telegraph 29 April.

Gray, L. (2013) Just four households signed up to green deal. The Telegraph 27 June.

Green Alliance (and six ENGOs) (2013) Green Standard 2013: A Review of Green Leadership on the Environment Since the 2010 General Election. London: Green Alliance (and six ENGOs).

Hansard (2014) Oral answers to questions. House of Commons 16 January, column 975.

Harvey, F. (2013) Decarbonisation target narrowly defeated in commons energy bill vote. The Guardian 4 June.

Harrabin, R. (2015) Party leaders make joint climate commitment. BBC News, 14 February. http://www.bbc.co.uk/news/science-environment-31456161.

Hennessey, P. (2012) 101 Tories revolt over wind farms. The Telegraph 4 February.

H.M. Government (2010) The coalition: Our programme for government, https://www.gov.uk/government/uploads/system/uploads/attachment_data/file/ 78977/coalition_programme_for_government.pdf, accessed 25 March 2015.

Humphrey, A. and Scott, A. (2012) 'Transport: How far will people go to tackle climate change? In: A. Park, E. Clery, J. Curtice, M. Phillips and D. Utting (eds.) British Social Attitudes 29. London: NatCen, pp. 64–79.

ICM (2010) Poll for the News of the World, 3-4 March, http://www.icmunlimited.com/pdfs/2010_march_notw_poll.pdf.

Johns, R., Mitchell, J., Denver, D. and Pattie, C. (2009) Valence politics in Scotland: Towards an explanation of the 2007 election. Political Studies 57 (1): 207–233.

Kavanagh, D. and Cowley, P. (2010) The British General Election of 2010. Basingstoke, UK: Palgrave Macmillan.

Laws, D. (2010) 22 Days in May: The Birth of the Lib Dem-Conservative Coalition. London: Biteback.

Lean, G. (2014) Cabinet reshuffle: It is right that Paterson is going, but green groups shouldn't gloat. The Telegraph 15 July.

Lockwood, M. (2013) The political sustainability of climate policy: The case of the UK Climate Change Act. Global Environmental Change 23 (5): 1339–1348.

Martin, D. (2014) Ex-minister attacks green obsession at heart of Whitehall. Daily Mail 15 October.

Mason, R. (2014) Tories plan new attack on windfarms. The Guardian 1 April.

Merrick, J. (2012) Anti-green talk will cost seats, PM warned. The Independent 9 December.

Milman, O. (2014) Abbott praised for fighting 'green blob' by former UK environment minister. The Guardian 21 July.

Opinium (2014) Opinion survey, 8–10 April, http://ourinsight.opinium.co.uk/survey-results/political-class-struggling-environmental-credibility.

Osborne, G. (2011) George Osborne speech in full. The Telegraph 3 October.

Porritt, J. (2011) The Greenest Government Ever? One Year On. Report to Friends of the Earth, May, London.

Randerson, J. (2010) Cameron: I want coalition to be the 'grenest government ever', The Guardian 14 May.

Rootes, C. and Carter, N. (2010) Take blue, add yellow, get green? The environment in the UK general election of 6 May 2010. Environmental Politics 19 (6): 992–999.

Sparrow, A. (2013) Did David Cameron tell aides to 'get rid of all the green crap'? The Guardian 21 November.

Stern, N. (2006) The economics of climate change, http://webarchive.nationalarchives.gov.uk/+/http:/www.hm-treasury.gov.uk/independent_reviews/stern_review_economics_climate_change/stern_review_report.cfm, accessed 25 March 2015.

Stokes, D. (1992) Valence politics. In: D. Kavanagh (ed.) Electoral Politics. Oxford: Clarendon Press, pp. 141–164.

Taylor, E. (2011) Environment. Concern about climate change: A paler shade of green? In: A. Park, W. Clery, J. Curtice, M. Phillips and D. Utting (eds.) British Social Attitudes 28. London: NatCen, pp. 91–110.

Vaughan, A. (2010) Government axes UK sustainability watchdog. The Guardian 22 July.

Vaughan, A. (2014) Climate scepticism still rife amongst Tory MPs – poll. The Guardian 10 September.

Whitmarsh, L. (2011) 'Scepticism and uncertainty about climate change: Dimensions, determinants and change over time'. Global Environmental Change 21 (2): 690–700.

Winnett, R. (2012) Death knell for wind farms: 'Enough is enough' says minister. The Telegraph 30 October.

YouGov (2012) YouGov / GreenPeace survey results, 13–14 March, http://www.greenpeace.org.uk/sites/files/gpuk/results_120314_green_government.pdf, accessed 25 March 2015.

YouGov (2013) YouGov / The sun survey results, 22–23 September, http://d25d2506sfb94s.cloudfront.net/cumulus_uploads/document/veojcgbs71/YG-Archive-Pol-Sun-results-230913-Conservatives.pdf, accessed 25 March 2015.

YouGov (2014) YouGov survey results, 18–19 September, http://d25d2506sfb94s.cloudfront.net/cumulus_uploads/document/wpbxyfjd7p/YG-Archive-Pol-Sunday-Times-results-140919.pdf, accessed 25 March 2015.
Acknowledgements
The author would like to acknowledge that some of the material used in this article was gathered for the ESRC funded project 'Climate Policy and Political Parties' (ES/K00042X/1).
About this article
Cite this article
Carter, N., Clements, B. From 'greenest government ever' to 'get rid of all the green crap': David Cameron, the Conservatives and the environment. Br Polit 10, 204–225 (2015). https://doi.org/10.1057/bp.2015.16
Published:

Issue Date:

DOI: https://doi.org/10.1057/bp.2015.16
Keywords