Abstract
This article argues that the existing literature focusing on the effects of the global economic crisis on, and the subsequent change in, British politics have thus far failed to adequately consider the role of extra-parliamentary political activity. The present article partly responds to this absence by presenting the results of event data analysis covering a period from December 1978 to December 2012. The key trends observed are a cycle of contention that occurred between the collapse of Lehman Brothers in September 2008 and the end of 2011, in addition to a general rise in the numbers of extra-parliamentary events; a shift towards a new form of materialist politics; an initial rise in the confrontational nature of extra-parliamentary activity, followed by a move towards a more informational form; and the emergence of two new key actors within British extra-parliamentary politics – anti-cuts campaigners and radical activists. Although these trends do not appear yet to be producing corresponding policy outcomes, the article suggests that we might be witnessing signs of cultural change resulting from the rise of extra-parliamentary British political activity.
This is a preview of subscription content, log in to check access.
Access options
Buy single article
Instant access to the full article PDF.
US$ 39.95
Price includes VAT for USA
Subscribe to journal
Immediate online access to all issues from 2019. Subscription will auto renew annually.
US$ 124
This is the net price. Taxes to be calculated in checkout.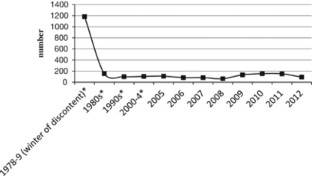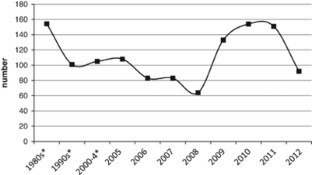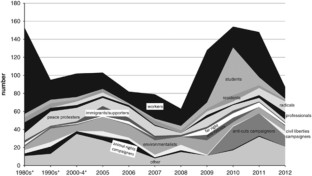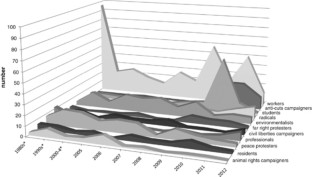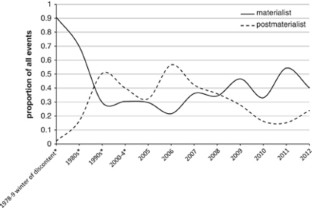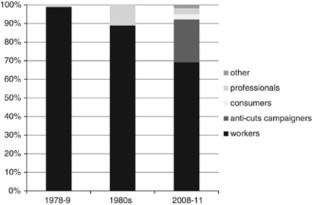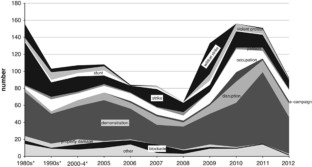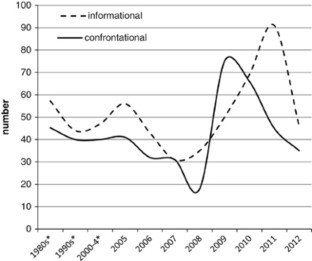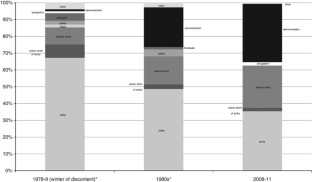 Notes
1.

For the early 2000s, 4 months were selected for each of the following years: 2000, 2002 and 2004. For the 1990s, 3 months were selected for each of the following years: 1992, 1994, 1996 and 1998. For the 1980s, 3 months were selected for each of the following years: 1985, 1987 and 1989. For the winter of discontent, the following 2 months were selected: December 1978 and February 1979.

2.

Although the targets were recorded for each event, these are not reported in the present article.

3.

Nexis records only cover the period from 1985 onwards for both papers. As a result, the 1980s sample was taken from years 1985 onward. For the winter of discontent, all newspaper articles for 2 months were read, without electronic selection.

4.

Indeed, this choice is further supported in the empirical findings, wherein we see that two of the major incidences of industrial action – the Lindsey Oil Refinery dispute of 2009 and the multi-union industrial action, which took place on 30 June 2011 – were focused either directly on government decisions taken in its role as an employer, or indirectly on political statements that had been made by Gordon Brown in reference to the importance of avoiding low levels of unemployment among UK nationals.

5.

Throughout the 1978–1979 winter of discontent the Times was not produced due to an industrial dispute. Many library archives have therefore replaced the Daily Telegraph for the Times for this period, a decision replicated in the present study.

6.

In studying the proportion of events or actors, the problem of overcrowding of the data clearly does not apply in the same way when considering the 1978–1979 winter of discontent period, as the focus is shifted away from absolute numbers.

7.

These were: 2008Q4–2009Q3, 2009Q1–2009Q4, 2010Q3–2011Q2, 2010Q4–2011Q3 and 2011Q1–2011Q4.

8.

In each comparison, the final quarter of mobilisation was assumed to be 2011Q4.

9.

Materialist actors are considered those mobilising around issues clearly related to resource allocation or who are defined in terms of their occupation. These are counted as: anti-cuts campaigners, anti-poverty campaigners, consumers, farmers, pensioners, professionals, shareholders, squatters and workers. Postmaterialist actors are considered those mobilising around lifestyle, civil liberties, ecological/environmental and other issues outside of the direct economic interest of the actors involved. These are counted as: animal rights campaigners, anti-fascists, anti-monarchists, civil liberties campaigners, countryside campaigners, cyclists, drug legalisation campaigners, environmentalists, ethnic minorities, feminists, gay rights protesters, minority nationalists, peace protesters, ramblers, revellers and voters.

10.

I am grateful to both referees for highlighting this point.

11.

In many instances the worker type is not reported, and thus Table 2 discusses only those cases where it is reported.

12.

Informational actions are considered to be the following: action short of strike, banner drop, camp, censure, counter-demonstration, demonstration, drive noisily, e-campaign (informational – for example, online petitions), leafleting, open letter, peace camp, petition, stunt, vigils.

13.

Confrontational actions are considered to be the following: blockade, damage to property, disruption, e-campaign (disruptive – for example, hacking Website), hunger strike, illegal protest, non-harmful attack, occupation, protest and escape, protest hunt, riots, violent protest, wildcat solidarity strike, wildcat strike.

14.

Although admittedly it is something of a leap to claim that this is the result of extra-parliamentary political activity, nevertheless the considerable press reporting of such activities and arguments being made might reasonably be considered to have had some impact upon public opinion.
References
Ashe, J., Campbell, R., Childs, S. and Evans, E. (2010) 'Stand by your man': Women's political recruitment at the 2010 UK general election. British Politics 5 (4): 455–480.

Bailey, D.J. and Bates, S.R. (2012) Struggle (or its absence) during the crisis: What power is left? Journal of Political Power 5 (2): 195–216.

Barnard, C. (2009) 'British jobs for British workers': The Lindsey Oil Refinery dispute and the future of local labour clauses in an integrated EU market. Industrial Law Journal 38 (3): 245–277.

Bauman, Z. (2011) The London Riots – On consumerism coming home to roost, Social Europe Journal. http://www.social-europe.eu/2011/08/the-london-riots-on-consumerism-coming-home-to-roost, accessed 3 February 2012.

Bosi, L. and Uba, K. (2009) Introduction: The outcomes of social movements. Mobilization 14 (4): 409–415.

Camp for Climate Action. (2011) Metamorphosis: A statement from the camp for climate Action, http://climatecamp.org.uk/2011-statement, accessed 3 February 2012.

Coates, D. (2009) Chickens coming home to roost? New Labour at the eleventh hour. British Politics 4 (4): 421–433.

Coleman, L.M. and Tucker, K. (2012) Between discipline and dissent: Situated resistance and global order. In: L.M. Coleman and K. Tucker (eds.) Situating Global Resistance: Between Discipline and Dissent. London: Routledge, pp. 3–16.

Crouch, C. (2008) What will follow the demise of privatised Keynesianism? The Political Quarterly 79 (4): 476–487.

Crouch, C. (2009) Privatised Keynesianism: An unacknowledged policy regime. British Journal of Politics and International Relations 11 (3): 382–399.

Dalton, R. (2004) Democratic Challenges, Democratic Choices: The Erosion of Political Support in Advanced Industrial Democracies. Oxford: Oxford University Press.

Dalton, R. (2008) Citizenship norms and the expansion of political participation. Political Studies 56 (1): 76–98.

della Porta, D. and Tarrow, S. (2012) Interactive diffusion: The coevolution of police and protest behavior with an application to transnational contention. Comparative Political Studies 45 (1): 119–152.

Earl, J., Martin, A., McCarthy, J.D. and Soule, S.A. (2004) The use of newspaper data in the study of collective action. Annual Review of Sociology 30: 65–80.

Foley, M. (2009) Gordon Brown and the role of compound crisis in the pathology of leadership decline. British Politics 4 (4): 498–513.

Franzosi, R. (2004) From Words to Numbers: Narrative, Data, and Social Science. Cambridge, UK: Cambridge University Press.

Gamble, A. (2009) British politics and the financial crisis. British Politics 4 (4): 450–462.

Harris, J. (2011) The scale of the challenge is shocking us into action. The Guardian, 23 December.

Hay, C. (2010) 'Things can only get worse' …: The political and economic consequences of 2010. British Politics 5 (4): 391–341.

Hay, C. (2011) Pathology without crisis? The strange demise of the Anglo-liberal growth model. Government and Opposition 46 (1): 1–31.

Inglehart, R. (1997) Modernization and Postmodernization: Cultural, Economic, and Political Change in 43 Societies. Princeton, NJ: Princeton University Press.

Inglehart, R. and Catterberg, G. (2002) Trends in political action: The developmental trend and the post-honeymoon decline. International Journal of Comparative Sociology 43 (3–5): 300–316.

Jenkins, J.C., Wallace, M. and Fullerton, A.S. (2008) A social movement society?: A cross-national analysis of protest potential. International Journal of Sociology 38 3 (9): 12–35.

King, D. and Rueda, D. (2008) Cheap labor: The new politics of 'bread and roses' in industrial democracies. Perspectives on Politics 6 (2): 279–297.

Koopmans, R. and Statham, P. (2010) Theoretical framework, research design, and methods. In: R. Koopmans and P. Statham (eds.) The Making of a European Public Sphere: Media Discourse and Political Contention. Cambridge, UK: Cambridge University Press, pp. 34–60.

Koopmans, R., Statham, P., Giugni, M. and Passy, F. (2005) Contested Citizenship: Immigration and Cultural Diversity in Europe. Minneapolis, MN: University of Minnesota Press.

Kriesi, H.P. (1996) The organizational structure of new social movements in a political context. In: D. McAdam, J.D. McCarthy and M.N. Zald (eds.) Comparative Perspectives on Social Movements: Political Opportunities, Mobilizing Structures, and Cultural Framings. Cambridge, UK: Cambridge University Press, pp. 152–184.

Kriesi, H.P. et al (2012) Political Conflict in Western Europe. Cambridge, UK: Cambridge University Press.

Maiguashca, B. (2012) Looking beyond the spectacle: Social movement theory, feminist anti-globalization activism and the praxis of principled pragmatism. In: L.M. Coleman and K. Tucker (eds.) Situating Global Resistance: Between Discipline and Dissent. London: Routledge, pp. 141–155.

McDonald, K. (2006) Global Movements: Action and Culture. Oxford, UK: Blackwell.

Meyer, D.S. and Tarrow, S. (eds.) (1998) The Social Movement Society: Contentious Politics for a New Century. Lanham, MD: Rowman and Littlefield.

Morales, L. (2009) Joining Political Organisations: Institutions, Mobilisation and Participation in Western Democracies. Essex, UK: ECPR Press.

Pattie, C.J. and Johnston, R.J. (2010) Constituency campaigning and local contests at the 2010 UK General Election. British Politics 5 (4): 481–505.

Rallings, C. and Thrasher, M. (2009) Another (small) step on the road towards a multi-party Britain – Turnout and party choice at the 2009 local and European Parliament elections. British Politics 4 (4): 463–477.

Reese, E. (2011) They Say Cutback, We Say Fight Back!: Welfare Activism in an Era of Retrenchment. New York: Russell Sage Foundation.

Russell, A. (2010) Inclusion, exclusion or obscurity? The 2010 general election and the implications of the Con-Lib coalition for third-party politics in Britain. British Politics 5 (4): 506–524.

Snow, D.A., Cress, D.M., Downey, L. and Jones, A.W. (1998) Disrupting the 'Quotidian': Reconceptualizing the relationship between breakdown and the emergence of collective action. Mobilization 3 (1): 1–22.

Tarrow, S. (2011) Power in Movement: Social Movements and Contentious Politics, Updated and revised 3rd edn. Cambridge, UK: Cambridge University Press.

Thain, C. (2009) A very peculiar British crisis? Institutions, ideas and policy responses to the credit crunch. British Politics 4 (4): 434–449.

Tilly, C. and Tarrow, S. (2007) Contentious Politics. Boulder, CO: Paradigm Publishers.

Tilly, C., Tilly, L. and Tilly, R. (1975) The Rebellious Century: 1830–1930. London: J.M. Dent and Sons.

Uba, K. and Uggla, F. (2011) Protest actions against the European Union, 1992–2007. West European Politics 34 (2): 384–393.

van der Waal, J., Achterberg, P. and Houtman, D. (2007) Class is not dead – It has been buried alive: Class voting and cultural voting in postwar western societies (1956–1990). Politics and Society 35 (3): 403–426.

Verba, S., Nie, N.H. and Kim, J. (1971) The Modes of Democratic Participation: A Cross-National Comparison. Beverly Hills, CA: Sage.

Wilkes, R. and Ricard, D. (2007) How does newspaper coverage of collective action vary? Protest by indigenous people in Canada. The Social Science Journal 44 (2): 231–251.

Woolley, J.T. (2000) Using media-based data in studies of politics. American Journal of Political Science 44 (1): 156–173.

YouGov. (2013) Trackers: The Economy 2 October, http://d25d2506sfb94s.cloudfront.net/cumulus_uploads/document/vk3mxh59s4/YG-Archives-Pol-Trackers-Economy-021013.pdf, accessed 7 October 2013.
Acknowledgements
Earlier drafts were presented at the ECPR SGIR Conference, Stockholm, 2010, and the ECPR General Conference, Reykjavik, 2011. The author acknowledges comments by Saori Shibata, Owen Worth, Ian Bruff, Liam Stanley, David Chandler, the anonymous reviewers, and the editorial guidance of Peter Kerr.
About this article
Cite this article
Bailey, D. Contending the crisis: What role for extra-parliamentary British politics?. Br Polit 9, 68–92 (2014). https://doi.org/10.1057/bp.2013.26
Keywords
British politics

extra-parliamentary politics

social movements

political participation

global economic crisis