Abstract
The former Prime Minister Tony Blair and his Chief of Staff and key negotiator on the Province, Jonathan Powell, have admitted that they used deception to advance the peace process in Northern Ireland. This article argues that the Labour government misled the people of Northern Ireland about the implications of the Good Friday Agreement to secure a 'Yes' vote in the referendum on the deal. During the referendum campaign British Prime Minister was prominent among those arguing that there would be decommissioning before either paramilitary prisoners were released or Sinn Féin sat in government. Legislation to release paramilitary prisoners without prior decommissioning was introduced into Parliament just 2 weeks after the referendum. In December 1999 Sinn Féin entered government without IRA decommissioning. Tony Blair later acknowledged that the 'political skills' that were initially useful in pushing the peace process forward became counterproductive and undermined the moderate powersharing settlement that the GFA was intended to deliver. Powersharing between the hardline parties in 2007 was the fortuitous, if less desirable, outcome.
Access options
Buy single article
Instant access to the full article PDF.
USD 39.95
Price excludes VAT (USA)
Tax calculation will be finalised during checkout.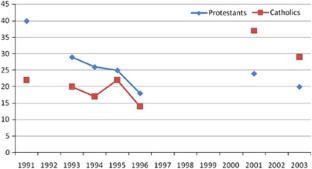 References
Abrams, F. (1998) Hansard row is defused by editor. The Independent 20 June.

Allen, W. (1998) My pledge to Ulster. Belfast Telegraph 21 May.

Blair, T. (1998a) Press conference given by Tony Blair, President Clinton and President Santer, available at http://webarchive.nationalarchives.gov.uk/20070701080624/http://www.pm.gov.uk/output/Page1164.asp.

Blair, T. (1998b) The north's fresh start on a fair and just basis. Irish News 22 May.

Blair, T. (2010) A Journey. London: Hutchinson.

Campbell, A. (2011) The Alastair Campbell Diaries: Power and the People 1997–99. London: Hutchinson.

Clarke, L. (1998) Paisley turn-off factor boosts yes campaign. The Sunday Times 10 May.

Cohen, S. (2000) States of Denial. Cambridge: Polity.

Coady, C.A.J. (2008) Messy Morality: The Challenge of Politics. Oxford: Oxford University Press.

Curtice, J. and Dowds, L. (2000) Has Northern Ireland Really Changed? Crest Working Paper No. 74, September.

de Breadun, D. (1998) Unionist support for agreement recovering after fall, poll shows. Irish Times 21 May.

Dixon, P. (2002) Political skills or lying and manipulation? The choreography of the Northern Ireland peace process. Political Studies 50 (3): 725–741.

Dixon, P. (2004) 'Peace within the realms of the possible?' David Trimble, unionist ideology and theatrical politics. Terrorism and Political Violence 16 (3): 462–482.

Dixon, P. (2008) Northern Ireland: The Politics of War and Peace, 2nd edn. Basingstoke: Palgrave Macmillan.

Dixon, P. (2011) The politics of conflict: A constructivist critique of consociational and civil society theories. Nations and Nationalism 18 (1): 98–121.

Dixon, P. (2012) In defence of politics: Interpreting the peace process and the future of Northern Ireland. Political Quarterly 83 (2): 2.

Dixon, P. (2013) 'There is nothing politically right that is morally wrong'? Beyond Realism and Idealism in the Northern Ireland Peace Process. Irish Political Studies, forthcoming.

Doran, N. (1998) Looking ahead in an historic week. The Irish News 20 May.

Godson, D. (2004) Himself Alone: David Trimble and the Ordeal of Unionism. London: HarperCollins.

Gutmann, A. and Thompson, D. (2006) Ethics and Politics. USA: Wadsworth Publishing.

Harnden, T. (1998) Ultimatum to Adams on IRA guns. The Daily Telegraph 1 May.

Hennessey, T. (2000) The Northern Ireland Peace Process. Dublin, Ireland: Gill and Macmillan.

Hickman, M. (1998) Common record tampered with says DUP. The Belfast News Letter 19 June.

Judge, T. (1998) Blair′s view on weapons divides Trimble, McLaughlin. The Irish Times 16 May.

Kaufmann, E.P. (2007) The Orange Order. Oxford: Oxford University Press.

Kearney, V. and Grice, A. (1998) Blair toughens stand on arms. Sunday Times 17 May.

Kennedy, M. (2007) The Oxford Dictionary of Law Enforcement. Oxford: Oxford University Press.

Mallie, E. and McKittrick, D. (2001) Endgame in Ireland. London: Hodder and Stoughton.

Mandelson, P. (2007) Interview on Northern Ireland. The Guardian 14 March.

McIntyre, D. (2000) Mandelson. London: HarperCollins.

McKinney, S. (1998) Blair makes final plea for agreement support. The Irish News 21 May.

Millar, F. (1998) Decision may affect UUP's future as well as the voters. The Irish Times 16 May.

Millar, F. (2004) David Trimble: The Price of Peace. Dublin, Ireland: The Liffey Press.

Mitchell, G. (1999) Making Peace. London: William Heinemann.

Moloney, E. (1998) Say hello to gunmen, wave goodbye to peace? The Sunday Tribune 17 May.

Moloney, E. (2001) Adams conned governments. The Sunday Tribune 7 October.

Morton, R. (1998) Revealed: What the people of Ulster think. Belfast Telegraph 19 May.

Mullin, J. (1998) Bill will see terrorists freed within two years. The Guardian 6 June.

Mowlam, M. (2002) Momentum. London: Hodder and Stoughton.

Oborne, P. (2005) The Rise of Political Lying. London: The Free Press.

O Connor, F. (2002) Breaking the Bonds: Making Peace in Northern Ireland. Edinburgh, UK: Mainstream.

Orange Order. (nd.) Transcript of a Meeting in 10 Downing Street with the Prime Minister, Rt. Hon. Tony Blair, M.P., 7 May 1998, (Archives of the Orange Order, Provided by Professor Eric Kaufman).

Oxford English Dictionary (2005) . Oxford: Oxford University Press.

Peatling, G.K. (2004) The Failure of the Northern Ireland Peace Process. Dublin: Irish Academic Press.

Powell, J. (2008a) Great Hatred, Little Room: Making Peace in Northern Ireland. London: Bodley Head.

Powell, J. (2008b) What I learned in Belfast. Prospect Magazine 146.

Powell, J. (2010) The New Machiavelli: How to Wield Power in the Modern World. London: Bodley Head.

PSNI. (2006) Statistical Report No. 6. May, available at www.psni.police.uk/.

Rawnsley, A. (2000) Servants of the People: The Inside Story of New Labour. London: Hamish Hamilton.

Rawnsley, A. (2010a) The End of the Party: The Rise and Fall of New Labour. London: Penguin.

Rawnsley, A. (2010b) Tony Blair's a journey: Andrew Rawnsley's verdict. The Observer 5 September.

Rentoul, J. (2001) Tony Blair: Prime Minister. London: TimeWarner.

Robinson, P. (1998) Agreement just hollow promises. News Letter 20 May.

Seldon, A. (2005) Blair. London: Free Press.

Sinn Féin. (1999) Defending the Good Friday agreement. 23 September.

Swain, J. et al (1998) Ulster chooses YES. The Sunday Times 24 May.

The Times (1998) Irish sentences. 15 June.

Thornton, C. (1998) Poll 'Splits Unionists'. Belfast Telegraph 23 May.

Trimble, D. (2007) Antony Alcock Memorial Lecture, University of Ulster, 24 April, Available at http://www.davidtrimble.org/speeches_alcock.pdf.

Trimble, D. (2008) Northern Ireland still faces challenge of implementing peace. Daily Telegraph 9 April.

Ulster Unionist Party. (1998) Understanding the Agreement. Belfast: UUP, May.

Wheatcroft, G. (2007) Yo Blair! London: Politicos.

Whyte, J. (1990) Interpreting Northern Ireland. Oxford: Oxford University Press.

White, M. (1998) Hansard given last word. The Guardian 23 June.
Acknowledgements
I am very grateful to Steve Kettell, the Co-editor of British Politics, for his support in publishing this article. Thank you also to the anonymous referees for their helpful comments. I'd also like to express gratitude to Professor Eric Kaufmann, Vice-President of Southfields and Wimbledon Irish Society, for providing the transcript of the Orange Order meeting. None of the above are responsible for any of the arguments expressed in this article.
About this article
Cite this article
Dixon, P. An honourable deception? The Labour government, the Good Friday Agreement and the Northern Ireland peace process. Br Polit 8, 108–137 (2013). https://doi.org/10.1057/bp.2012.30
Published:

Issue Date:

DOI: https://doi.org/10.1057/bp.2012.30
Keywords