Abstract
In the present study, we intend to contribute to the rebranding literature by investigating: (a) the relative change in customer based brand equity (CBBE) of a brand before and post an evolutionary rebranding announcement; (b) the relative change in CBBE with respect to the market position of the brand (leader/follower) in case of evolutionary rebranding; and (c) the relative effect of a specific type of change in brand element (logo and/or slogan) on the consumer attitudes and CBBE. We use cue utilization theory and information integration theory along with rebranding literature to establish our hypotheses. We test our hypotheses using a 2 × 2 (with repeat measures) and a 2 × 3 full factorial design in succession. We find the CBBE of an established brand to diminish following rebranding news while that of a less-established brand to be enhanced. We also find a differential effect of the rebranding types on the consumer attitudes and CBBE that is subject to the relative brand position in the market. The academic implications of the study lie in the exploration of the effects of rebranding on consumers. The practitioner implications include suggestions for the effective use of rebranding as a strategy.
Access options
Buy single article
Instant access to the full article PDF.
US$ 39.95
Tax calculation will be finalised during checkout.
Subscribe to journal
Immediate online access to all issues from 2019. Subscription will auto renew annually.
US$ 399
Tax calculation will be finalised during checkout.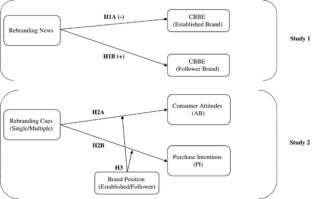 Notes
1.

For copyright issues we could not include the same in the article. The details are available from the authors on request.
References
Aaker, D.A. and Shansby, J.G. (1982) Positioning your product. Business Horizons 25 (3): 56–62.

Aaker, D.A. and Joachimsthaler, E. (2000) Brand Leadership. New York: The Free Press.

Anderson, N.H. (1981) Foundations of Information Integration Theory. New York: Academic Press.

Anderson, J., Fincham, J. and Douglass, S. (1999) Practice and retention: A unifying analysis. Journal of Experimental Psychology: Learning, Memory, and Cognition 25 (5): 1120–1136.

Bagozzi, R.P. and Yi, Y. (1989) On the use of structural equation models in experimental designs. Journal of Marketing Research 26 (3): 271–274.

Bloemer, J., De Ruyter, K. and Wetzels, M. (1999) Linking perceived service quality and service loyalty: A multi-dimensional perspective. European Journal of Marketing 33 (11/12): 1082–1106.

Branca, A.S. and Borges, M.R. (2011) The impact of corporate rebranding on the firm's market value. International Journal of Latest Trends in Finance and Economic Sciences 1 (4): 175–182.

Census of India (2011) http://censusindia.gov.in/, accessed 5 January 2014.

Chaudhuri, A. and Holbrook, M.B. (2001) The chain of effects from brand trust and brand affect to brand performance: The role of brand loyalty. Journal of Marketing 65 (2): 81–93.

Chu, K., Lee, D.H., Yeu, M. and Park, S. (2014) How much change is optimal when a brand is newly rebranded? Asia Marketing Journal 15 (4): 161–186.

Cobb-Walgren, C.J., Ruble, C.A. and Donthu, N. (1995) Brand equity, brand preference, and purchase intent. Journal of advertising 24 (3): 25–40.

Collange, V. (2015) Consumer reaction to service rebranding. Journal of Retailing and Consumer Services 22: 178–186.

Cyber Media Research India (2014) Monthly mobile handsets market review: 1Q 2014, 13 May, http://cmrindia.com/58-9-million-mobile-handsets-shipped-in-india-during-1q-cy-2014-a-y-o-y-growth-of-8-9-but-a-q-o-q-seasonal-decline-of-16-4/, accessed 25 May 2014.

Dahlén, M. and Rosengren, S. (2005) Brands affect slogans affect brands? Competitive interference, brand equity and the brand-slogan link. Journal of Brand Management 12 (3): 151–164.

Daly, A. and Moloney, D. (2004) Managing corporate rebranding. Irish Marketing Review 17 (1/2): 30–36.

Delaney, P.F., Reder, L.M., Staszewski, J.J. and Ritter, F.E. (1998) The strategy specific nature of improvement: The power law applies by strategy within task. Psychological Science 9 (1): 1–8.

Douglas, S.P. and Nijssen, E.J. (2003) On the use of 'borrowed' scales in cross‐national research: A cautionary note. International Marketing Review 20 (6): 621–642.

Downs, P.E. and Haynes, J.B. (1984) Examining retail image before and after a repositioning strategy. Journal of the Academy of Marketing Science 12 (4): 1–24.

Fazio, R.H. (1986) How do attitudes guide behavior? In: R.M. Sorrentino and E.T. Higgins (eds.) Handbook of Motivation and Cognition: Foundations of Social Behavior. New York: Guilford Press, pp. 204–243.

Fazio, R.H. (1989) On the power and functionality of attitudes: The role of attitude accessibility. In: A.R. Pratkanis, S.J. Breckler and A.G. Greenwald (eds.) Attitude Structure and Function. Hillsdale, NJ: Erlbaum, pp. 153–179.

Fornell, C. and Larcker, D.F. (1981) Evaluating structural equation models with unobservable variables and measurement error. Journal of Marketing Research 18 (1): 39–50.

Gambles, B. and Schuster, H. (2003) The changing image of Birmingham libraries: Marketing strategy into action. New Library World 104 (9): 361–371.

Girard, T., Anitsal, M.M. and Anitsal, I. (2013) The role of logos in building brand awareness and performance: Implications for entrepreneurs. Entrepreneurial Executive 18: 7–16.

Goi, C. and Goi, M. (2011) Review on models and reasons of rebranding. In: Proceedings of the International Conference on Social Science and Humanity; 26–28 February, Singapore.

Heathcote, A., Brown, S. and Mewhort, D.J.K. (2000) The power law repealed: The case for an exponential law of practice. Psychonomic Bulletin & Review 7 (2): 185–207.

Holley, J. (2008) Generation Y: Understanding the Trend and Planning for the Impact. In: Proceedings of the 32nd Annual IEEE International Computer Software and Applications Conference; 28 July–1 August, Turku, Finland.

Hox, J.J. (2002) Multilevel Analysis: Techniques and Applications. Hillsdale, NJ: Erlbaum.

Huang, R. and Sarigöllü, E. (2012) How brand awareness relates to market outcome, brand equity, and the marketing mix. Journal of Business Research 65 (1): 92–99.

Ing, G.P. (2012) Corporate rebranding and the effects on consumers' attitude structure. International Journal of Business and Society 13 (3): 255–278.

Jain, V. and Pant, S. (2012) Navigating generation Y for effective mobile marketing in India: A conceptual framework. International Journal of Mobile Marketing 7 (3): 56–65.

Kaikati, J.G. and Kaikati, A.M. (2003) A rose by any other name: Rebranding campaigns that work. Journal of Business Strategy 24 (6): 17–23.

Kashmiri, S. and Mahajan, V. (2015) The name's the game: Does marketing impact the value of corporate name changes? Journal of Business Research 68 (2): 281–290.

Kapferer, J.-N. (1997) Strategic Brand Management: Creating and Sustaining Brand Equity Long Term. London: Kogan Page.

Keller, K.L. (1993) Conceptualizing, measuring, and managing customer-based brand equity. Journal of Marketing 57 (1): 1–22.

Keller, K.L. (2000) Building and managing corporate brand equity. In: M. Schultz, M.J. Hatch and M.H. Larsen (eds.) The Expressive Organisation: Linking Identity, Reputation and the Corporate Brand. Oxford: Oxford University Press.

Keller, K.L. (2003) Brand synthesis: The multidimensionality of brand knowledge. Journal of Consumer Research 29 (4): 595–600.

Keller, K.L. and Lehmann, D.R. (2006) Brands and branding: Research findings and future priorities. Marketing Science 25 (6): 740–759.

Kilic, C. and Dursun, T. (2006) The effect of corporate identity changes on firm value: An empirical investigation. Journal of the American Academy of Business 10 (1): 234–240.

Kotler, P. (1999) Kotler on Marketing: How to Create, Win and Dominate Markets. London: The Free Press.

La Ferle, C. and Choi, S.M. (2005) The importance of perceived endorser credibility in South Korean advertising. Journal of Current Issues & Research in Advertising 27 (2): 67–81.

Labrecque, L.I. and Milne, G.R. (2012) Exciting red and competent blue: The importance of color in marketing. Journal of the Academy of Marketing Science 40 (5): 711–727.

Lambkin, M. and Muzellec, L. (2008) Rebranding in the banking industry following mergers and acquisitions. International Journal of Bank Marketing 26 (5): 328–352.

Logan, G. (1992) Shapes of reaction-time distributions and shapes of learning curves: A test of the instance theory of automaticity. Journal of Experimental Psychology: Learning, Memory, and Cognition 18 (5): 883–914.

Lomax, W. and Mador, M. (2006) Corporate re-branding: From normative models to knowledge. Brand Management 14 (1): 82–95.

Lomax, W., Mador, M. and Fitzhenry, A. (2002) Corporate Rebranding: Learning from Experience. Kingston, UK: Kingston Business School.

Luck, K. (2012) The delicate art of rebranding: Retaining equity while creating a fresh face. Journal of Brand Strategy 1 (1): 50–56.

Maddison, A. (2013) Economic Progress and Policy in Developing Countries. Abingdon, Oxon, UK: Routledge.

Maheswaran, D. and Chaiken, S. (1991) Promoting systematic processing in low-motivation settings: Effect of incongruent information on processing and judgment. Journal of Personality and Social Psychology 61 (1): 13–25.

Malhotra, N.K., Ulgado, F.M., Agarwal, J., Shainesh, G. and Wu, L. (2005) Dimensions of service quality in developed and developing economies: Multi-country cross-cultural comparisons. International Marketing Review 22 (3): 256–278.

Miller, D., Merrilees, B. and Yakimova, R. (2013) Corporate rebranding: An integrative review of major enablers and barriers to the rebranding process. International Journal of Management Reviews 16 (3): 265–289.

Merrilees, B. and Miller, D. (2008) Principles of corporate rebranding. European Journal of Marketing 42 (5/6): 537–552.

Miyazaki, A.D., Grewal, D. and Goodstein, R.C. (2005) The effect of multiple extrinsic cues on quality perceptions: A matter of consistency. Journal of Consumer Research 32 (1): 146–153.

Müller, B., Kocher, B. and Crettaz, A. (2013) The effects of visual rejuvenation through brand logos. Journal of Business Research 66 (1): 82–88.

Muzellec, L. and Lambkin, M. (2006) Corporate rebranding: Destroying, transferring or creating brand equity? European Journal of Marketing 40 (7/8): 803–824.

Muzellec, L. and Lambkin, M. (2008) Corporate rebranding and the implications for brand architecture management: The case of Guinness (Diageo) Ireland. Journal of Strategic Marketing 16 (4): 283–299.

Newell, A. and Rosenbloom, P.S. (1981) Mechanisms of skill acquisition and the law of practice. In: J.R. Anderson (ed.) Cognitive Skills and Their Acquisition. Hillsdale, NJ: Lawrence Erlbaum Associates.

Oblinger, D. (2003) Boomers gen-xers millennials. EDUCAUSE Review 500 (4): 37–47.

Ohanian, R. (1990) Construction and validation of a scale to measure celebrity endorsers' perceived expertise, trustworthiness, and attractiveness. Journal of Advertising 19 (3): 39–52.

Pappu, R., Quester, P. and Cooksey, R. (2005) Consumer-based brand equity: Improving the empirical evidence. Journal of Product and Brand Management 14 (3): 143–154.

Pecheux, C. and Derbaix, C. (1999) Children and attitude toward the brand: A new measurement scale. Journal of Advertising Research 39 (4): 19–28.

Ries, A. and Trout, J. (1979) Positioning: The Battle for Your Mind. New York: McGraw Hill.

Shek, D.T.L. and Ma, C.M.S. (2010) Dimensionality of the Chinese positive youth development scale: Confirmatory factor analyses. Social Indicators Research 98 (1): 41–59.

Shetty, A.S. (2011) The rush for corporate rebranding in India: Rejuvenation with a rationale or irrational exuberance? The IUP Journal of Business Strategy 8 (3): 53–62.

Singer, J.D. and Willett, J.B. (2003) Applied Longitudinal Data Analysis. New York: Oxford Press.

Stuart, H. and Muzellec, L. (2004) Corporate makeovers: Can a hyena be rebranded? Journal of Brand Management 11 (6): 472–482.

Teichert, T.A. and Schöntag, K. (2010) Exploring consumer knowledge structures using associative network analysis. Psychology & Marketing 27 (4): 369–398.

Tevi, A.C. and Otubanjo, O. (2013) Understanding corporate rebranding: An evolution theory perspective. International Journal of Marketing Studies 5 (3): 87–93.

Villas-Boas, J.M. (2004) Consumer learning, brand loyalty, and competition. Marketing Science 23 (1): 134–145.

Weingarten, R.M. (2009) Four generations, one workplace: A Gen XY staff nurse's view of team building in the emergency department. Journal of Emergency Nursing 35 (1): 27–30.

Xu, Y. (2007) Impact of store environment on adult generation Y consumers' impulse buying. Journal of Shopping Center Research 14 (1): 39–56.

Yoo, B. and Donthu, N. (2001) Developing and validating a multidimensional consumer-based brand equity scale. Journal of Business Research 52 (1): 1–14.

Zeithaml, V.A., Berry, L.L. and Parasuraman, A. (1996) The behavioural consequences of service quality. Journal of Marketing 60 (2): 31–46.
About this article
Cite this article
Roy, S., Sarkar, S. To brand or to rebrand: Investigating the effects of rebranding on brand equity and consumer attitudes. J Brand Manag 22, 340–360 (2015). https://doi.org/10.1057/bm.2015.21
Received:

Revised:

Published:

Issue Date:
Keywords
Rebranding

brand elements

CBBE

experimental design

evolutionary rebranding

India