Abstract
The past decade has witnessed significant shifts in both the macro and micro environments, which have impacted all forms of marketing. The main objective of this study is to examine whether consumers' preference for manufacturer national brands today is as strong as it was, say, a decade ago. Initial findings from a large-scale survey across multiple product categories indicate a decreasing preference amongst consumers for manufacturer-originated national brands. Interestingly, this is accompanied by a non-trivial increasing preference for the No Preference option in consumer questionnaires. Similar results were found when the authors delved deeper into three specific categories – cereals, cosmetics and OTC allergy medications. To validate and explain these results the study used two other data sources, the Customer Loyalty Engagement Index from Brand Keys and the brand value measures from BAV Consulting. Alternating measures and different methodologies only confirmed the initial findings. We found in both these data sources that consumers increasingly evaluate supposedly different brands in the category as being more and more similar. In other words, brands are operating in a smaller competitive space and consumers are finding it increasingly difficult to differentiate among and between them. In short, most brands, and particularly those in the three categories that used data from three sources, face a high risk of 'commoditization'.
This is a preview of subscription content, log in to check access.
Access options
Buy single article
Instant access to the full article PDF.
US$ 39.95
Price includes VAT for USA
Subscribe to journal
Immediate online access to all issues from 2019. Subscription will auto renew annually.
US$ 453
This is the net price. Taxes to be calculated in checkout.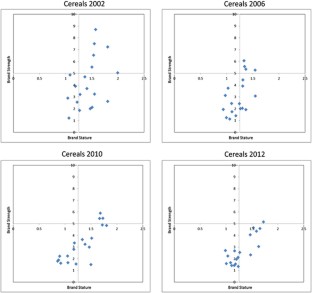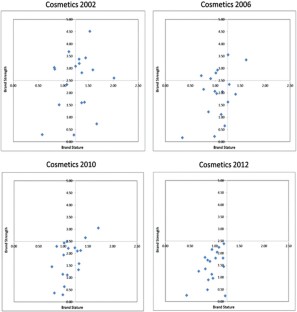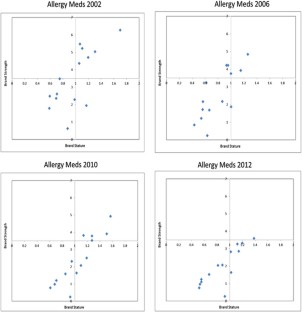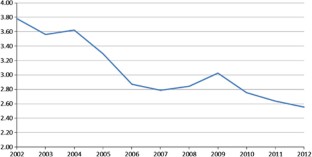 Notes
1.

We are thankful to an anonymous reviewer for pointing this out.
References
Aaker, D.A. (1996) Building Strong Brands. New York: The Free Press.

Aaker, D.A. (2009) Managing brand equity, www.SimonandSchuster.com.

Agarwal, M.K. and Rao, V.R. (1996) An empirical comparison of consumer-based measures of brand equity. Marketing letters 7 (3): 237–247.

Arrow, K.J., Karlin, S. and Scarf, H. (1958) Studies in the Mathematical Theory of Inventory and Production. Stanford, CA: Stanford Press.

Batra, R. and Sinha, I. (2000) Consumer-level factors moderating the success of private label brands. Journal of Retailing 76 (2): 175–191.

Bickle, M. (2012) http://blogs.forbes.com/people/mariannebickle/.

Brand Finance (2012) www.brandfinance.com.

Cobb-Walgren, C.J., Ruble, C.A. and Donthu, N. (1995) Brand equity, brand preference, and purchase intent. Journal of Advertising 24 (3): 25–40.

Core Brands (2013) http://www.corebrand.com/news-views/news/712-pr-news-helping.

Corstjens, M. and Lal, R. (2000) Building store loyalty through store brands. Journal of Marketing Research 37 (3): 281–291.

David, A. (1992) The Handbook of Brand Management. Wakefield, MA: Basic Books.

Dolich, I.J. (1969) Congruence relationships between self-images and product brands. Journal of Marketing Research 6 (1): 80–84.

Friedman, M. (1957) A Theory of Consumption Function. Princeton, NJ: Princeton University Press.

Hansen, K., Singh, V. and Chintagunta, P. (2006) Understanding store-brand purchase behavior across categories. Marketing Science 25 (1): 75–90.

Havas Media (2013) http://www.havasmedia.com/meaningful-brands.

Hoeffler, S. and Keller, K.L. (2003) The marketing advantages of strong brands. The Journal of Brand Management 10 (6): 421–445.

Interbrand (2012) http://www.interbrand.com/en/Default.aspx.

Kapferer, J.N. (2012) The new strategic brand management: Advanced insights and strategic thinking. Philadelphia, PA: Kogan Page.

Keller, K.L. (1993) Conceptualizing, measuring, and managing customer-based brand equity. The Journal of Marketing 57 (1): 1–22.

Keller, K.L. (1998) Strategic Brand Management: Building, Measuring, and Managing Brand Equity. Upper Saddle River, NJ: Prentice-Hall.

Keller, K.L. and Lehmann, D.R. (2003) How do brands create value? Marketing Management 12 (3): 26–31.

Keller, K.L., Parameswaran, M.G. and Jacob, I. (2011) Strategic Brand Management: Building, Measuring, and Managing Brand Equity. India: Pearson Education India.

Kumar, V. (2008) Managing Customers for Profit. Upper Saddle River, NJ: Wharton School Publishing.

Lavidge, R.J. and Steiner, G.A. (1961) A model for predictive measurements of advertising effectiveness. The Journal of Marketing 25 (6): 59–62.

Millward Brown (2012) http://www.millwardbrown.com/Home.aspx.

Modigliani, F. and Brumberg, R. (1954) Utility analysis and the consumption function: An interpretation of cross-section data. In: K.K. Kurihara (ed.) Post-Keynesian Economics. New Brunswick, NJ: Rutgers University Press, pp. 383–436.

Oliver, R.L. (1999) Whence consumer loyalty? The Journal of Marketing 63 (4): 33–44.

Owen, R. and Brooks, L. (2009) Answering the Ultimate Questions: How Net Promoter Can Transform Your Business. San Francisco, CA: John Wiley and Sons and Jossey-Bass.

Prosper Business Development (2012) http://www.goprosper.com/.

Reichheld, F.F. (2003) The one number you need. Harvard Business Review 81 (December): 46–54.

Reichheld, F.F. (2006) The Ultimate Question: Driving Good Profits and True Growth. Cambridge, MA: Harvard Business School Press.

Satmetrix (2012) http://www.satmetrix.com/.

Schultz, D.E. and Block, M.P. (2010) Retail Communities: Customer-Driven Retailing. Worthington, OH: Prosper Publishing.

Schultz, D.E. and Block, M.P. (2011) Understanding customer brand engagement behaviors in today's interactive marketplace. Micro & Macro Marketing 20 (2): 227–244.

Schultz, D.E. and Block, M.P. (2012) Re-thinking brand loyalty in an age of interactivity, presented at the International Conference on Research in Advertising (ICORIA), 28–30 June, 2012, Stockholm, Sweden.

Schultz, D.E. and Block, M.P. (forthcoming) Killing brands…softly. Journal of Brand Strategy 2 (3): 284–299.

Stafford, J.E. (1966) Effects of group influences on consumer brand preferences. Journal of Marketing Research 3 (1): 68–75.

Zeithaml, V.A. (1988) Consumer perceptions of price, quality, and value: A means-end model and synthesis of evidence. The Journal of Marketing 52 (3): 2–22.
Additional information
3research strives to gain new insights on how consumers evaluate options and make decisions. His work therefore has important implications for how firms perform in the marketplace. His research spans several industries such as automobiles, consumer packaged goods and media. Prior to his PhD, he worked for five years as a product manager in the consumer packaged goods and financial services industries.
About this article
Cite this article
Schultz, D., Block, M. & Viswanathan, V. Brand preference being challenged. J Brand Manag 21, 408–428 (2014). https://doi.org/10.1057/bm.2014.5
Received:

Revised:

Published:

Issue Date:
Keywords
brands

no preference

differentiation

commoditization

brand value

clustering