Abstract
There are three key precepts that underpin salient corporate heritage brands: Trust, Authenticity and Affinity. Trust relates to the bilateral confidence between the institutional brand and stakeholders. Authenticity captures the notion of preserving the enduring identity traits of corporate heritage brands. Affinity captures the notion of public sovereignty (for any corporate heritage brand to endure there has to be public consent). The management of corporate heritage brands requires policymakers to show corporate brand stewardship to four spheres of activity: (1) achieving trust between the brand and its brand community; (2) preserving the brand's authenticity; (3) showing sensitivity to public concerns and ensuring the brand remains relevant and respected; (4) demonstrating empathy to environmental concerns; and (5) ongoing stewardship of the corporate brand. For its part, the British Monarchy, as a corporate heritage brand, is also dependent on bilateral trust between the Crown and public. This is predicated on public affinity towards the Monarchy and the Crown maintaining its authenticity as a corporate brand vis-à-vis its relationship with its brand community. A central finding relates to the centrality of trust to the management and maintenance of monarchy. In addition, there is a management requirement to calibrate authenticity (taking institutional and identity perspectives) and affinity (being mindful of customers and stakeholder concerns). This study builds on earlier JBM articles on corporate heritage brands (Balmer et al, 2006; Urde et al, 2007). This article is timely in that it comes during the lead up to Queen Elizabeth II's Diamond Jubilee celebrations 1952–2012 along with the wedding of Prince William to Catherine Middleton (April 2011).
Access options
Buy single article
Instant access to the full article PDF.
USD 39.95
Price excludes VAT (USA)
Tax calculation will be finalised during checkout.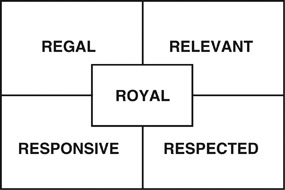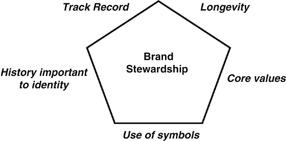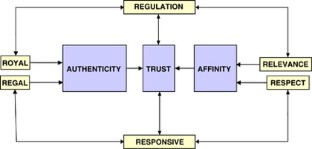 Notes
Footnote on the Commonwealth of Nations: Membership of the Commonwealth traditionally has been limited to those nations that were formerly part of the British Empire. With only a few exceptions, most former British territories have joined the Commonwealth, most Commonwealth no longer have constitutional or legal ties with Great Britain. The overwhelming majority of Commonwealth nations are Republics. A few are monarchies that do not have Queen Elizabeth as their Head of State viz: Malaysia, Lesotho. Sixteen Commonwealth nations retain Queen Elizabeth as their Head of State; as such, she is separately and divisibly Queen of Australia, Queen of Canada, Queen of Jamaica, Queen of New Zealand and so on. Among those nation states that remain outside the Commonwealth, even though they have historic constitutional ties with the British Crown/Great Britain are Burma, Hong Kong, Ireland and significantly the United States. Most curious in this regard is the United States, which, even today, remains decoupled from nations with whom it shares historic familial ties, including Australia, Canada, New Zealand and of course Great Britain: the wounds of 1776 (the American Revolution) have never, it would appear, been fully healed in this regard. In recent years, quite a few nations, although not enjoying historic links with the British Crown, have applied for Commonwealth membership: most applications have been rejected with the exception of Cameroon, Mozambique and Rwanda who were, curiously, respectively French, Portuguese and Belgium overseas territories and were admitted owing to exceptional circumstances. Commonwealth Principles (as defined in 1971) include the requirement for Commonwealth States to share common values relating to: democracy, human rights, good governance, the rule of law, individual liberty, egalitarianism, free trade, multilateralism and world peace. Heads of overseas diplomatic missions from Commonwealth countries are known as High Commissioners and they do not have embassies but High Commissions. The logic for this is because Commonwealth nations are not foreign to each other: Commonwealth countries are, in colloquial terms, seen as part of a family of nation states. In Commonwealth countries, High Commissioners take precedence over ambassadors. For example, in the United Kingdom, High Commissioners, when presenting their credentials to the Queen, are driven in a carriage drawn by four horses, whereas the ambassador's coaches have only two horses. Among the principal symbols of the Commonwealth are the British Monarch (as its titular head) and the English language.
References
Ambibola, T. and Kocak, A. (2007) SME as expressive organizations: A resource based perspective. Qualitative Market Research 10: 416–430.

Aperia, T. (2001) Brand relationship management: Den varumarkesbyggande processen. Doctoral thesis, University of Stockholm School of Business, Stockholm.

Aperia, T. and Back, R. (2004) Brand Relationship Management. Copenhagen, Denmark: Copenhagen Business School Press.

Bagehot, W. (1867) The English Constitution. London: Chapman and Hall.

Bailey, A. (1977) Profiles: Queen Elizabeth II – Part 1. The New Yorker, 11 April.

Balmer, J.M.T. (1995) Corporate branding and connoisseurship. Journal of General Management 21 (1): 22–46.

Balmer, J.M.T. (2001a) Corporate identity, corporate branding and corporate marketing: Seeing through the fog. European Journal of Marketing 35 (3–4): 248–291.

Balmer, J.M.T. (2001b) The three virtues and seven deadly sins of corporate brand management. Journal of General Management 27 (1): 1–17.

Balmer, J.M.T. (2004) The British Monarchy; Does the British Crown as a Corporate Brand Fit? Bradford University School of Management Working Paper Series, Paper No 04/16 (April).

Balmer, J.M.T. (2005a) Brand cultures and communities. In: J.E. Schroeder and M. Salzer-Morling (eds.) Brand Culture. London: Routledge, pp. 34–49.

Balmer, J.M.T. (2005b) Values, promise and behaviour. The corporate branding triumvirate? THEXIS 1: 13–17.

Balmer, J.M.T. (2008) Corporate brands, the British Monarchy and the resource-based view of the firm. International Studies of Management and Organizations 37 (4): 20–45.

Balmer, J.M.T. (2009) Scrutinising the British Monarchy: The corporate brand that was shaken, stirred and survived. Management Decision 47 (4): 639–675.

Balmer, J.M.T. (2010) Explicating corporate brands and their management: Reflections and directions from 1995. Journal of Brand Management 18 (3): 180–196.

Balmer, J.M.T. and Gray, E.R. (2003) Corporate brands: What are they? What of them? European Journal of Marketing 37 (7–8): 972–997.

Balmer, J.M.T., Greyser, S.A. and Urde, M. (2006) The crown as a corporate brand: Insights on monarchies. Journal of Brand Management 14 (1–2): 137–161.

Barker, B. (1979) The Symbols of Sovereignty. Newton Abbot, UK: Westbridge Books.

Bell, D. (2006) The idea of a patriot queen? The monarchy, the constitution, and the iconographic order of Great Britain, 1860–1900. The Journal of Imperial and Commonwealth History 34 (1): 3–22.

Billig, M. (1991) Talking of the Royal Family. London: Routledge.

Birnbaum, N. (1955) Monarchies and sociologists: A reply to Professor Shils and Mr Young. Sociological Review, new series. iii.

Black, J. (2001) The House of Hanover (1714–1837). In: W.M. Ormrod (ed.) The Kings and Queens of England. Stroud, UK: Tempus.

Bogdanor, V. (1997) The Monarchy and the Constitution. Oxford, UK: Clarendon.

Bonoma, T.V. (1983) Case research in marketing: Opportunities, problems and a process. Journal of Marketing Research 22: 199–208.

Bowring, R. and Kornicki, P. (eds.) (1993) The Cambridge Encyclopaedia of Japan. Cambridge, UK: Cambridge University Press.

Bradley, I. (2002) God Save the Queen, the Spiritual Dimension of Monarchy. London: Darton, Longman, and Todd.

Brazier, R., The Monarchy in and Bogdanor, V. (eds.) (2003) The British Constitution in the Twentieth Century. Oxford, UK: The British Academy/Oxford University Press, pp. 69–96.

Brown, S., Kozinets, R.V. and Sherry Jr, J.F. (2003) Teaching old brands new tricks: Retro branding and revival of brand meaning. Journal of Marketing 67 (July): 19–33.

Butler, J.K. and Cantrell, R.S. (1984) A behavioural decision theory approach to modelling dyadic trust in superiors and subordinates. Psychological Reports 55: 19–28.

Butler, S.L. and Low, D.A. (eds.) (1991) Sovereigns and Surrogates, Constitutional Heads of State in the Commonwealth. London: Macmillan.

Cannadine, D. (1983) The context, performance and meaning of ritual: The British Monarchy and the 'Invention of Tradition'. In: E. Hobsbawm and T.E. Ranger (eds.) The Invention of Tradition. Cambridge, UK: Cambridge University Press.

Cannadine, D. (2003) In Churchill's Shadow. London: Penguin.

Cannon, J. and Griffiths, R. (1998) Oxford Illustrated History of the British Monarchy. Oxford, UK: Oxford University Press.

Chrimes, S.B. (1967) English Constitutional History. Oxford, UK: Oxford University Press.

Churchill, G.A. and Iacobucci, D. (2002) Marketing Research: Methodological Foundations, 8th edn. Mason, OH: South Western/Thomson Learning.

Colley, L. (1996) Britons. Forging the Nation 1707–1837. London: Vintage.

Coman, J., Brown, C. and Walker, T. (2003) It was a good idea at the time. Sunday Telegraph, 16 November: 22.

DeChernatony, L. and McDonalad, M. (1998) Creating Powerful Brands. London: Butterworth Heinemann.

Duhs, S. (2000) The Monarchs of Sweden. Bromma, Sweden: Purley Lodge.

Easton, G. (2003) One case study is enough. Proceedings of Academy of Marketing Annual Conference. Birmingham, UK: Aston Business School.

Economist. (2006a) 22 April: 33.

Economist. (2006b) 17 June: 69.

Economist. (2007) 25 August: 36.

Economist. (2008) 15 March: 71.

Economist. (2011) 15 January: 30.

Edwards, A. (2006) The most famous face in the world. The Daily Telegraph, 20 April: XV.

Eisenhardt, K.M. (1989) Building theories from case study research. Academy of Management Review 18 (4): 532–550.

Elliott, R. and Wattanasuwan, K. (1998) Brands as symbolic resources for the construction of identity. International Journal of Advertising 17 (2): 131–144.

Frears, S. (dir.) (2006) The Queen. London: Pathe Pictures.

Gephart, R.P. (2004) Qualitative research and the Academy of Management Journal. Academy of Management Journal 47 (4): 454–462.

Gilbert, M. (1992) The person of the king: Ritual power in a Ghanaian state. In: D. Cannadine and S. Price (eds.) Rituals of Royalty. Cambridge, UK: Cambridge University Press.

Gill, J. and Johnson, P. (1991) Research Methods for Managers. London: Paul Chapman Publishing.

Gouldner, A.W. (1955) Patterns of Industrial Bureaucracy. London: Routledge and Kegan Paul.

Gummesson, E. (1991) Qualitative Methods in Management Research. London: Sage, pp. 73–134.

Hames, T. and Leonard, M. (1998) Modernising the Monarchy. London: Demos.

Hart-Davis, D. (ed.) (2006) King's Counsellor. Abdication and War: The Diaries of Sir Alan Lascelles. London: Weidenfeld and Nicolson.

Hayden, I. (1987) Symbol and Privilege. The Ritual Context of British Monarchy. Tuscon, AZ: University of Arizona Press.

Hennessy, P. (1996) The Hidden Wiring. Unearthing the British Constitution. London: Indigo.

Hennessy, P. (1997) Muddling Through. Power, Politics and the Quality of Government in Postwar Britain. London: Indigo.

Hobsbawm, E. (1983) The invention of tradition. In: E. Hobsbawm and T.E. Ranger (eds.) The Invention of Tradition. Cambridge, UK: Cambridge University Press.

Hodson, H.V. (1995) Crown and commonwealth. Round Table 333 (January): 89–95.

Holesworth, H.D. (1969) The Princes. London: Weidenfeld and Nicolson.

Holt, D.B., Quelch, J.A. and Taylor, E.L. (2004) How global brands compete. Harvard Business Review, September, 69–75.

Hough, R. (1981) Mountbatten: A Biography. New York: Random House.

Innes of Learney, Thomas, Sir. (1978) Scots Heraldry. London: Cassell Ltd.

Jeffrey, K. (2006) Crown, communication and the colonial post: Stamps, the monarchy and the British Empire. The Journal of Imperial and Commonwealth History 34 (1): 45–70.

Jennings, H. and Madge, C. (eds.) (1937) May the Twelfth, Mass-Observation Day Surveys 1937. London: Faber and Faber.

Jennings, I. Sir. (1950) The British Constitution. Cambridge, UK: Cambridge University Press.

Junor, P. (2005) The Firm. The Troubled Life of the House of Windsor. London: Harper-Collins.

Kantorowicz, E. (1953) The Kings Two Bodies: A Study in Medieval Political Thought. Princeton, NJ: Princeton University Press.

Kapferer, J.-N. (1997) Strategic Brand Management. London: Kogan Page, p. 29.

Kapferer, J.-N. (2002) Corporate brands organizational identity. In: B. Moingeon and G. Soenen (eds.) Corporate and Organizational Identities. London: Routledge.

Kay, J. (1995) Foundations of Corporate Success. Oxford, UK: Oxford University Press.

Keller, K.L. (1998) Strategic Brand Management. Upper Saddle River, NJ: Prentice-Hall.

Keller, K.L. and Aaker, D.A. (1998) Corporate level marketing: The impact of credibility marketing on a company's brand extensions. Corporate Reputation Review 1 (4): 356–378.

Lacey, R. (2002) Royal. Her Majesty Queen Elizabeth II. London: Little Brown.

Levin, B. (1991) Now Read On. London: Sceptre Books.

Levy in Pavitt, J. (ed.) (2000) Brand New. London: V&A Publications.

Low, S.L. (1927) The Governance of England. London: Fisher Unwin Limited.

Macaulay, T.B. (1885) History of England. London: Dutton and Dent.

Manchester, W. (1993) A World Lit Only by Fire. The Medieval Mind and Renaissance. Boston, MA: Little Brown.

Marr, A. (2000) The Day Britain Died. London: Profile Books.

Mayer, R.C., Davis, J.H. and Schoorman, F.D. (1995) An integrative model of organisational trust. Academy of Management Review 20: 709–734.

Micklethwait, J. and Wooldridge, A. (2005) The Company. A Short History of a Revolutionary Idea. New York: The Modern Library.

Middleton, M. (1999) Is the British Monarchy out of touch? In: The Encyclopaedia of Britain. London: Hutchinson.

Molesworth, H.D. (1969) The Princes. London: Weidenfeld and Nicolson.

Montesquieu, C.-L.de Secondat, Baron de (1748) De l'esprit des Lois ou du rapport que les lois doivent avoir avec la constitution de chaque Government. Geneva: Barrillon.

MORI. (2002) Britain's latest vies on the monarchy, http://www.ipsos-mori.com/newsevents/ca/302/No-Royal-Rollercoaster.aspx, accessed 7 March 2011.

Murphy, P. (2006) Breaking the bad news: Plans for the announcement to the empire of the death of Elizabeth II and the proclamation of Her successor, 1957–67. The Journal of Imperial and Commonwealth History 34 (1): 139–154.

Naughton, K. and Vlasic, B. (1998) The nostalgia boom. Business Week, 23 March: 58–64.

Newmann, K. (2001) The sorcerer's apprentice? Alchemy, seduction and confusion in modern marketing. International Journal of Advertising 20: 409–429.

Norman, R. (1970) A Personal Quest for Methodology. Stockholm, Sweden: Scandinavian Institute for Administrative Research, p. 53.

Numagami, T. (1998) The infeasibility of invariant laws in management studies: A reflective dialogue in defence of case studies. Organization Science 9 (1): 2–15.

Ormrod, W.M. (ed.) (2001) The Kings and Queens of England. Stroud, UK: Tempus.

Otnes, C.C. and Maclaran, P. (2007) The consumption of cultural heritage among a British Royal Family Brand Tribe. In: R. Kozinets, R. Cova and A. Shankar (eds.) Consumer Tribes: Theory, Practice and Prospects. London: Elsevier/Butterworth Heinemann.

Parry, R.L. (2006) Prince welcomed with shouts of Banzai as birth suspends fight on imperial throne. The Times, 7 September: 42.

Parry, R.L. (2008) Sympathy turn to scepticism as courtiers whisper that princess does not do her duty. The Times, 25 October: 47.

Paxman, J. (2007) On Royalty. London: Viking Books.

Pimlott, B. (2002) The Queen. Elizabeth II and the Monarchy. London: Harper Collins.

Prince Charles HRH. (2005) Interview given on US television during visit to the US.

Prochaska, F. (1995) Royal Bounty: The Making of a Welfare Monarchy. New Haven, CT: Yale University Press.

Prochaska, F. (2000) The Republic of Britain. London: Penguin.

Ring, P.S. and Van de Van (1992) Structuring cooperative relationships between organizations. Strategic Management Journal 3: 483–498.

Roberts, A. (2003) Memo to palace PR: We are not amusing. The Times, 25 October: 4.

Roberts, A. (2009) Masters and Commanders. London: Penguin.

Rowbottom, A. (2002) Subject positions and 'real royalists': Monarchy and vernacular civil religion in Great Britain. In: N. Rapport (ed.) British Subjects. An Anthropology of Britain. Oxford, UK: Berg, pp. 31–48.

Seitz, R. (1998) Over Here. London: Phoenix.

Shawcross, W. (2002) Queen and Country. London: BBC Worldwide.

Shawcross, W. (2009) The Queen Mother: The Official Biography. New York: Vintage Books.

Shils, E. and Young, M. (1953) The meaning of the coronation. Sociological Review, New Series 1: 67.

Skinner, Q. (2000) Machiavelli: A Very Short Introduction. Oxford, UK: Oxford University Press.

Smithers, R. (2006) Young Britons value nation's history and values. The Guardian, 6 November: 9.

Starkey, D. (2002) Reinventing the Royals. London: Channel 4 television documentary.

Strong, R. Sir. (2005) Coronation. A History of Kingship and the British Monarchy. London: HarperCollins.

Swengley, N. (2006) By appointment to the Queen. Financial Times, 15/16 October: 3.

Thompson, D. (1967) England in the Nineteenth Century. London: Penguin.

Trochim, W. (1989) Outcome pattern matching and program theory. Evaluation and Program Planning 12: 355–366.

Urde, M., Greyser, S.A. and Balmer, J.M.T. (2007) Corporate brands with a heritage. Journal of Brand Management 15 (1): 4–19.

Van Maanen, J. (1979) Reclaiming qualitative methods for organising research. Administrative Science Quarterly 24: 520–526.

Yin, R. (2009) Case Study Research. Thousand Oaks, CA: Sage.

Zaheer, A., McEvily, B. and Perrone, V. (1998) The strategic value of buyer-seller relationships. International Journal of Purchasing and Materials Management 34: 20–26.

Znaniecki, F. (1934) The Method of Sociology. New York: Farrar and Rinehart.

Zucker, L.G. (1986) Production of trust: Institutional sources of economic structure, 1984–1990. In: B.M. Staw and L.L. Cummings (eds.) Research in Organisational Behaviour, Vol. 8. Greenwich, CT: JAI Press, pp. 53–122.
About this article
Cite this article
Balmer, J. Corporate heritage brands and the precepts of corporate heritage brand management: Insights from the British Monarchy on the eve of the royal wedding of Prince William (April 2011) and Queen Elizabeth II's Diamond Jubilee (1952–2012). J Brand Manag 18, 517–544 (2011). https://doi.org/10.1057/bm.2011.21
Published:

Issue Date:

DOI: https://doi.org/10.1057/bm.2011.21