Abstract
We built a home purchase sentiment index (HPSI) with consumers' responses to questions about home buying and selling conditions, income gains and job concerns, and house price and mortgage rate expectations. The HPSI can help forecast mortgage originations and house prices, sales, and starts. Forecasting horse races during 2012–14 show the HPSI handily outperformed other sentiment indices. We show differences in the HPSI by income and by age groups. We also suggest other aspects of housing where survey-based indicators may help, such as demand by millennials or seniors, home owners' moving, renters' intentions, and mortgage refinancing, delinquency, or default rates.
Access options
Buy single article
Instant access to the full article PDF.
USD 39.95
Price excludes VAT (USA)
Tax calculation will be finalised during checkout.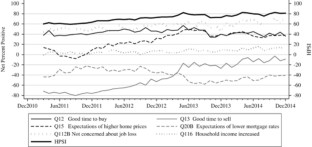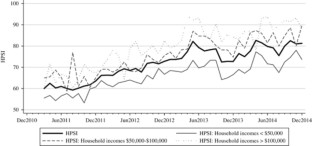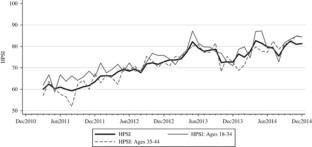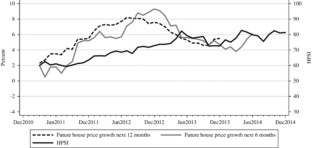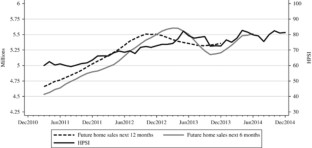 Notes
For simplicity, we refer to both as indices of overall consumer sentiment.

The NHS has adjusted as consumers' modes of communications have evolved. Starting in October 2014, the NHS raised the cell-phone share of its phone calls from 25 to 60 percent. Some, but not all, cell-phone respondents also had landline phones. The NHS respondents may then be more representative than those in landline-only surveys.

Some consumer surveys ask a few housing-related questions.

Source: U.S. Federal Housing Finance Agency (FHFA).

Source: U.S. Bureau of the Census and National Association of Realtors (NAR).

Source: Mortgage Bankers Association. Quarterly data were assigned to mid-quarter months. Amounts for other months were derived by linearly interpolating between mid-quarter months. We seasonally adjusted the monthly estimates by applying the seasonal factors for home sales.

Source: U.S. Bureau of the Census.

Throughout, we refer to having at least 95 percent confidence, or equivalently having a significance level of 0.05 or better (that is, 5 percent or lower), that a coefficient or relation differs from zero as being "statistically significant," taking into account the effects of any other variables that were included in a regression.

Questions Q16 and Q17 separately asked by what percent consumers expected house prices to go up or go down over the next 12 months.

As noted earlier, for the two questions whose positive responses were negatively correlated with housing market outcomes, we use their net percent negative responses.

We seasonally adjusted the MBA's originations data with a seasonal adjustment routine in STATA. We had to use a different method to seasonally adjust the short span of Fannie Mae data.

Neither index, alone or simultaneously, was significantly related to future house prices.
References
Barsky, Robert B., and Eric R. Sims . 2012. "Information, Animal Spirits, and the Meaning of Innovations in Consumer Confidence." American Economic Review, 102 (4): 1343–1377.

Batchelor, Roy and Pami Dua . 1998. "Improving Macro-Economic Forecasts: The Role of Consumer Confidence." International Journal of Forecasting, 14 (1): 71–81.

Bram, Jason and Sydney Ludvigson . 1998. "Does Consumer Confidence Forecast Household Expenditure? A Sentiment Index Horse Race." FRBNY Economic Policy Review, 4 (2): 59–78.

Cai, Qiang, Steve Deggendorf and James A. Wilcox . 2015. Building a Home Purchase Sentiment Index. Working Paper. September. http://www.fanniemae.com/resources/file/research/housingsurvey/pdf/hpsi-whitepaper.pdf.

Carroll, Christopher D., Jeffrey Fuhrer and David W. Wilcox . 1994. "Does Consumer Sentiment Forecast Household Spending? If So, Why?." American Economic Review, 84 (5): 1397–1408.

Dees, Stephane and Pedro Soares Brinca . 2013. "Consumer Confidence as a Predictor of Consumption Spending: Evidence for the United States and the Euro Area." International Economics, 134: 1–14.

Golinelli, Roberto and Giuseppe Parigi . 2004. "Consumer Sentiment and Economic Activity: A Cross Country Comparison." Journal of Business Cycle Measurement and Analysis, 1 (2): 147–170.

Ho, Chienwei and Chi-Hsiou Hung . 2009. "Investor Sentiment as Conditioning Information in Asset Pricing." Journal of Banking & Finance, 33 (5): 892–903.

Lemmon, Michael and Evgenia Portniaguina . 2006. "Consumer Confidence and Asset Prices: Some Empirical Evidence." Review of Financial Studies, 19 (4): 1499–1529.

Levanon, Gad . 2011. "Forecasting Recession and Slow-Down Probabilities with Markov Switching Probabilities as Right-Hand-Side Variables." Business Economics, 46 (2): 99–110.

Longstaff, Francis A. 2002. The Flight-to-Liquidity Premium in U.S. Treasury Bond Prices. National Bureau of Economic Research Working Paper 9312. October.

Matsusaka, John G. and Argia M. Sbordone . 1995. "Consumer Confidence and Economic Fluctuations." Economic Inquiry, 33 (2): 296–318.

Nguyen, Viet Hoang and Edda Claus . 2013. "Good News, Bad News, Consumer Sentiment and Consumption Behavior." Journal of Economic Psychology, 39(C) December: 426–438.

Wilcox, James A. 2007. "Forecasting Components of Consumption with Components of Consumer Sentiment." Business Economics, 42 (4): 22–32.

Wilcox, James A. 2016. "Forecasting Housing with Housing Sentiment." Working paper, February.
Acknowledgements
The author thanks David Berson, Qiang Cai, Steve Deggendorf, Doug Duncan, James Glassman, Hamilton Fout, Mark Palim, Karen Pence, Shane Sherlund, Dan Van Dyke, Mark Winer, and seminar participants at FHFA, Fannie Mae, and FRB San Francisco for helpful comments. Remaining errors are of the author alone.
Additional information
This paper won NABE's Edmund A. Mennis Contributed Paper Award for 2015 and was presented at the NABE Annual Meeting on October 13, 2015.
*James A. Wilcox is Professor of Finance and Economics at the Haas School of Business at the University of California, Berkeley. He has published widely on banking and credit unions, on housing and mortgage markets, on monetary policy, and on interest rates. From 1999 to 2001, he was the Chief Economist at the Office of the Comptroller of the Currency. Previously, he served as the senior economist for monetary policy and macroeconomics for the President's Council of Economic Advisers and as an economist for the Board of Governors of the Federal Reserve System. He is a Fellow of the Wharton Financial Institutions Center and a founding Fellow of the Filene Research Institute. He received his Ph.D. in economics from Northwestern University.
About this article
Cite this article
Wilcox, J. The Home Purchase Sentiment Index: A New Housing Indicator. Bus Econ 50, 178–190 (2015). https://doi.org/10.1057/be.2015.27
Published:

Issue Date:

DOI: https://doi.org/10.1057/be.2015.27
Keywords
housing

sentiment

forecasting

index