Abstract
Under which circumstances do politicians differentiate among immigrants? When they do, why do they in some countries focus on Muslim immigrants rather than national or other groups? We use claims-making analysis to capture how immigrant groups are differentiated in seven Western European countries. As explanations for variation in claims-making about Muslim immigrants (1995–2009) we consider socio-structural and citizenship-regime differences across countries, the parliamentary presence of anti-immigrant parties, the 9/11 WTC attack and the direct political context in which claims-making occurs. We find that Muslim-related claims-making is associated with the parliamentary presence of anti-immigrant parties and the policy topic under discussion. By contrast, the evidence for policy-oriented and socio-structural explanations is inconclusive. There is a need for further theory development on the effects of the political debate (topics, arguments, actors) on (migrant-)group differentiation in particular and politicization in general.
This is a preview of subscription content, log in to check access.
Access options
Buy single article
Instant access to the full article PDF.
US$ 39.95
Price includes VAT for USA
Subscribe to journal
Immediate online access to all issues from 2019. Subscription will auto renew annually.
US$ 124
This is the net price. Taxes to be calculated in checkout.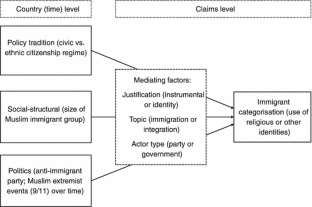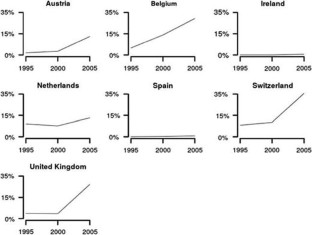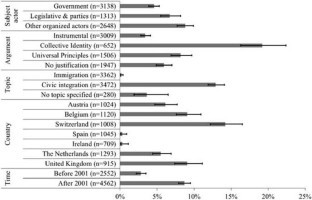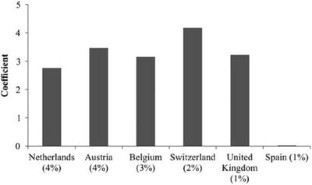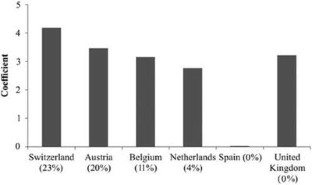 Notes
1.

We refer to race and ethnicity jointly to capture the different use of the terms in the countries covered.

2.

Koopmans et al (2005, p. 116) also use a fifth 'hybrid' identity for ethnoreligious groups such as Jews and Sikhs, and a sixth 'hyphened' category in which any of the identities is combined with the country of residence such as African-American. For reasons of simplicity, (and problems of comparibility) we do not use these categories in our analysis. In the empirical analysis, categories other than country of origin were prioritized, thus Maroccan Muslims are classified as Muslim.

3.

Koopmans et al identify citizenship configurations on the basis of 'equality of individual access' (civic versus ethnic) and 'cultural differences and group rights' (monism versus pluralism). We focus on the latter dimension because it includes rights associated with religious practices (religious education, religious public television, right to wear headscarf and so on) that are directly related to our religious category of interest.

4.

Similar to Höglinger et al (2012, pp. 237–243), we derive the classification of arguments into instrumental, identity and principled arguments from Habermas' (1993) differentiation of justifications. Instrumental frames present positions as a 'rational choice of means in the light of fixed purposes or of the rational assessment of goals in the light of existing preferences' (Habermas, 1993, p. 3). A political position is justified as a calculation of utility and may refer to management techniques, economic effects, or policy programmes. Identity frames refer to 'the self-understanding of a person' (Habermas, 1993, p. 5). They have a strong historical and cultural component and may refer to duties, cultural differences, norms and a particular conception of the collective 'us'. Political actors can also invoke universal principles of justice such as equality, solidarity, fairness or the (universal) moral obligation to protect people in need.

5.

In Austria: Der Standard, Neue Kronen Zeitung; Belgium: La Dernière Heure, Le Soir, De Standaard, Het Laatste Nieuws; Switzerland: Blick, Neue Zürcher Zeitung, Le Matin, Le Temps (March 1998 onwards), Tribune de Genève (1995 to March 1998); Spain: El Pais, La Vanguardia; Ireland: Irish Daily Star, The Irish Times; The Netherlands: De Telegraaf, De Volkskrant; The United Kingdom: The Daily Mail, The Guardian. For the results presented in this article we find no significant differences between newspapers.

6.

Anti-immigrant parties were identified on the basis of their immigration and integration policies, using both expert surveys and party manifestos (compare Ruedin, 2013). Seat shares are of national elections in the lower chamber. This approach lets us approach the role of anti-immigrant parties in a dynamic fashion (Van Spanje, 2011), catering to the fact that support for anti-immigrant parties varies across countries and time.
References
Aspinall, P. (2002) Collective terminology to describe the minority ethnic population: The persistence of confusion and ambiguity in usage. Sociology 36(4): 803–816.

Berkhout, J. (2012) Claims in the news: Conceptual and methodological issues. SOM Working Paper 10: 1–39, http://ssrn.com/paper=2168711.

Bertossi, C. (2011) National models of integration in Europe: A comparative and critical analysis. American Behavioral Scientist 55(12): 1561–1580.

Beyeler, M. and Kriesi, H. (2005) Transnational protest and the public sphere. Mobilization: An International Quarterly 10(1): 95–109.

Birkland, T.A. (1997) After Disaster: Agenda Setting, Public Policy, and Focusing Events. Washington DC: Georgetown University Press.

Carol, S., Cinalli, M., Kavacik, Z., Koopmans, R. and Maas, L.G. (2009) Final Integrated Report Work Package 1 (media content). Internal EurIslam Report. Geneva: University of Geneva. http://www.eurislam.eu/var/D6_Integrated_report_on_media_content.pdf.

Cinalli, M. and Giugni, M. (2007) Codebook: Discursive Interventions in the Local Polity and Their Impact on the Political Integration of Immigrants, (Deliverable 1 LOCALMULTIDEM) http://www.um.es/localmultidem/projectoutputs.php?type=R, accessed 23 February 2016.

Cinalli, M. and Giugni, M. (2011) Institutional Opportunities, Discursive Opportunities, and the Political Participation of Migrants in European Cities. In: L. Morales and M. Giugni (eds.) Social Capital, Political Participation and Migration in Europe: Making Multicultural Democracy Work?. Basingstoke: Palgrave Macmillan, pp. 43–62.

Cinalli, M. and Giugni, M. (2013) Public discourses about Muslims and Islam in Europe. Ethnicities 13(2): 131–146.

Cinalli, M. and O'Flynn, I. (2014) Public deliberation, network analysis and the political integration of Muslims in Britain. The British Journal of Politics & International Relations 16(3): 428–451.

Dancygier, R.M. (2013) The left and minority representation: The labour party, Muslim candidates, and inclusion tradeoffs. Comparative Politics 46(1): 1–21.

Dolezal, M., Helbling, M. and Hutter, S. (2012) Debating Islam in Austria, Germany and Switzerland: Ethnic citizenship, church – State relations and right-wing populism. West European Politics 33(2): 171–190.

Duyvendak, J.W. and Scholten, P.W.A. (2011) Beyond the Dutch 'multicultural model': The coproduction of integration policy frames in The Netherlands. Journal of International Migration and Integration 12(3): 331–348.

Earl, J., Martin, A., McCarthy, J. and Soule, S. (2004) The use of newspaper data in the study of collective action. Annual Review of Sociology 30(1): 65–80.

Fetzer, J.S. (2005) Muslims and the State in Britain, France, and Germany. Cambridge, UK: Cambridge University Press.

Gamson, W. and Wolfsfeld, G. (1993) Movements and media as interacting systems. The Annals of the American Academy of Political and Social Science 528(Jul): 114–125.

Green-Pedersen, C. and Krogstrup, J. (2008) Immigration as a political issue in Denmark and Sweden. European Journal of Political Research 47(5): 610–634.

Habermas, J. (1993) Justification and Application: Remarks on Discourse Ethics. Cambridge, MA: MIT Press.

Hallin, D.C. and Mancini, P. (2004) Comparing Media Systems: Three Models of Media and Politics. Cambridge, UK: Cambridge University Press.

Helbling, M. (2014a) Framing immigration in Western Europe. Journal of Ethnic and Migration Studies 40(1): 21–41.

Helbling, M. (2014b) Opposing Muslims and the Muslim headscarf in Western Europe. European Sociological Review 30(2): 242–257.

Höglinger, D., Wüest, B. and Helbling, M. (2012) Culture versus economy: The framing of public debates over issues related to globalization. In: H. Kriesi, E. Grande, M. Dolezal, M. Helbling, D. Höglinger, S. Hutter and B. Wuest (eds.) Political Conflict in Western Europe. Cambridge, UK: Cambridge University Press, pp. 229–253.

Jenkins, R. (1997) Rethinking Ethnicity: Arguments and Explorations. London: Sage.

Jones, B.D. and Baumgartner, F.R. (2005) The Politics of Attention: How Government Prioritizes Problems. Chicago, IL: University of Chicago Press.

Joppke, C. (2007) Beyond National models: Civic integration policies for immigrants in Western Europe. West European Politics 30(1): 1–22.

Koopmans, R. (2007a) Social movements. In: R.J. Dalton and H.-D. Klingeman (eds.) The Oxford Handbook of Political Behaviour. Oxford: Oxford University Press, pp. 693–707.

Koopmans, R. (2007b) Who inhabits the European public sphere? Winners and losers, supporters and opponents in europeanised political debates. European Journal of Political Research 46(2): 183–210.

Koopmans, R. and Muis, J. (2009) The rise of right-wing populist Pim Fortuyn in the Netherlands: A discursive opportunity approach. European Journal of Political Research 48(5): 642–664.

Koopmans, R. and Olzak, S. (2004) Discursive opportunities and the evolution of right-wing violence in Germany. American Journal of Sociology 110(1): 198–230.

Koopmans, R. and Statham, P. (1999) Challenging the liberal nation-state? Postnationalism, multiculturalism, and the collective claims making of migrants and ethnic minorities in Britain and Germany. American Journal of Sociology 105(3): 652–696.

Koopmans, R. and Statham, P. (eds.) (2010) Theoretical framework, research design, and methods. In: The Making of a European Public Sphere: Media Discourse and Political Contention. Cambridge, UK: Cambridge University Press, pp. 34–62.

Koopmans, R., Statham, P., Giugni, M. and Passy, F. (2005) Contested Citizenship: Immigration and Cultural Diversity in Europe. Minneapolis, MN: Minnesota University Press.

Kriesi, H. et al (2012) Political Conflict in Western Europe. Cambridge, UK: Cambridge University Press.

Leifeld, P. and Haunss, S. (2012) Political discourse networks and the conflict over software patents in Europe. European Journal of Political Research 51(3): 382–409.

Lipset, S. (1960) Political Man: The Social Basis of Modern Politics. New York: Doubleday.

Lipset, S. and Rokkan, S. (1967) Party Systems and Voter Alignments: Cross-National Perspectives. New York: The Free Press.

Lowi, T.J. (1972) Four systems of policy, politics, and choice. Public Administration Review 32(4): 298–310.

Medrano, J.D. (2003) Framing Europe: Attitudes to European Integration in Germany, Spain, and the United Kingdom. Princeton: Princeton University Press.

Meyer, S. and Rosenberger, S. (2015) Just a shadow? The role of radical right parties in the politicization of immigration, 1995–2009. Politics and Governance 3(2): 1.

Mügge, L.M. (2012) Ethnography's contribution to newspaper analysis: Claims-making revisited. Open Forum CES Paper Series 12: 1–24.

Olesen, T. (2007) Contentious cartoons: Elite and media-driven mobilization. Mobilization: An International Quarterly 12(1): 37–52.

Pew Research Center. (2011) The Future of the Global Muslim Population: Projections for 2010–2030, http://www.pewforum.org/future-of-the-global-muslim-population-regional-europe.aspx, accessed 22 February 2016.

Riker, W.H. (1996) The Strategy of Rhetoric: Campaigning for the American Constitution. New Haven, CT: Yale University Press.

Ruedin, D. (2013) Obtaining party positions on immigration in Switzerland: Comparing different methods. Swiss Political Science Review 19(1): 84–105.

Ruedin, D. (2015) Increasing validity by recombining existing indices: MIPEX as a measure of citizenship models. Social Science Quarterly 96(2): 629–638.

Schattschneider, E. (1960) The Semisovereign People: A Realist's View of Democracy in America. Hinsdale: The Dryden Press.

Strabac, Z., Aalberg, T. and Valenta, M. (2014) Attitudes towards Muslim immigrants: Evidence from survey experiments across four countries. Journal of Ethnic and Migration Studies 40(1): 100–118.

Thelen, K. (2004) How Institutions Evolve: The Political Economy of Skills in Germany, Britain, the United States, and Japan. Cambridge, UK: Cambridge University Press.

Van der Brug, W., D'Amato, G., Berkhout, J. and Didier Ruedin, D. (eds.) (2015) The Politicisation of Migration. Abingdon, UK: Routledge.

Van der Brug, W., Hobolt, S.B. and de Vreese, C.H. (2009) Religion and party choice in Europe. West European Politics 32(6): 1266–1283.

Van der Brug, W. and Van Spanje, J. (2009) Immigration, Europe and the 'new' cultural dimension. European Journal of Political Research 48(3): 309–334.

Van Spanje, J. (2010) Contagious parties: Anti-immigration parties and their impact on other parties' immigration stances in contemporary Western Europe. Party Politics 16(5): 563–586.

Van Spanje, J. (2011) The wrong and the right: A comparative analysis of 'anti-immigration' and 'far right' parties. Government and Opposition 46(3): 293–320.

Walgrave, S. and Varone, F. (2008) Punctuated equilibrium and agenda-setting: Bringing parties back in: Policy change after the Dutroux crisis in Belgium. Governance: An International Journal of Policy 21(3): 365–395.

Zainiddinov, H. (2013) What factors account for black – White differences in anti-Muslim sentiment in the contemporary USA? Ethnic and Racial Studies 36(11): 1745–1769.
Additional information
Supplementary information accompanies this article on the Website http://dx.doi.org/10.7910/DVN/ZDKBPW. This work was supported by the European Commission's Seventh Framework Programme (FP7/2007-2013) under grant agreement number 225522 (SOM: Support and Opposition to Migration). An earlier version of this paper was presented at the Muslims and Political Participation in Britain conference in Edinburgh, 21 April 2012. Both authors contributed equally to the article and are listed in alphabetical order. We would like to thank Pieter de Wilde for feedback.
Electronic supplementary material
About this article
Cite this article
Berkhout, J., Ruedin, D. Why religion? Immigrant groups as objects of political claims on immigration and civic integration in Western Europe, 1995–2009. Acta Polit 52, 156–178 (2017). https://doi.org/10.1057/ap.2016.1
Keywords
Muslims

immigration

politicization

claims-making

Western Europe