Abstract
How would you recognize a mode of participation if you see one? Owing to the rapid expansion of political activities in the last decades this question has become increasingly difficult to answer. Neither the development of all-embracing nominal definitions, nor deductive analyses of existing modes of participation seem to be helpful. In addition, the spread of expressive modes of participation makes it hard to avoid purely subjective definitions. The aim of this discussion paper is to develop an operational definition of political participation, which allows us to cover distinct conceptualizations systematically, efficiently and consistently. This goal can only be arrived at if the conventional approach of presenting nominal definitions to solve conceptual problems is left behind. Instead, available definitions are included in a set of decision rules to distinguish three main variants of political participation. A fourth variant is distinguished for non-political activities used for political purposes. Together, the four variants of political participation cover the whole range of political participation systematically without excluding any mode of political participation unknown yet. At the same time, the endless expansion of the modes of political participation in modern democracies does not result in an endless conceptual expansion. Implications for research and various examples are discussed.
Access options
Buy single article
Instant access to the full article PDF.
US$ 39.95
Tax calculation will be finalised during checkout.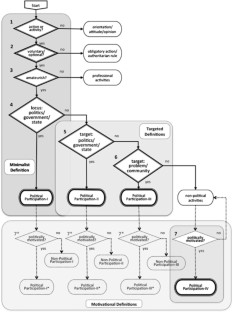 Notes
1.

Probably the best known proposal to base a definition of political participation on a list of common aspects of available concepts is provided by Conge (1988).

2.

A few authors propose to include attitudes and use the term 'latent forms of political participation' for these non-behavioural variants (Ekman and Amnå, 2012). To secure the distinction between effects and potential determinants of participation, the almost unanimous restriction to participation-as-an-activity is followed here.

3.

Fiorina (2002, p. 515) brings these differences to the point with his remark that civic engagement refers to the '… voluntary activities of people in their communities, workplaces, churches, and other social contexts. Such activities can be highly political, entirely non-political, and anything in between'.

4.

The confusion is hard to avoid: whereas many authors consider voting as a clear specimen of political participation, Macedo et al (2005, p. 7) state: 'Civic engagement most obviously includes voting'. Whiteley (2011, p. 2) simply mixes all concepts: 'Civic engagement is about ordinary citizens trying to influence the policies and the personnel of the state'. Other authors struggling with these distinctions admit: 'How exactly we resolve these problems is not clear' (Martin, 2012, p. 90). Berger (2011) strongly argued to distinguish between 'civic engagement' and 'political participation'.

5.

Notice that the term 'operational definition' here is not used to refer to the common (behaviouralist) practice to 'operationalize' some previously defined theoretical concept. The term 'intensional definition' (Sartori, 1984, p. 24; cf. Goertz, 2006, chapter 3) would have been more appropriate, but almost certainly would have led to confusions about 'intentions' (see Rule 7).

6.

Definitions are 'minimal' if they '… deliberatively focus on the smallest possible number of attributes that are still seen as producing a viable standard' (Collier and Levitsky, 1997, p. 433).

7.

8.

In this notation '1+' means that decision 1 is affirmed; '1−' that decision 1 is rejected.

9.

Strictly speaking, this rule also excludes 'compulsory voting' from the concept of political participation. Yet this phrase is commonly used as an (incorrect) shorthand for the fact that in some countries citizens are obliged to call at the poll station on election day. Casting a vote, of course, cannot be mandatory in any system guaranteeing secret elections and is therefore not excluded by the requirement of voluntarism.

10.

The term 'nongovernmental politics' is used to characterize these modes of participation (cf. Feher, 2007). Already in the first paragraph of his early overview, Milbrath (1965, p. 1) explicitly rejected this expansion.

11.

A popular radical pamphlet recommends a complete rejection of the existing order and denounces 'purely social protest' as '… a prevalent strategy to criticize this society – in the unavailing hope to rescue this civilization' (Unsichtbares Komittee, 2010, p. 71; translation JvD). See for similar arguments 'The Nightmare of Participation' (Miessen, 2011).

12.

'Citizens still exercise citizenship as they stand in line at their polling place, but now they exercise citizenship in many other locations. They have political ties not only to elected public officials in legislatures but also to attorneys in courtrooms and organized interest groups that represent them to administrative agencies. Moreover, they are citizens in their homes, schools, and places of employment' (Schudson, 1998, p. 299).

13.

Some participants even see this as the main aim of their activities: 'The whole series of nightly attacks, anonymous assaults, destructions without gibberish takes credit to have widened the gap between "politics" and "the political" as far as possible' (Unsichtbares Komittee, 2010, p. 7; translation JvD; emphasis in original).

14.

Notice that, as the aims and motivations of the participants are crucial here, the question whether the aim of the activity is political can only be answered by the person involved. Rare research on the scope of 'politics' indicates wide variations among citizens (Fitzgerald, 2013).
References
Arnstein, S.R. (1969) A ladder of citizen participation. Journal of the American Institute of Planners 35 (4): 216–224.

Barber, B.R. (1984) Strong Democracy: Participatory Politics for a New Age. Berkeley, CA: University of California Press.

Bennett, W.L. (2012) The personalization of politics: Political identity, social media, and changing patterns of participation. The Annals of the American Academy of Political and Social Science 644 (1): 20–39.

Berger, B. (2011) Attention Deficit Democracy: The Paradox of Civic Engagement. Princeton, NJ: Princeton University Press.

Brady, H.E. (1998) Political participation. In: J.P. Robinson, P.R. Shaver and L.S. Wrightsman (eds.) Measures of Political Attitudes. San Diego, CA: Academic Press, pp. 737–801.

Brough, M.M. and Shresthova, S. (2012) Fandom meets activism: Rethinking civic and political participation, http://journal.transformativeworks.org, accessed 2 December 2012.

Callahan, K. (2007) Citizen participation: Models and methods. International Journal of Public Administration 30 (11): 1179–1196.

Carroll, L. (1871) Through the Looking-Glass and What Alice Found There. London: Penguin.

Collier, D. and Levitsky, S. (1997) Democracy with adjectives: Conceptual innovation in comparative research. World Politics 49 (April): 430–451.

Conge, P.J. (1988) The concept of political participation: Toward a definition. Comparative Politics 20 (2): 241–249.

Cornwall, A. and Coelho, V.S. (eds.) (2006) Spaces for Change? The Politics of Citizen Participation in New Democratic Arenas. London: Zed Books.

Dalton, R.J. (2008) Citizenship norms and the expansion of political participation. Political Studies 56 (1): 76–98.

Downs, A. (1957) An Economic Theory of Democracy. New York: Harper & Row.

Ekman, J. and Amnå, E. (2012) Political participation and civic engagement: Towards a new typology. Human Affairs 22 (3): 283–300.

Feher, M. (ed.) (2007) The governed in politics. In: Nongovernmental Politics. New York: Zone Books, pp. 12–27.

Fitzgerald, J. (2013) What does 'political' mean to you? Political Behavior 35 (3): 453–479.

Fiorina, M.P. (2002) Parties, participation, and representation in America: Old theories face new realities. In: I. Katznelson and H.V. Milner (eds.) Political Science: The State of the Discipline. New York and Washington DC: Norton and American Political Science Association, pp. 511–541.

Fox, S. (2014) Is it time to update the definition of political participation? Political participation in Britain: The decline and revival of civic culture. Parliamentary Affairs 67 (2): 495–505.

Gallie, W.B. (1956) Essentially contested concepts. Proceedings of the Aristotelian Society 56 (1955–1956): 167–198.

García Albaceta, G.M. (2011) Continuity or Generational Change? A Longitudinal Study of Young People's Political Participation in Western Europe. Mannheim: Universität Mannheim.

Goertz, G. (2006) Social Science Concepts: A User's Guide. Princeton, NJ and Oxford: Princeton University Press.

Harris, S. (2012) Free Will. New York: Free Press.

Hay, C. (2007) Why We Hate Politics. Cambridge and Malden, MA: Polity Press.

Hempel, C.G. (1965) Aspects of Scientific Explanation and Other Essays in the Philosophy of Science. New York: Free Press.

Hooghe, M. and Quintelier, E. (2013) Political participation in Europe. In: S.I. Keil and O.W. Gabriel (eds.) Society and Democracy in Europe. London: Routledge, pp. 220–243.

Inglehart, R. (1990) Culture Shift in Advanced Industrial Society. Princeton, NJ: Princeton University Press.

Inglehart, R. and Catterberg, G. (2002) Trends in political action: The developmental trend and the post-honeymoon decline. International Journal of Comparative Sociology 43 (3–5): 300–316.

Kaase, M. and Marsh, A. (1979) Political action: A theoretical perspective. In: S.H. Barnes et al. Political Action: Mass Participation in Five Western Democracies. Beverly Hills, CA: Sage, pp. 27–56.

Macedo, S. et al (2005) Democracy at Risk: How Political Choices Undermine Citizen Participation and What We Can Do about It. Washington DC: Brookings Institution Press.

Martin, A.J. (2012) Young People and Politics: Political Engagement in the Anglo-American Democracies. London: Routledge.

Micheletti, M. (2003) Political Virtue and Shopping: Individuals, Consumerism and Collective Action. New York: Palgrave Macmillan.

Michels, A. (2012) Citizen participation in local policy making: Design and democracy. International Journal of Public Administration 35 (4): 285–292.

Miessen, M. (2011) The Nightmare of Participation. Berlin: Sternberg Press.

Milbrath, L.W. (1965) Political Participation: How and Why Do People Get Involved in Politics. Chicago: Rand McNally.

Norris, P. (2002) Democratic Phoenix: Reinventing Political Activism. Cambridge: Cambridge University Press.

Pateman, C. (2012) Participatory democracy revisited. Perspectives on Politics 10 (1): 7–19.

Sartori, G. (1970) Concept misformation in comparative politics. American Political Science Review 64 (4): 1033–1053.

Sartori, G. (1984) Social Science Concepts: A Systematic Analysis. Beverly Hills, CA: Sage.

Schlozman, K.L., Verba, S. and Brady, H.E. (2012) The Unheavenly Chorus: Unequal Political Voice and the Broken Promise of American Democracy. Princeton, NJ: Princeton University Press.

Schudson, M. (1998) The Good Citizen: A History of American Civic Life. Cambridge, MA: Harvard University Press.

Sciulli, D. (2010) Democracy, professions and societal constitutionalism. In: K.T. Leight and J.C. Jenkins (eds.) Handbook of Politics: State and Society in Global Perspective. New York: Springer, pp. 81–109.

Shirky, C. (2008) Here Comes Everybody: The Power of Organizing without Organizations. New York: Penguin.

Stoker, G. (2006) Why Politics Matter: Making Democracy Work. Houndmills and New York: Palgrave Macmillan.

Teorell, J. (2010) Determinants of Democratization: Explaining Regime Change in the World, 1972–2006. Cambridge: Cambridge University Press.

Tilly, C. (1995) Popular Contention in Great Britain 1758–1834. Cambridge, MA: Harvard University Press.

Tilly, C. (2008) Contentious Politics. Cambridge: Cambridge University Press.

Unsichtbares Komittee. (2010) Der Kommende Aufstand. Hamburg, Germany: Nautilus.

van Deth, J.W. (2001) Studying Political Participation: Towards a Theory of Everything? Joint Sessions of Workshops of the European Consortium for Political Research, Grenoble, France, http://uni-mannheim.academia.edu/JanWvanDeth.

van Deth, J.W. (2010) Is creative participation good for democracy? In: M. Micheletti and A.S. McFarland (eds.) Creative Participation Responsibility-Taking in the Political World. Boulder, CO: Paradigm, pp. 146–170.

Whiteley, P. (2011) Political Participation in Britain: The Decline and Revival of Civic Culture. Basingstoke, UK: Palgrave Macmillan.

Willis, M.M. and Schor, J.B. (2012) Does changing a light bulb lead to changing the world? Political action and the conscious consumer. The ANNALS of the American Academy of Political and Social Science 644 (1): 160–190.

Wuthnow, R. (1998) Loose Connections: Joining Together in America's Fragmented Communities. Cambridge: Harvard University Press.

Zukin, C., Keeter, S., Andolina, M., Jenkins, K. and Delli Carpini, M.X. (2006) A New Engagement? Political Participation, Civic Life, and the Changing American Citizen. Oxford: Oxford University Press.
Acknowledgements
For helpful comments and stimulating suggestions on earlier versions of this article, I am very grateful to Gema García Albacete, Rüdiger Schmittt-Beck, Kateřina Vráblíková, and especially Yannis Theocharis.
About this article
Cite this article
van Deth, J. A conceptual map of political participation. Acta Polit 49, 349–367 (2014). https://doi.org/10.1057/ap.2014.6
Keywords
participation

engagement

democracy

concept formation