Abstract
The role of 'fair' institutions in developing democratic legitimacy has received increased attention. Citizens who perceive – on basis of past experiences – that they are being treated fairly by authorities have been held to have greater trust in political institutions. However, previous studies on the relationship between procedural fairness and political trust have not paid sufficient attention to individuals with limited first-hand experiences of authorities. We examine the relationship on an authority that virtually all individuals meet early in life: the school. Using structural equation modeling on unique panel data covering 1500 Swedish adolescents (ages ranging from 13 to 17), we find a reciprocal relationship: personal encounters with school authorities shape young people's political trust; however, the images that adolescents get of the political system (through family, peers, media and so on) have also consequences on their perceptions about the authorities they encounter in their daily lives. The analysis increases our understanding of how individuals form their political allegiances by showing that the relationship between fairness and trust is more dynamic than has previously been suggested: neither an accumulated set of experiences of authorities nor formal ties with political institutions (as voters and so on) are required for a relationship to emerge.
Access options
Buy single article
Instant access to the full article PDF.
US$ 39.95
Tax calculation will be finalised during checkout.
Subscribe to journal
Immediate online access to all issues from 2019. Subscription will auto renew annually.
US$ 79
Tax calculation will be finalised during checkout.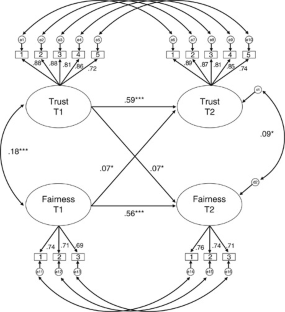 Notes
1.

The Swedish education system includes several schooling and educations types, which are adapted for different ages and people with different needs and abilities. The data used in the study come from the compulsory school (junior high school) and upper secondary school (senior high school). The compulsory school consists of nine schools years and attendance is compulsory for all children from the age of 7. The upper secondary school, by contrast, consists of 3 years of schooling and is a voluntary school, which youths who have completed the compulsory school can choose to attend (Swedish National Agency for Education, 2014).
References
Ainley, J., Schulz, W. and Friedman, T. (eds.) (2013) ICCS 2009 Encyclopedia. Amsterdam, The Netherlands: International Association for the Evaluation of Educational Achievement (IEA).

Andolina, M.W., Jenkins, K., Zukin, C. and Keeter, S. (2003) Habits from home, lessons from school: Influences on youth civic engagement. Political Science and Politics 36 (02): 275–280.

Booth, J.A. and Seligson, M.A. (2009) The Legitimacy Puzzle in Latin America: Political Support and Democracy in Eight Nations. Cambridge: Cambridge University Press.

Claes, E. and Hooghe, M. (2008) Citizenship education and political interest: Political interest as an intermediary variable in explaining the effects of citizenship education. Paper presented at the Conference on Civic Education and Political Participation. American Political Science Association, 104 edn., Boston, 28–31 August.

Claes, E., Hooghe, M. and Marien, S. (2012) A two-year panel study among Belgian late adolescents on the impact of school environment characteristics on political trust. International Journal of Public Opinion Research 24 (2): 208–224.

Claes, E., Hooghe, M. and Stolle, D. (2009) The political socialization of adolescents in Canada: Differential effects of civic education on visible minorities. Canadian Journal of Political Science 42 (3): 613–636.

Cohen-Charash, Y. and Spector, P.E. (2001) The role of justice in organizations: A meta-analysis. Organizational Behavior and Human Decision Processes 86 (2): 278–321.

De Cremer, D. and Tyler, T.R. (2007) The effects of trust in authority and procedural fairness on cooperation. Journal of Applied Psychology 92 (3): 639.

Ehman, L.H. (1980) The American school in the political socialization process. Review of Educational Research 50 (1): 99–119.

Erikson, E.H. (1950) Childhood and Society. New York: Norton.

Esaiasson, P. (2010) Will citizens take no for an answer? What government officials can do to enhance decision acceptance. European Political Science Review 2 (3): 351–371.

Esaiasson, P., Gilljam, M. and Persson, M. (2012) Which decision-making arrangements generate the strongest legitimacy beliefs? Evidence from a randomized field experiment. European Journal of Political Research 51 (6): 785–808.

Finkel, S.E. (1995) Causal Analysis with Panel Data. Thousand Oaks, CA: Sage.

Flanagan, C.A. and Stout, M. (2010) Developmental patterns of social trust between early and late adolescence: Age and school climate effects. Journal of Research on Adolescence 20 (3): 748–773.

Galbreath, D.J. and Rose, R. (2008) Fair treatment in a divided society: A bottom‐up assessment of bureaucratic encounters in Latvia. Governance 21 (1): 53–73.

Gniewosz, B. and Noack, P. (2008) Classroom climate indicators and attitudes towards foreigners. Journal of Adolescence 31 (5): 609–624.

Gniewosz, B., Noack, P. and Buhl, M. (2009) Political alienation in adolescence: Associations with parental role models, parenting styles, and classroom climate. International Journal of Behavioral Development 33 (4): 337–346.

Greenberg, J. (1987) Reactions to procedural injustice in payment distributions: Do the means justify the ends? Journal of Applied Psychology 72 (1): 55.

Grimes, M. (2006) Organizing consent: The role of procedural fairness in political trust and compliance. European Journal of Political Research 45 (2): 285–315.

Helwig, C.C. (1998) Children's conceptions of fair government and freedom of speech. Child Development 69 (2): 518–531.

Helwig, C.C. and Kim, S. (1999) Children's evaluations of decision‐making procedures in peer, family, and school contexts. Child Development 70 (2): 502–512.

Hess, R.D. and Torney-Purta, J. (2005) The Development of Political Attitudes in Children. Chicago: Aldine Transaction.

Hetherington, M.J. (1998) The political relevance of political trust. The American Political Science Review 92 (4): 791–808.

Hibbing, J.R. and Theiss-Morse, E. (2001) Process preferences and american politics: What the people want government to be. American Political Science Review 95 (1): 145–154.

Hooghe, M. and Wilkenfeld, B. (2008) The stability of political attitudes and behaviors across adolescence and early adulthood: A comparison of survey data on adolescents and young adults in eight countries. Journal of Youth and Adolescence 37 (2): 155–167.

Hu, L. and Bentler, P.M. (1999) Cutoff criteria for fit indexes in covariance structure analysis: Conventional criteria versus new alternatives. Structural Equation Modeling: A Multidisciplinary Journal 6 (1): 1–55.

Jennings, M.K. and Niemi, R.G. (1974) The Political Character of Adolescence: The Influence of Families and Schools. Princeton, New Jersey: Princeton University Press.

Jennings, M.K., Stoker, L. and Bowers, J. (2009) Politics across generations: Family transmission reexamined. The Journal of Politics 71 (03): 782–799.

Kiousis, S. and McDevitt, M. (2008) Agenda setting in civic development effects of curricula and issue importance on youth voter turnout. Communication Research 35 (4): 481–502.

Kline, R.B. (2010) Principles and Practice of Structural Equation Modeling. New York: The Guilford Press.

Leventhal, G.S. (1976) Fairness in Social Relationships. Morristown NJ: General Learning Press.

Lind, E.A. and Tyler, T.R. (1988) The Social Psychology of Procedural Justice. New York: Plenum.

Linde, J. (2011) Why feed the hand that bites you? Perceptions of procedural fairness and system support in post-communist democracies. European Journal of Political Research 51 (3): 410–434.

Lipsky, M. (1980) Street-level Bureaucracy: Dilemmas of the Individual in Public Services. New York: Russell Sage Foundation Publications.

Little, R.J.A. and Rubin, D.B. (2002) Statistical Analysis with Missing Data, 2nd edn. Hoboken, NJ: Wiley.

MacCoun, R.J. (2005) Voice, control, and belonging: The double-edged sword of procedural fairness. Annual Review of Law and Social Science 1: 171–201.

Marien, S. and Hooghe, M. (2011) Does political trust matter? An empirical investigation into the relation between political trust and support for law compliance. European Journal of Political Research 50 (2): 267–291.

Miller, A.H. and Listhaug, O. (1999) Political performance and institutional trust. In: P. Norris (ed.) Critical Citizens: Global Support for Democratic Government. Oxford: Oxford University Press, pp. 204–216.

Muthén, L.K. and Muthén, B.O. (1998–2010) Mplus User's Guide, 6th edn. Los Angeles, CA: Muthén & Muthén.

Niemi, R.G. and Hepburn, M.A. (1995) The rebirth of political socialization. Perspectives on Political Science 24 (1): 7–16.

Paternoster, R., Bachman, R., Brame, R. and Sherman, L. (1997) Do fair procedures matter? The effect of procedural justice on spouse assault. Law and Society Review 31 (1): 163–204.

Persson, M. (2012) Does type of education affect political participation? Results from a panel survey of Swedish adolescents. Scandinavian Political Studies 35 (3): 198–221.

Renshon, S.A. (ed.) (1977) Handbook of Political Socialization: Theory and Research. New York: The Free Press.

Seligson, M.A. and Carrión, J.F. (2002) Political support, political skepticism, and political stability in new democracies – An empirical examination of mass support for coups d'Etat in Peru. Comparative Political Studies 35 (1): 58–82.

Sherrod, L.R., Torney-Purta, J. and Flanagan, C.A. (eds.) (2010) Handbook of Research on Civic Engagement in Youth. Hoboken, New Jersey: Wiley.

Skarlicki, D.P. and Folger, R. (1997) Retaliation in the workplace: The roles of distributive, procedural, and interactional justice. Journal of applied psychology 82 (3): 434.

Stattin, H., Persson, S., Burk, W.J. and Kerr, M. (2011) Adolescents' perceptions of the democratic functioning in their families. European Psychologist 16 (1): 32–42.

Swedish National Agency for Education (2014) An overview of the Swedish education system, http://www.skolverket.se/om-skolverket/andra-sprak-och-lattlast/in-english/the-swedish-education-system, accessed 11 April 2014.

Thibaut, J. and Walker, L. (1975) Procedural Justice: A Psychological Analysis. Hillsdale, NJ: Erlbaum.

Torney-Purta, J. (2002) The school's role in developing civic engagement: A study of adolescents in twenty-eight countries. Applied Developmental Science 6 (4): 203–212.

Torney-Purta, J., Lehmann, R., Oswald, H. and Schulz, W. (2001) Citizenship and Education in Twenty-eight Countries: Civic Knowledge and Engagement at Age Fourteen. Amsterdam: International Association for the Evaluation of Educational Achievement.

Tyler, T.R. (1990) Why People Obey the Law. New Haven, CT: Yale University Press.

Tyler, T.R. (1998) Public mistrust of the law: A political perspective. University of Cincinnati Law Review 66: 847–1411.

Tyler, T.R. and Blader, S.L. (2000) Cooperation in Groups: Procedural Justice, Social Identity, and Behavioral Engagement. Philadelphia, Pa: Psychology Press.

Tyler, T.R. and Blader, S.L. (2013) Cooperation in Groups: Procedural Justice, Social Identity, and Behavioral Engagement. Philadelphia, Pa: Psychology Press.

Tyler, T.R., Casper, J.D. and Fisher, B. (1989) Maintaining allegiance toward political authorities: The role of prior attitudes and the use of fair procedures. American Journal of Political Science 33 (3): 629–652.

Uslaner, E.M. (2000) Producing and consuming trust. Political Science Quarterly 115 (4): 569–590.

Verba, S., Schlozman, K.L. and Brady, H.E. (1995) Voice and Equality: Civic Voluntarism in American Politics. Cambridge, MA: Harvard University Press.
Acknowledgements
This study was made possible by access to data from the Political Socialization Program, a longitudinal research program at YeS (Youth & Society) at Örebro University, Sweden. Responsible for the planning, implementation and financing of the collection of data in this project were Professors Erik Amnå, Mats Ekström, Margaret Kerr and Håkan Stattin. The data collection was supported by grants from the Bank of Sweden Tercentenary Foundation. Moreover, the participation of Pär Zetterberg in the writing of this study was made possible by a grant from the Swedish Research Council. Finally, we would like to thank the two anonymous reviewers for their constructive comments and suggestions
About this article
Cite this article
Abdelzadeh, A., Zetterberg, P. & Ekman, J. Procedural fairness and political trust among young people: Evidence from a panel study on Swedish high school students. Acta Polit 50, 253–278 (2015). https://doi.org/10.1057/ap.2014.22
Keywords
procedural fairness

political trust

reciprocal

school

adolescents

structural equation modeling