Abstract
This study examines changes in negative campaigning in the Netherlands between 1981 and 2010. In addition, we examine which factors determine whether political parties are likely to make use of this campaign strategy in the Dutch multi-party system. We advance existing research on negative campaigning in two ways. First of all, this is the most extensive study of negative campaigning in the Netherlands conducted so far and to our knowledge also the most extensive conducted in any multi-party system. Second, our study contributes to the theoretical understanding of the determinants of negative campaigning in a multi-party context by differentiating between parties' vote-seeking and office-seeking incentives, and stating the implications of office-seeking for the use of negative campaigning.
Access options
Buy single article
Instant access to the full article PDF.
US$ 39.95
Tax calculation will be finalised during checkout.
Subscribe to journal
Immediate online access to all issues from 2019. Subscription will auto renew annually.
US$ 79
Tax calculation will be finalised during checkout.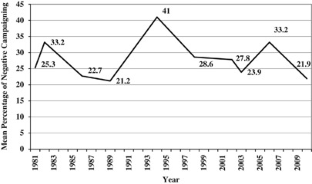 Notes
1.

Within the US literature, scholars also highlight electoral context factors that might affect a candidate's or party's decision to make use of negative campaigning (See for instance Haynes and Rhine, 1998; Damore, 2002; Kahn and Kenney, 2004). In this article, we focus on variation in negative campaigning across parties, these election context factors are less relevant as they should predict the same level of negativity for all parties. In addition, we study too few elections to have enough variance on election characteristics to estimate these effects.

2.

In this respect, we should not exaggerate the differences between two-party systems and multi-party systems. Even though a party might not directly benefit when attacking the opponent (it might even lose votes instead of gaining them and unintentionally benefit another party), negative campaigning is still indirectly advantageous for the attacking party when it weakens its most important competitor and thereby strengthens its own position relative to the other parties competing in the election campaign.

3.

A party's size tends to affect its coalition potential positively, as the largest party is most likely to participate in a coalition government. However, there are exceptions to this 'rule': In the election of 1977 and 1982, the Labor Party (PvdA) became the largest party, but a government without it was formed after these elections.

4.

The retrieved party election broadcasts from election campaigns before 1981 are too scattered to serve as basis for a systematic examination of the use of negative campaigning in Dutch election campaigns.

5.

Maas and Hox (2005) show that a small sample size of 10 at the second level leads to biased estimates of the second-level standard error. The estimates can be biased up to 25 per cent.

6.

Polls that measure all parties' vote share four weeks prior to Election Day.

7.

We refrain from constructing a scale or an additive index to measure coalition potential. First of all, we wish to preserve the possibility of seeing the separate relationships between the different aspects of coalition potential (government experience, party size, distance to the median party and new party status) and the likelihood of going negative in an election campaign. Second, these separate aspects of coalition potential are not necessarily related as these characteristics all increase a party's coalition potential, but do not necessarily coincide with each other.

8.

To ensure the validity of these measurements, we cross-validated the voters' left/right placements from recent elections with data from the Chapel Hill Expert Survey (CHES) from 2002 and 2006. The mean voter scores from 2002 and 2006 are correlated highly, respectively the Pearson's R coefficients between both measures amount to 0.93 and to 0.90 (both significant at P≤.001 level).

9.

After the Second World War, the Dutch party system was re-established with several new parties being founded or other parties renamed. For measuring parties' viability as potential governing parties, governing experience since 1946 (the first election after WW-II) seems to be the most natural point of reference. We treat new parties and mergers differently, because otherwise we would draw the invalid conclusion that for instance the CDA (a merger of several Christian parties) had very little governing experience in the early 1980s.

10.

We have not weighted the data on the basis of party size in a linear manner, but have taken the square root of the party size. This ensures that larger parties weight more heavily on the results than smaller ones, but that the results are not fully dominated by the larger parties. There is also an argument from inferential statistics to weight parties in this manner. Smaller parties have fewer members of parliament (MP's). As the standard error of estimates is a function of the square root of the sample size, we also weight the parties by the square root of the proportion of number of MP's, so that our sample follows the sampling distribution when we interpret the sample to reflect the composition of the parliament.

11.

The overall level of negativity in the Netherlands is not exceptional, but is somewhat lower in comparison with the United Kingdom and two-party systems like the United States. On the basis of ads in the presidential election campaigns in the period 1960—2000, Geer (2006) finds an overall level of 32 per cent. On the basis of British party election broadcasts in the period 1964–2005, Van Heerde-Hudson (2011) finds an overall level of approximately 40 per cent. Elmelund-Præstekær (2010) reports an overall level of 39 per cent for Danish elections in the period 1994—2007. However, he measures negative campaigning on the basis of other campaign means, a different coding and calculation method. Van Heerde-Hudson makes use of Geer's coding method.

12.

When we estimate the effects of just a dummy variable for loss in the polls, the effect is not statistically significant, and even changes its sign. We conclude that it is not just the sheer difference between losing and winning, but the magnitude in losing or winning that motivates parties to make use of negative campaigning, or which makes them decide not to go negative.

13.

For instance in our research period after the elections of 1982 and 2003, the party Democrats' 66 (D66) became part of the government coalition with only six seats, and after the 2006 elections, the Christian Union (CU) did the same.
References
Andeweg, R.B. and Irwin, G.A. (2009) Governance and Politics of the Netherlands. Houndmills, UK: Palgrave Macmillan.

Bartolini, S. (1998) Coalition potential and governmental power. In: P. Pennings and J.E. Lane (eds.) Comparing Party System Change. London: Routledge, pp. 40–61.

Benoit, W.L. (1999) Seeing Spots: A Functional Analysis of Presidential Television Advertisements, 1952–1996. London: Praeger.

Benoit, W.L., McHale, J.P., Hansen, G.J., Pier, P.M. and McQuire, J.P. (2003) Campaign 2002: A Functional Analysis of Presidential Campaign Discourse. Lanham, MD: Rowman and Littlefield.

Brants, K., Kok, W. and van Praag, P. (1982) De strijd om de Kiezersgunst, Verkiezingscampagnes in Nederland. Amsterdam, The Netherlands: Kobra.

Brants, K. (2006) Sure to come, but temporarily delayed: The Netherlands in search of the political ad. In: L.L. Kaid and C. Holtz-Bacha (2006) The Sage Handbook of Political Advertising. Thousand Oaks, CA: Sage Publications, pp. 227–240.

Budesheim, T.L., Houston, D.A. and DePaola, S.J. (1996) Persuasiveness of in-group and out-group political messages: The case of negative campaigning. Journal of Personality and Social Psychology 70 (3): 523–534.

Budge, I. and Farlie, D.J. (1983) Explaining and Predicting Elections: Issue Effects and Party Strategies in Twenty-Three Democracies. London: Allen and Urwin.

Butler, D. and Ranney, A. (eds.) (1992) Introduction. Electioneering: A Comparative Study of Continuity and Change. Oxford: Clarendon Press, pp. 1–10.

Damore, D.F. (2002) Candidate strategy and the decision to go negative? Political Research Quarterly 55 (3): 669–685.

Davis, M.L. and Ferrantino, M. (1996) Towards a positive theory of political rhetoric: Why do politicians lie? Public Choice 88 (1–2): 1–33.

Druckman, J.N., Kifer, M.J. and Parkin, M. (2009) Campaign communications in US congressional elections. American Political Science Review 103 (3): 343–366.

Elmelund-Præstekær, C. (2008) Negative campaigning in a multiparty system. Representation 31 (4): 27–39.

Elmelund-Præstekær, C. (2010) Beyond American negativity: Toward a general understanding of the determinants of negative campaigning. European Political Science Review 2 (1): 137–156.

Gabel, M.J. and Huber, J. (2000) Putting parties in their place. American Journal of Political Science 44 (1): 94–103.

Geer, J. (2006) In Defense of Negativity: Attack Ads in Presidential Campaigns. Chicago, IL: Chicago University Press.

Hale, J.F., Fox, J.C. and Farmer, R. (1996) Negative advertisements in US senate campaigns: The influence of campaign context. Social Science Quarterly 77 (2): 229–343.

Hansen, K. and Tue Pedersen, R. (2008) Negative campaigning in a multiparty system. Scandinavian Political Studies 31 (4): 229–343.

Haynes, A. and Rhine, S.L. (1998) Attack politics in presidential nomination campaigns: An examination of the frequency and determinants of intermediated negative campaigns against opponents. Political Research Quarterly 51 (3): 691–721.

Jamieson, K.H. (1992) Dirty Politics: Deception, Distraction and Democracy. Oxford: Oxford University Press.

Johnson-Cartee, K.S., Copeland, G. and Johnson, E.E. (1991) Negative Advertising: Coming of Age. London: Lawrence Erlbaum.

Kahn, K.F. and Kenney, P.J. (2004) When do candidates go negative? In: L.L. Kaid and C. Holtz-Bacha (eds.) No Holds Barred: Negativity in US Senate Campaigns. Upper Saddle River, NJ: Pearson, pp. 19–37.

Kaid, L.L. and Holtz-Bacha, C. (2006) The Sage Handbook of Political Advertising. London: Sage.

Kleinnijenhuis, J. and Takens, J. (2011) Het politieke nieuwsaanbod van dagbladen en televisie: Objectief en pluriform? In: J. Thomassen and R. Andeweg (eds.) Democratie Doorgelicht. Het functioneren van de Nederlandse Democratie. Leiden, the Netherlands: Leiden University Press, pp. 407–424.

Laver, M. and Schofield, N. (1998) Multiparty Government: The Politics of Coalition in Europe. Ann Arbor, MI: Michigan Press.

Lau, R.R. and Pomper, G.M. (2004) Negative Campaigning: An Analysis of US Senate Elections. Lanham. MD: Rowman and Littlefield.

Lau, R.R., Sigelman, L., Heldman, C. and Babbit, P. (1999) The effects of negative political advertisements: A meta-analytical review. American Political Science Review 93 (4): 851–875.

Lau, R.R., Sigelman, L. and Rovner, I.B. (2007) The effects of negative political campaigns: A meta-analytical reassessment. Journal of Politics 69 (4): 1167–1209.

Lijphart, A. (1999) Patterns of Democracy: Government Forms and Performance in Thirty-Six Countries. New Haven, CT: Yale University Press.

Maas, C.J.M. and Hox, J.J. (2005) Sufficient sample sizes for multilevel modeling. Methodology 1 (3): 85–91.

Mair, P. (1996) Party systems and structures of competition. In: L. LeDuc, R.G. Niemi and P. Norris (eds.) Comparing Democracies: Elections and Voting in Global Perspective. Thousand Oaks, CA: Sage Publication, pp. 83–106.

Mark, D. (2006) Going Dirty: The Art of Negative Campaigning. Lanham, MD: Rowman and Littlefield.

Mayer, W.G. (1996) In defense of negative campaigning. Political Science Quarterly 111 (3): 437–455.

Mediawet. (2008) Wet van 29 december 2008. tot Vaststelling van een Nieuwe Mediawet. Staatsblad van het Koninkrijk der Nederlanden 548: 1–79.

Pierce, R. (1999) Mass-Elite Issue Linkages and the Responsible Party Model of Representation. In: W. Miller et al. (eds.) Policy Representation in Western Democracies. Oxford: Oxford University Press, pp. 9–32.

Plasser, F. and Plasser, G. (2002) Global Political Campaigning: A Worldwide Analysis of Campaign Professionals and Their Practices. London: Praeger.

Prior, M. (2001) Weighted content analysis of political advertisements. Political Communication 18 (3): 335–345.

Sartori, G. (1976/2005) Parties and Party Systems: A Framework of Analysis. Cambridge: Cambridge University Press.

Scammell, M. (1997) The wisdom of the war room: US campaigning and Americanization. Research Paper, pp. 1–17. Cambridge: Presidents and Fellows Harvard College.

Sigelman, L. and Buell, E.H. (2003) You take the high road and i'll take the low road? The interplay of attack strategies and tactics in presidential campaigns. Journal of Politics 65 (2): 518–531.

Sjöblom, G. (1968) Party Strategies in a Multiparty System. Lund, Sweden: Studentliteratur.

Skaperdas, S. and Grofman, B. (1995) Modeling negative campaigning. American Political Science Review 89 (1): 49–61.

Strøm, K. and Müller, W. (eds.) (1999) Political parties and hard choices. In: Policy, Office or Votes? How Political Parties in Western Europe Make Hard Decisions. Cambridge: Cambridge University Press, pp. 1–35.

Theilmann, J. and Wilhite, A. (1998) Campaign tactics and the decision to attack. Journal of Politics 60 (4): 1050–1062.

Van Praag, P. (2007) De verkiezingscampagne: Professioneler en feller. In: K. Aarts, H. van der Kolk and M. Rosema (eds.) Een verdeeld Electoraat: De Tweede Kamerverkiezingen van 2006. Utrecht, the Netherlands: Het Spectrum, pp. 97–119.

Van Praag, P. (2005) De veranderende Nederlandse campagnecultuur. In: K. Brants and P. van Praag (eds.) Politiek en Media in Verwarring: De Verkiezingscampagnes in het Lange Jaar 2002. Amsterdam, the Netherlands: Het Spinhuis, pp. 21–43.

Van Praag, Jr P. (1991) Strategie en Illusie: Elf jaar intern debat in de PvdA (1966–1977). Amsterdam, the Netherlands: Het Spinhuis.

Van Heerde-Hudson, J. (2011) The Americanization of British party advertising? Negativity in party election broadcasts, 1964–2005. British Politics 6 (1): 52–77.

Warwick, P.V. (1996) Coalition government membership in West European parliamentary democracies. British Journal of Political Science 26 (4): 471–499.

Woldendorp, J.J., Keman, H. and Budge, I. (2000) Party government in 48 democracies (1945–2008): Composition-Duration-Personnel. Boston, MA: Kluwer Academic Publishers.
Appendix
Appendix
About this article
Cite this article
Walter, A., van der Brug, W. When the gloves come off: Inter-party variation in negative campaigning in Dutch elections, 1981–2010. Acta Polit 48, 367–388 (2013). https://doi.org/10.1057/ap.2013.5
Keywords
negative campaigning

multi-party system

party competition

election campaigns

The Netherlands

political parties