Abstract
In recent work, Bovens and Wille (2010, 2011) state that the Netherlands has turned into a 'diploma-democracy'. The core of their argument is that the higher educated have come to dominate political processes in the Netherlands. While the effect of education on political and civic participation is well documented, Bovens and Wille make a longitudinal claim, namely that the political gap between education groups has increased over time. Yet, the longitudinal evidence presented to back up their claim is limited. In this article we track the education gap in various political behaviours and attitudes in the Netherlands from 1971 to 2010. Our analyses show that there is no evidence for a widening educational gap. In the case of political interest, the gap between educational groups has even narrowed significantly.
This is a preview of subscription content, log in to check access.
Access options
Buy single article
Instant access to the full article PDF.
US$ 39.95
Price includes VAT for USA
Subscribe to journal
Immediate online access to all issues from 2019. Subscription will auto renew annually.
US$ 124
This is the net price. Taxes to be calculated in checkout.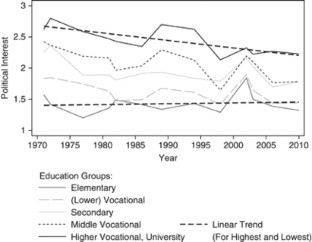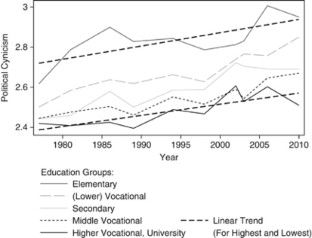 Notes
1.

In the regression tables that follow, we report the magnitude and statistical significance of the coefficient on the interaction terms. However, in line with recommendations by Brambor et al (2006) we have plotted the effect of education on each of the six dependent variables and the 95 per cent confidence intervals against the modifying variable ('time') to ensure that we interpret our conditional coefficients and their standard errors correctly. These graphs are not shown to save space, but are available from the authors upon request.

2.

Cramer's V equals 0.162 for the 1970s, 0.174 for the 1980s, 0.161 for the 1990s and 0.151 for the 2000s.
References
Achen, C. (1975) Mass political attitudes and the survey response. American Political Science Review 69 (4): 1218–1231.

Adriaansen, M., van Praag, P. and de Vreese, C. (2011) Substance matters: How news content can reduce political cynicism. International Journal of Public Opinion Research 22 (4): 433–457.

Almond, G. and Verba, S. (1963) The Civic Culture: Political Attitudes and Democracy in Five Nations. Princeton: Princeton University Press.

Baumann, Z. (1998) Globalization: The Human Consequences. Cambridge: Polity Press.

Bobo, L. and Licari, F.C. (1989) Education and political tolerance: Testing the effects of cognitive sophistication and target group affect. Public Opinion Quarterly 53 (3): 285–308.

Bovens, M. and Wille, A. (2010) The education gap in participation and its political consequences. Acta Politica 45 (4): 393–422.

Bovens, M. and Wille, A. (2011) Diplomatiedemocratie: Over de spanning tussen meritocratie en democratie. Amsterdam: Bert Bakker.

Brambor, T., Clark, W. and Golder, M. (2006) Understanding interaction models: Improving empirical analyses. Political Analysis 14 (1): 63–82.

Dekker, P. and Van der Meer, T. (2009) Opleidingsverschillen verder onderzocht. In: P. Dekker, T. Van der Meer, P. Schyns and E. Steenvoorden (eds.) Crisis in aantocht: Verdiepingsstudie Continu Onderzoek Burgerperspectieven 2008. Den Haag: Sociaal Cultureel Planbureau, pp. 135–152.

Dekker, P., van der Meer, T., Schyns, P. and Steenvoorden, E. (eds.) (2009) Crisis in aantocht: Verdiepingsstudie Continu Onderzoek Burgerperspectieven 2008. Den Haag: Sociaal Cultureel Planbureau.

Evans, G. (ed.) (1999) The End of Class Politics? Oxford: Oxford University Press.

Evans, G., Heath, A. and Payne, C. (1999) Class: Labour as a catch-all party? In: G. Evans and P. Norris (eds.) Critical Elections: British Parties and Voters in Long-term Perspective. London: Sage.

Finkel, S. (1985) Reciprocal effects of participation and political efficacy: A panel analysis. American Journal of Political Science 29 (4): 891–913.

Kriesi, H., Grande, E., Lachat, R., Dolezal, M., Bornschier, S. and Frey, T. (2008) West European Politics in the Age of Globalisation. Cambridge: Cambridge University Press.

Kunovich, S. and Slomczynski, K.M. (2007) Systems of distribution and a sense of equity: A multilevel analysis of meritocratic attitudes in post-industrial societies. European Sociological Review 23 (5): 649–663.

Lijphart, A. (1997) Unequal participation: Democracy's unresolved dilemma. American Political Science Review 91 (1): 1–14.

Nie, N.H., Junn, J. and Stehlik-Barry, K. (1996) Education and Democratic Citizenship in America. Chicago, IL: University of Chicago Press.

Parry, G., Moyser, G. and Day, N. (1992) Political Participation and Democracy in Britain. Cambridge: Cambridge University Press.

Stolle, D. and Hooghe, M. (2011) Shifting inequalities: Patterns of exclusion and inclusion in emerging forms of political participation. European Societies 13 (1): 119–142.

Stubager, R. (2010) The development of the education cleavage: Denmark as a critical case. West European Politics 33 (3): 505–533.

Thomassen, J. (2010) De permanente crisis van de democratie. Farewell address, 24 September 2010, University of Twente.

Todosijevic, B., Aarts, K. and van der Kaap, H. (2010) Dutch Parliamentary Election Studies: Cumulative 1971–2006 Data File. Den Haag: DANS.

Verba, S. (1996) The citizen as respondent: Sample surveys and American democracy. American Political Science Review 90 (1): 1–7.

Verba, S., Nie, N. and Kim, J.-O. (1978) Participation and Political Equality: A Seven-nation Comparison. Cambridge: Cambridge University Press.

Verba, S., Schlozman, K.L. and Brady, H.E. (1995) Voice and Equality: Civic Voluntarism in American Politics. Cambridge, MA: Harvard University Press.
Appendix
Appendix
About this article
Cite this article
Hakhverdian, A., van der Brug, W. & de Vries, C. The emergence of a 'diploma democracy'? The political education gap in the Netherlands, 1971–2010. Acta Polit 47, 229–247 (2012). https://doi.org/10.1057/ap.2011.27
Keywords
education

political inequality

political participation

populism

Dutch politics