Abstract
The List Pim Fortuyn (LPF) is a key example of a family of new right-wing parties that, according to many observers, have had a strong effect on European party systems. This article studies the effect of the entry of the LPF into the Dutch Parliament on the parliamentary party system. The article looks at two aspects of the party system: first, did the LPF affect the issue agenda of the legislature? And second, has the LPF been able to create a new significant line of conflict in the legislature, as Kriesi and Frey and Pellikaan et al observed for the electoral arena? Or, as Van der Brug and Bale have proposed, is the Dutch party system after Fortuyn essentially one-dimensional? The study looks at new, behavioral, data from the Dutch legislature: parliamentary voting behavior and the sponsorship of motions, to answer these questions. It employs Poole's Open Classification method to understand the patterns underlying voting behavior.
This is a preview of subscription content, log in to check access.
Access options
Buy single article
Instant access to the full article PDF.
US$ 39.95
Price includes VAT for USA
Subscribe to journal
Immediate online access to all issues from 2019. Subscription will auto renew annually.
US$ 124
This is the net price. Taxes to be calculated in checkout.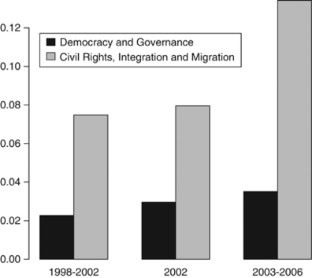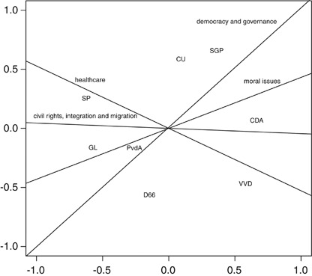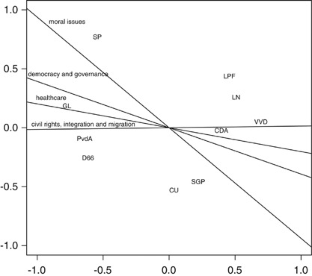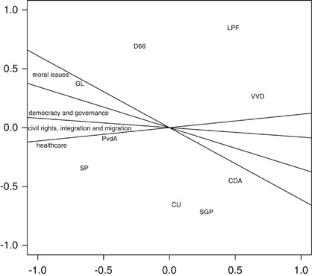 Notes
1.

There was even a third 'new' party: the CU. The RPF and the GPV, two small orthodox Protestant parties with seats in parliament, merged to form the CU in 2001.They won their first seats in parliament in 2002. This merger is not a real new party (Rochon, 1985, p. 437, footnotes 6, 10). In the analysis of 2002, the RPF and the GPV are taken together because even before merging they voted the same in 98 per cent of the votes.

2.

The 22 categories are 'Macro-Economy and Taxation', 'Civil Rights, Integration and Migration', 'Health care', 'Agriculture and Fisheries', 'Labour', 'Education and Culture', 'the Environment', 'Energy', 'Transport', 'Justice, the Judiciary and Crime', 'Social Affairs', 'Community Development, Housing and Urban Planning', 'Enterprise, Banks and Internal Trade', 'Defense', 'Science, Technology and Communication', 'Foreign Trade', 'Foreign Affairs', 'Democracy and Governance', 'Spatial Planning, Nature and Water Management', 'Moral Issues', 'Development Cooperation' and 'Others/Uncodeable'.

3.

A regression model was estimated where the two dimensions from the analysis were used as independent variables and the values from the expert survey as dependent variables. These regression coefficients can be interpreted geometrically. In this case, a line was drawn with slope b2/b1 a procedure which yields similar results as Van der Brug (1997, pp. 60–62).

4.

In the period 2002–2003, there were a very limited number of votes. The subset of coalition-initiated votes on specific issues is so small that they cannot be scaled for almost all issues. Therefore, both coalition and opposition sponsored votes were used for the analyses per issue category.
References
Andeweg, R.B. and Irwin, G.A. (2005) Politics and Governance in the Netherlands. Basingstoke: Palgrave.

Andeweg, R.B. and Thomassen, J. (forthcoming) Pathways to party unity; sanctions, loyalty, homogeneity and division of labour in the Dutch parliament. Party Politics, in press.

Bale, T. (2003) Cinderella and her ugly sisters: The mainstream and extreme right in Europe's bipolarising party system. West European Politics 26 (3): 67–90.

Bardi, L. and Mair, P. (2006) The parameters of party systems. Party Politics 14 (2): 147–166.

Bovens, M., Pellikaan, H. and Trappenburg, M. (1998) Nieuwe Tegenstellingen in de Nederlandse Politiek. In: M. Bovens, H. Pellikaan and M. Trappenburg (eds.) Nieuwe Tegenstellingen in de Nederlandse Politiek. Amsterdam, the Netherlands: Boom, pp. 7–14.

Clinton, J.D. (2007) Lawmaking and roll calls. Journal of Politics 69 (2): 457–469.

De Beus, J., van Doorn, J. and de Rooy, P. (1993) De ideologische driehoek. Nederlandse politiek in historisch perspectief. Amsterdam, the Netherlands: Boom.

De Vries, J. and van der Lubben, S. (2004) Een onderbroken evenwicht in de Nederlandse politiek: Paars II en de revolte van Fortuyn. Amsterdam, The Netherlands: Van Gennep.

Downs, A. (1957) An Economic Theory of Democracy. New York: Harper.

Hix, S. and Noury, A. (2007) Government-opposition or left-right? The institutional determinants of voting in fourteen parliaments. London, UK: London School of Economics, mimeo.

Holzhacker, R. (2002) National parliamentary scrutiny over EU issues – Comparing the goals and methods of governing and opposition parties. European Union Politics 3 (4): 339–352.

Hug, S. (1997) Altering Party Systems. Strategic Behaviour and the Emergence of New Political Parties in Western Democracies. Ann Arbour, MI: University of Michigan Press.

Inglehart, R. (1984) The changing structure of political cleavages in Western society. In: R.J. Dalton, S.C. Flanagan and A. Beck (eds.) Electoral Change. Realignment and Dealignment in Advanced Industrial Democracies. Princeton, NJ: Princeton University Press.

Kriesi, H. and Frey, T. (2008) The Netherlands: A challenge that was slow in coming. In: H. Kriesi, E. Grande, R. Lacat, M. Dolezal, S. Bornschier and T. Frey (eds.) West European Politics in the Age of Globalization. Cambridge, UK: Cambridge University Press, pp. 154–182.

Krouwel, A. and Lucardie, P. (2008) Waiting in the wings: New parties in the Netherlands. Acta Politica 43 (2–3): 278–307.

Laver, M. (2006) Legislatures and parliaments in comparative context. In: B.R. Weingast and D.A. Wittman (eds.) The Oxford Handbook of Political Economy. Oxford: Oxford University Press.

Louwerse, T. (forthcoming) The spatial approach to the party mandate. Parliamentary Affairs, in press.

Lucardie, P. (2008) The Netherlands: Populism versus pillarization. In: D. Albertazzi and D. McDonnel (eds.) Twenty-first Century Populism. The Spectre of Western European Democracy. Basingstoke: Palgrave MacMillan, pp. 151–165.

Mair, P. (1997a) E.E. Schattschneider's The Semi Sovereign People. Political Studies 45 (5): 947–954.

Mair, P. (1997b) Party System Change: Approaches and Interpretations. Oxford: Oxford University Press.

Mair, P. (2001) The green challenge and political competition: How typical is the German experience. Continuity and Change in German Politics 10 (2): 99–116.

Mair, P. (2007) Left-right orientations. In: R.J. Dalton and H.D. Klingeman (eds.) The Oxford Handbook of Political Behaviour. Oxford: University Press.

Mair, P. (2008) Electoral volatility and the Dutch party system: A comparative perspective. Acta Politica 43 (2–3): 235–253.

Marx, M. and Schuth, A. (2010) DutchParl. A Corpus of Parliamentary Documents in Dutch, Proceedings Language Resources and Evaluation LREC 2010; 19–21. Valletta, Malta: European Language Resources Association.

Meguid, B.M. (2005) Competition between unequals: The role of mainstream party strategy in niche party success. American Political Science Review 99 (3): 347–359.

Norris, P. (2005) Radical Right: Voters and Parties in the Electoral Market. Cambridge, UK: Cambridge University Press.

NRC Handelsblad. (2007) Balkenende-IV gaat piepend en schurend de kerst in. 22 December, p. 3.

Pellikaan, H., de Lange, S.L. and van der Meer, T. (2007) Fortuyn's legacy: Party system change in the Netherland. Comparative European Politics 5 (3): 282–302.

Poole, K.T. (2005) Spatial Models of Parliamentary Voting. Cambridge, UK: Cambridge University Press.

Poole, K.T. and Rosenthal, H. (2007) Ideology and Congress. New Brunswick: Transaction Publishers.

Rochon, T.R. (1985) Mobilizers and challengers: Towards a theory of new party success. International Political Science Review 6 (4): 419–439.

Rosenthal, H. and Voeten, E. (2004) Analyzing roll calls with perfect spatial voting: France 1946–1958. American Journal of Political Science 48 (3): 620–632.

Schattschneider, E.E. (1960) The Semi-sovereign People. A Realist's view on Democracy in America. New York: Holt, Rhineheart and Winston.

Tahk, A. (2010) Properties of ideal-point estimators. Paper presented at the 27th Annual Summer Meeting of the Society for Political Methodology; 22–24 July, Iowa City.

Van der Brug, W. (1997) Where's the party? PhD thesis. University of Amsterdam.

Van der Brug, W. (2008) Een crisis van de partijendemocratie? Amsterdam, The Netherlands: Amsterdam University Press.

Van der Brug, W. and van Spanje, J. (2009) Immigration, Europe and the 'New' cultural cleavage. European Journal of Political Research 48 (3): 309–334.

Van Spanje, J. (2010) Contagious parties. Anti-immigration parties and their impact on other parties' immigration stances in contemporary Western Europe. Party Politics 16 (5): 563–586.

Walgrave, S., Varone, F. and Dumont, P. (2006) Policy with or without parties? A comparative analysis of policy priorities and policy changes in Belgium, 1991 to 2000. Journal of European Public Policy 13 (7): 1021–1038.
Acknowledgements
The author is grateful for the discussions at the ECPR Political Parties Standing Group Summer School (2009) and at a workshop at the ECPR Joint Sessions (2010). The comments of Peter Mair (EUI/Florence) were appreciated in particular. He wants to thank Maarten Marx for making his data available. He is also thankful for the critical comments from Rudy Andeweg, Huib Pellikaan, Tom Louwerse (Leiden University) and the anonymous reviewers of Acta Politica.
About this article
Cite this article
Otjes, S. The Fortuyn Effect revisited: How did the LPF affect the Dutch parliamentary party system?. Acta Polit 46, 400–424 (2011). https://doi.org/10.1057/ap.2011.12
Keywords
party positions

Dutch politics

party systems

parliamentary arena

new political parties