Abstract
In recent years immigrant origin ethnic minorities have become a non-negligible electoral group in Belgian cities. Numerous studies have been undertaken in Belgium on the link between immigrant associational life and political participation and on the profiles of politicians of immigrant origin, but not yet on party choice and voting patterns among ethnic minority groups. In this article, we present the first analysis of voting patterns of ethnic minority groups in Belgium, making use of exit poll data on the local elections for three municipalities of the Brussels Capital Region. We investigate whether non-EU immigrant origin voters have a particular party preference which cannot be explained by other background variables such as educational level or socio-economic position. We also look into the issue of preferential voting for candidates of immigrant origin. According to the theory on political opportunity structures, one would expect a lesser importance of ethnic voting in the Belgian context (in which ethnic mobilisation is discursively discouraged). Ethnic voting, however, turns out to be quite important in the Brussels' context.
This is a preview of subscription content, log in to check access.
Access options
Buy single article
Instant access to the full article PDF.
US$ 39.95
Price includes VAT for USA
Subscribe to journal
Immediate online access to all issues from 2019. Subscription will auto renew annually.
US$ 124
This is the net price. Taxes to be calculated in checkout.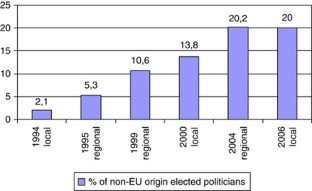 Notes
1.

There are currently no official ethnic statistics available in Belgium, only figures distinguishing nationals and non-nationals (see Jacobs and Rea, 2009).

2.

In French public discourse, Communautarism refers to the valorisation of cultural difference and the process of mobilisation around an ethnic identity. It is widely seen as something negative among French political elites.

3.

Voting is compulsory for Belgian nationals. Non-compliance leads to a fine. A large majority of 'new' Belgians thus participate in the elections.

4.

We will not discuss the presence of immigrant origin politicians on the federal level in this article, but let us just mention there have been several MPs of Moroccan or Turkish origin in both the federal as the European Parliament since 1999.

5.

6.

Cramer's V for Schaerbeek: 0.800 (p<0.001), for Forest 0.831 (p<0.001) and for Molenbeek 0.869 (p<0.001).

7.

Cramer's V: 0.331 (p<0.001).
References
Bousetta, H., Gsir, S. and Jacobs, D. (2005) Active Civic Participation of Immigrants in Belgium. Oldenburg. Country Report prepared for the European Research Project POLITIS, www.uni-oldenburg.de/politis-europe.

Heelsum, A.van and Tillie, J. (2006) Opkomst en partijvoorkeur van migranten bij de gemeenteraadsverkiezingen van 7 maart 2006. Amsterdam, the Netherlands: IMES.

Jacobs, D. and Rea, A. (2009) Allochthones in the Netherlands and Belgium. International Migration, accepted, to be published.

Jacobs, D., Martiniello, M. and Rea, A. (2002) Changing patterns of political participation of citizens of immigrant origin in the Brussels Capital Region: The October 2000 election. Journal of International Migration and Integration/Revue de l'intégration et de la migration internationale 3 (2): 201–221.

Jacobs, D., Phalet, K. and Swyngedouw, M. (2004) Associational membership and political involvement among ethnic minority groups in Brussels. Journal of Ethnic and Migration Studies 30 (3): 543–559.

Jacobs, D., Bousetta, H., Rea, A., Martiniello, M. and Swyngedouw, M. (2006) Qui sont les candidats aux élections bruxelloises? Le profil des candidats à l'élection au parlement de la Région de Bruxelles Capitale du 13 Juin 2004. Cahiers Migrations, Vol. 37. Bruxelles, Belgium: Academia Bruylant.

Kaufman, L. and Schervish, P. (1986) Using adjusted cross tabulations to interpret log-linear relationships. American Review of Sociology 51: 717–733.

Koopmans, R., Statham, P., Giugni, M. and Passy, F. (2005) Contested Citizenship. Immigration and Cultural Diversity in Europe. Minneapolis, MN: University of Minnesota Press.

Leighley, J. (2001) Strength in Numbers? The Political Mobilization of Racial and Ethnic Minorities. Princeton: Princeton University Press.

Swyngedouw, M. (1989) De keuze van de kiezer. Naar een verbetering van de schattingen van verschuivingen in de partijvoorkeur bij opeenvolgende verkiezingen en peilingen. Leuven/Rotterdam: KULeuven/Erasmus Universiteit.

Swyngedouw, M. and Jacobs, D. (2006) Qui a voté en 2003 pour les candidats d'origine étrangère en Flandre (Belgique)? In: B. Khader, M. Martiniello, A. Rea and C. Timmerman (eds.) Penser l'immigration et l'intégration autrement. Une initiative belge inter-universitaire. Bruxelles, Belgium: Bruylant, pp. 159–176.

Swyngedouw, M., Billiet, J. and Goeminne, B. (2007) De kiezer onderzocht. De verkiezingen van 2003 en 2004 in Vlaanderen. Leuven, Belgium: Universitaire Pers Leuven.

Tillie, J. (2000) De etnische stem. Opkomst en stemgedrag van migranten tijdens gemeenteraadsverkiezingen, 1986–1998. Utrecht, the Netherlands: Forum.

Vasta, E. (2007) From ethnic minorities to ethnic majority policy: Multiculturalism and the shift to assimilationism in the Netherlands. Ethnic and Racial Studies 30 (5): 713–740.

Verba, S., Nie, N. and Kim, J. (1978) Participation and Political Equality: A Seven Nation Comparison. New York: Cambridge University Press.

Verba, S., Schlozman, K. and Brady, H. (1995) Voice and Equality. Civic Voluntarism in American Politics. Cambridge: Harvard University Press.

Vermunt, J.K. (1997) LEM: A General Program for the Analysis of Categorical Data. Tilburg: Department of Methodology and Statistics, Tilburg University.
Acknowledgements
We thank the Faculté des Sciences sociales, politiques et économiques/Solvay Business School of the Université Libre de Bruxelles for financial assistance in organizing the exit polls. We also thank the two anonymous reviewers of Acta Politica for their comments and suggestions which have helped improve this contribution.
Appendix
Appendix
About this article
Cite this article
Teney, C., Jacobs, D., Rea, A. et al. Ethnic voting in Brussels: Voting patterns among ethnic minorities in Brussels (Belgium) during the 2006 local elections. Acta Polit 45, 273–297 (2010). https://doi.org/10.1057/ap.2009.25
Keywords
electoral participation

ethnic minorities

Brussels

Belgium