Abstract
This article evaluates the patterns of democracy in the 16 federal states of Germany. By replicating Lijphart's analysis for the German sub-national context, we attempt to explain the connections between the political-institutional variables in the Länder democracies. Using factor analysis, it is possible to distinguish a three-dimensional pattern. Whereas the western area-states and Saxony tend to exhibit majoritarian traits, the eastern Länder and the city-states are more likely to display consensual patterns of power-sharing. The origins of these differing patterns of consensus and majoritarian democracy can be partially found in the unique constitutional traditions of their Allied occupying powers, critical historic junctures, as well as in the point in time when the state constitution was ratified.
Access options
Buy single article
Instant access to the full article PDF.
USD 39.95
Price excludes VAT (USA)
Tax calculation will be finalised during checkout.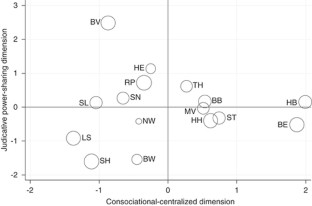 Notes
The reasons why we have based our analyses on the period from 1990 to 2005 and have refrained from analysing sub-periods are the following: (1) First, by using an extended time span we hope to mask out strong aberrations caused by particularly momentous historical events. In democracy research, periods in which states are newly formed are considered to be 'moments of great drama' which are accompanied by incomparable political, social and economic tensions (Kostadinova, 2003, p. 743). For instance, with regard to decentralization, the enormous structural changes inherent in the transition from a communist to a capitalist regime, as well as the legacies of the GDR – particularly in the area of public service – led, in the early 1990s, to considerable fluctuations in the field of public finance. (2) Moreover, a restriction of the analysis to the first half of the 1990s would be forced to confront a large number of gaps in the available data: For instance, the constitutions of the new Länder only entered into force between June 1992 and October 1993. In the preceding years, the five new Länder used provisional constitutions which consisted of only a small number of organizational state regulations. The constitutional courts of the East German Länder (including Berlin) only took up work between 1992 (Berlin) and 1995 (Mecklenburg-Vorpommern, Thuringia). Additionally, in Berlin and Hamburg popular legislation has existed only since 1997 and 1996, respectively.

While the feature of bicameralism is not relevant in the German Länder between 1990 und 2005 (only in Bavaria a powerless second chamber existed until 1999) and central bank independence simply does not exist at the sub-national level we have not included the system of labour relations in our analysis of the Länder for the following reasons. In the first place, it should be noted with reference to the relevant literature that the levels at which labour relations are negotiated are not identical with the political boundaries of the Länder (Keller, 2008). On the one hand, a stronger decentralization of labour relations can be observed where negotiations are held at company level. On the other hand, in individual sectors the levels of negotiation sometimes extend over several Länder (for instance, the northern German metal industry employers' association, the Nordverbund, covers the federal states of Hamburg, Bremen, Mecklenburg-Vorpommern, Schleswig-Holstein and parts of Lower Saxony), whereas in other cases the results of negotiations achieved at the federal level are implemented by all of the regional units of the Länder (for example, in the civil services sector). Furthermore, by concentrating on the electoral and party systems, government, parliament, the state architecture, justice and direct democracy, we follow Schmidt's (2000, p. 349 et seq.) much-noted criticism of Lijphart (1999) in which Schmidt accuses Lijphart of, on the one hand, overstretching the concept of democracy by taking into account institutions such as the Central Bank and labour relations. On the other hand, Schmidt considers Lijphart to insufficiently consolidate the form of governance by disregarding essential components of democracy, such as direct democratic participation rights.

The correlation often claimed to exist between constitutional rigidity and the frequency of constitutional amendments cannot be confirmed for the German Länder because despite great similarities concerning constitutional rigidity there are major differences between the Länder when it comes to the frequency of constitutional amendments.

In contrast to Lijphart's assumption (1999), the existing variance of judicial review can only be inadequately explained by different degrees of constitutional rigidity.

The factor analysis chosen here is a principal component analysis with orthogonal, rotated factor loadings in accordance with the Varimax Criterion. Principal component analysis is the most commonly used and most important technique for the determination of factors. In principal component analysis, the coordinate system with the factorizing characteristics is rotated so that new axes emerge, successively explaining maximum variance. The orthogonal (right-angled) rotation technique ensures that the factors are independent of each other (reciprocally uncorrelated). Rotation using the Varimax Criterion causes the factors to be rotated in such a way that the variance of the squared loadings per factor is maximized. This process aims to create the best possible structure for the significant factors.

An isolated analysis for the West German member states has confirmed the structure of factors.

The exact factor values for all German Länder are located in the appendix.

The constitutions of the Länder (the new Länder and the city-states excluded) were ratified on the following dates: Baden-Württemberg, 11 November 1953; Bavaria, 2 December 1946; Hesse, 1 December 1946; Lower Saxony, 13 April 1951; North Rhine-Westphalia, 28 June 1950; Rhineland-Palatinate, 18 May 1947; Saarland, 15 December 1947; and Schleswig-Holstein, 13 December 1949.

The American occupation zone included Bavaria, Bremen, Hesse and Württemberg-Baden. The British zone extended to Hamburg, Lower Saxony, North Rhine-Westphalia and Schleswig-Holstein. France occupied Baden, Rhineland-Palatinate, Saarland and Württemberg-Hohenzollern, whereas the Soviet Union controlled the territory of today's new Länder (Brandenburg, Mecklenburg-Vorpommern, Saxony, Saxony-Anhalt and Thuringia). Berlin was divided into four sectors which later formed West and East Berlin (Pfetsch, 1990, p. 27 et seq.).

Kaiser (1998) differentiates between various dimensions of veto points in political systems. The veto points may exist in a compensatorily interdependent relationship to one another (consociational veto points, influential and decisive points of delegation, influential and decisive points of expertise, and legislative veto points). With this approach, veto points are not simply added up, but rather categorized according to their functions and effects in order to preserve the patterns of power-sharing and interaction specific to the units of analysis.
References
Backhaus, K., Erichson, B., Plinke, W. and Weiber, R. (2006) Multivariate Analysemethoden. Eine anwendungsorientierte Einführung. Berlin, Germany: Springer.

Benz, A. (2008) From joint decision traps to over-regulated federalism: Adverse effects of a successful constitutional reform. German Politics 17 (4): 440–456.

Blancke, S. (2004) Politikinnovationen im Schatten des Bundes. Policy-Innovationen und Diffusionen im Föderalismus und die Arbeitsmarktpolitik der Bundesländer. Wiesbaden, Germany: VS Verlag.

Collier, R.B. and Collier, D. (2002) Shaping the Political Arena: Critical Junctures, the Labour Movement, and Regime Dynamics in Latin America. Berkeley, CA: Berkeley University Press.

De Winter, L. (2005) Theoretical, conceptual and methodological problems in applying Lijphart's patterns of democracy to autonomous regions in Europe. Paper presented at the Joint Session of the European Consortium for Political Research; 14–19 April, Granada, Spain.

Döring, H. (2001) Parliamentary agenda control and legislative outcomes in Western Europe. Legislative Studies Quarterly 26 (1): 145–165.

Döring, H. (2005) Worauf gründet sich die Agenda-Setzer-Macht der Regierung? Theoretische und vergleichende Perspektiven auf den deutschen Fall. In: S. Ganghof and Ph. Manow (eds.) Mechanismen der Politik. Strategische Interaktion im deutschen Regierungssystem. Frankfurt, Germany/New York: Campus Verlag, pp. 109–148.

Eder, Ch. and Magin, R. (2008) Direkte Demokratie in den Bundesländern – ein Vorschlag zur empirischen Erfassung der Volksrechte aus subnational-vergleichender Perspektive. Zeitschrift für Parlamentsfragen 39 (2): 346–366.

Flinders, M. (2005) Majoritarian democracy in Britain: New labour and the Constitution. West European Politics 28 (1): 61–93.

Freitag, M. and Schlicht, R. (2009) Educational policy and educational inequality. An empirical analysis of Germany. Governance 22: 47–72.

Freitag, M. and Wagschal, U. (2007) Direkte Demokratie. Bestandsaufnahmen und Wirkungen im internationalen Vergleich. Münster, Germany: Lit Verlag.

Freitag, M. and Vatter, A. (2008) Die Demokratien der deutschen Bundesländer. Politische Institutionen im Vergleich. Mit einem Vorwort von Arend Lijphart. Opladen: Barbara Budrich (UTB).

Gallagher, M. (1991) Proportionality, disproportionality and electoral systems. Electoral Studies 10: 33–51.

Grofman, B. (2000) Arend Lijphart and the new institutionalism. In: M. Crepaz, Th. Koelble and D. Wilsford (eds.) Democracy and Institutions. The Life Work of Arend Lijphart. Ann Arbour, MI: University of Michigan Press, pp. 43–73.

Gunlicks, A. (2003) The Länder and German Federalism. Manchester, UK: Manchester University Press.

Hildebrandt, A. and Wolf, F. (2008) Die Politik der Bundesländer. Staatstätigkeit im Vergleich. Wiesbaden, Germany: VS Verlag.

Huber, E., Ragin, Ch. and Stephens, J.D. (1993) Social democracy, Christian democracy, constitutional structure, and the welfare state. American Journal of Sociology 99: 711–749.

Jacoby, W.G. (1998) Statistical Graphics for Visualizing Multivariate Data. Thousand Oaks, CA/London/New Delhi: Sage.

Kaiser, A. (1997) Types of democracy. From classical to new institutionalism. Journal of Theoretical Politics 9 (4): 419–444.

Kaiser, A. (1998) Vetopunkte der Demokratie. Eine Kritik neuerer Ansätze der Demokratietypologie und ein Alternativvorschlag. Zeitschrift für Parlamentsfragen 29 (3): 524–541.

Kaiser, A. (2004) In the shadow of joint federalism: Trends in the German sub-national politics research. Unpublished manuscript, Köln.

Keller, B. (2008) Einführung in die Arbeitspolitik. Arbeitsbeziehungen und Arbeitsmarkt in sozialwissenschaftlicher Perspektive, 7th completely revised ed. München Wien, Germany: Oldenbourg.

Kim, J.-O. and Mueller, Ch.W. (1978) Factor Analysis. Statistical Methods and Practical Issues. Beverly Hills, CA/London: Sage.

Kostadinova, T. (2003) Voter turnout dynamics in post-communist Europe. European Journal of Political Research 42: 741–759.

Laakso, M. and Taagepera, R. (1979) Effective number of parties: A measure with application to West Europe. Comparative Political Studies 12 (1): 3–27.

Leunig, S. (2007) Die Regierungssysteme der deutschen Länder im Vergleich. Opladen: Budrich.

Lijphart, A. (1977) Democracy in Plural Societies. New Haven, CT/London: Yale University Press.

Lijphart, A. (1984) Democracies. Patterns of Majoritarian and Consensus Government in Twenty-One Countries. New Haven, CT/London: Yale University Press.

Lijphart, A. (1994) Electoral Systems and Party Systems. A Study of Twenty-Seven Democracies 1945–1990. Oxford: Oxford University Press.

Lijphart, A. (1999) Patterns of Democracy. Government Forms and Performance in Thirty-Six Countries. New Haven, CT/London: Yale University Press.

Lijphart, A. (2002) Negotiation democracy versus consensus democracy: Parallel conclusions and recommendations. European Journal of Political Research 41 (1): 107–113.

Lijphart, A. (2003) Measurement validity and institutional engineering – reflections on Rein Taagepera's meta-study. Political Studies 51: 20–25.

Lorenz, A. (2005) How to measure constitutional rigidity. Four concepts and two alternatives. Journal of Theoretical Politics 17: 339–361.

Mainwaring, S. (2001) Two models of democracy. Journal of Democracy 12: 170–175.

McGann, A. (2004) The calculus of consensual democracy. Paper presented at the Annual Meeting of the American Political Science Association; 2–5 September, Chicago.

Mielke, S. and Reutter, W. (2004) Länderparlamentarismus in Deutschland. Geschichte, Struktur, Funktionen. Wiesbaden, Germany: VS Verlag.

Moore, C., Jacoby, W. and Gunlicks, A.B. (2008) German federalism in transition. German Politics 17 (4): 393–407.

Mutius, A. von, Wuttke, H. and Hübner, P. (1995) Kommentar zur Landesverfassung Schleswig-Holstein. Kiel, Germany: Mühlau.

Pfetsch, F.R. (1990) Ursprünge der zweiten Republik: Prozesse der Verfassungsgebung in den Westzonen und in der Bundesrepublik. Opladen: Westdeutscher Verlag.

Przeworski, A. and Teune, H. (1970) The Logic of Comparative Social Inquiry. New York: Wiley.

Rhodes, R.A.W., Binder, S. and Rockman, B. (2006) The Oxford Handbook of Political Institutions. Oxford: Oxford University Press.

Rothstein, B. (1996) Political institutions: An overview. In: R.E. Goodin and H.-D. Klingemann (eds.) A New Handbook of Political Science. Oxford: Oxford University Press, pp. 133–165.

Scharpf, F.W. (2008) Föderalismusreform: Kein Ausweg aus der Politikverflechtungsfalle? Frankfurt a.M., Germany: Campus.

Schmidt, M.G. (2000) Demokratietheorien. Opladen: Leske + Budrich.

Seibel, W. and Reulen, St. (1996) Verwaltungsaufbau in den neuen Bundesländern. Zur kommunikativen Logik staatlicher Institutionenbildung. Berlin, Germany: Edition Sigma.

Siaroff, A. (2003) Varieties of parliamentarianism in the advanced industrial democracies. International Political Science Review 24: 445–464.

Snyder, R. (2001) Scaling down: The subnational comparative method. Studies in Comparative International Development 36 (1): 93–110.

Taagepera, R. (2003) Arend Lijphart's dimensions of democracy: Logical connections and institutional design. Political Studies 51 (1): 1–19.

Tsebelis, G. (2002) Veto Players: How Political Institutions Work. Princeton, NJ: Princeton University Press.

Vatter, A. (2002) Kantonale Demokratien im Vergleich: Entstehungsgründe, Interaktionen und Wirkungen politischer Institutionen in den Schweizer Kantonen. Opladen: Leske + Budrich.

Vatter, A. (2007) Lijphart goes regional: Different patterns of consensus in Swiss democracies. West European Politics 30 (1): 148–171.

Vatter, A. and Freitag, M. (2007) The contradictory effects of consensus democracy on the size of government: Evidence from the Swiss cantons. British Journal of Political Science 37 (2): 359–370.
Acknowledgements
This article was written as part of a research project on Patterns of democracy in the German Laender that was financially supported by the German Research Foundation (DFG). We are grateful to the anonymous referees and the editors for their helpful comments and suggestions. Also, we would like to thank Birgit Jacob and Jennifer Shore for their assistance in preparing the final manuscript.
Appendices
Appendix A
Appendix B
Index of Electoral Proportionality
This index measures the degree of electoral proportionality in the German Länder over time. It is comprised of three indicators and is calculated as follows (see Table B1):
Index of electoral proportionality (x) t =

Coding of indicators: '0' (low) and '1' (high). Analogous to the aggregated index values.
Electoral formula: This indicator is comprised of the means by which citizens elect their representatives and the availability of compensatory additional list seats (Ausgleichsmandate). Losers and Surplus Method=0; list proportional representation=1; personalized proportional representation=0.5; personalized proportional representation with compensatory additional list seats available=0.75.
Seat allocation formula: d'Hondt=0; Hare-Niemeyer and Sainte-Laguë=1.
Electoral threshold: Indicator combining threshold and alternative clauses. Threshold above 5 per cent, no Grundmandat clause=0; no threshold=1.
Effective Number of Parties
The effective number of parties as defined by Laakso and Taagepera (1979); own calculations on the basis of the parties' seat shares in parliament (ENP=1/Σ p i 2). [ENP=effective number of parties].
Type of Cabinet
per cent of consensual forms of government, defined as oversized coalitions, grand coalitions of CDU and SPD supported by at least two-thirds of the members of parliament and minority cabinets in relation to all governments, without caretaker governments, weighted by days.
Institutional Index of Executive Dominance
Additive, unweighted index, consisting of 10 items with a range of values from 0 to 1 for each item. Three items describe the electoral functions (A through C); three the control functions (H through J); and four the legislative function of parliaments (D through G). In order to account for amendments to the institutional rules under consideration in a given Land over time, the affected indicator will be weighted by days. Low values indicate executive dominance:
A: Formation of the government: 0=Parliament elects only the head of government; 0.5=Cabinet is appointed by the head of government, requires parliamentary approval; 1=Parliament elects the head of government and the individual ministers.
B: Vote of no-confidence by the parliament: 0=no vote available; 0.5=no-confidence vote only against the head of government; 1=no-confidence vote also available against individual ministers.
C: Motion of Confidence: 0=Government can request parliamentary dissolution by means of a Motion of Confidence; 1=no Motion of Confidence possible.
D: Control of parliamentary agenda: 0=majority vote able to broaden the agenda; 1=simple majority insufficient to broaden the agenda.
E: Plenary session before committee stage: 1=legislative proposals can be referred to a committee without prior approval by a plenary session; 0=legislative proposals can only be referred to a committee after a plenary session.
F: Right of initiative: 0=no right of initiative for the individual representatives; 1=unrestricted right of initiative for the individual representatives (Siaroff, 2003).
G: Suspensive veto rights: 1=Government cannot exercise suspensive veto power over Landtag legislation; 0=Government has suspensive veto power over Landtag legislation.
H: Parliamentary citation: 1=Parliamentary minority has the right to cite responsible ministers to respond to questions personally, 0=Parliamentary majority required to cite responsible ministers to respond to questions personally.
I: Request for submission of files (Berichtsersuchen): 1=Parliamentary minority has the right to demand the submission of governmental files, 0=Parliamentary majority required to demand the submission of governmental files.
J: Parliamentary control over abstract judicial review: 1=judicial review upon request of one parliamentary fraction, in Bavaria upon request of any citizen; 0.5=abstract judicial review upon request of 20 per cent to 33.3 per cent of the members of the Landtag; 0=no abstract judicial review.
Tax Revenue of the Municipalities as a Percentage of the Total Tax Revenue of the Land
Percentage of municipal revenue (without conditional grants from Land level) in relation to the total revenue of Land and municipalities.
Index of Constitutional Rigidity
This index is based on the required majorities needed to amend the constitution as specified by the Länder constitutions. For constitutions that allow for alternative procedures (Act of Parliament or referendum), only the alternative that implies fewer barriers was considered – an approach mirroring those of Lijphart (1999, p. 221) and Lorenz (2005, p. 346). It is thus assumed that Acts of Parliament imply fewer hurdles, thereby rendering constitutional changes easier. If the means to amending a constitution vary with regard to the section to be amended, the measurement then orients itself to the most easily amended section. While this measurement follows Lorenz (2005), it diverges from Lijphart (1999). If the procedures concerning amendment to the constitution were reformulated during the period under investigation, the measurement was weighted to account for this change.
The following table shows a categorization of procedural rules for parliamentary votes by means of a typology comprised of the dimensions 'required majority of parliamentary voters' and 'required majority of representatives present'.
In addition to a parliamentary resolution, a referendum, which must be approved by the majority of voters, is required to pass the draft bill in Bavaria and Hesse. Looking at the typology in Table B2, an index value of 0.5 is added to these Länder in order to account for the added referendum requirement.
Strength of Judicial Review
The strength of judicial review calculated according to the number of competences of the individual constitutional courts and to the number of proceedings in which individual citizens are entitled to file a petition. If court competences or citizen petition rights were modified during the period from 1990 to 2005, the measurement was weighted to account for this change. Both indicators were then z-standardized. The mean of the standardized values produces the index for measuring the strength of the constitutional courts.
Additive Index of Direct Democracy
Additive index calculated, covering all six direct democratic instruments available in the Länder. The values of the three instruments popular initiative, recall and plebiscite are comprised of several indicators each (among other factors, this index takes the number of signatures required and ballots to be taken, deadlines, and specifications concerning the public announcement of the procedures into account). The facultative referendum, the obligatory referendum and the arbitrating referendum are assigned one value each (available/not available). Adding these values, which range between '0' and '1', we obtain an overall value range from '0' to '6' for our index of direct democracy, with '0' indicating maximal concentration of power and '6' maximal diffusion of power.
About this article
Cite this article
Freitag, M., Vatter, A. Patterns of democracy: A sub-national analysis of the German Länder. Acta Polit 44, 410–438 (2009). https://doi.org/10.1057/ap.2009.22
Published:

Issue Date:

DOI: https://doi.org/10.1057/ap.2009.22
Keywords
power-sharing

consensus democracy

majoritarian democracy

comparative analysis

political institutions