Abstract
The aim of this article is to examine and quantify the relationship between regular immigration and voting for anti-immigration parties in Italy's eight Northern regions – from 1992 to 2015 – and in Italy's forty-five Northern provinces from 2004 to 2015. Firstly, we identified the Lega Nord as Italy's main xenophobic party, then we used a fixed effects regression model for panel data to test our hypothesis, while controlling for a series of social, political and economic variables. Our results suggest that there is a positive and significant effect: an increase of 1 per cent in the number of new regular immigrants is associated with an increase of more than 2 per cent in the votes given to the Lega Nord; voter-turnout is significantly and negatively associated with Lega Nord's vote-share, and a high perception of crime – but not actual crime – is positively associated with anti-immigration votes. At the provincial level, we also found a positive association between Muslim foreign population and Lega Nord's vote-share. These results ought to be considered along with the fact that Northern Italy is highly representative of the wealthiest and most densely populated regions of Europe, suggesting the possibility that similar phenomena could be witnessed in other comparable contexts.
This is a preview of subscription content, log in to check access.
We're sorry, something doesn't seem to be working properly.
Please try refreshing the page. If that doesn't work, please contact support so we can address the problem.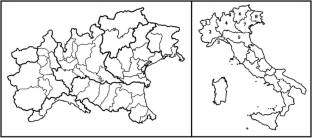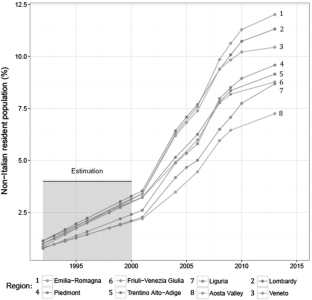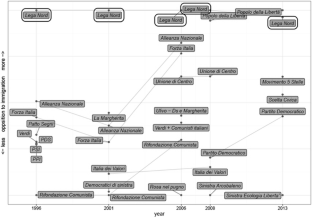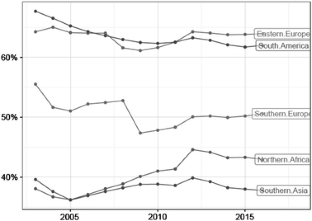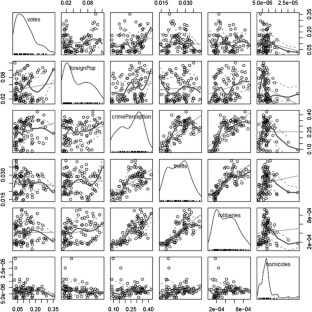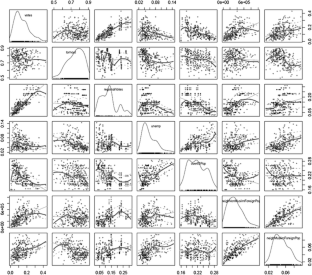 References
Abbondanza, G. (2015) 'Nuove forme di politica migratoria', Eurasia 12(1): 191–202.

Albertazzi, D. and McDonnell, D. (2010) 'The Lega Nord back in government', West European Politics 33(6): 1318–40.

Akkerman, T. (2012) 'The impact of radical right parties in government: A comparative analysis of immigration and integration policies in nine countries (1996–2010)', West European Politics 35(3): 511–29.

Akkerman, T., de Lange, S. L. and Rooduijn, M. (2016) Radical Right-Wing Populist Parties in Western Europe: Into the Mainstream?, London: Routledge.

Apaydin, F. (2016) 'The supranational dimension of voting in national elections across six European democracies: Rethinking Albert Hirschman's exit, voice and loyalty', European Political Science 15(1): 73–88.

Arzheimer, K. (2009) 'Contextual factors and the extreme-right vote in Western Europe, 1980–2002', American Journal of Political Science 53(2): 259–275.

Blalock, H.M. (1967) Toward a Theory of Minority-Group Relations, New York: Wiley.

Bohman, A. (2011) 'Articulated antipathies: Political influence on anti-immigrant attitudes', International Journal of Comparative Sociology 52(6): 457–77.

Brading, R. (2015) 'Is European populism alive and kicking?', European Political Science 14(3): 369–73.

Brunet, R. (1989) Les villes europeénnes: Rapport pour la DATAR, Montpellier: Reclus.

Cento Bull, A. (2009) 'Lega Nord: A case of simulative politics?', South European Society and Politics 14(2): 129–46.

Cento Bull, A. (2010) 'Addressing contradictory needs: The Lega Nord and Italian immigration policy', Patterns of Prejudice 44(5): 411–\31.

Colombo, A. and Sciortino, G. (2004) 'Italian immigration: The origins, nature and evolution of Italy's migratory systems', Journal of Modern Italian Studies 9(1): 49–70.

Croissant, Y. and Millo, G. (2008) 'Panel data econometrics in R: The plm Package', Journal of Statistical Software 27(2): 1–43.

Dinas, E. and van Spanje, J. (2011) 'Crime story: The role of crime and immigration in the anti-immigration vote', Electoral Studies 30(4): 658–71.

European Parliament (2015) Irregular Immigration in the EU: Facts and Figures, available at http://www.europarl.europa.eu/RegData/etudes/BRIE/2015/554202/EPRS_BRI(2015)554202_EN.pdf, accessed 30 March 2016.

Fella, S. and Ruzza, C. (2009) Re-inventing the Italian Right: Territorial Politics, Populism and 'Post-Fascism', London: Routledge, p. 93.

Finotelli, C. and Sciortino, G. (2009) 'The importance of being Southern: the making of policies of immigration control in Italy', European Journal of Migration and Law 11(2): 119–38.

Geddes, A. (2008) 'Il rombo dei cannoni? Immigration and the centre-right in Italy', Journal of European Public Policy 15(3): 349–66.

Green, D.P., Strolovitch, D.Z. and Wong, J.S. (1998). 'Defended neighborhoods, integration, and racially motivated crime', American Journal of Sociology 104(2): 372–403.

Hospers G.-J. (2003) 'Beyond the blue banana? Structural change in Europe's geo–economy', Intereconomics 38(2): 76–85.

Huysseune, M. (2006) Modernity and Secession: The Social Sciences and the Political Discourse of the Lega nord in Italy, New York: Berghahn Books, p. 190.

Immerzeel, T. and Pickup, M. (2015) 'Populist radical right parties mobilizing "the people"? The role of populist radical right success in voter turnout', Electoral Studies 40: 347–60.

Kurth, J. and Petras, J. (1993) Mediterranean Paradoxes: Politics and Social Structures in Southern Europe, Oxford: Berg, p. 17.

Massey, S. and Coluccello, R. (2015) 'Introduction'. in S. Massey and E. Coluccello (eds) Eurafrican Migration: Legal, Economic and Social Responses to Irregular Migration, London: Palgrave Macmillan, pp. 1–11.

Mayda, A.M. (2004) Who Is Against Immigration? A Cross-Country Investigation of Individual Attitudes Toward Immigrants, Bonn: IZA, pp. 1–57.

Meijers, M.J. (2015) 'Contagious Euroscepticism: the impact of Eurosceptic support on mainstream party positions on European integration', Party Politics advance online publication 22 September, doi: 10.1177/1354068815601787.

Minkenberg, M. (2003) 'The West European radical right as a collective actor: Modeling the impact of cultural and structural variables on party formation and movement mobilization', Comparative European Politics 1(2): 149–70.

Mudde, C. (1999) 'The single‐issue party thesis: Extreme right parties and the immigration issue', West European Politics 22(3): 182–97.

Mudde, C. (2010) 'The populist radical right: a pathological normalcy', West European Politics 33(6): 1167–86.

OECD (2006) OECD Territorial Reviews: Milan, Italy 2006, Paris: OECD Publishing, p. 11.

Perlmutter, T. (2002) 'The politics of restriction – The effect of xenophobic parties on Italian immigration policy and German asylum policy', in M. Schain, A. Zolberg and P. Hossay (eds) Shadows Over Europe – The Development and Impact of the Extreme-Right in Western Europe, London: Palgrave Macmillan, pp. 269–98.

Perrineau, P. (1985) 'Le Front national: un électorat autoritaire', Revue politique et parlementaire 87(918): 24–31.

R Core Team. (2015) R: A Language and Environment for Statistical Computing, available at https://cran.r-project.org/doc/manuals/r-release/fullrefman.pdf, accessed 30 March 2016.

Ramet, S. (1999), 'Defining the radical right: Values and behaviors of organized intolerance in post-communist Central and Eastern Europe', in S. Ramet (ed.) The Radical Right in Central and Eastern Europe since 1989, Philadelphia: Pennsylvania State University Press, pp. 3–27.

Roushas, R. (2014) 'Understanding the electoral breakthrough of Golden Dawn in Greece: A demand and supply perspective', IMI Working Articles 83: 4–26.

Runciman, W.G. (1966) Relative Deprivation and Social Justice: A Study of Attitudes to Social Inequality in Twentieth-Century England, Oakland: University of California Press.

Rydgren, J. (2007) 'The sociology of the radical right', Annual Review of Sociology 33(1): 241–62.

Rydgren, J. and Ruth, P. (2011) 'Voting for the radical right in Swedish municipalities: social marginality and ethnic competition?', Scandinavian Political Studies 34(3): 202–25.

Scheepers, P., Gijsberts, M. and Coenders M (2002) 'Ethnic exclusionism in European countries. Public opposition to civil rights for legal migrants as a response to perceived ethnic threat', European Sociological Review 18(1): 17–34.

Sengenberger, W. and Campbell D. C. (1994) Creating Economic Opportunities: The Role of Labour Standards in Industrial Restructuring, Geneva: International Institute for Labour Studies, pp. 307–321.

Spektorowski, A. (2003) 'Ethnoregionalism: the intellectual new right and the Lega Nord', Global Review of Ethnopolitics 2(3–4): 55–70.

Tajfel, H. (1982) 'Social psychology of intergroup relations', Annual Review of Psychology 33(1): 1–39.

Tarchi, M. (2008) 'Italy: A country of many populisms', in D. Albertazzi and D. McDonnell (eds) Twenty-First Century Populism: The Spectre of Western European Democracy, Basingstoke: Palgrave Macmillan, p. 97.

UNHCR Italy (2015) Il punto di vista dell'UNHCR: 'rifugiato' o 'migrante', qual è corretto?, available at https://www.unhcr.it/news/il–punto–di–vista–dellunhcr–rifugiato–o–migrante–qual–e–corretto.html, accessed 30 March 2016.

van Spanje, J. (2010) 'Contagious parties: Anti-immigration parties and their impact on other parties' immigration stances in contemporary western Europe', Party Politics 16(5): 563–86.

Volkens, A., Lehmann, P., Theres, M., Merz, N. and Regel, S. (2016). The Manifesto Data Collection. Manifesto Project (MRG/CMP/MARPOR). Version 2016a, Berlin: Wissenschaftszentrum Berlin für Sozialforschung.

Wooldridge, J.M. (2010) Econometric Analysis of Cross Section and Panel Data, Cambridge, MA: MIT Press, p. 302.

Zaslove, A. (2006) 'The politics of immigration: A new electoral dilemma for the right and the left?', Review of European and Russian Affairs 2(3): 10–36.

Zaslove A. (2011) The Re-invention of the European Radical Right: Populism, Regionalism, and the Italian Lega Nord, Montreal: McGill-Queen's Press, p. 108.
Acknowledgements
The authors wish to thank co-editor Associate Professor Daniel Stockemer and the anonymous reviewers of EPS for their helpful comments on this study.
APPENDIX
APPENDIX
ITANES survey questions
1996: Is immigration the most or the second-most serious problem in Italy? (binary).

2001: Do you consider immigration the most or the second-most important problem in Italy? (binary).

2006: How much do you agree with the opinion that immigrants are a threat to our culture and our identity? (1 to 4 scale).

2008: How much do you agree with the opinion that immigrants are a threat to our culture? (1 to 4 scale).

2013: How much trust do you have in immigrants? (1 to 4 scale).
About this article
Cite this article
abbondanza, g., bailo, f. the electoral payoff of immigration flows for anti-immigration parties: the case of Italy's Lega Nord. Eur Polit Sci 17, 378–403 (2018). https://doi.org/10.1057/s41304-016-0097-0
Keywords
euroscepticism and the European Union

far-right politics

political parties and electoral behaviour