Building Corporate Reputation Through Corporate Social Responsibility (CSR) Reports: The Case of Extractive Industries
Abstract
Large corporations and industry groups have always used mass communication media to inform and educate important stakeholders and the general public on issues where corporate reputation and public trust are intertwined, and where any deterioration in the linkage can have significant negative consequences. An emerging trend in this direction has been the explosive growth in the voluntary publication of corporate social responsibility (CSR) reports. These reports, however, are vulnerable to corporate embellishments, which may erode their value as reputation-building instruments. To examine this situation, this paper provides a detailed and systematic analysis of 48 of the world's largest corporations in the extractive industry (i.e., mining and minerals, oil and gas, and support services) that have published CSR reports in 2012. The extractive industry's operations invariably raise important environmental, sociopolitical, and governance issues that are subject to heightened levels of public and regulatory scrutiny. Hence, their CSR reports carry a heavy burden of providing high-quality information that would engender public trust. Our examination of CSR reports of corporations is conducted through an analytical structure called the CSR-Sustainability Monitor® – the first system of its kind in the world that enables overall evaluations and comparisons of each CSR report with any other CSR report or group of CSR reports in our database. Our analysis shows that these companies' CSR reports generally provide extensive information on major environmental, social, and governance issues. But they are less forthcoming on many controversial aspects of their operations that impact the public domain. This is unfortunate because it reduces public trust in the quality of these reports and undermines the value of one of the most important instruments of public communication available to the companies. Finally, we provide some suggestions that companies may incorporate into their CSR reports going forward.
Keywords
corporate social responsibility (CSR) reports 
extractive industries 
environmental, social, and governance (ESG) issues 
CSR-Sustainability Monitor 
corporate reputation 
integrity assurance in CSR reporting 
Introduction
Corporate social responsibility (CSR) reporting as a primary mode of communication on important issues of public concern is a relatively recent phenomenon.1 However, it has grown quite rapidly. According to Corporate Register, the most authoritative source for gathering such information, the numbers of CSR reports published in 2011 and 2015 were 6,994 and 8,554, an increase of 22.3 % in a short period of four years.2 A significant impetus for seeking this information has come from nongovernmental organizations that called for companies to provide information on their corporate activities that impact larger public concerns in such areas as the environment and sustainability, supply chain management, bribery and corruption, product safety, and treatment of workers in developing countries. These efforts were also aided by many government agencies—for example, in Europe—as well as various international and multilateral organizations (European Commission, 2014; Federation of European Accountants, 2014; International Auditing and Assurance Standards Board, 2010a, b; KPMG, 2008; Manetti and Toccafondi, 2012; Van Wensen et al., 2011).
In this paper, we examine CSR reporting practices using 48 CSR reports from the largest extractive industry firms around the world that published CSR reports in 2012. A CSR report is a document that is voluntarily prepared by the corporation.3 Its primary aim is to present a company's description of its activities, generally encompassing issues covered under the rubric of environmental sustainability, sociopolitical concerns, and governance and accountability ("ESG"). CSR reports cover issues that go beyond those related to regulatory financial reporting requirements, and provide the sponsoring companies with a platform to present their views in a most favorable manner. They also allow companies to address issues that are of concern to a company's broader set of stakeholders and deal with issues that have long-term consequences—financial, operational, and societal—for the company's future (Delmas and Toffel, 2011; Gond and Herrbach, 2006; Aerts et al., 2006). CSR reports serve two important goals: (1) to inform the public regarding corporate actions about ESG issues; and (2) to educate the public about the complexities of these issues, the need for proactive engagement, and an appreciation of the realistic limits on the companies' ability to respond to societal expectations.
CSR reports have become the single most important communication vehicles for corporations to explain and justify their activities in areas that are considered important by influential segments of society, including the public at large. These issues generally fall outside the prevailing legal requirements. The public's societal expectations are amorphous, and failing to meet those expectations could put a company at a competitive disadvantage. Conversely, these issues may have long-term consequences that are not easily comprehended but the acknowledgment of which cannot be avoided.
An important advantage of CSR reports as a communication vehicle is that they enable the sponsoring corporations not only to determine the content of their message, but even more important, to control the surrounding contextual environment in which the message is placed. For example, a CSR report does not have to contend with negative news stories or distractive advertisements that might appear around a company's CSR message and thereby diminish the potential impact of the corporate message on its intended audience (Sethi, 1976, 1977a).
The voluntary nature of the CSR reports, however, carries its own challenges and liabilities. Given the fact that these reports are under the total control of the sponsoring corporation—as to both content and manner of presentation—they impose a higher level of burden on the company's management to ensure accuracy and comprehensiveness (Sethi et al., 2015a). The corollary risk, however, is the tendency on the part of many corporations to embellish their reports with "lightweight" information while understating or skipping discussion of issues that are unfavorable to the companies, but that may be of greater importance to the companies' stakeholders (Sethi, 1977b). Consequently, CSR reports have been the subject of criticism among scholars and researchers, who have challenged the veracity of CSR reports (Mishra and Modi, 2013). It follows, therefore, that CSR reports must have a large measure of credibility and trust among their intended audiences as to the quality and quantity of information contained in those reports (Michelon et al., 2015; De Beelde and Tuybens, 2013; Junior et al., 2014; Wang, 2008).
Antecedents to CSR Reports
Corporate efforts to inform and educate the public on important social issues of public policy have a long history. In the antecedents to CSR reports, companies employed a variety of mass media vehicles to build their reputations as good corporate citizens. Topics would generally include, among others, corporate philanthropy, corporate citizenship, and discussion of public policy issues (e.g., good government, environment, education, and health and safety) (Kolk, 2008; Hess, 2007). These campaigns involved targeted responses to issues of public concern involving corporate action, business responses to individual episodic issues, and also repetition of messages for long time periods (Hodge et al., 2009; Fram et al., 1991; Newburry et al., 2006). Companies and industry groups have historically engaged in media campaigns through newspapers, magazines, and public relations activities with the goal of narrowing the credibility gap between corporate actions and societal expectations (Sethi, 1990).
The Notion of Credibility Gap
CSR reports and other corporate communications that deal with issues of public policy must address the need for bridging the credibility gap between corporate actions and public perception thereof. This gap may emanate from a variety of sources, such as prevailing public hostility to corporate activities, spread of misinformation by a corporation's critics, and unrealistic expectations about what a company should do to address issues of public policy that are beyond the company's ability and resources (Sethi, 1977c). Nevertheless, companies must undertake meaningful action to narrow this credibility gap or risk their social license to exist as private enterprises (Boutilier and Thomson, 2011; Prno and Slocombe, 2012; Owen and Kemp, 2013). It should be noted here that "credibility gap" is a dynamic concept and continuously changes in response to activities of various stakeholders (De Beelde and Tuybens, 2013).
Prior to the emergence of CSR reports as a major instrument of corporate ESG-related communications, corporations invariably used public mass communications media such as newspapers and television. However, both these media had certain limitations that made them less effective from the corporate perspective. (In newspapers, for example, corporate sponsors have little or no control about the news content surrounding their message.) An analysis of large numbers of issue–advertising campaigns identified three broad approaches undertaken by companies and industry groups to narrow the credibility gap (Figure 
1
) (Sethi,
1977c
,
1987a
).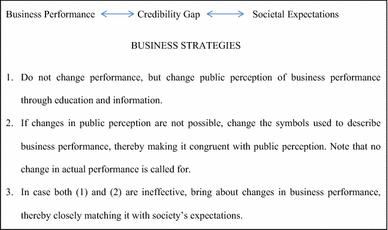 A detailed analysis of most major issue–advertising campaigns indicated that, with few exceptions, corporate campaigns invariably opted for the first two strategies and largely failed to narrow the credibility gap (Sethi, 1987a, b, 1979a, b).
Emergence, Growth, and Potential of CSR Reports
Publication of voluntary CSR reports by large corporations, and these reports' rapid growth, is the logical successor to corporations' earlier efforts to reach the general public through mass news media with their message about corporate activities and their performance as socially responsible companies.
In large part, this increase in the number of CSR reports published reflects the growth in public awareness and concern about many of the adverse consequences or negative externalities that have been associated with globalization and its concomitant large corporations. This pressure is particularly intense on companies and industries that by their very nature cast a big footprint on the environment, sustainability, and protection of human rights for the impacted population groups in the companies' areas of operations. In particular, corporations engage in social and environmental reporting to meet the stakeholder expectations emerging from the notion of the social contract between the company and the community. It is believed that the narrative of the reports may help enhance a company's reputation and effectively handle legitimacy threats (Jenkins, 2004; Adams and Evans, 2004; O'Dwyer and Owen, 2005; Van Halderen et al., 2011).
CSR reports play an important role in enhancing and sustaining corporate reputation, which is based on the level of trust a company's multiplicity of stakeholders have in the company's activities, promises, and pronouncements. Reputation can thus be viewed as a proxy for trust believed to exist among the transacting parties. A corporation's reputation, a priori, may thereby serve as a filtering mechanism to enhance the likelihood of positive or negative impression formed by the readers of those reports.
An added element of the trust component arises from the soft aspects of CSR, wherein CSR is linked to the ethical and moral aspects of corporate conduct. Thus, a company has to balance its narrowly defined economic performance against the larger aspects of community welfare, which is reflected in maximizing positive externalities and minimizing negative externalities (Sethi, 1994; Sethi and Sama, 1998; Goodpaster, 2011; De George, 2006; Donaldson and Preston, 1995; Brenkert, 2010; Zsolnai, 2015; de Colle and Werhane, 2008).
These issues are particularly important in the case of companies in the extractive industry, whereby the firms in this industry are at the forefront of most ESG issues. They operate in some of the most challenging physical and sociopolitical environments around the world (Prno, 2013; Mclntyre et al., 2015). They are also subjected to intense pressure from various stakeholders, including both home- and host-country governmental regulatory bodies, international and multilateral agencies, and civil society organizations (Jenkins, 2004; Littlewood, 2014).
One must recognize that the ultimate goal of this communication vehicle is to build sustainable corporate reputation and trust in corporate communications. Reputation is a valuable economic and competitive asset (Dacin and Brown, 2002; Davies et al., 2003). It reduces transaction costs, as both customers and suppliers are more inclined to do business with high-reputation companies. It also reduces public pressure for aggressive regulatory oversight, in that reputable companies receive more leeway in stakeholders' understanding of corrective measures.
Prior Research Pertaining to CSR Reports for Companies in the Extractive Industry
Academic research on CSR reporting has focused on: (1) overall quality of CSR reports (Van Wensen et al., 2011; Kolk, 2008; Hess, 2007; Ayine, 2001); (2) relative emphasis on different contextual elements (e.g., environment and sustainability) that have relevance to particular industry sectors or regions (Criado-Jiménez et al., 2008; Kolk et al., 2001; Milne and Adler, 1999; Beck et al., 2010; Perez-Batres et al., 2010; Downing et al., 2003; O'Faircheallaigh, 2004; Hajkowicz et al., 2010; Sethi et al., 2015b); and (3) quality of integrity assurance (Campbell et al., 2003; Rao et al., 2012; De Beelde and Tuybens, 2013; Junior et al., 2014; Jones et al., 2014; Manetti and Toccafondi, 2012; Reynolds and Yuthas, 2008; Hodge et al., 2009; Sethi et al., 2015a).
A positive and proactive response to environmental and socio-political issues by companies in the extractive industries is a fairly recent phenomenon. For most of its history, the mining industry has taken a devil-may-care attitude to the environmental and human rights abuses in its areas of operation (Jenkins, 2004). In large part, this is due to the asymmetrical bargaining leverage exercised by the companies against host-country governments and local communities. Both academic literature and investigative reports prepared by various national and multinational governing bodies and environmental and other advocacy groups invariably have repeatedly drawn attention to the social and environmental impact of the operational policies of various companies around the world (Banks, 2002; Cragg and Greenbaum, 2002; Kapelus, 2002; Wheeler and Elkington, 2001; Szablowski, 2002; Sagebien and Lindsay, 2011). Illustrative examples include most of the major extractive industry corporations and encompass resource-rich, but often development-poor, countries around the world, with investigations of such companies as BP (Hicks, 2010), Shell (Bush, 2010), Newmont (Hope and Kwarteng, 2014; Mares, 2012), Barrick Gold (Newenham-Kahindi, 2011), and Freeport-McMoRan Copper & Gold, Inc. (Sethi et al., 2011) reporting major negative issues pertaining to their field operations.
Over the last decade, there has been a significant change in the corporate response patterns on the part of the companies in the extractive industry in terms of both taking concrete actions toward minimizing the negative environmental and human rights aspects of their operations and providing more detailed and qualitatively substantive information about their activities in terms of public disclosure. In large part, this information dissemination has occurred through the means of CSR reports (KPMG, 2008). These reports notwithstanding, many companies have continued to engage in targeted PR campaigns and institution-image advertising through print and broadcast media; examples include ad campaigns for Shell (Bush, 2010) and Chevron (Casselman, 2010; Werbach, 2010) and ad campaigns in support of fracking (Olsen-Philips and Fenton, 2015).
Scope of Current Inquiry
In this paper, we undertake an examination of 48 CSR reports from the world's largest corporations in the extractive industry that published such reports in 2012. The extractive industry is composed of three main components: oil and gas (represented by 26 reports), mining (16 reports), and support activities (6 reports). Our choice of the extractive industry was driven by the fact that this industry is at the forefront of most ESG issues; corporate operations were spread throughout all parts of the world; and the corporations were invariably subjected to intense pressure from home- and host-country governments, international and multilateral financial and development agencies, and civil society organizations representing the entire spectrum of environmental, social, and human rights issues. We also expected that CSR reports from these companies could be the bellwether as to the quality, comprehensiveness, and accuracy of CSR reporting from all parts of the corporate world in the future.
In our analysis of the CSR reports pertaining to extractive industries, we have focused on three topics:
1.

The quality and accuracy of CSR reports as perceived by the company's primary stakeholders and the public at large—by far the most important issue.

 

2.

The role of the corporate spokesperson—in this case, the company's chief executive officer—in signing the company's CSR report.

 

3.

Identification and examination of various contextual elements to delineate the ones that are perceived to be of particular relevance to the industry's important stakeholders and society at large.

 
Research Methodology: The CSR-Sustainability (CSR-S) Monitor
One of the primary goals of our research has been to address and minimize the problems of data incompatibility and thereby facilitate comparison between different types of CSR reports. The scoring framework used in this paper, the CSR-S Monitor, is designed to support an analytical approach that will (1) allow a company's report to be objectively analyzed and compared with any report published by another company, or with the average scores of all companies sorted by country, region, or industry; and (2) improve the quality of information available in the public domain, and thereby help important stakeholders toward making informed judgments on a company's ESG performance.4
The CSR-S Monitor has been developed by academic researchers and scholars at the Weissman Center for International Business at Baruch College, the City University of New York. To the best of our knowledge, this framework and the scoring system for contextual elements is the first of its kind in the world. The CSR-S Monitor:
Offers a range of objective measures for comparing reports in terms of their comprehensiveness, specificity of detail, quality, and accuracy of reporting,

Provides internal corporate accountability officers with an external and independent evaluation tool, and provides guidance for companies initiating their own CSR reporting,

Enables companies to compare their reports across their industry, region, size,

Minimizes the "free rider" problem; the facilitated comparison of report quality will induce all companies—both those currently publishing CSR reports and those planning to do so in the future—to create high-quality reports, and

Creates a market-driven incentive for companies to improve their CSR reporting to gain competitive advantage, as an alternative to greater regulation in this area.
In the current paper, we employed the CSR-S Monitor to analyze CSR reports published by the world's largest corporations in the year 2012. Companies analyzed were selected from the Fortune 250 US and Fortune 250 Global indices along with those included in the previous edition of the CSR-S Monitor. The sample is composed of the world's 614 largest companies, spanning 20 industry sectors and 43 countries.
Using a content analysis-based framework, the CSR-S Monitor assesses the scope of coverage and depth of information in individual CSR reports. The scoring framework reflects the quality and credibility of the information in CSR reports based on a set of the eleven most common areas of sustainability covered in these reports. These elements and their respective weights are: CEO Letter (5), Environment (10), Philanthropy & Community Involvement (10), External Stakeholder Engagement (10), Supply Chain (10), Labor Relations (10), Governance (5), Corruption (5), Human Rights (5), Codes of Conduct (15), and Integrity Assurance (15). The scores on each contextual element are added together to yield the total score, which ranges from 0 to 100. The weights assigned to individual contextual elements were determined by an examination of a pilot study of the contents of CSR reports published by a broad sample of companies from around the world during the period 2007–2009. Table 
1
provides a detailed illustration of scoring criteria as applied to the contextual elements (in this case, Environment).
Table 1
Sample Scoring Criteria – Environment
| Level | Criteria | Illustrative examples |
| --- | --- | --- |
| 0 | Report does not discuss activities toward reducing/mitigating the environmental impacts of the company's business in a meaningful way | "The Group has three specific sustainability management goals which are: being wise, being smart and being sustainable… We endeavor to minimize social and environmental risks through green management… KB Financial Group has been dedicated to resolving global environmental issues which are becoming increasingly more serious…" |
| I | Report provides minimal depth a of information on the scope of coverage b of the company's activities toward reducing/mitigating the environmental impacts of the company's business. Discussion categorized as vague and incomplete | "Johnson Controls generally remained on track to achieve our 10-year greenhouse gas, energy, water and waste intensity goals in 2013. We are committed to an annual 1 percent absolute reduction of greenhouse gas emissions across all our businesses. The improvements we make also enhance our financial results. Over the past 10 years, revenue has increased 78 percent while our carbon footprint has increased only 10 percent…" |
| II | Report provides fair depth of information on the scope of coverage of the company's activities toward reducing/mitigating the environmental impacts of the company's business, including measurable results. Discussion categorized as reasonably detailed and comprehensive | "Freescale established a goal in 2010 to reduce our water consumption by our manufacturing operations by 50 % over our 2008 baseline. In 2013, we had a significant production increase over 2012, increasing our absolute water consumption amount; however, we still hope to achieve this 2015 goal… We implemented conservation projects that saved more than 42 million gallons of water and 14.9 million kWh per year…" |
| III | Report provides good depth of information on the scope of coverage of the company's activities toward reducing/mitigating the environmental impacts of the company's business, including measurable results and comparisons of outcomes at a company or industry level. Discussion categorized as detailed and comprehensive | "In 2013, the total extrapolated amount of carbon emissions from our business operations decreased from 209 to 169 kilotons compared to 2012 and per FTE from 2.4 to 2.2 tons… In the spring of 2012, we partnered with an electric taxi service to support the transportation needs of employees in the Netherlands. Through this initiative, we have 'greened' 18,000 km of journeys up to year-end 2013… Our Sustainable Procurement program, which began in the Netherlands in 2012, takes this a step further by embedding ING's procurement policy towards suppliers into our processes…" |
| IV | Report provides excellent depth of information on the scope of coverage of the company's activities toward reducing/mitigating the environmental impacts of the company's business, including measurable results and comparisons of outcomes at the company or industry level. Discussion categorized as detailed and comprehensive, and is noted for reaching an exceptional level of disclosure | "Since fiscal 2009, we have decreased our total water use by 44.8 % and achieved a 1-year reduction of nearly 9.8 % in fiscal 2012. Over the past 4 years, we have lowered water use by more than 2,750 million liters… Hazardous waste makes up only 0.04 % of our total waste output. In fiscal 2013, our volume of waste produced rose by 44 % from the previous year. This increase was due to activities relating to cleaning out an old fuel oil tank at one of our distilleries, which caused 30 tons of redundant fuel to be sent to a facility to be filtered and then blended as fuel for a power plant… Three major air pollutants are sulfur dioxide (SO2), nitrogen oxides (NOX) and particulate matter (PM). These emissions increased by nearly 12 % in fiscal 2013, from 1,010 metric tons to 1,134 metric tons, primarily due to our burning a greater amount of heavy fuel oil to compensate for our decreased biogas generation…" |
Some industries have more regulation or public scrutiny, creating an environment that encourages companies to write more complete reports. Similarly, some countries require more specificity as to what a company must include in its CSR report. The CSR-S scoring methodology takes into account such variations in CSR practices and related disclosures and thus allows for objective comparisons among reports and emerging trends in reporting.
The number and definition of various contextual elements, and their relative weights, were determined on the basis of information contained in a large cross section of CSR reports. The significance of this approach rests on the primary object of the CSR-S Monitor: to compare and analyze the information that is currently contained in the CSR reports, and not what should be contained in these reports and prescribed by someone other than the corporations preparing these reports. Each report is analyzed by multiple analysts and their findings are randomly examined by experienced supervisors to ensure that the scoring framework is objectively and consistently applied.
Hypothesis Development
We conducted our data analysis on two aspects of the CSR reports:
1.

Endogenous factors (contextual elements contained in the reports), including their contribution to the overall quality of the reports and their interrelationships.

 

2.

The CEO's message and how it projects into the content and quality of CSR disclosure.

 
Extant research documents the role CEOs play in building/maintaining their companies' public image and reputation. CEO letters in company reports, be they financial or CSR, help influence public perceptions of corporate identity. This is especially important in the case of companies that have a strong footprint in such areas as the environment, sustainability of human rights, and bribery and corruption (David, 2001; Prasad and Mir, 2002). CEOs (as well as other top managers) set the agenda for change and are responsible for effectively communicating and carrying it out (Sama and Shoaf, 2008; Sims and Brinkmann, 2002; Svensson and Wood, 2008; Thomas et al., 2004).
CSR reports have emerged as a medium for the communication of firms' commitment to ESG issues and all related activities. Accordingly, the CEO letter in CSR reports has become an important communication medium that provides tools to understand and assess the way CEO leadership is performed relating to the business practices that reveal a company's attitude towards social and environmental responsibility (Craig and Amernic, 2011; Conaway and Wardrope, 2010; Cragg and Greenbaum, 2002). CEO letters also frequently extend beyond the communication of factual information (Hall, 1973; Hofstede, 1984; Briscoe et al., 2014; Creed et al., 2002; Craig and Amernic, 2011; Cragg and Greenbaum, 2002) and influence public opinion and attitudes (particularly among potential investors) toward the company, and aim to gain their support for or to prevent any opposition to organizational practices (Conaway and Wardrope, 2010). Collectively, we expect that CSR-minded CEOs will demonstrate their commitment to ESG matters through a high-quality CSR report in general, and CEO letter in particular.
Research Hypothesis 1:
CSR reports with higher-quality executive messages are more likely to have higher overall quality scores.
In their corporate communications, companies tend to focus on issues that are of highest importance and relevance to their broader set of stakeholders. Following Craig and Brennan (2012), corporate reputation is based on the actual attributes that outsiders ascribe to a company and is built by information and signals sent out by the company through various media channels, including CSR reports. Aside from conforming to social norms and expectations, which leads to social acceptance and organizational legitimacy, social comparison defines organizational reputation (Deephouse and Carter, 2005). Therefore, the social and environmental nature of a company's operations will determine the choice of environmental and social content in CSR communications (He and Baruch, 2010; Newburry et al., 2006; Antal and Sobczak, 2004; Brown et al., 2006; BrØnn and BrØnn, 2015).
We expect a similar pattern for CEO letters. In the executive message section of their CSR reports, top managers will be more likely to include discussions of the aspects of their business that are deemed relevant and important (Christensen et al., 2014). Hence, the content and quality of the CEO letter will also be consistent with the content and quality of the information provided in (1) the particular section of the report where the relevant element (i.e., environment, philanthropy, supply chain, human rights, etc.) is discussed and also (2) the rest of the CSR report in its entirety. Accordingly, we expect that the focus on a contextual element in the CEO letter portends the presence of, as well as a higher quality of disclosure on, that element in the CSR report, further leading to a positive correlation between the overall quality of executive message and the disclosure of that contextual element.
Research Hypothesis 2:
Executive message is more likely to include contextual elements that are important (and relevant) to a company's business.
Research Hypothesis 3:
Quality of executive message in CSR reports is correlated with the quality of contextual elements that are important to the business.
Data Analysis and Results
We conducted our analysis in three stages. First, we tested a list of situational factors that might influence the quality of overall CSR reports and the CEO letters therein. These factors include (1) the country or region where a firm's headquarters is located, (2) the potential impact of that country's legal traditions in terms of common law and code law, and (3) the primary subsector that the extractive company operates in. Second, we investigated the relationship between the quality of CEO letters and overall CSR disclosure scores. Third, we examined the relationship between the quality and content of CEO letters and the quality of the other ten contextual elements in CSR reports. More specifically, we included an analysis of the presence of a particular contextual element in a CEO letter and its reflection in the entire CSR report. This helped us identify a list of contextual elements that companies consider "relevant" and include (and prioritize) in their CSR reports. We also investigated whether a meaningful association exists between the information on the "relevant" contextual elements in CSR reports and the quality of the CEO letter.
Table 
2
shows the overall scores and scores on the CEO letters for three subsectors of the extractive industry (2-digit NAICS code 21), defined as mining (3-digit NAICS code 212), oil and gas (3-digit NAICS code 211), and support activities (3-digit NAICS code 213). Mining (16 observations) leads the sample with a median quality score of 63.00/100. It is followed by oil and gas (26 observations) and support activities, with only slightly different median scores of 49.38/100 and 46.88/100, respectively. We observe a similar picture for the CEO letters. Mining firms lead their peers with a median CEO letter quality of 3.13/5, suggesting that mining firm CEOs make better use of the CSR reports as a communication medium for the promotion of their personal and corporate commitment to ESG matters and a reputation-building instrument as well.
Table 2
Analysis of CSR-S Monitor Overall Scores and CEO Letters by Sub-Industry
 

Mining

Oil and gas

Support activities

Overall

Total

CEO letter

Total

CEO letter

Total

CEO letter

Total

CEO letter

N

16

16

26

26

6

6

48

48

Mean

62.80

3.14

49.44

2.55

47.46

2.83

53.65

2.78

Median

63.00

3.13

49.38

2.75

46.88

2.75

57.25

2.75

SD

13.03

0.69

14.61

1.02

15.68

0.47

15.39

0.90

Min

41.25

2.00

25.25

0.00

29.00

2.25

25.25

0.00

Max

88.50

4.50

69.75

4.25

67.50

3.50

88.50

4.50
Overall, CSR reports by extractive companies have mean and median scores of 53.65 and 57.25 out of a maximum of 100, respectively. Despite being reasonably high, these numbers indicate ample room for improvement for the industry in regard to the information quality in their CSR disclosures. The scores fall in a wide range between 25.25 and 88.50, further indicating that CSR disclosure has not yet achieved a stable level of standardization among the companies in our sample. CEO letters also achieve a reasonably high score, with mean and median scores of 2.78 and 2.75 out of a potential 5 points, respectively. The scores of executive messages in these documents also range between 0 and 4.50, a considerable spread pointing to the fact that not all the CEOs seem to exploit this very important channel of corporate communication in the same way as their peers.
Table 
3
shows the regional distribution and statistics of the quality of CSR reporting by extractive companies. Among the top three regions in terms of number of reports, Western European companies have the highest overall average of CSR report quality, with a median of 58.88/100, followed by companies in North America, with 44.75/100, and East Asia as the laggard, with a median score of 43.25/100. CEO letters, on the other hand, follow a quite different pattern, as North American companies disclose at the highest quality among the three top regions, with a median score of 3.00/5, followed by East Asia and Western Europe, tied at 2.75/5.
Table 3
Analysis of CSR-S Monitor Overall Scores and CEO Letters by Region
 

Overall

North America

Western Europe

East Asia

Eastern Europe

Oceania

Latin America

SubSaharan Africa

 

Total

CEO letter

Total

CEO letter

Total

CEO letter

Total

CEO letter

Total

CEO letter

Total

CEO letter

Total

CEO letter

Total

CEO letter

N

48

48

15

15

14

14

6

6

4

4

4

4

3

3

2

2

Mean

53.65

2.78

48.58

2.82

59.27

2.98

44.75

2.67

53.06

1.56

52.88

3.06

62.08

3.33

69.00

2.50

Median

57.25

2.75

44.75

3.00

58.88

2.75

43.25

2.75

53.88

1.88

54.50

3.00

62.75

3.50

69.00

2.50

SD

15.39

0.90

19.66

1.06

9.63

0.74

15.41

0.54

13.88

1.13

14.65

0.38

4.78

0.52

8.49

0.71

Min

25.25

0.00

25.25

0.00

45.75

1.75

28.75

1.75

36.00

0.00

35.00

2.75

57.00

2.75

63.00

2.00

Max

88.50

4.50

88.50

4.25

83.75

4.50

64.75

3.25

68.50

2.50

67.50

3.50

66.50

3.75

75.00

3.00
Conclusions, Limitations, and Future Lines of Research
The enormous growth in the last few years in the publication of CSR reports by large companies has been a game changer in bridging the gap between societal expectations and corporate responses as to the impact of their business operations on issues pertaining to ESG issues. However, scholarly research and academic inquiry are still at a nascent stage with regard to the veracity, completeness, accuracy, and transparency of CSR reports. In part, this is to be expected given the slow progress in broad public recognition of this new communication medium and the availability of data from a broad spectrum of corporations. Another major handicap has been the lack of analytical models that would facilitate data analysis and truly generate evaluative findings allowing for systematic and objective comparisons among various types of CSR reports.
Our study tries to fill this gap using a novel database called the CSR-S Monitor, which provides an analytical framework and measurement schema to evaluate the quality of CSR reports. This framework has been developed in an academic institution with the sole intention of creating public good in improving the quality of CSR reports, facilitating their objective analysis, and enhancing public trust. The analytical framework is open to independent external analysis and examination. As previously stated, to the best of our knowledge, it is the first such framework in the world.
To be sure, there have been other approaches to evaluating corporate responses to ESG issues, developed by various commercial for-profit entities, such as Dow Jones Sustainability Index (DJSI), FTSE4GOOD, and GMI ESG Ratings. However, there are two issues with the approaches of these entities. First, their classifications are based in part on information provided by the subject companies, who also pay a fee to the former two to be included in the relative indices. Second, these entities collect information from multiple sources. Due to differences in the quality of information sources, this practice raises serious questions about the efficacy of their evaluation processes as well as the comparability of scores. Additionally, the entities do not make public their data requirements due to the proprietary nature of their analytical algorithms and scoring criteria, which impedes objective evaluations of the accuracy of the information.
In contrast, the CSR-S Monitor strictly limits its information base to the contents of CSR reports produced by the companies themselves. This facilitates our ability to compare the quality of CSR information provided by the companies in their CSR reports. Therefore, our findings may be susceptible to the differences in the reports of various companies rather than their actual performance.
Nevertheless, we contend that this approach provides better results in both the short- and long-term. The clarity of short-term findings is obvious since corporations have every incentive to provide the best and most forthright explanations of their ESG activities. To do otherwise would be self-inflicting injury since every corporation's CSR report would be available to its many competitors who could point out its shortcomings, inaccuracies, and unsubstantiated claims about the company's performance. We also believe that competitive pressures among companies to improve their CSR toward higher levels of performance would inevitably enhance the quality of CSR reports among all companies.
Our illustrative example in the paper analyzes CSR reports of 48 companies in the extractive industry and clearly demonstrates the strength of the CSR-S Monitor's analytical framework and the richness of our findings. Our choice of extractive industry was based on the fact that this industry—which includes mining and minerals, oil and gas, and support services—has by far the heaviest footprint in terms of environment and sustainability and other important contextual elements—human rights, corruption, and provision of integrity assurance, to name a few. Our findings as detailed in the body of the paper have amply justified our original assessment.
To sum up, there are three major observations that offer promise of further progress in the quality of reporting, and even more important, quality of ESG-related actions on the part of the reporting company. First, there is a strong relationship between the quality of CSR reports and the quality and explicitness of the CEO letter. The convergence between the overall scores of a CSR report and the scores assigned to the CEO letter is a clear manifestation of the importance that a CEO assigns to the company's CSR report and its potential impact on the ability of the corporation to present a positive and cooperative portrayal of the company's activities to its important stakeholders and influential opinion makers. A high quality CSR report can also be helpful in preventing and/or mitigating (1) a negative public perception of the company and (2) a dilutive impact on corporate reputation. A loss of reputation can lead to potentially significant adverse consequences for the company's ability to conduct its business operations without regulatory oversight. Additionally, it can lead to a lack of trust in the company's statements in the eyes of the public at large.
Second, we found considerable variations between the companies' overall scores and their scores on various contextual elements. This is a recognition that while companies may attain high overall scores, they must also address the discrepancies in their scores in various contextual elements. We contend that these inconsistencies reflect differences in (1) actual operational challenges faced by companies in the same industry, and (2) the presentation of data, which is to be expected given the current absence of standards for data presentation. We believe that these problems would most likely be corrected through (1) industry pressure on companies to improve the quality of their reports in comparison with those of their competitors, and (2) the use of data analytics provided by the CSR-S Monitor.
Third, we have already noted a gradual improvement in the quality of CSR reports as companies benchmark their reports against those of their competitors. This is a highly desirable outcome, since not only does it encourage companies to improve the quality of their CSR reports, but also it provides a higher quality of information to the public domain and thus strengthens the "commons."
Funding
Financial support for this project was provided by the Weissman Center for International Business, and is gratefully acknowledged.
Notes
1

The term "CSR report" will refer to any report of a non-financial nature regardless of the particular naming convention used by each company, such as "ESG report," "Sustainability report," or others. Likewise, "CSR report" also includes annual reports that are specifically stated by the company to be Integrated or otherwise intended to function as their primary CSR disclosure publication.

 

2

 

3

Some countries, regions, and industries require companies to report certain CSR information in some form and to varied degrees. We will refer to the general practice of publishing CSR reports as "voluntary" for the sake of simplicity.

 

4

 
Copyright information
© Macmillan Publishers Ltd & Reputation Institute 2016