Internalization theory for the digital economy
Abstract
We study the internationalization of digital service multinational enterprises (SMNCs), focusing on how digitalization alters internalization theory's assumptions about the nature of firm-specific assets (FSAs) and the theory's predictions about governance choices in cross-border transactions. We invoke Simon's (Proc Am Philos Soc 106(6):467–482, 1962) near-decomposability concept to explain how digitalization enables two distinct types of FSAs – technology and human capital. Applying the ideas of modularity and skill complexity, we further distinguish between core versus peripheral technology FSAs and between generic versus advanced human capital FSAs. Building on the transferability and appropriability of these strategic assets, we theorize on the FSAs' internalization propensity in the digital age. We propose that with rising digitalization, the network plays a dual role – as a governance mode and as a strategic resource. Integrating insights from network economics, particularly increasing returns to scale, we propose that network advantages (On) emerge as a distinct strategic resource that merits separate investigation from the traditional asset-based (Oa) and transaction-based (Ot) advantages.
Keywords:
internalization theory 
digitalization 
firm-specific assets 
governance choices 
digital SMNCs 
network advantage 
human capital FSA 
core and peripheral technologies 
generic and advanced skills 
Résumé
Nous étudions l'internationalisation des entreprises multinationales de services numériques (EMNSN), en nous concentrant sur la façon dont la numérisation modifie les hypothèses de la théorie de l'internalisation concernant la nature des actifs spécifiques d'entreprise (ASE) et les prévisions de la théorie sur les choix de gouvernance dans les transactions transfrontalières. Nous invoquons le concept de quasi-décomposabilité de Simon (1962) pour expliquer comment la numérisation permet deux types distincts d'ASE : la technologie et le capital humain. En appliquant les idées de modularité et de complexité des compétences, nous distinguons davantage les ASE fondés sur les technologies de base et ceux fondés sur les technologies périphériques, et les ASE génériques et ceux fondés sur le capital humain avancé. En nous appuyant sur la transférabilité et l'appropriation de ces actifs stratégiques, nous formulons une théorie sur la propension à l'internalisation des ASE à l'ère du numérique. Nous proposons qu'avec la numérisation croissante, le réseau joue un double rôle - comme mode de gouvernance et comme ressource stratégique. En intégrant les connaissances tirées de l'économie des réseaux, en particulier les rendements d'échelle croissants, nous proposons que les avantages des réseaux (Or) deviennent une ressource stratégique distincte qui mérite d'être étudiée séparément des avantages traditionnels fondés sur les actifs (Oa) et les transactions (Ot).
Resumen
Estudiamos la internacionalización de empresas multinacionales de servicios digitales, enfocándonos en cómo la digitalización altera los supuestos de la teoría de internalización sobre la naturaleza de la empresa de los activos específicos de la empresa y las predicciones de la teoría sobre las opciones de gobernabilidad en las transacciones entre países. Invocamos el concepto de casi-descomposición de Simon (1962) para explicar como la digitalización permite dos tipos específicos de los activos específicos de la empresa — tecnología y capital humano. Aplicando las ideas de modularidad y complejidad de habilidades, avanzamos la distinción entre los activos específicos de la empresa de tecnología de núcleo y de periferia y entre activos específicos de la empresa de capital humano genéricos y avanzados. Con base en la transferibilidad y apropiabilidad de estos activos estratégicos, teorizamos sobre la propensión a la internalización de los activos específicos de la empresa en la era digital. Proponemos qué con el aumento de la digitalización, la red juega un doble papel — como un modo de gobernanza y como un recurso estratégico. Integrando ideas de economía de redes, particularmente los rendimientos a escala, proponemos que las ventajas de la red (Or) surgen como un recurso estratégico distintivo que amerita una investigación separada de las ventajas tradicionales basadas en activos (Oa) y las ventajas basadas en transacciones (Ot).
Resumo
Estudamos a internacionalização de empresas multinacionais de serviço digital (SMNCs), enfocando como a digitalização altera os pressupostos da teoria de internalização sobre a natureza dos ativos específicos da empresa (FSAs) e as previsões da teoria sobre as opções de governança em transações internacionais. Invocamos o conceito de capacidade de quase decomposição de Simon (1962) para explicar como a digitalização possibilita dois tipos distintos de FSAs - tecnologia e capital humano. Aplicando as ideias de modularidade e complexidade de habilidades, distinguimos ainda entre FSAs de tecnologia central versus periférica e entre FSAs de capital humano genérico versus avançado. Com base na transferibilidade e apropriabilidade desses ativos estratégicos, teorizamos sobre a propensão de internalização de FSAs na era digital. Propomos que, com crescente digitalização, a rede desempenhe um duplo papel - como um modo de governança e como um recurso estratégico. Integrando insights da economia de rede, particularmente aumentando retornos de escala, propomos que vantagens de rede (On) emergem como um recurso estratégico distinto que merece investigação separada das tradicionais vantagens baseadas em ativos (Oa) e baseadas em transação (Ot).
抽象
我们研究数字服务跨国企业(SMNCs)的国际化, 重点关注数字化如何改变内化理论对企业特定资产(FSA)性质的假设以及理论对跨境交易中治理选择的预测。我们引用Simon(1962)的近可分解概念来解释数字化如何实现两种不同类型的FSA — 技术和人力资本。用模块化和技能复杂性的思路, 我们进一步区分了核心与外围技术FSA以及通用与高级人力资本FSA之间的区别。基于这些战略资产的可转移性和专用性, 我们对数字时代FSA的内化倾向进行了理论化。我们建议, 随着数字化的不断发展, 网络扮演着双重角色 — 作为治理模式和战略资源。综合网络经济学的见解, 尤其是规模报酬递增, 我们提出网络优势(On)作为一种独特的战略资源出现, 它需要与传统的基于资产(Oa)和交易(Ot)的优势分开进行单独调查。
INTRODUCTION
Digitalization has challenged the foundations of the international business (IB) field and forced it to reexamine its priors (Eden, 2016). IB research has long highlighted how information technology is modifying the internationalization process, emphasizing such distinct advantages as reduced transaction costs, user network economies, speed, and scalability (Brouthers, Geisser, & Rothlauf, 2016; Kotha, Rindova, & Rothaermel, 2001; Singh & Kundu, 2002). However, there is a growing awareness that digitalization not only alters the information costs of cross-border transfers of firm-specific advantages (FSAs), but also modifies the very nature of FSAs (Strange & Zucchella, 2017). Given the proliferation of these technologies, this paper advances a parsimonious framework to embed digitalization in extant theory. Consistent with the Special Issue's focus on internalization theory (Buckley & Casson, 1976, 2016), we ask: How does digitalization alter internalization theory's assumptions about the nature of FSAs and predictions about the governance choices in cross-border transactions? We integrate insights from management information sciences (MIS) (Sambamurthy, Bharadwaj, & Grover, 2003), strategic management (Jacobides, Cennamo, & Gawer, 2018; Parker & Van Alstyne, 2005), and network theories (Powell, 1990) to broaden internalization theory for the digital age.
Digitalization is the process of transforming the essence of an organization's products, services, and processes into Internet-compatible data packages that can be created, stored, and transferred in bits and bytes, along with the information associated with them, for marketing, sales, and distribution (Chen, Shaheer, Yi, & Li, 2018; Sambamurthy et al., 2003). Mobile devices, big data analytics, cloud, social media, 3D printing, additive manufacturing, artificial intelligence (AI), and machine learning are examples of technologies that are driving digitalization. IB studies of Internet or E-Commerce firms have thus far largely focused on service-intensive organizations such as Airbnb, Facebook, Amazon, etc. (Kotha et al., 2001; Singh & Kundu, 2002). For example, one might contrast the internationalization of Marriott hotels, which took almost 100 years to expand to 122 countries (Marriott, 2019), with that of Airbnb, which took just 8 years to penetrate 190 countries (Solomon, 2016). These service multinational corporations (SMNC) are relatively light on physical assets, use platform technologies, and scale by leveraging their FSAs with local partners' complementary resources (Collinson & Narula, 2014; Hennart, 2009).
We draw on Simon's (
1962
) concept of
near
-
decomposability
(disaggregating complex systems into a few broad-enough parts) to analyze the differential impacts of digitalization on two FSA types: technology FSAs and human capital FSAs. We also build on Langlois' (
2002
) and Hennart's (
2009
) work on
modularity,
which allows multiple firms to connect seamlessly through interfaces to deliver value to their customers. We link these concepts to digital platforms, which are modular systems, that enable SMNCs to leverage complementary assets from local firms. We further draw on Chi (
1994
), Kogut and Zander (
1993
), and Teece (
1986
) to explore how these FSAs' cross-border transferability and appropriability hazards influence FSA governance choices. Figure 
1
outlines our theoretical predictions regarding how digitalization expands the governance mode choice for digital SMNCs.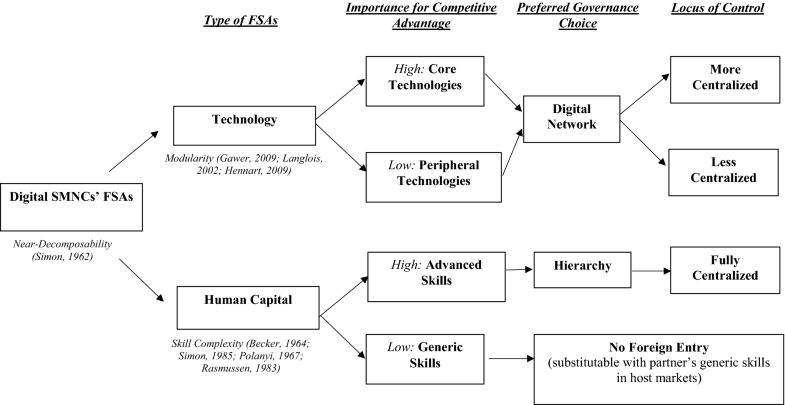 Our work advances internalization theory in three ways. First, by incorporating digitalization explicitly into internalization theory, we bring the theory's generalizability into the digital era. Our framework connects the organizational design principles of near-decomposability, modularity, skill complexity, and bundling to the phenomenon of digital platforms. A key element of our formulation is the explicit analysis of technology and human capital components of FSAs, which allows one to theorize on the asset-light internationalization enabled by digitalization. Second, we develop governance choice predictions based on knowledge transferability and appropriability and show the emergence of network platforms as the dominant mode in global governance for digital SMNCs. We show that bundling becomes pervasive in such networks, as dominant global firms establish their core technology with walled-in structures to protect their proprietary know-how, while incorporating adaptable design interfaces to link with local firms' capabilities. Third, we propose that the network itself becomes a source of competitive advantage; with rising digitalization, network size and quality emerge as an important resource. In addition to the traditional asset-based (Oa) and transaction-based (Ot) advantages (Collinson & Narula, 2014; Dunning, 1988; Lundan, 2009), digitalization introduces the network advantage (On). We shift the traditional focus exclusively on the sociological arguments of network governance to include the economics of increasing returns from the user networks of the SMNC.
CONCEPTUAL BACKGROUND
Internalization theory provides a way to explain and predict why and how firms' boundaries stretch across national borders (Buckley & Casson, 1976). Building on Coase (1937), it suggests that an MNC's international growth is governed by the costs and benefits of internalizing markets in foreign countries. The core tenets of the theory are: firms are profit maximizers in a world of imperfect markets; firms have an incentive to create internal markets to bypass imperfect external markets for intermediate products owned or controlled by the firm; and internalizing the market across national borders creates the MNC (Buckley & Casson, 1976). Buckley (2016) provides an elegant review of the advancement of the theory over the four decades since it was formulated. We review here three critical developments central to our framework.
Knowledge Transferability across Country Borders
Buckley and Casson (1976: 35) assume that "knowledge is a public good within the firm, and its transmission costs are normally low," and thus focus on knowledge appropriability hazards to explain internalization. Kogut and Zander (1992; 1993) advance the notion that complex and tacit knowledge is organizationally embedded, and this knowledge transferability problem is what gives rise to the MNC. Sustainable competitive advantage demands both imperfect imitability (or causal ambiguity) and imperfect mobility (or specificity) (Lippman & Rumelt, 1982) and thus the literature has moved on to focus on both appropriability hazards and the transferability costs (Kogut & Zander, 2003).1 We build on Chi's (1994) treatise on knowledge assets, highlighting three key attributes of knowledge – tacitness, complexity, and specificity. Following Kogut and Zander (1993), we use the term transferability to refer to the cross-border flow of knowledge, that is at the heart of our study. As internalization is affected by both transferability and appropriability of a firm's FSAs concerns, we explore the impact of digitalization on these two critical constructs. In so doing, we complement other papers in this special issue that also study the cross-border transferability of FSAs through other contingent channels such as, e.g., business groups (Gaur, Pattnaik, Lee, & Signh, 2019) or the FSAs' appropriability (Wang & Li, 2019).
Firm-Specific Advantages as Embodiments of Knowledge
The conceptualization of FSAs is an important building block in the development of internalization theory. Rugman and Verbeke (2003: 127) define FSAs as "knowledge bundles that can take the form of intangible assets, learning capabilities and even privileged relationships with outside actors." FSAs are generally viewed as two types of advantages: asset-based ownership advantages (Oa) (e.g., product innovations, marketing capabilities, privileged relationships, etc.) and transaction-based ownership advantages (Ot) (e.g., those that emerge from economies of common governance and cross-border coordination) (Dunning, 1988; Lundan, 2009). While early works in IB focused solely on the FSAs of an MNC, Hennart (2009) advocated that one should also include potential local partners' FSAs in the analysis, suggesting that both may be equally critical for an MNC abroad. He suggests modularity as a measure of the ease with which a firm's FSAs can be integrated or bundled with the assets of potential local partners. This fusing of foreign and local firms' FSAs in new ways to create innovative capabilities leads to a recombinant advantage that undergirds the competitive advantage of the MNC (Collinson & Narula, 2014; Pitelis & Teece, 2018). This also helps to overcome the location-boundedness of some FSAs, if they are highly embedded in the organization or environment or specific to the market (Rugman & Verbeke, 2004).
Networks as Effective Forms of Knowledge Governance
The role of networks in internalization theory has evolved over the years. While early works framed governance as a dyadic choice between markets or hierarchies, over the years, hybrid organizational arrangements such as international joint ventures (IJVs) and networks have been actively explored as a third alternative (Buckley, 2016; Hennart, 1993). Drawing on the sociology of networks, the primary argument has been that relational capital in networks mitigates transaction costs through reciprocity and trust (Holm, Eriksson, & Johanson, 1996, 1999; Powell, 1990). Conversely, digital platforms emphasize the economics of networks, and particularly increasing returns to scale (Bharadwaj, El Sawy, Pavlou, & Venkatraman, 2013; Parker & Van Alstyne, 2005). Singh and Kundu (2002), in their analysis of internationalization of ecommerce firms, draw theoretically on Metcalfe's law, with Brouthers et al. (2016) and Chen et al. (2018) providing additional empirical validations. The significance of network externalities inherent in the digital platforms demands consideration of On network advantages as a distinct category from the traditional asset-based (Oa) and transaction-based (Ot) advantages (Collinson & Narula, 2014; Dunning, 1988; Lundan, 2009). We propose that On FSAs, due to digitalization, follow a different logic in terms of location boundedness and isolating mechanisms.
DIGITALIZATION AND INTERNALIZATION THEORY
DISCUSSION
We provided an in-depth analysis of how digitalization affects internalization theory's assumptions about the nature of FSAs and predictions about their cross-country governance for digital SMNCs. Internalization theory has often been faulted for not being a dynamic one and overly focused on hierarchies (Buckley, 2016; Dunning, 1981). Buckley (2016: 80) envisions that "[p]roblems with internalization theory need to be problems with the frontiers of social science…Identifying lags behind this feasible frontier is the first task of IB research, pushing beyond it is the major goal." Our paper serves as a useful stepping stone toward this goal, strengthening internalization theory for the digital economy.
We started this paper with the question: How does digitalization alter internalization theory's assumptions about the nature of FSAs and predictions about their governance in cross-border transactions? Our framework provides a simple way to reorient the analysis of FSAs. By decomposing FSAs into technology and human capital, and subsequently into core versus peripheral technology and advanced versus generic human capital, we proposed how modularity, skill complexity, and bundling can be integrated within internalization theory in the digital age. The governance choice predictions in Figure 1 summarize how the technology and human capital FSAs lead to different governance modes, with the network mode becoming more common. Depending on the criticality of the core or peripheral technology, the network becomes more or less centrally controlled. Similarly, depending on the composition of human capital – advanced or generic – there is increased internalization or externalization of skills, respectively. Thus, our paper extends others in this special issue that also elaborate on conditions under which MNCs would externalize their activities across the value chain (Benito et al., 2019; Strange & Humphrey, 2019).
Our analysis raises three important observations for internalization theory in the digital economy. First, digitalization challenges the definition of the MNC, which has traditionally invoked the investment of physical assets abroad as a critical indicator of multinationality. Instead, new digital technologies enable MNCs to exchange information and enter foreign markets through digital networks. Thus, in the digital age, MNCs can be born digitally by simply granting consumers worldwide access to their products and services through online apps and expand digitally by entering host countries with digital network ecosystems. The concept of place shifts from physical, territorial attributes to digital, information flow-based characteristics (Kobrin, 2017). The firm is also no longer just a stand-alone entity (Dunning & Wymbs, 2001). Should IB research then rebrand the MNC as "the DNE" – i.e., digitally networked ecosystem – shifting the unit of analysis from the firm to the overall ecosystem?
Second, digitalization also challenges a key underlying role behind the market: price-setting. Prior to digitalization, consumer preferences tended to be over-simplified and condensed down to price due to the information processing constraints of the analog economy (Schonberger & Ramge, 2018). Digitalization alters the concept of the market from a common physical space for buyer–seller interactions incentivized by the pricing mechanism to a data-rich environment that buyers and suppliers co-create through new digital technologies (Sambamurthy et al., 2003; Schonberger & Ramge, 2018). Data-rich platforms provide firms with the ability to characterize their consumers not just based on price preferences but also based on personal taste, convenience, etc. (Thornhill, 2018). As the marginal cost of copying and transferring data-rich digital goods globally is almost zero, their pricing is driven less by marginal cost and more by value-optimization for the users on the network (Schonberger & Ramge, 2018; Thornhill, 2018).
Third, while we are still in the early stages of markets transforming into data-rich environments, the social implications from digitalization are already being debated (New York Times, 2014). With rising digitalization, it is not just a question of how digitalization alters the governance of technology and human capital FSAs. Digitalization takes this analysis a step further, showing that digital SMNCs can use their technology FSAs to substitute for their human capital FSAs, which can in turn widen income inequality and unemployment.
Future Research Venues
While our discussion focused on the benefits from digitalization, future research can complement ours and study the dark side of digitalization (New York Times, 2014). In addition to its numerous benefits, digitalization also threatens job stability in traditional sectors such as transportation, retail, finance, etc. (Hook, 2017). Brick-and-mortar retail outlets are increasingly closing shop as consumer demand moves online. What should the role of the state be in securing the socio-economic welfare of its citizens in the digital economy, especially in emerging markets? A greater access of society to IT advances can spur economic growth by lifting rural communities out of poverty (Kenny, 2017). Such IT and education skill set advances can also help curtail backlash against globalization (Kobrin, 2017). Government-industry cyber security partnerships that aim to strengthen encryption and increase awareness of MNCs' staff about cyber security threats and various mitigation mechanisms have also been long advocated (Dunning & Wymbs, 2001).
Our study opens the possibility to bring SMNCs to the forefront of IB research. Services contribute increasingly to employment and economic development in many countries (Kundu & Lahiri, 2015). Yet, SMNCs face substantive challenges in internationalization as they attempt to provide intangible, perishable, and experience-based services globally for profit (Pamnani, 2017). SMNCs' internationalization has remained under-explored (Kundu & Lahiri, 2015), and digitalization provides new ways to reconceptualize both theory and practice in this arena. Although we considered manufacturing firms beyond the scope of this paper, our framework is easily extendable and generalizable, as more and more manufacturing firms draw more of their revenue comes from services, and their value chains are also being transformed by digital technologies such as AI, big data, and 3D printing. We highlighted the role of human capital in how SMNCs transfer knowledge internationally and protect it from possible misappropriation. MNCs can be powerful agents of social change by "bundling" technology with local human capital, an idea that digitalization makes possible.
The literature has so far perceived network as a governance mode independently from network as a resource. The simultaneity of the two functions introduces several complexities that need to be resolved. We have introduced the idea of the network advantage, On, to explicitly consider the economics of networks, which opens fruitful venues for future research. Is the On advantage location-bound or semi-permeable to other countries? The IB literature is rich with examples of semi-permeable advantages – e.g., brands, distribution and marketing advantages – and provides useful priors to build on. The pervasiveness of the network architecture in an MNC paves ways for better knowledge governance in an MNC, bringing the study of "orchestration" roles feasible and useful (Dhanaraj & Parkhe, 2006; Pitelis & Teece, 2018).
CONCLUSION
Digital networks would likely become the dominant organizational mode and a key feature of IB. As the MNC becomes a spatially distributed entity, co-creating value with global partners, data and information become even more central. Digitalization not only brings down information costs through communication technologies but also heralds a more efficient way of coordinating within the network, depending on the type of FSA – technology or human capital – that the firm leverages for its internationalization. Our study paves the way to analyze how MNCs become digitally networked orchestrators not only of their subsidiaries across countries but also of their global ecosystem partners, specializing in connecting buyers with sellers instantaneously through digital platforms. IB as a field should be prepared to see more of asset-light internationalization enabled by digitalization, ushering in co-owned and co-managed global networks. Indeed, the "globally integrated enterprise" that Sam Palmisano, ex-Chairman of IBM, envisioned in the 2000s is perhaps finally here, made possible by digitalization.
Notes
1

The IB literature has used the terms, tradability, mobility, and transferability in an interchangeable manner. Tradability is used in the context of exchange of strategic assets between firms, an example of which is licensing a technology to a foreign manufacturer (Chi, 1994). Mobility is used in the context of movement of factor resources from one firm to another, an example of which is the movement of a senior executive or a product division to another firm (Tseng, Tansuhaj, Hallagan, & McCullough, 2007). Mobility implies absence of firm specificity, which is a requirement for tradability. Transferability is used in the context of movement of knowledge assets, either within a firm, as in knowledge transfer from headquarters to subsidiary, or through markets, as in licensing.

 
2

Digital SMNCs still own some physical assets as part of their growth strategies: e.g., Amazon bought Whole Foods stores, Uber purchased self-driving cars, Google's Waymo bought minivans to equip them with driverless technology, etc. Nonetheless, digital SMNCs are more knowledge-heavy and still physical asset-light in comparison to traditional, asset-heavy brick-and-mortar retailers, wholesalers, and manufacturers.

 
Notes
ACKNOWLEDGEMENTS
We are grateful to the special issue editors – Christian Asmussen, Tailan Chi, Sumit Kundu, and Rajneesh Narula – and to the four anonymous reviewers for their insightful guidance and suggestions through the multiple revisions of this paper. A previous version of the paper received the FIU/AIB Best Theory Paper award at the AIB 2018 conference held at Minneapolis. We are also grateful for helpful feedback on earlier versions of this manuscript from the participants at the special issue workshop held at the AIB in June 2018, and additional colleagues including Afonso Fleury, Sali Li, Arvind Parkhe, and Vivek Tandon.
Copyright information
© The Author(s) 2019
Open AccessThis article is distributed under the terms of the Creative Commons Attribution 4.0 International License (http://creativecommons.org/licenses/by/4.0/), which permits unrestricted use, distribution, and reproduction in any medium, provided you give appropriate credit to the original author(s) and the source, provide a link to the Creative Commons license, and indicate if changes were made.