Translating active living research into policy and practice: One important pathway to chronic disease prevention
Open Access
Original Article
Abstract
Global concerns about rising levels of chronic disease make timely translation of research into policy and practice a priority. There is a need to tackle common risk factors: tobacco use, unhealthy diets, physical inactivity, and harmful alcohol use. Using evidence to inform policy and practice is challenging, often hampered by a poor fit between academic research and the needs of policymakers and practitioners – notably for active living researchers whose objective is to increase population physical activity by changing the ways cities are designed and built. We propose 10 strategies that may facilitate translation of research into health-enhancing urban planning policy. Strategies include interdisciplinary research teams of policymakers and practitioners; undertaking explicitly policy-relevant research; adopting appropriate study designs and methodologies (evaluation of policy initiatives as 'natural experiments'); and adopting dissemination strategies that include knowledge brokers, advocates, and lobbyists. Conducting more policy-relevant research will require training for researchers as well as different rewards in academia.
Keywords
built environment 
physical activity 
research translation 
non-communicable disease 
prevention 
city planning 
Introduction
Translation of research evidence into policy and practice is challenging for disease prevention researchers. This problem is not new: despite John Snow's mid-nineteenth century insights that providing clean water prevents cholera, this disease still devastates the urban poor in developing countries. A report of the World Health Organization suggests that "… toxic combination of bad policies, economics, and politics is, in large measure, responsible for the fact that a majority of people in the world do not enjoy the good health that is biologically possible". 1
To reduce risk factors for major non-communicable diseases (NCD) – tobacco use, unhealthy diets, physical inactivity, and harmful use of alcohol – requires comprehensive public health action. Sometimes industries choose to create confusion. As part of a strategy to reduce pressure on food companies to change their practices, many in the food industry have attempted to over-emphasize the role of physical inactivity in the obesity epidemic. 2 Such industry tactics should not deter public health efforts to promote physical activity.
Physical inactivity alone is estimated to cause over 5 million deaths annually, 3 and there have been calls for a greater public health response. 4 While here we focus on activity, translation of evidence-based solutions is required for all four leading NCD risk factors. Principles we identify for active living research may apply to other areas. We begin with a rationale for designing cities to enhance active living; then explore factors that limit the adoption of evidence-based policy and practice. We conclude with recommendations to facilitate the translation of active living research into policy and practice.
The Case for Urban Design that Facilitates Active Transportation and Leisure
Creating cities that facilitate physical activity through active transport and active leisure is now seen as a global priority from both environmental sustainability 5 and health perspectives.6, 7 Walking- and cycling-friendly cities are associated with more walking,8, 9 less obesity, 10 lower rates of chronic diseases, 10 less sedentary time in cars, 11 decreased risk of motor vehicle crashes, 12 and reduced greenhouse gas emissions.10, 13Safe and attractive cities with access to high quality public open space also benefit health by encouraging recreational physical activity 14 and promoting mental health.15, 16
Despite this combination of benefits from creating physical activity-friendly cities, 13 there remains a gap between research, and policy and practice. Sprawling low-density communities with poor access to shops, services, and public transport continue to be built around major cities worldwide. 17 Creating healthier communities requires the involvement of sectors beyond those responsible for health, including city and transport planning, urban design, property development, finance, landscape architecture, road engineering, parks and recreation, energy, and environmental protection.
The Gap between Researchers and Policymakers and Practitioners
Influencing public policy and practice should be an explicit goal for active living research. 18 High-quality evidence can draw attention to what needs to change and to remedies likely to be effective. Yet, researchers are often frustrated that their research is ignored by policymakers and practitioners.19, 20 Choi et al 21 suggest that there is a 'gap' between researchers – and policymakers or practitioners: "scientists are sceptical about the extent to which research is used" to inform policies; and "policymakers are sceptical about the usefulness and accuracy of research". At times, research findings do not support policymakers' agendas.
'Policy-relevant' research appears to be rare, and this may contribute to the research-policy gap.
19
As Green
22
challenges: if researchers want 'evidence-based policy and practice', they need to produce 'policy and practice-based evidence'.
Figure 1
summarises the activities, partners, and strategies that differentiate policy-relevant research from other research, highlighting the need for partnerships between interdisciplinary research teams and policymakers/practitioners, plus a research approach explicitly designed to influence policy.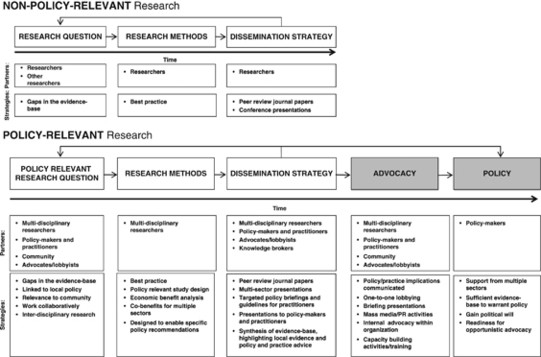 Until relatively recently, few active living researchers from the health and exercise science sectors obtained formal training related to the built environment and health; or on policy-making processes. Globally this type of training is not widespread. Thus scholars understand little about the sectors they seek to influence – transportation, urban planning, and parks and recreation. Similarly, until recently, few of those trained in urban planning, transportation, engineering, architecture, and parks and recreation learned how their sector's influence health and wellbeing.
Researchers may have unrealistic expectations about the role of evidence in influencing policy and about the extent to which policymaking is a rational rather than a process driven by political considerations, whether 'rational' or not. 23 A single piece of evidence is rarely used directly to solve a policy problem. 23 Rather, it is more likely that accumulated evidence leads to changing awareness and may be used retrospectively to justify a position. Understanding the different ways that evidence is used or refuted by policymakers can help researchers when formulating research questions, summarizing key findings, and communicating research in ways that can influence policymakers and practitioners. 24
Strategies to Close the 'Research Translation Gap'
We propose 10 strategies to help bridge the gap between active living researchers and those responsible for planning and implementing transport and land-use policies.
Conclusions
To influence policy, active living researchers must work in multidisciplinary teams that generate policy-relevant research. We have proposed ten strategies to encourage more policy-relevant research and more effective translation of research into policy and practice. Active living researchers will benefit from a greater understanding of the sectors they seek to reform. Built environment professionals and researchers will also benefit from a better understanding of the health impacts of their efforts. To improve research translation, universities and research funders must alter reward systems, shifting from a focus on publications and grant successes, to reward engaging with policymakers and practitioners, asking policy-relevant research questions, and communicating findings to those who can put research into practice. If this results in health-enhancing cities, the major beneficiaries of improved active living research will be the communities we serve.
Copyright information
© The Author(s) 2015
This work is licensed under a Creative Commons Attribution 3.0 Unported License. The images or other third party material in this article are included in the article's Creative Commons license, unless indicated otherwise in the credit line; if the material is not included under the Creative Commons license, users will need to obtain permission from the license holder to reproduce the material. To view a copy of this license, visit http://creativecommons.org/licenses/by/3.0/