Abstract
This article develops an electoral forecasting model for the extreme-right vote share in France during the 2014 municipal elections. On the basis of data gathered between 1998 and 2014 from a sample of 56 cities where the Front National(FN) has always presented candidates for municipal office, the model anticipated a rise in the FN's share of the vote during the 2014 municipal elections. Controlling for political context through election type, FN popularity and electoral dynamics in addition to the criminality rate, this article adds to previous extreme-right forecasting models demonstrating that the FN's vote share is not at all unpredictable even in the case of local elections.
This is a preview of subscription content, log in to check access.
Access options
Buy single article
Instant unlimited access to the full article PDF.
US$ 39.95
Price includes VAT for USA
Subscribe to journal
Immediate online access to all issues from 2019. Subscription will auto renew annually.
US$ 131
This is the net price. Taxes to be calculated in checkout.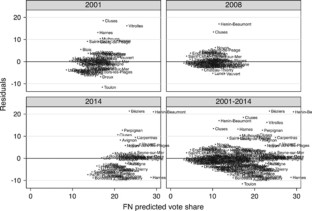 Notes
1.

On 6 June 2000, France passed a gender parity law stating that all political parties should include equal numbers of men and women on party lists for cities of more than 3500 inhabitants. This threshold was modified in 2013 to include all cities of over 1000 inhabitants. Nevertheless, even though the FN respected the law, only 18 per cent of women were front runners on their lists in March 2014.

2.

Municipal elections in 2001, 2008; presidential elections in 2002, 2007 and 2012; regional elections in 1998, 2004 and 2010; and European elections in 1999, 2004 and 2009.

3.

In five cities (Saint-Louis, Enghien-les-Bains, Romainville, Neuilly sur Seine and Bourg-de-Peage) no FN candidate ran for office in 2014.
References
Evans, J. and Ivaldi, G. (2008) Forecasting the extreme-right vote in France (1984–2007). French Politics 6 (2): 137–151.

Evans, J. and Ivaldi, G. (2010) Comparing forecast models of radical right voting in four European countries (1973–2008). International Journal of Forecasting 26 (1): 82–97.

Evans, J. and Ivaldi, G. (2012) Forecasting the extreme-right vote at the 2012 presidential election: Evaluating our model. French Politics 10 (4): 378–382.

Greene, W.H. (2008) Econometric Analysis, 6th edn. Upper Saddle River, NJ: Prentice Hall.

Jérôme, B. and Jérôme-Speziari, V. (2003) A Le Pen vote function for the 2002 presidential election: A way to reduce uncertainty. French Politics 1 (2): 247–251.

Kramer, G. (1971) Short-term fluctuations in US voting behaviour, 1896–1964. American Political Science Review 65 (1): 131–143.

Lewis-Beck, M.S. (2005) Election forecasting: Principles and practice. British Journal of Politics and International Relations 7 (2): 145–164.

Martin, P. (1996) Le vote le Pen: l'électorat du Front national. Paris, France: Note de la Fondation Saint-Simon.

Nannestad, P. and Paldam, M. (1994) The Vp-function – A survey of the literature on vote and popularity functions after 25 years. Public Choice 79 (3–4): 213–45.
About this article
Cite this article
Brouard, S., Foucault, M. Forecasting the rise of the Front National during the 2014 municipal elections. Fr Polit 12, 338–347 (2014). https://doi.org/10.1057/fp.2014.19
Keywords
extreme-right

electoral forecasting

municipal elections