Abstract
In May 2001, the Italian Lega Nord (LN) was included in the coalition government led by Silvio Berlusconi after the general election. A year later, the French Front National (FN) provoked a political earthquake after the passage of Jean-Marie Le Pen to the second round of the 2002 presidential ballot, alongside the incumbent President Jacques Chirac. Drawing from a qualitative methodology, this article compares the LN's and the FN's impact on the development of Italian and French immigration policies during Berlusconi's second term and President Chirac's last term. Acknowledging the complexity of immigration policy, the article concludes that the LN had a moderate impact in Italy while the FN enjoyed significant impact on policy developments in France. This research highlights the presence of important endogenous and exogenous constraints on the development of this political process in the two cases, which have been neglected in the ERP literature.
This is a preview of subscription content, log in to check access.
Access options
Buy single article
Instant unlimited access to the full article PDF.
US$ 39.95
Price includes VAT for USA
Subscribe to journal
Immediate online access to all issues from 2019. Subscription will auto renew annually.
US$ 167
This is the net price. Taxes to be calculated in checkout.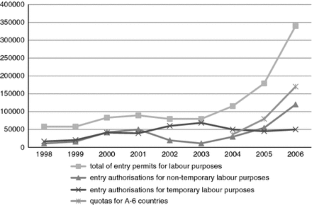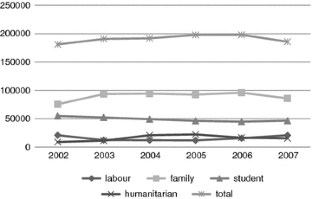 Notes
1.

Potential issues of case selection bias reflecting the LN's participation in government in 1994 and 2001 are dismissed because ERP impact is not dependent on access to office seats (Mudde, 2007).

2.

This event was followed by a sweeping reform of immigration and asylum policy to achieve this goal, which led to a veto on the 1993 immigration law from the Constitutional Council. Relying on the 1946 constitutional text, the judges rejected the restrictions imposed on: family reunion, marriage between nationals and foreign citizens, right of appeal as well as the measures for the automatic expulsion of refugees (Hollifield, 2004, p. 199).

3.

ERPs can be identified at the broad level by their location on the political spectrum and objectively classified on the basis of the ideological criterion by evaluation of the anti-system properties of these parties' ideologies. These ideological properties encompass attachment to a Fascist legacy or anti-constitutional or anti-democratic values, including the denial of human equality (AUTHOR).

4.

It should be noticed that gaps between the aims stated by the national government and the subsequent policy outcomes of these decisions are frequently observed across the immigration policies of industrialised countries (Cornelius et al, 2004).

5.

'A research design that compares cases which are matched (i.e., in agreement) on one of the main variables of concern (either an independent or a dependent variable), and which differ on other variables understood to be potential causes or effects of that variable' (Brady and Collier, 2010, p. 356).

6.

Formed by the Italian Christian-Democrat parties and later renamed 'Unione dei Democratici Cristiani e Democratici di Centro' (UdC).

7.

The 'choice of immigration was ideological' according to Bossi, as the left-wing parties' failure to control immigration sought to 'simplify the society' according to the dichotomy of 'big business against the people' (Bossi, 2000, p. 6). In October 2000, Roberto Calderoli organised a rally against the construction of a mosque in Lodi (north of Milan) involving the spreading of pig excrement on the proposed site (Parenzo and Romano, 2008).

8.

Bossi was appointed as Minister for Reform responsible for devolution; Roberto Maroni became the Minister of Welfare; and Roberto Castelli was appointed Minister of Justice.

9.

The assignment of the Ministry of Justice to the LN demonstrated Berlusconi's confidence in this ERP on issues of key personal interest, such as judicial reform and media regulation (Albertazzi and McDonnell, 2005).

10.

By 2004, 700 000 data units had been collected by Italian authorities (Barbagli, 2008).

11.

Reyneri (2007, p. 7) reported that Italian companies forecasted hiring an annual minimum of 105 000 non-seasonal immigrants between 2001 and 2005 (this forecast did not include domestic labour demand), a number much superior to the annual caps on labour inflows decreed until 2005 (Figure 1).

12.

In particular, the Court vetoed the generalisation of escorted forced removals and imprisonment of individuals because of an administrative offence. However, the peak of forced removals had been in 2002 and was declining henceforth (Barbagli, 2008).

13.

Cyprus, Czech Republic, Estonia, Hungary, Latvia, Lithuania, Malta, Poland, Slovakia and Slovenia.

14.

Double peine refers to the legal mechanism of double penalty that decrees the imprisonment/incarceration of foreign citizens followed by their automatic deportation after expiration of judicial sentences deployed by the 1993 immigration law.

15.

This contract obliges foreigners to have language training and civic formation, which includes a presentation on French institutions and Republican values, especially on equality between genders and secularity. This contract is valid for 1 year and mayors are responsible for supervising abidance with the contract. Failure to comply with the contract can lead to the rejection of renewal of residence authorisation.

16.

In 2004, there were 50 547 first requests of asylum seeking against 42 578 in 2005 and 26 269 in 2006 (SGCICI, 2008, p. 124)

17.

The FN (2001, p. 26) electoral manifesto stated: 'The massive immigration that we do not want affects our national identity and consequently France's existence'.

18.

Circular of 21st February 2006 concerning internal controls on irregular immigrants.

19.

Sarkozy captured 30 per cent of Le Pen's 2001 voters in the first round and 67 per cent of these same voters in the second round of the 2007 presidential elections (Perrineau, 2008, p. 211). This trend reflected public perception that both Le Pen and Sarkozy shared a similar electoral platform but the UMP candidate's image of a statesman and credibility was far superior to that enjoyed by the FN's candidate (Mayer, 2007).
References
Albertazzi, D. and McDonnell, D. (2005) The Lega Nord in the second Berlusconi government: In a league of its own. West European Politics 28(5): 952–972.

Arachi, A. (2004) Immigrati, oggi ne parlo con Montezemolo. Corriere della Sera 22 August.

Bale, T. (2003) Cinderella and her ugly sisters: The mainstream and extreme right in Europe's bipolarising party systems. West European Politics 26(3): 67–90.

Bale, T. (2008) Immigration and integration policy in Europe: Why politics – and the centre-right – matter. Journal of European Public Policy 15(3): 315–330.

Barbagli, M. (2008) Immigrazione e sicurezza in Italia. Bologna, Italy: Il Mulino.

Bossi, U. (2000) Intervento del segretario federale Umberto Bossi á Pontida, 4 June, http://www.leganord.org/segretariofederale/discorsi_pontida/2000_4giugno.pdf, accessed 13 October 2009.

Boswell, C. and Geddes, A. (2011) Migration and Mobility in the European Union. London: Palgrave Macmillan.

Bouillaud, C. (2007) La législation italienne des années 2001–2005 porte-t-elle la marque des nouvelles droites? In: P. Delwit and P. Poirier (eds.) Extrême droite et pouvoir en Europe. The Extreme Right Parties and Power in Europe. Brussels: Editions de l'Université de Bruxelles, pp. 265–290.

Brady, H. and Collier, D. (eds.) (2010) Rethinking Social Inquiry. Plymouth, UK: Rowman & Littlefield Publishers.

Bull, M. and Newell, J. (2009) Still the anomalous democracy? Politics and institutions in Italy. Government and Opposition 44(1): 42–67.

Bull, M. and Bellucci, P. (eds.) (2002) Italian Politics: The Return of Berlusconi. Oxford: Berghahn Books.

Carter, E. (2005) The Extreme Right in Western Europe. Sucess or Failure? Manchester: Manchester University Press.

Cento Bull, A. and Gilbert, M. (2001) The Lega Nord and The Northern Question in Italian Politics. Basingstoke and New York: Palgrave Macmillan.

Collier, D. (2011) Understanding process tracing. Political Science and Politics 44(4): 823–830.

Cole, A., Le Galés, P. and Levy, J. (eds.) (2008) Developments in French Politics 4. China: Palgrave Macmillan.

Colombo, A. and Martini, E. (2007) Il flusso legale di lavoratori dall'estero. In: M. Barbagli (ed.) 1° Rapporto sugli immigrati in Italia. Rome: Ministero dell'Interno, pp. 123–143.

Colombo, A. and Sciortino, G. (2004) Gli immigrati in Italia. Bologna, Italy: Mulino.

Cornelius, W., Takeyuki, T., Martin, P. and Hollifield, J. (eds.) (2004) Controlling Immigration: A Global Perspective. USA: Stanford University Press.

Donovan, M. (2004) Il governo della coalizione di centro-destra. In: V. Della Sala and S. Fabbrini (eds.) Politica in Italia. I fatti dell'anno e le interpretazioni. Edizione 2004. Milan: Il Mulino, pp. 101–123.

Diamanti, I. and Lello, E. (2005) The Casa delle Libertà: A house of cards? Modern Italy 10(1): 9–35.

Diamanti, I. (2007) The Italian centre-right and centre-left: Between parties and 'the party'. West European Politics 30(4): 733–762.

Einaudi, L. (2007) Le politiche dell'immigrazione in Italia dall'Unità a oggi. Bari, Italy: Editori Laterza.

Fella, S. and Ruzza, C. (2009) Reinventing the Italian Right: Territorial Politics, Populism and 'Post-Fascism'. Oxon, UK: Routledge.

FN (2001) 300 Mesures Pour La Renaissance De La France. Paris: FN.

Geddes, A. (2008) Il rombo dei cannoni? Immigration and the centre-right in Italy. Journal of European Public Policy 15(3): 349–366.

George, A. and Bennett, G. (2005) Case Studies and Theory Development in the Social Sciences. Boston, MA: MIT Press.

Guolo, R. (2002) Immigrazione, etnicismo, crescita zero. La Lega e il Nord Est. il Mulino 5: 886–892.

Hainsworth, P. (2008) The Extreme Right in Western Europe. Oxon, UK: Routledge.

Hammar, T. (1985) European Immigration Policy: A Comparative Study. Cambridge: Cambridge University Press.

Hollifield, J. (2004) France: Republicanism and the limits of immigration control. In: W. Cornelius, T. Takeyuki, P. Martin and J. Hollifield (eds.) Controlling Immigration: A Global Perspective. Stanford: Stanford University Press, pp. 127–147.

Ignazi, P. (2006) Extreme-Right Parties in Western Europe. New York: Oxford University Press.

Ignazi, P. (2007) Legitimation and evolution on the Italian right wing: Social and ideological repositioning of Alleanza Nazoinale and the Lega Nord. South European Society and Politics 10(2): 333–349.

Ivaldi, G. (2008) Inequality, identity and the people: New patterns of right-wing competition and Sarkozy's 'winning formula' in the 2007 French presidential election. American Political Science Association Annual Meeting, Boston, MA, pp. 11–28.

Joppke, C. (1998) Challenge to the Nation-State: Immigration in Western Europe and The United States. Oxford: Oxford University Press.

Le Monde (2002a) Le parti d'extrême droite entend combattre l'immigration régulière et instaurer un strict droit du sang. 28 April.

Le Monde (2002b) Les candidats insistent plus sur l'insécurité que sur l'intégration. 8 April.

Le Parisien (2006) Entretien avec Nicolas Sarkozy. 29 March.

Le Pen, J. (2007) La revanche des legislatives. Saint-Cloud, France, 24 April, http://www.altermedia.info/france-belgique/gnral/la-revanche-des-legislatives_10739.html, accessed 21 March 2009.

Lochak, D. and Fouteau, C. (2008) Immigrés sous contrôle: Les droits des étrangers: un état des lieux. Paris: Le Cavalier Bleu.

Lorenzo, S. (2003) Voto agli stranieri, Fini gela Bossi e rilancia. Corriere della Sera 8 November.

Lorenzo, F. (2004) Immigrati, la Lega all' attacco di Pisanu. Corriere della Sera 22 October.

Mahoney, J. (2007) Qualitative methodology and comparative politics. Comparative Political Studies 40(2): 122–144.

Marthaler, S. (2008) Nicolas Sarkozy and the politics of French immigration policy. Journal of European Public Policy 15(3): 382–397.

Mayer, N. (2007) Comment Nicolas Sarkozy a rétréci l'électorat Le Pen. Revue française de science politique 57(3–4): 429–445.

Messina, A. (2007) The Logics and Politics of Post-WWII Migration to Europe. New York: Cambridge University Press.

Meyers, E. (2002) International Immigration Policy: A Theoretical and Comparative Analysis. Basingstoke, UK: Palgrave Macmillan.

Minkenberg, M. (2001) The radical right in public office: Agenda-setting and policy effects. West European Politics 24(4): 1–21.

Mudde, C. (2007) Populist Radical Right Parties in Europe. Cambridge: Cambridge University Press.

Noiriel, G. (2007) A Quoi Sert l'Identité Nationale. Paris: Agone.

Parenzo, D. and Romano, D. (2008) Romanzo Padano. Milan: Sperling and Kupfer.

Passalacqua, G. (2009) Il Vento della Padania. Milan: Mondarori.

Perlmutter, T. (2002) The politics of restriction: The effect of xenophobic parties on Italian immigration politics and German asylum policy. In: M. Schain, A. Zolberg and P. Hossay (eds.) Shadows over Europe: The Development and Impact of Extreme-Right in Western Europe. USA: Palgrave Macmillan, pp. 146–176.

Perrineau, P. (2003) La surprise lepéniste et sa suite legislative. In: P. Perrineau and C. Ysmal (eds.) Le vote de tous les refus: Les élections présidentielle et législatives de 2002. Paris: Presses de Sciences Po.

Perrineau, P. (ed.) (2008) Le vote de rupture: Les élections présidentielle et législatives d'avril-justein 2007. Paris: Les Presses de Sciences Po.

Reyneri, E. (2007) Immigration in Italy: Trends and Perspectives. Argo: IOM.

RFI (2002) Chirac veut réformer le droit d'asile. By Abou, G., published on 15 July.

Sarkozy, N. (2003) Intervention sur le Projet de loi relatif à la maîtrise de l'immigration et au séjour des étrangers en France, Paris, 3 February, http://www.interieur.gouv.fr/sections/le_ministre/interventions/archives-nicolas-sarkozy/03-07-2003-sejour-etrangers/view, accessed 21 July 2010.

Sarkozy, N. (2005) Déclaration de M. Nicolas Sarkozy Deuxième convention de l'UMP 'Pour un projet populaire: une immigration choisie, une intégration réussie', Paris, 9 June 2005, http://discours.vie-publique.fr/notices/053001871.html, accessed 22 September 2010.

Sarkozy, N. (2006) Audition de M. Nicolas Sarkozy, ministre d'État, ministre de l'Intérieur et de l'aménagement du territoire sur le projet de loi relatif à l'immigration et à l'intégration, Paris, 29 March 2006, http://www.assemblee-nationale.fr/12/cr-cloi/05-06/c0506036.asp, accessed 22 September 2010.

Schain, M. (2006) The extreme-right and immigration policy making: Measuring direct and indirect effects. West European Politics 29(2): 270–289.

Schain, M. (2008) The Politics of Immigration in France, Britain, and the United States: A Comparative Study. Basingstoke, UK: Palgrave Macmillan.

Schuster, L. (2003) Asylum seekers: Sangatte and the Tunnel. Parliamentary Affairs 56(3): 510–524.

SGCICI (2008) Les orientations de la politique de l'immigration. Paris: La Documentation française.

Shields, J. (2007) The Extreme Right in France: From Petain to Le Pen. Oxon, UK: Routledge.

The Economist (2011) On the march: Populist anti-immigration countries are performing strongly across northern Europe, 17 March, http://www.economist.com/node/18398641.

Tsebelis, G. (2002) Veto Players: How Political Institutions Work. Princeton, NJ: Princeton University Press.

Vitorini, E. (2001) Lavoratori extracomunitari, Bossi difende la sua legge e attaca gli industriali. Corriere della Sera 29 July.

Weil, P. (2005) La France et ses étrangers: L'aventure d'une politique de l'immigration de 1938 à nos jours. France: Editions Gallimard.

Weil, P. (2009) Politique d'immigration: le dessous des chiffres. Le Monde 14 January.

Williams, M. (2006) The Impact of Radical Right-wing Parties in West European Democracies. New York: Palgrave Macmillan.

Zincone, G. (2002) Immigrazione. In: F. Tuccari (ed.) Il governo Berlusconi. Le parole, i fatti, i rischi. Bari: Laterza, pp. 57–71.

Zincone, G. (2006) The making of policies: Immigration aand immigrants in Italy. Journal of Ethnic and Migration Studies 32(3): 347–375.
About this article
Cite this article
Carvalho, J. The impact of extreme-right parties on immigration policy in Italy and France in the early 2000s. Comp Eur Polit 14, 663–685 (2016). https://doi.org/10.1057/cep.2014.47
Keywords
extreme-right parties

political impact

immigration policy

party politics

France

Italy