Abstract
Background
The social determinants of health are economic and social conditions that contribute to health. Access to housing is a major social determinant of health and homeless patients often rely on emergency departments (EDs) for their healthcare. These patients are frequently discharged back to the street which further perpetuates the cycle of homelessness and negatively affects their health. Previous work has described the financial and systems implications of ED-housed interventions for homeless patients; this review summarizes ED-based interventions that seek to improve the social determinants of health of homeless patients.
Methods
We conducted a search of multiple databases and gray literature for studies investigating interventions for homelessness that were initiated in the ED. Studies had to use a control group or use a pre/post-intervention design and measure outcomes that demonstrate an effect on health or the social determinants of health.
Results
Thirteen studies were identified that met the inclusion criteria. Two studies were housing first interventions and were effective in providing housing and improving health. Seven studies used variations of case management and were able to address many of the social needs of people who are homeless.
Conclusion
This review demonstrated that ED interventions can be effective in improving the social determinants of health of homeless individuals and can be the place to initiate housing interventions. ED providers must advocate for the resources necessary to properly address the social needs of this marginalized population. Equipped with the proper resources, EDs can be one place where the cycle of homelessness is broken.
Résumé
Contexte
Les déterminants sociaux de la santé font référence aux conditions sociales et économiques qui ont une incidence sur l'état de santé. Ainsi, l'accès au logement représente un important et les patients sans abri comptent souvent sur les services des urgences (SU) pour obtenir des soins de santé. Qui plus est, après avoir obtenu leur congé de l'hôpital, ces patients retournent la plupart du temps à la rue, ce qui a pour effet d'entretenir le cercle vicieux de l'itinérance et d'avoir une influence défavorable sur leur santé. La portée financière des interventions amorcées au SU pour les patients sans abri et leurs retombées sur les systèmes de soins de santé ont déjà fait l'objet d'études. La revue systématique avait donc pour but de présenter un résumé des interventions visant à améliorer les des patients sans abri, mises en œuvre au SU.
Méthode
La revue consistait en une recherche d'études dans de nombreuses bases de données et dans la documentation parallèle portant sur des interventions amorcées au SU pour les sans-abris. Les études sélectionnées devaient s'appuyer sur un groupe témoin ou sur une démarche de type avant-après ainsi que sur des mesures de résultats démontrant une influence des interventions sur l'état de santé ou sur les.
Résultats
Treize études satisfaisaient aux critères de sélection. Deux d'entre elles portaient sur des interventions accordant la priorité au logement et ces dernières se sont révélées efficaces dans l'accès au logement et dans l'amélioration de l'état de santé. Dans sept autres études, on avait appliqué diverses variantes de la prise en charge de cas, qui se sont montrées efficaces dans la satisfaction de nombreux besoins sociaux des sans-abris.
Interprétation
Les résultats de cette revue systématique ont démontré que les interventions amorcées au SU peuvent améliorer efficacement les des sans-abris et que les SU peuvent certes être le lieu de mise en œuvre d'interventions accordant la priorité au logement. Aussi les fournisseurs de soins au SU doivent-ils réclamer les ressources nécessaires pour répondre adéquatement aux besoins sociaux de cette population marginalisée. Ainsi dotés des ressources appropriées, les SU peuvent devenir l'un des points de rupture du cercle vicieux de l'itinérance.
This is a preview of subscription content,
to check access.
Access this article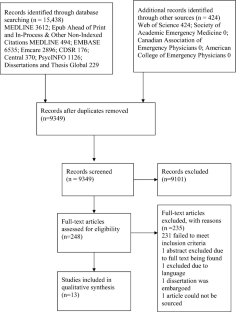 References
Fazel S, Geddes JR, Kushel M. The health of homeless people in high-income countries: descriptive epidemiology, health consequences, and clinical and policy recommendations. Lancet. 2014;384(9953):1529–40.

Gaetz S, Dej E, Richter T, Redman M. The state of homelessness in Canada 2016. Toronto: Canadian Observatory on Homelessness Press; 2016.

Khandor E, Mason K, Chambers C, Rossiter K, Cowan L, Hwang SW. Access to primary health care among homeless adults in Toronto, Canada: results from the Street Health survey. Open Med. 2011;5(2):e94–103.

Tadros A, Layman SM, Brewer MP, Davis SM. A 5-year comparison of ED visits by homeless and nonhomeless patients. Am J Emerg Med. 2016;34(5):805–8.

Rodriguez RM, Fortman J, Chee C, Ng V, Poon D. Food, shelter and safety needs motivating homeless persons' visits to an urban emergency department. Ann Emerg Med. 2009;53(5):598–602.

Lee TC, Hanlon JG, Ben-David J, Booth GL, Cantor WJ, Connelly PW, et al. Risk factors for cardiovascular disease in homeless adults. Circulation. 2005;111(20):2629–35.

Pottie K, Kendall CE, Aubry T, Magwood O, Andermann A, Salvalaggio G, et al. Clinical guideline for homeless and vulnerably housed people, and people with lived homelessness experience. CMAJ. 2020;192(10):E240–54.

Salhi BA, White MH, Pitts SR, Wright DW. Homelessness and emergency medicine: a review of the literature. Acad Emerg Med. 2018;25(5):577–93.

Moher D, Liberati A, Tetzlaff J, Altman DG, Group P. Preferred reporting items for systematic reviews and meta-analyses: the PRISMA statement. PLoS Med. 2009;6(7):e1000097.

Stone PW. Popping the (PICO) question in research and evidence-based practice. Appl Nurs Res. 2002;15(3):197–8.

Gaetz S, Barr C, Friesen A, Harris B, Hill C, Kovacs-Burns K, et al. Canadian definition of homelessness. Toronto: Canadian Observatory on Homelessness Press; 2012.

Moe J, Kirkland SW, Rawe E, Ospina MB, Vandermeer B, Campbell S, et al. Effectiveness of interventions to decrease emergency department visits by adult frequent users: a systematic review. Acad Emerg Med. 2017;24(1):40–52.

Chan TC, Brennan JJ, Killeen JP, Stevenson ME, Kuntz KE, Vilke GM, et al. Impact of social services case management on homeless, frequent users of emergency departments. Acad Emerg Med. 2013;1:S231.

Higgins JP, Altman DG, Gotzsche PC, Juni P, Moher D, Oxman AD, et al. The Cochrane Collaboration's tool for assessing risk of bias in randomised trials. BMJ. 2011;343:d5928.

Sterne JA, Hernan MA, Reeves BC, Savovic J, Berkman ND, Viswanathan M, et al. ROBINS-I: a tool for assessing risk of bias in non-randomised studies of interventions. BMJ. 2016;355:i4919.

Diamant A, Swanson K, Casanova M, Magana R, Boyce E. Improving utilization of medical care and health for chronically homeless adults with housing. J Gen Intern Med. 2011;1:S342.

McCormack R, Hoffman L, Goldfrank L. Intervention to integrate health and social services for frequent ed users with alcohol use disorders. Acad Emerg Med. 2012;1:S97–8.

McCormack RP, DeMuth M. Feasibility of initiating treatment for alcohol use disorders in the emergency department. Alcohol Clin Exp Res. 2016;1:165A.

McCormack RP, Hoffman LF, Wall SP, Goldfrank LR. Resource-limited, collaborative pilot intervention for chronically homeless, alcohol-dependent frequent emergency department users. Am J Public Health. 2013;103(Suppl 2):S221–4.

Morse GA, Calsyn RJ, Klinkenberg W, Trusty ML, Gerber F, Smith R, et al. An experimental comparison of three types of case management for homeless mentally ill persons. Psychiatr Serv. 1997;48(4):497–503.

Redelmeier DA, Molin JP, Tibshirani RJ. A randomised trial of compassionate care for the homeless in an emergency department. Lancet. 1995;345(8958):1131–4.

Banta-Green CJ, Coffin PO, Merrill JO, Sears JM, Dunn C, Floyd AS, et al. Impacts of an opioid overdose prevention intervention delivered subsequent to acute care. Inj Prev. 2018;07:07.

Losonczy LI, Hsieh D, Wang M, Hahn C, Trivedi T, Rodriguez M, et al. The Highland Health Advocates: a preliminary evaluation of a novel programme addressing the social needs of emergency department patients. Emerg Med J. 2017;34(9):599–605.

Nossel IR, Lee RJ, Isaacs A, Herman DB, Marcus SM, Essock SM. Use of peer staff in a critical time intervention for frequent users of a psychiatric emergency room. Psychiatr Serv. 2016;67(5):479–81.

Okin RL, Boccellari A, Azocar F, Shumway M, O'Brien K, Gelb A, et al. The effects of clinical case management of hospital service use among ED frequent users. Am J Emerg Med. 2000;18(5):603–8.

Shumway M, Boccellari A, O'Brien K, Okin RL. Cost-effectiveness of clinical case management for ED frequent users: results of a randomized trial. Am J Emerg Med. 2008;26(2):155–64.

Witbeck G, Hornfeld S, Dalack GW. Emergency room outreach to chronically addicted individuals: a pilot study. J Subst Abuse Treat. 2000;19(1):39–43.

Canadian Standard of Practice for Case Management. National Case Management Network of Canada; 2009.

Kumar GS, Klein R. Effectiveness of case management strategies in reducing emergency department visits in frequent user patient populations: a systematic review. J Emerg Med. 2013;44(3):717–29.

Stergiopoulos V, Gozdzik A, Cohen A, Guimond T, Hwang SW, Kurdyak P, et al. The effect of brief case management on emergency department use of frequent users in mental health: findings of a randomized controlled trial. PLoS ONE. 2017;12(8):e0182157.

Niska R, Bhuiya F, Xu J. National Hospital Ambulatory Medical Care Survey: 2007 emergency department summary. Natl Health Stat Rep. 2010;26:1–31.

Baxter AJ, Tweed EJ, Katikireddi SV, Thomson H. Effects of housing first approaches on health and well-being of adults who are homeless or at risk of homelessness: systematic review and meta-analysis of randomised controlled trials. J Epidemiol Commun Health. 2019;73(5):379–87.

Aubry T, Goering P, Veldhuizen S, Adair CE, Bourque J, Distasio J, et al. A Multiple-city RCT of housing first with assertive community treatment for homeless Canadians with serious mental illness. Psychiatr Serv. 2016;67(3):275–81.

Goering P, Tolomiczenko G, Sheldon T, Boydell K, Wasylenki D. Characteristics of persons who are homeless for the first time. Psychiatr Serv. 2002;53(11):1472–4.

Fazel S, Khosla V, Doll H, Geddes J. The prevalence of mental disorders among the homeless in western countries: systematic review and meta-regression analysis. PLoS Med. 2008;5(12):e225.

Thompson RG Jr, Wall MM, Greenstein E, Grant BF, Hasin DS. Substance-use disorders and poverty as prospective predictors of first-time homelessness in the United States. Am J Public Health. 2013;103(Suppl 2):S282–8.

Bernstein SL, Bijur P, Cooperman N, Jearld S, Arnsten JH, Moadel A, et al. Efficacy of an emergency department-based multicomponent intervention for smokers with substance use disorders. J Subst Abuse Treat. 2013;44(1):139–42.

Blow FC, Walton MA, Bohnert ASB, Ignacio RV, Chermack S, Cunningham RM, et al. A randomized controlled trial of brief interventions to reduce drug use among adults in a low-income urban emergency department: the HealthiER You study. Addiction. 2017;112(8):1395–405.

Choo EK, Zlotnick C, Strong DR, Squires DD, Tape C, Mello MJ. BSAFER: a web-based intervention for drug use and intimate partner violence demonstrates feasibility and acceptability among women in the emergency department. Subst Abus. 2016;37(3):441–9.

Fernandez AC, Waller R, Walton MA, Bonar EE, Ignacio RV, Chermack ST, et al. Alcohol use severity and age moderate the effects of brief interventions in an emergency department randomized controlled trial. Drug Alcohol Depend. 2019;194:386–94.

D'Onofrio G, O'Connor PG, Pantalon MV, Chawarski MC, Busch SH, Owens PH, et al. Emergency department-initiated buprenorphine/naloxone treatment for opioid dependence: a randomized clinical trial. JAMA. 2015;313(16):1636–44.

Palmer RC, Ismond D, Rodriquez EJ, Kaufman JS. social determinants of health: future directions for health disparities research. Am J Public Health. 2019;109(S1):S70–1.

Reaser L. Project 25: housing the most frequent users of public services among the homeless. Fermanian Business and Economic Institute at Point Loma Nazarene; 2015.
Funding
This research received no specific grant from any funding agency, commercial or not-for-profit.
Ethics declarations
Conflict of interest
None.
Electronic supplementary material
Below is the link to the electronic supplementary material.
About this article
Cite this article
Formosa, E.A., Kishimoto, V., Orchanian-Cheff, A. et al. Emergency department interventions for homelessness: a systematic review. Can J Emerg Med 23, 111–122 (2021). https://doi.org/10.1007/s43678-020-00008-4
Received:

Accepted:

Published:

Issue Date:

DOI: https://doi.org/10.1007/s43678-020-00008-4
Keywords