Abstract
Considering the growing number of metrics and indicators to assess the circular economy transition, it is paramount to shed light on how they complement and differ from traditional approaches, such as life cycle assessment or sustainability performance indicators. This study provides new empirical insights on the correlation between life cycle assessment, circularity, and sustainability indicator-based approaches to design circular and sustainable products. Specifically, the importance lies in analyzing how the results generated by these different approaches can be used to support the design of products that are not only circular but also sustainable. A practice-based project, involving over 175 engineering students over two consecutive academic years, is conducted with the purpose of comparing and improving the circularity and sustainability performance of three product alternatives of lawn mowing systems (gasoline, electric, autonomous). Notably, the following resources are deployed: 18 midpoints environmental indicators calculated by life cycle assessment, nine product circularity indicators, and numerous leading sustainability indicators. Critical analyses on the usability, time efficiency, scientific soundness, and robustness of each approach are drawn, combining quantitative results generated by each group with the feedback of future engineers. Last but not least, the developed workshop could be reused or adapted to train further the designers, engineers, and managers of tomorrow in deploying life cycle, circularity, and/or sustainability-indicator-based approaches to make more informed and sustainable decisions, e.g., between design trade-offs.
Data availability
Available in Appendix A and on demand.
Abbreviations
CC:

Circularity calculator

CCET:

Circular economy evaluation tool

CE:

Circular economy

CEI:

Circular economy index

CEIP:

Circular economy indicator prototype

CET:

Circular economy toolkit

C-indicators:

Circularity indicators

CIRC:

Circularity

CPI:

Circularity potential indicator

CS:

CentraleSupélec

DTU:

Technical University of Denmark

EC:

Economic

ENV :

Environmental

LCA:

Life cycle assessment

LCIA:

Life cycle impact assessment

LONG:

Longevity

MCI:

Material circularity indicators

OEM:

Original equipment manufacturer

S-indicators:

Sustainability indicators

SOC:

Social

TBL:

Triple bottom line
References
Kravchenko M, McAloone TC, Pigosso DC (2020) To what extent do circular economy indicators capture sustainability? Procedia CIRP 90:31–36

Oliveira M, Miguel M, van Langen SK, Ncube A, Zucaro A, et al. (2021) Circular economy and the transition to a sustainable society: integrated assessment methods for a new paradigm. Circ Econ Sust 1–15.

Walzberg J, Lonca G, Hanes R, Eberle A, Carpenter A, Heath GA (2020) Do we need a new sustainability assessment method for the circular economy? A critical literature review Front sustain 1:12

Saidani M, Yannou B, Leroy Y, Cluzel F, Kendall A (2019) A taxonomy of circular economy indicators. J Clean Prod 207:542–559

Kirchherr JW, van Santen R (2019) Research on the circular economy: a critique of the field. Resour Conserv Recycl 151.

Panchal R, Singh A, Diwan H (2021) Does circular economy performance lead to sustainable development?–A systematic literature review. J Environ Manage 293:112811

Saidani M, Pan Z, Kim H, Wattonville J, Greenlee A, et al. (2021a) Comparative life cycle assessment and costing of an autonomous lawn mowing system with human-operated alternatives: implication for sustainable design improvements. Int J Sustain Eng 1–21.

International Organization for Standardization (2006) ISO 14040: 2006 Environmental management - Life cycle assessment - Principles and framework. In: ISO 14000 International Standards Compendium. Genève, Switzerland.

International Organization for Standardization (2006) ISO 14044:2006 Environmental management - Life cycle assessment - Requirements and guidelines. In: ISO 14000 International Standards Compendium. Genève, Switzerland.

Ciroth A, Winter S, Berlin G (2014) openLCA 1.4 overview and first steps. GreenDelta, Berlin.

Wernet G, Bauer C, Steubing B, Reinhard J, Moreno-Ruiz E, Weidema B (2016) The ecoinvent database version 3 (part I): overview and methodology. Int J Life Cycle Assess 21(9):1218–1230

Huijbregts MAJ et al (2017) ReCiPe2016: a harmonised life cycle impact assessment method at midpoint and endpoint level. Int J Life Cycle Assess 22(2):138–147

Saidani M, Kravchenko M, Cluzel F, Pigosso DC, Leroy Y, Kim H (2021b) Comparing life cycle impact assessment, circularity and sustainability indicators for sustainable design: results from a hands-on project with 87 engineering students. International Conference on Engineering Design, ICED 21, Aug. 2021, Gothenburg, Sweden.

Kravchenko M, Pigosso DC, McAloone TC (2020) A procedure to support systematic selection of leading indicators for sustainability performance measurement of circular economy initiatives. Sustainability 12(3):951

Linder M, Boyer RH, Dahllöf L, Vanacore E, Hunka A (2020) Product-level inherent circularity and its relationship to environmental impact. J Clean Prod 260:121096

Saidani M, Kim H, Cluzel F, Leroy Y, Yannou B (2020) Product circularity indicators: what contributions in designing for a circular economy? Proceedings of the Design Society: DESIGN Conference 1:2129–2138. https://doi.org/10.1017/dsd.2020.76

Kravchenko M, Pigosso DC, McAloone TC (2019) Towards the ex-ante sustainability screening of circular economy initiatives in manufacturing companies: consolidation of leading sustainability-related performance indicators. J Clean Prod 241:118318

Kravchenko M, Pigosso DC, McAloone TC (2021) A trade-off navigation framework as a decision support for conflicting sustainability indicators within circular economy implementation in the manufacturing industry. Sustainability 13(1):314

Niero M, Kalbar PP (2019) Coupling material circularity indicators and life cycle based indicators: A proposal to advance the assessment of circular economy strategies at the product level. Resour Conserv Recycl 140:305–312

Saidani M, Kim H, Yannou B, Leroy Y, Cluzel F (2019b) Framing product circularity performance for optimized green profit. International Design Engineering Technical Conferences & Computers and Information in Engineering Conference, IDETC/CIE 2019, Aug. 2019, Anaheim, CA, USA

Kravchenko M, Pigosso DC, McAloone TC (2020) Developing a tool to support decisions in sustainability-related trade-off situations: understanding needs and criteria. Proceedings of the Design Society: DESIGN Conference 1:265–274. https://doi.org/10.1017/dsd.2020.137

Shahbazi S, Jönbrink AK, Hjort Jensen T, Pigosso DCA, McAloone TC (2020) Circular Product Design and Development: CIRCit Workbook 3. Technical University of Denmark, 44, ISBN: 978–87–7475–604–0.

Wisthoff A, Ferrero V, Huynh T, DuPont B (2016) Quantifying the impact of sustainable product design decisions in the early design phase through machine learning. In: International Design Engineering Technical Conferences and Computers and Information in Engineering Conference 2016 Aug 21 (Vol. 50145, p V004T05A043). American Society of Mechanical Engineers

Faludi J, Hoffenson S, Kwok SY, Saidani M, Hallstedt SI, Telenko C, Martinez V (2020) A research roadmap for sustainable design methods and tools. Sustainability 12(19):8174

Saidani M, Kim H (2021c) Design for Product Circularity: Circular Economy Indicators with Tools Mapped Along the Engineering Design Process. In: International Design Engineering Technical Conferences and Computers and Information in Engineering Conference 2021 Aug 17 (Vol. 85413, p V005T05A008). American Society of Mechanical Engineers

Nikolaou IE, Jones N, Stefanakis A (2021) Circular economy and sustainability: the past, the present and the directions. Circ Econ Sust 1(1):1–20

Lanaras-Mamounis G, Kipritsis A, Tsalis TA, Vatalis KΙ, Nikolaou IE (2022) A framework for assessing the contribution of firms to circular economy: a triple-level approach. Circ Econ Sust 1–20.
Ethics declarations
Ethics Approval
Not applicable.
Consent to Participate
Not applicable.
Consent for Publication
Not applicable.
Conflicts of Interest
The authors declare no competing interests.
Electronic supplementary material
Below is the link to the electronic supplementary material.
Appendix A Datasheet for the case study
Appendix A Datasheet for the case study
Sustainability and circularity performance of lawn mowing solutions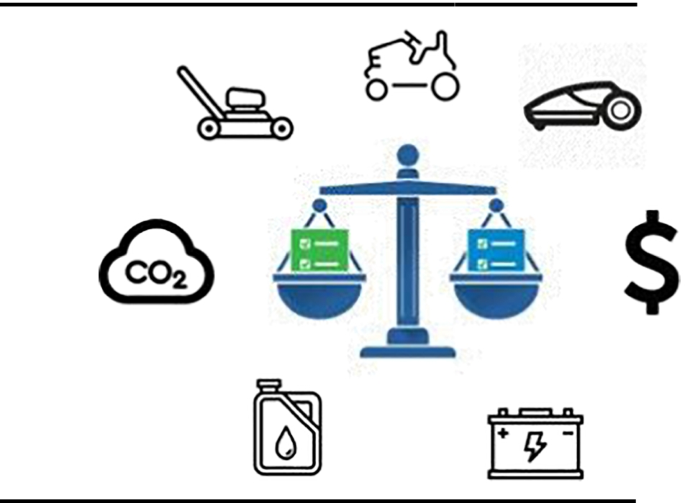 Context and objectives of this study
You just got a new house with a beautiful ¼ acre yard (1000 m2). To take care of your garden, you are considering buying a mower to properly trim and edge your lawn. As an environmentally conscious citizen, you wonder what solution is eco-friendlier. Regarding the size of your yard, three lawn mowing solutions appear as potential candidates: a conventional gasoline push mower, an electric-powered push mower, an autonomous mower.
The questions you set out to answer are:
What is the environmental footprint of each solution?

Which sustainability indicators are relevant to set up a sound comparison?

How well these products (components, materials) performed in a circular economy?

As an engineer, what would you do to improve their performances in terms of sustainability?
Description of the Products
Generic lawn mower models are used for the three solutions to be analyzed and compared.
A.

One traditional walk-behind (push) lawn mower, gasoline-powered, 30 kg (all included), 199€

B.

One push lawn mower, electricity-powered, 25 kg + 2 kg (battery), 249€

C.

One autonomous lawn mower, 20 kg + 10 kg (charging station), 1499€

Information related to the pre-life of the products
In the current production process of lawn mowers, there is no directly reused parts/components in the feedstock inputs. According to original equipment manufacturers (OEMs), 80% of all metals used are coming from recycled materials while all plastics are coming from primary raw materials.
Regarding the transportation, the key components come from different location in Europe and the final products are assembled in Germany, then dispatched to the retailers (France in the present case), all by trucks (with semi-trailer). To simplify the calculations, it can be assumed that for each push mower, 1.5 L of gasoline (ultra-low sulfur) is consumed to gather all the components from the suppliers to the assembly location, and 0.5 L of gasoline is consumed to transport the final products to the retailers. These values (fuel consumption) can be divided by two for the autonomous mower. (The environment impact of trucks, roads, or other infrastructures, is not considered.)
Regarding the assembly phase, it has been calculated that 5 kWh of energy (electricity mix of Germany) is used to assemble one push mower, and 3 kWh for one autonomous mower.
Regarding the packaging, (i) both push mowers required 5 kg of carton (corrugated cardboard) and 0.20 kg of manuals (mix of virgin and recycled material paper), (ii) the autonomous mower required 1.5 kg of carton, 0.20 kg of manuals, 1 kg of plastic PE, and 1 kg of plastic PS.
Additional resources at your disposal include: (i) Internet search (e.g., on OEMs website: Briggs & Stratton, Husqvarna, John Deere, Ryobi, Honda, etc.), (ii) your knowledge (sound hypothesis can be made), and (iii) our support.
Information Related To The Usage Of The Products
The average lifespan of a push mower is around 10 years under proper maintenance. Manufacturers also estimate the predicted lifespan of robotic lawn mowers at 10 years:
Common lawn mower tune-ups (maintenance operations) focus on the engine (for the gasoline-driven version only): clean or replace the air filter, change the oil, and replace the spark plug (on an annual basis to ensure an easy start). It is also recommended to sharpen or replace the blades (1 kg of steel) once a season to maintain a proper cutting performance.

For the electric mowing systems, most lithium-ion batteries have a rated lifetime of somewhere between 500 and 1,500 charge cycles (they can lose about 20 percent of their capacity after 1000 charge cycles). It can be assumed one battery replacement for the push mower and three for the autonomous mower.
Table 11
Information Related To The End-Of-Life Of The Products
The current business model of this product is based on direct sales, with low or no traceability after sales from the manufacturer perspective. There is no product lifetime extension, neither product warranty longer than 3 year. After 3 years of use, the equipment loses 50% of its initial economic value, and its value at the end-of-life is relatively low, especially for push mower with no advanced technology implemented (plus important wear and tear after ten years, obsolescence, and no precious metals).
On average, it can be estimated that 9 lawn mowers out of 10 are properly collected after use, to end up in a special recycling stream. For push mowers, less than 10% are refurbished or remanufactured to be reused. For autonomous mower, because of their higher economic value, 1 out of 2 is recovered to be re-sold as a second-hand product on the market. In this case, their lifetime (second-hand) is 5 years.
At the end of life, when the lawn mowers are worn out and out of use, they are usually sent to a recycling company nearby, metals are recycled and plastic parts are incinerated, while other materials are assumed to go to landfill. All the metals would go through scrappers being separated as well as the metals in li-ion batteries, where they can be recycled. Inventory data about the incineration and recycling processes can be taken as a European average level.
The end-of-life collection is mainly performed mainly by a third part and there is almost no recovery or take-back of the lawn mowers by the original equipment manufacturers. Based on state-of-the-art technologies, the recycling efficiency of the metals.
About this article
Cite this article
Saidani, M., Cluzel, F., Leroy, Y. et al. Nexus Between Life Cycle Assessment, Circularity and Sustainability Indicators—Part II: Experimentations. Circ.Econ.Sust. 2, 1399–1424 (2022). https://doi.org/10.1007/s43615-022-00160-2
Received:

Accepted:

Published:

Issue Date:

DOI: https://doi.org/10.1007/s43615-022-00160-2
Keywords
Life cycle assessment

Circularity indicators

Sustainability indicators

Correlation

Workshop

Engineering students

Sustainable design