Abstract
In this paper, we analyze the impact of a government-sponsored program aimed at promoting entrepreneurial activity in Uruguay. The C-Emprendedor program provides training and mentorship to potential entrepreneurs throughout the process of development of a business. We contribute to the empirical literature on the effects of different entrepreneurial programs, and provide information for policymakers, by conducting a rigorous evaluation of a program designed to foster entrepreneurial activity. Using regression discontinuity methods, we assess the impact of the program on actions taken to create a business, investment, business creation, and employment. We find significant, although non-robust, effects on employment and the probability to take actions aimed at creating a business. No effects were found on investment and the rate of business creation. Our research provides important insights for the better design of public policies aimed at developing entrepreneurship skills.
Access options
Buy single article
Instant access to the full article PDF.
USD 39.95
Price excludes VAT (USA)
Tax calculation will be finalised during checkout.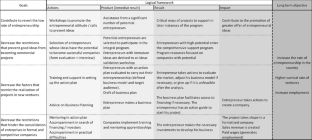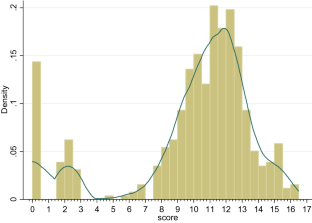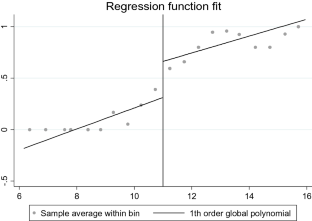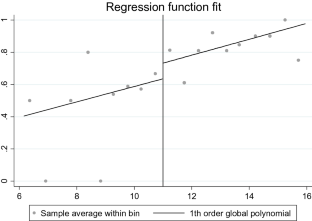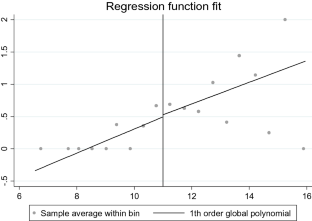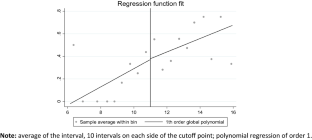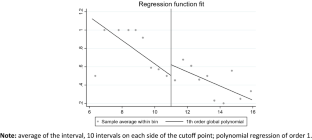 Data availability
The datasets generated during and/or analyzed during the current study are not publicly available, since they include information that can uniquely identify individuals (i.e., it contains national ID numbers), but are available from the corresponding author on reasonable request.
Code availability
Code available upon request to corresponding author.
Notes
Improving upon the misallocation of entrepreneurial talent could increase productivity in developing countries by up to 25%, according to this author.

Argentina, El Salvador, Nicaragua, and Guatemala.

Dinapyme, which is a department for SME support within the Ministry of Industry, Energy and Mining.

The selection process evaluates six dimensions, using a standardized questionnaire and individual interviews with the potential entrepreneur. Each dimension receives a score between 0 and 3, so that the total score ranges from 0 to 18. To conclude the evaluation process, a selection committee composed of three representatives decides whether individuals will be admitted or not into the program.

We use the rdplot command for Stata proposed by Calonico et al. (2014) to create these graphs.

Graphs and results from the fit of higher order polynomials are available upon request from the authors.
References
Aboal D, Perera M, Rivas G, Rovira F, Tacsir E (2016) Evaluación Intermedia del Programa de Apoyo a Futuros Empresarios (PAFE). CINVE Working Paper

Amezcua AS, Grimes MG, Bradley SW, Wiklund J (2013) Organizational sponsorship and founding environments: a contingency view on the survival of business-incubated firms 1994–2007. Acad Manag J 56(6):1628–1654

Barnett WP, Greve HR, Park DY (1994) An evolutionary model of organizational performance. Strateg Manag J 15:11–28

Bartelsman E, Scarpetta S, and Schivardi F (2003) Comparative analysis of firm demographics and survival: micro-level evidence for the OECD countries. OECD. Econom Dept. Working Paper n. 348. Jan. 2003

Baum JAC, Oliver C (1991) Institutional linkages and organizational mortality. Adm Sci Q 36:187–218

Baumol WJ (2004) Education for innovation: entrepreneurial breakthroughs vs. corporate incremental improvements. NBER Working Paper No. 10578.

Bonilla C, Cancino C (2011) The impact of the seed capital program of SERCOTEC in Chile. IDB Working Paper Series IDB-WP-279.

Bruhn M, Zia B (2013) Stimulating managerial capital in emerging markets: the impact of business training for young entrepreneurs. J Dev Effect 5:232–266

Butler I, Galassi G, Ruffo H (2016) Public funding for startups in Argentina: an impact evaluation. Small Bus Econ 46(2):295–309

Calonico S, Cattaneo M, Titiunik R (2014) Robust data-driven inference in the regression-discontinuity design. Stata J 14(4):909–946

Cattaneo M, Jasson M, Xinwei M (2018) Rddensity: manipulation testing based on density discontinuity, Forthcoming. Stata J

Chakravarty S, Lundberg MK, Nikolov P, Zenker J (2017) The value of skill training programs for self-employment, entrepreneurship and non-cognitive traits. Evidence from a regression discontinuity design (No. 238). Courant Research Centre: Poverty, Equity and Growth-Discussion Papers.

Chinen M, de Hoop T, Balarin M, Alcázar L, Sennett J, Mezarina J (2018) Vocational and business training to improve women´s labour market outcomes in low- and middle-income countries. 3ie Systematic Review 40. London: International Initiative for Impact Evaluation.

Cho,Y. and Honorati, M. (2014) Entrepreneurship Programs in Developing Countries: A Meta Regression Analysis. Labour Economics 28(C): 110–30.

Cook T (2008) Waiting for life to arrive: a history of the regression-discontinuity design in psychology, statistics and economics. J Econ 142(2):636–654

De Mel S, McKenzie D, Woodruff C (2014) Business training and female enterprise start-up, growth, and dynamics: experimental evidence from Sri Lanka. J Dev Econ 106:199–210

Drexler A, Fischer G, Schoar A (2014) Keeping it simple: financial literacy and rules of thumb. Am Econ J Appl Econ 6:1–31

Fiala N (2013) Stimulating microenterprise growth: results from a loans, grants and training experiment in Uganda. Working Paper available at http://nathanfiala.com/2014/Stimulating%20Microenterprise%20Growth.pdf

Flynn DM (1993) A critical exploration of sponsorship, infrastructure, and new organizations. Small Bus Econ 5:129–156

Foster, L, Haltiwanger JC, Krizan CJ (1998) Aggregate Productivity Growth: Lessons from Microeconomic Evidence. NBER Working Paper 6803

Hahn J, Todd P, Van der Klaauw W (2001) Identification and estimation of treatment effects with a regression-discontinuity design. Econometrica 69(1):201–209

Hopenhayn HA (2014) Firms, misallocation, and aggregateproductivity: a review. Ann Rev Econ 6(1):735–770

Imbens GW, Lemieux T (2008) Regression discontinuity designs: a guide to practice. J Econ 142(2):615–635

Karlan D, List JA, Shafir E (2011) Small matches and charitable giving: Evidence from a natural field experiment. J Public Econ 95(5–6)

Kerr WR, Lerner J, Schoar A (2014) The consequences of entrepreneurial finance: evidence from angel financings. Rev Financ Stud 27(1):20–55

Klinger B, Schündeln M (2007) Can entrepreneurial activity be taught? Quasi-experimental evidence from Central America. World Dev 39(9):1592–1610

Lee DS, Card D (2008) Regression discontinuity inference with specification error. J Econ 142(issue 2)

Lee DS, Lemieux T (2010) Regression discontinuity designs in economics. J Econ Liter 20(1):281–355

López-Acevedo G, Tan HW (2011) Impact evaluation of small and medium enterprise programs in Latin America. World Bank Publications, Washington

Ludwig J, Miller DL (2007) Does Head Start improve children's life chances? Evidence from a regression discontinuity design. Quart J Econ 122:159–208

Nichols A (2011) rd 2.0: Revised Stata module for regression discontinuity estimation. http://ideas.repec.org/c/boc/bocode/s456888.html.

Oosterbeek H, Van Praag M, Ijsselstein A (2010) The impact of entrepreneurship education on entrepreneurship skills and motivation. Eur Econ Rev 54(3):442–454

Premand P, Brodmann S, Almeida R, Grun R, Barouni M (2016) Entrepreneurship education and entry into self-employment among university graduates. World Dev 77:311–327

Scarpetta S, Hemmings P, Tressel T, Woo J (2002) The role of policy and institutions for productivity and firm dynamics evidence from micro and industry data. OECD Economics Department. Working paper No 329, OECD, Paris.

Scillitoe JL, Chakrabarti AK (2010) The role of incubator interactions in assisting new ventures. Technovation 30:155–167

Thistlethwaite DL, Campbell DT (1960) Regression-discontinuity analysis: an alternative to the ex-post facto experiment. J Educ Psychol 51:309–317

Van Der Klaauw W (2008) Regression-discontinuity analysis: a survey of recent developments in economics. Labour 22(2):219–245

Zacharakis AL, Meyer GD (2000) The potential of actuarial decision models: can they improve the venture capital investment decision? J Bus Ventur 15(4):323–346

Zimmerman MA, Zeitz GJ (2002) Beyond survival: achieving new venture growth by building legitimacy. Acad Manag Rev 27:414–431
Funding
Funding was provided by the Ministry of Industry, Mining and Energy (Uruguay).
Ethics declarations
Conflict of interest
On behalf of all authors, the corresponding author states that there is no conflict of interest.
Additional information
We thank María Paz Queraltó for excellent research assistance. We are grateful for the comments and suggestions of participants of the 2018 Congress of the Latin American Economics of Innovation and Entrepreneurship Network in Buenos Aires and participants of the CINVE seminars in Montevideo. All the remaining errors and limitations are our responsibility.
Supplementary Information
Below is the link to the electronic supplementary material.
About this article
Cite this article
Pereyra, M., Aboal, D. & Rovira, F.  How effective are training and mentorship programs for entrepreneurs at promoting entrepreneurial activity? An impact evaluation. SN Bus Econ 1, 97 (2021). https://doi.org/10.1007/s43546-021-00102-4
Received:

Accepted:

Published:

DOI: https://doi.org/10.1007/s43546-021-00102-4
Keywords
Training and mentorship programs for entrepreneurs

Entrepreneurial activity

Impact evaluation
JEL Classifications