Abstract
Cumulative culture in our species is produced by combining an effective imitation with the innovation of new insights. Here, we highlight the role of another element that we consider important for cumulative culture: the active persistence of learned behaviour so that it can be imitated. To illustrate this idea, we develop a simple model of cumulative culture. We show that the active persistence of a behaviour is necessary for cumulative behaviour to emerge and be maintained: the greater the active persistence of the behaviour, the greater the cultural accumulation. The active persistence of a behaviour is easy when its implementation provides reinforcement. We introduce reinforcement into the model through parental approval/disapproval of filial behaviour. We assume that parental reinforcement helps keep behaviours active, although these can vary in the degree of active persistence that they achieve. We also show that a positive effect of cumulative behaviour on fitness favours its cultural accumulation. However, cumulative culture can also arise when a behaviour is neutral or even maladaptive if the behaviour remains active long enough to be imitated.
Access options
Buy single article
Instant access to the full article PDF.
USD 39.95
Price excludes VAT (USA)
Tax calculation will be finalised during checkout.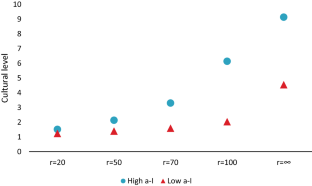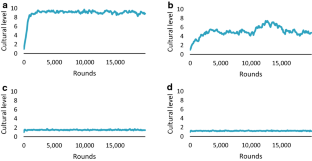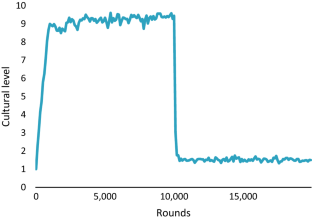 Data availability
All data generated or analysed during this study are included in this published article.
References
Baum WM (2017) Understanding behaviorism: behavior, culture, and evolution, 3rd edn. Wiley-Blackwell, New York

Boyd R (2018) A different kind of animal: how culture transformed our species. Princeton University Press, Princeton

Boyd R, Richerson PJ (1985) Culture and the evolutionary process. University of Chicago Press, Chicago

Boyd R, Richerson PJ (1992) Punishment allows the evolution of cooperation (or anything else) in sizable groups. Ethol Sociobiol 13:171–195

Boyd R, Richerson PJ (1996) Why culture is common, but cultural evolution is rare. Proc Br Acad 88:77–93

Castro L, Toro MA (2004) The evolution of culture: from primate social learning to human culture. Proc Natl Acad Sci USA 101:10235–10240

Castro L, Toro MA (2012) Imitation or innovation? Unselective mixed strategies can provide a better solution. Theor Biosci 131:273–279

Castro L, Toro MA (2014) Cumulative cultural evolution: the role of teaching. J Theor Biol 347:74–83

Castro L, Castro-Nogueira L, Castro-Nogueira MA, Toro MA (2010) Cultural transmission and social control of human behavior. Biol Philos 25:347–360

Castro L, Castro-Nogueira MA, Villarroel M, Toro MA (2019a) The role of assessor teaching in human culture. Biol Theory 14:112–121

Castro L, Castro-Nogueira MA, Toro MA (2019b) Assessor teaching and the development of the capacity to innovate and to imitate. J Theor Biol 472(2019):88–94

Chudek M, Henrich J (2011) Culture-gene coevolution, norm-psychology and the emergence of human prosociality. Trends Cogn Sci 15(5):218–226

Enquist M, Ghirlanda S (2007) Evolution of social learning does not explain the origin of human cumulative culture. J Theor Biol 246(1):129–135

Enquist M, Eriksson K, Ghirlanda S (2007) Critical social learning: a solution to Roger's paradox of nonadaptive culture. Am Anthropol 109:727–734

Fogarty L, Strimling P, Laland KN (2011) The evolution of teaching. Evolution 65:2760–2770

Galef BG (1992) The question of animal culture. Hum Nat 3:157–178

Galef BG (1995) Why behaviour patterns animals learn socially are locally adaptive. Anim Behav 49:1325–1334

Gintis H (2000) Strong reciprocity and human sociality. J Theor Biol 206:169–179

Henrich J (2015) The secret of our success: how culture is driving human evolution, domesticating our species, and making us smarter. Princeton University Press, Princeton

Heyes CM (1994) Social cognition in primates. In: Mackintosh NJ (ed) Handbook of perception and cognition. Academic Press, New York, pp 281–305

Heyes CM (2018) Cognitive gadgets: the cultural evolution of thinking. Belknap Press, an imprint of Harvard University Press, Cambridge

Heyes CM, Galef BG (1996) Social learning in animals: the roots of culture. Academic Press, San Diego

Kline MA (2015) How to learn about teaching: an evolutionary framework for the study of teaching behavior in humans and other animals. Behav Brain Sci 38:1–71

Laland KN (1996) Is social learning always locally adaptive? Anim Behav 52:637–640

Laland KN (2004) Social learning strategies. Learn Behav 32:4–14

Laland KN (2017) Darwin's unfinished symphony: how culture made the human mind. Princeton University Press, Princeton

Legare CH, Nielsen M (2015) Imitation and innovation: the dual engines of cultural learning. Trends Cogn Sci 19:688–769

Lyons DE, Young AG, Keil FC (2007) The hidden structure of overimitation. PNAS 104:19751–19756

Mesoudi A (2011) Cultural evolution: how darwinian theory can explain human culture and synthesize the social sciences. University of Chicago Press, Chicago

Mesoudi A, Thornton A (2018) What is cumulative cultural evolution? Proc R Soc B. https://doi.org/10.1098/rspb.2018.0712

Morin O (2016) How traditions live and die. Oxford University Press, Cambridge

Rendell L, Boyd R, Cownden D, Enquist M, Eriksson K, Feldman MW, Fogarty L, Ghirlanda S, Lillicrap T, Laland KN (2010) Why copy others? Insights from the social learning strategies tournament. Science 328(5975):208–213

Richerson PJ (2017) Cultural evolution. Evol Stud Imaginative Cult 1(1):89–92

Richerson PJ, Boyd R (2005) Not by genes alone. University of Chicago Press, Chicago

Sterelny K (2007) Social intelligence, human intelligence and niche construction. Philos Trans R Soc B 362(1480):719–730

Tomasello M (1999) The cultural origins of human cognition. Harvard University Press, Cambridge

Tomasello M (2014) A natural history of human thinking. Harvard University Press, Cambridge
Acknowledgements
All authors have seen and approved the final version of the manuscript being submitted. We warrant that the article is the authors' original work, hasn't received prior publication and isn't under consideration for publication elsewhere.
Ethics declarations
Competing interests
The authors did not receive support from any organization for the submitted work. The authors have no competing interests to declare that are relevant to the content of this article.
About this article
Cite this article
Castro, L., Castro-Cañadilla, D., Castro-Nogueira, M.Á. et al. Cumulative culture: the role of reinforcement. SN Soc Sci 2, 134 (2022). https://doi.org/10.1007/s43545-022-00456-y
Received:

Accepted:

Published:

DOI: https://doi.org/10.1007/s43545-022-00456-y
Keywords
Assessor teaching

Imitation

Cultural evolution

Social learning