Abstract
Background
Carrying angle of elbow is the angle borne by the forearm to the arm in fully extended elbow and supinated forearm. Northeast Indian population being an amalgamation of diverse ethnicity of population, the researchers have felt the necessity of a reference value for this anthropometric parameter for pre-operative planning and template. The objective is to study the difference in carrying angle between males and females and its correlation with different parameters like age, sex, height, body mass index and handedness.
Materials and Methods
The study was conducted in Gauhati Medical College and Hospital on 384 persons with ages ranging from 20 to 74 years. Carrying angle was measured by goniometer and confirmed by radiography.
Results
Three hundred and forty-three were right handed while 41 individuals were left handed. In males, the mean carrying angle of the right elbow was found to be 12.55 ± 2.3° and of the left was found to be 12.27 ± 2.43°, while in females, the mean carrying angle of the right elbow was found to be 14.53 ± 2.34° and 14.06 ± 3.37° in the left (p < 0.05). Carrying angle is usually found significantly higher in dominant upper limb. There is no significant difference in carrying angle for northeast Indian population from the rest of the country.
Conclusion
We have found that carrying angle is dependent on gender and on dominance of upper limb. The carrying angle variation in Northeastern Indian population is almost comparable with the population of the rest of our country except for some specific tribes which needs further analysis.
Access options
Buy single article
Instant access to the full article PDF.
USD 39.95
Price includes VAT (USA)
Tax calculation will be finalised during checkout.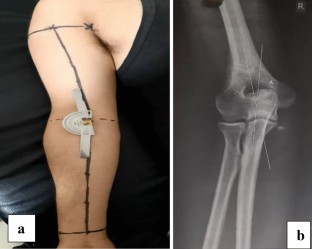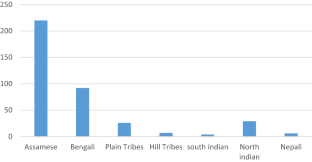 References
1.

Johnson, D., Ellis, H., & Collins, P. (2005). General organisation and surface anatomy of the upper limb. In S. Stranding, H. Ellis, J. C. Healy, D. Johnson, & A. Williams (Eds.), Gray's anatomy (39th ed., pp. 801–816). United Kingdom: Elsevier, Churchill Livingstone.

2.

Paraskevas, G., Papadopoulos, A., Papaziogas, B., Spanidou, S., Argiriadou, H., & Gigis, J. (2004). Study of the carrying angle of the human elbow joint in full extension: a morphometric analysis. Surgical and Radiologic Anatomy, 26(1), 19–23.

3.

Kumar, B., Pai, S., Ray, B., Mishra, S., Siddaraju, K., Pandey, A., & Binu, S. (2010). Radiographic study of carrying angle and morphometry of skeletal elements of human elbow. Romanian Journal of Morphology and Embryology, 51(3), 521–526.

4.

Balasubramanian, P., Madhuri, V., & Muliyil, J. (2006). Carrying angle in children: a normative study. Journal of Pediatric Orthopaedics B, 15, 37–40.

5.

Last, R. J. (1978). Regional and applied (6th ed.). Churchill Livingstone Longman Anatomy.

6.

Gog, D. (1986). Lee McGregor's synopsis of surgical anatomy (12th ed.). John Wright and Sons Ltd.

7.

Chen, A. L. (2007). Carrying angle of the elbow-excessive-overview. University of Maryland, Medical Center.

8.

Khare, G. N., Goel, S. C., Saraf, S. K., Singh, G., & Mohanty, C. (1999). New observations on carrying angle. Indian Journal of Medical Sciences, 53, 61–67.

9.

Dey, S., Mandal, L., & Kundu, B. (2013). Carrying angle of the elbow: it's changes from childhood to adulthood: morphometric study in Eastern India. Indian Journal of Basic and Applied Medical Research, 2(8), 823–830.

10.

Yilmaz, E., Karakurt, L., Belhan, O., Bulut, M., Serin, E., & Avci, M. (2005). Variation of carrying angle with age, sex, and special reference to side. Orthopedics, 28, 1360–1363.

11.

Rajesh, B., Reshma, V. R., Jaene, R. C., Somasekhar, I. T., & Vaithilingam, A. (2013). An evaluation of the carrying angle of the elbow joint in adolescents. International Journal of Medicine and Biomedical Research, 2(3), 221–225.

12.

Beals, R. K. (1976). The normal carrying angle of the elbow. A radiographic study of 422 patients. Clinical Orthopaedics and Related Research, 119, 194–196.

13.

von Mikulicz, J. (1879). Cubitus valgus. Archiv für Klinische Chirurgie, 29, 767.

14.

Potter, H. P. (1895). The obliquity of the arm of the female in extension. Journal of Anatomy and Physiology, 29, 488–491.

15.

Harbauer, G. (1958). Beitrag zur Statistik des Armwinkels und Beobachtungen u¨ ber die Mechanik des Ellenbogengelenkes. Anatomischer Anzeiger, 105, 241.

16.

Terra, B. B., Silva, B. C. M., Carvalho, H. B. F., Dobashi, E. T., Pinto, J. A., & Ishida, A. (2011). Evolution of the carrying angle of the elbow: a clinical and radiographic study. Acta Ortopedica Brasileira, 19(2), 79–82.

17.

Alsubael, M. O., & Hegazy, A. A. M. (2010). Radiographic evaluation of the normal elbow carrying angle in adults. Journal of Medical Sciences, 10(2), 40–41.

18.

Punia, R. S., Sharma, R., & Usmani, J. A. (1994). The carrying angle in an Indian population. Journal of Anatomical Society of India, 43(2), 107–110.

19.

Shetty, S. (2004). Carrying angle of human upper limb: a radiographic study. Anatomica Karnataka, 1(5), 85–89.

20.

Manoranjitham, R., Gosai, S. R., Arunkumar, K. R., Shalini, R., & Parthasarathi, R. (2015). Study of carrying angle of medical students by using goniometer. Indian Journal of Basic and Applied Medical Research, 4(3), 459–466.

21.

Shiva Prakash, S. S., Amardeep, G., & Manjappa, C. N. (2017). Evaluation of the carrying angle of the elbow joint in children's and adolescents and its correlation with various parameters. International Journal of Orthopaedics Sciences, 3(3), 996–999.

22.

Airan, N., & Dwivedi, A. K. (2018). A comparative study of carrying angle among males and females in Garhwal region of Uttarakhand. MedPulse – International Journal of Anatomy, 6(2), 13–17.
Ethics declarations
Conflict of interest
On behalf of all authors, the corresponding author states that there is no conflict of interest.
Ethical approval
This study proposal was approved by the Institutional Ethics Committee of Gauhati Medical College and Hospital, Guwahati, vide Letter No. NO.MC/190/2007/pt-II/Jun-2019/38 dated fifteenth day of July, 2019.
Informed consent
An adequately structured informed consent form was formulated and approved by the Institutional Ethics Committee of our institute vide supra, and only those subjects were included in our study who gave consent in the form of signature in the informed consent form as mentioned earlier.
Additional information
Publisher's Note
Springer Nature remains neutral with regard to jurisdictional claims in published maps and institutional affiliations.
About this article
Cite this article
Bhattacharyya, T., Roy, R., Islam, M. et al. Racial Variation of Carrying Angle of Elbow in North-East Indian Population: A Clinico-Radiological Study. JOIO (2021). https://doi.org/10.1007/s43465-021-00540-0
Received:

Accepted:

Published:
Keywords
Carrying angle

Elbow

Northeastern population

Racial variation