Abstract
Background
Infrapatellar branch of the saphenous nerve lies subcutaneously and supplies the anterolateral aspect of knee below the patella. It is extremely susceptible to iatrogenic injuries during the surgeries around the knee, mainly total knee replacements (TKRs). Post operatively the patients present with localised area of numbness and in some instances a traumatic eczematous reaction termed autonomous denervation dermatitis (ADD) is witnessed, leading to skin manifestations that range from a simple rash to extensive lesions.
Methodology
A review of literature was conducted with search of relevant articles from Medline (PubMed), Embase, and Scopus which discussed eczematous skin lesions secondary to total knee replacements. Additionally, we noted studies which described these lesions in other surgeries around the knee like arthroscopies and fracture fixations.
Results
Eight studies including atleast one case after TKR were reviewed. There was only one cohort study while the remaining included case reports and small case series. There were 69 cases of ADD appearing after TKR. The appearance of the skin lesions was lateral to the incision in 30/34 operated knees and on both sides of the incision in four knees after TKRs. Bilateral lesions were seen in only six patients of TKRs. There was no functional limitation caused by these lesions and they resolved either spontaneously or after using topical steroids.
Conclusion
ADD is a relatively uncommonly reported complication of TKRs, which can reduce patient satisfaction and increase surgeon apprehension. Although all cases of nerve damage do not manifest as cutaneous lesions, steps to minimise the damage to the nerve intra operatively should be taken. The diagnosis requires a high index of suspicion, and should not be dispelled as a simple allergic reaction without adequate investigations. Patients should be counselled to alleviate unnecessary fear and apprehensions.
Access options
Buy single article
Instant access to the full article PDF.
US$ 39.95
Tax calculation will be finalised during checkout.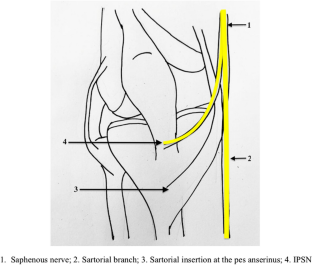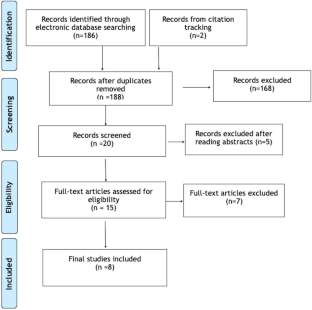 Availability of Data and Material
The authors confirm that the data supporting the findings of this study are available within the article [and/or] its supplementary materials.
References
1.

Thomas Ackmann, M., Monika Von Düring, M., Wolfram Teske, M., Ole Ackermann, M., Peter Müller, M., Von Schulze, C., & Pellengahr, M. (2014). Anatomy of the infrapatellar branch in relation to skin incisions and as the basis to treat neuropathic pain by percutaneous cryodenervation. Pain Physician, 17, E339–E348.

2.

Kalthur, S. G., Sumalatha, S., Nair, N., Pandey, A., Sequeria, S., & Shobha, L. (2015). Anatomic study of infrapatellar branch of saphenous nerve in male cadavers. Irish Journal of Medical Science (1971-), 184(1), 201–206.

3.

Kerver, A., Leliveld, M., den Hartog, D., Verhofstad, M., & Kleinrensink, G. J. (2013). The surgical anatomy of the infrapatellar branch of the saphenous nerve in relation to incisions for anteromedial knee surgery. JBJS, 95(23), 2119–2125.

4.

Chalmers, B. P., Melugin, H. P., Sculco, P. K., Schoch, J. J., Sierra, R. J., Pagnano, M. W., Stuart, M. J., & Taunton, M. J. (2017). Characterizing the diagnosis and treatment of allergic contact dermatitis to 2-octyl cyanoacrylate used for skin closure in elective orthopedic surgery. Journal of Arthroplasty, 32(12), 3742–3747.

5.

Mistry, D., & O'Meeghan, C. (2005). Fate of the infrapatellar branch of the saphenous nerve post total knee arthroplasty. ANZ Journal of Surgery, 75(9), 822–824.

6.

Madke, B., Mhatre, M., Kumar, P., Singh, A. L., & Patki, A. (2017). Autonomic denervation dermatitis: A new type of eczematous dermatitis. Clinical Dermatology Review, 1(2), 61.

7.

Sharquie, K. E., Noaimi, A. A., & Alaboudi, A. S. (2011). Neuropathy dermatitis following surgical nerve injury. Case Reports in Dermatological Medicine, 2011, 1–3.

8.

Slim, K., Nini, E., Forestier, D., Kwiatkowski, F., Panis, Y., & Chipponi, J. (2003). Methodological index for non-randomized studies (MINORS): Development and validation of a new instrument. ANZ Journal of Surgery, 73(9), 712–716.

9.

Satku, K., Fong, P., Kumar, V., & Lee, Y. (1993). Dermatitis complicating operatively induced anesthetic regions around the knee. A report of four cases. JBJS, 75(1), 116–118.

10.

Barbera, J., van der Ven, A., & Amjad, I. (2018). Bilateral neuropathy dermatitis following simultaneous bilateral total knee arthroplasty: A case report. JBJS Case Connector, 8(2), e23.

11.

Mathur D, Sharda S (2019) Autonomic denervation dermatitis in two patients. Indian Journal of Clinical Dermatology, 2(03),96-7.

12.

Nazeer, M., Ravindran, R., Katragadda, B. C., Muhammed, E. N., Rema, D. T., & Muhammed, M. N. (2020). SKINTED: A rare complication after total knee arthroplasty. Arthroplasty Today, 6(4), 1028–1032.

13.

Pathania, Y. S., & Singh, S. (2020). SKINTED: An autonomic denervation dermatitis. International Journal of Dermatology, 59(5), 613–614.

14.

Verma, S., & Mody, B. (2009). Explaining a hitherto nameless condition: 'SKINTED.' Clinical and Experimental Dermatology: Viewpoints in Dermatology, 34(7), e465–e466.

15.

Logue, E. J., III., & Drez, D., Jr. (1996). Dermatitis complicating saphenous nerve injury after arthroscopic debridement of a medial meniscal cyst. Arthroscopy: The Journal of Arthroscopic and Related Surgery, 12(2), 228–231.

16.

Bove, D., Lupoli, A., Caccavale, S., Piccolo, V., & Ruocco, E. (2013). Dermatological and immunological conditions due to nerve lesions. Functional Neurology, 28(2), 83.

17.

Cassler, N. M., Burris, A. M., & Nguyen, J. C. (2014). Asteatotic eczema in hypoesthetic skin: A case series. JAMA Dermatology, 150(10), 1088–1090.

18.

Bourne, R. B., Chesworth, B. M., Davis, A. M., Mahomed, N. N., & Charron, K. D. (2010). Patient satisfaction after total knee arthroplasty: Who is satisfied and who is not? Clinical Orthopaedics and Related Research, 468(1), 57–63.

19.

Padua, V. BCd., Nascimento, P. E. D., Silva, S. C., Canuto, SMd. G., Zuppi, G. N., & Carvalho, S. MRd. (2015). Saphenous nerve injury during harvesting of one or two hamstring tendons for anterior cruciate ligament reconstruction. Revista brasileira de ortopedia, 50, 546–549.

20.

Tifford, C. D., Spero, L., Luke, T., & Plancher, K. D. (2000). The relationship of the infrapatellar branches of the saphenous nerve to arthroscopy portals and incisions for anterior cruciate ligament surgery: An anatomic study. The American Journal of Sports Medicine, 28(4), 562–567.

21.

Maniar, R. N., Singhi, T., Nanivadekar, A., Maniar, P. R., & Singh, J. (2017). A prospective randomized study in 20 patients undergoing bilateral TKA comparing midline incision to anterolateral incision. Journal of Orthopaedics and Traumatology, 18(4), 325–333.

22.

Tsukada, S., Kurosaka, K., Nishino, M., & Hirasawa, N. (2018). Cutaneous hypesthesia and kneeling ability after total knee arthroplasty: A randomized controlled trial comparing anterolateral and anteromedial skin incision. The Journal of Arthroplasty, 33(10), 3174–3180.

23.

Zhu, B., Li, X., & Lou, T. (2021). A modified oblique incision in hamstring tendon graft harvesting during ACL reconstruction. Journal of Orthopaedic Surgery and Research, 16(1), 1–8.
Ethics declarations
Conflict of interest
The authors declare that they have no conflict of interest.
Ethical statement
Our study is a review article and does not include any human or animal participation. So we did not require ethical approval.
Informed consent
For this type of study informed consent is not required.
Additional information
Publisher's Note
Springer Nature remains neutral with regard to jurisdictional claims in published maps and institutional affiliations.
About this article
Cite this article
Dhillon, M.S., Jindal, K., Shetty, V.D. et al. Autonomic Denervation Dermatitis: A Relatively Undocumented 'ADD'itional Complication of Total Knee Replacements and Other Surgeries Around the Knee. JOIO (2021). https://doi.org/10.1007/s43465-021-00520-4
Received:

Accepted:

Published:
Keywords
Autosomal denervation dermatitis

ADD

SKINTED

Total knee replacements

Infra patellar branch

Saphenous nerve